August 2008 - My trip to Argentina
I went to Argentina to get CNG kits for doing natural gas conversions to cars. The trip went better than expected and I made some great business contacts there. I don't know how boring any of that will be so I wont post any of those pictures. I spent most of the time visiting people and had many great great experiences.
After having just arrived the first thing to do is go to the store and get some tasty Argentine Treats and pastries and food. Anibal and Paula came with me.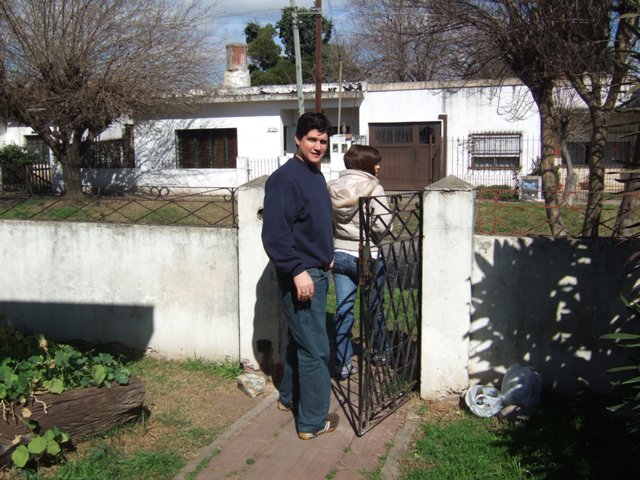 ---
Anibal is holding something classic. Argentine milk is sold in bags. One bag is milk and the other bag is Yogur Bebible (drinkable yogurt). Vanilla and strawberry are my 2 favorite flavors. My favorite brand as always LaSerenisima. I like to bite the tip corner off of the bag and drink it that way, no cup needed. And no backwashing either.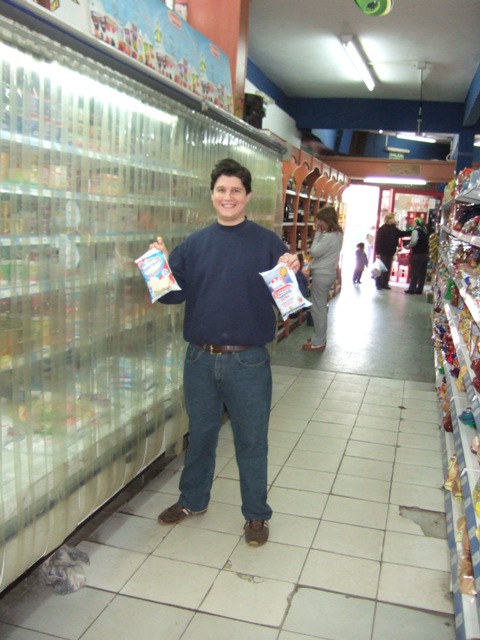 ---
At the local meat market. Meat is cut differently and you really have to know your beef when you walk into a meat market. Some stuff is a little scary like the sausages that dangle day after day hanging up an unrefrigerated. But I tried one (finally for the first time) and it was ok.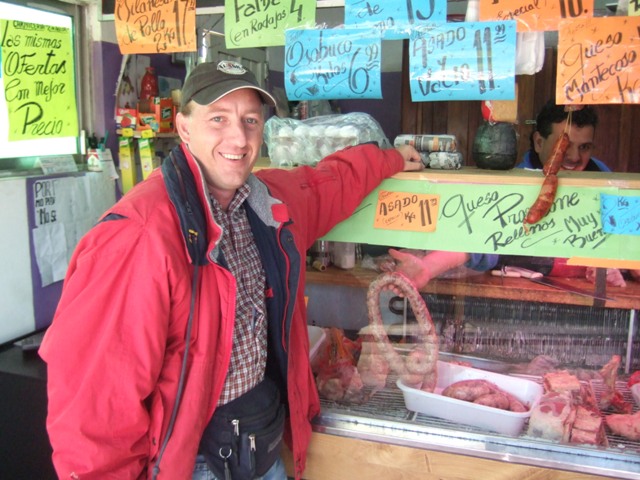 ---
A classic lunch at Alejandro's house. Today, one of my favorites, Milanesa sandwich. Argentine bread is unique and so good! People drink Coca-Cola like water. After a while you forget that water is actually clear, non carbonated, and non flavored. But its rare that anyone just drinks water. (probably for safety reasons)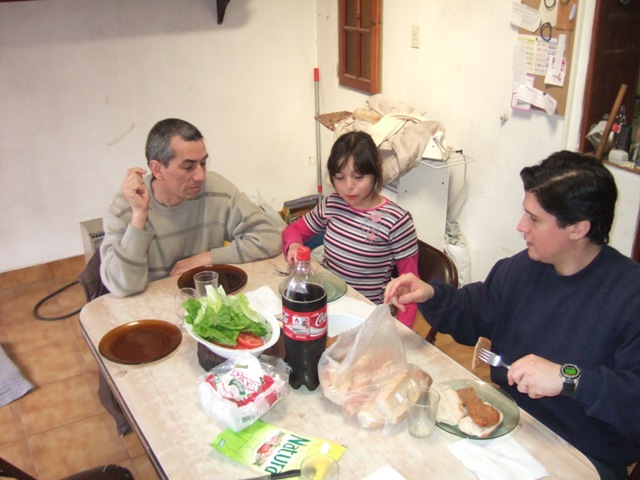 ---
At the church for "Dia de Niños" we don't celebrate "kids day" in the US but it is a big holiday in Argentina and most stores close down for the event. This is the Salembeni parents with their grand daughter. They are a great family that I knew from my mission.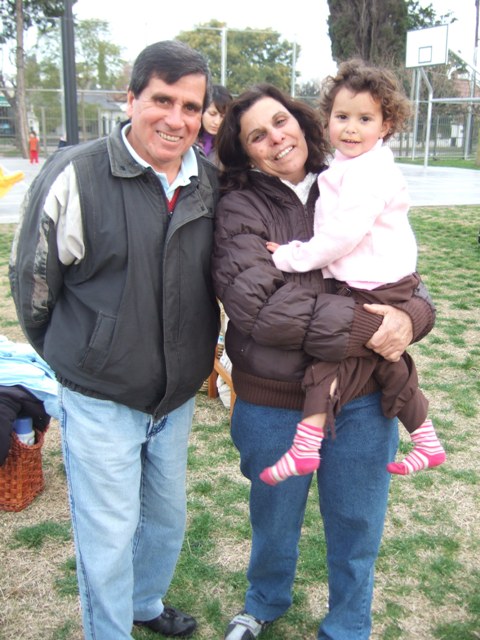 ---
Missionaries playing in the soccer tournament.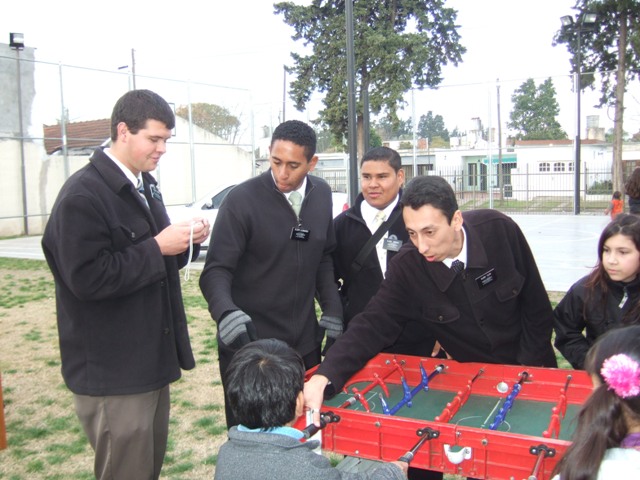 ---
Carlos Morales. Absolutely a wonderful guy. Very Funny.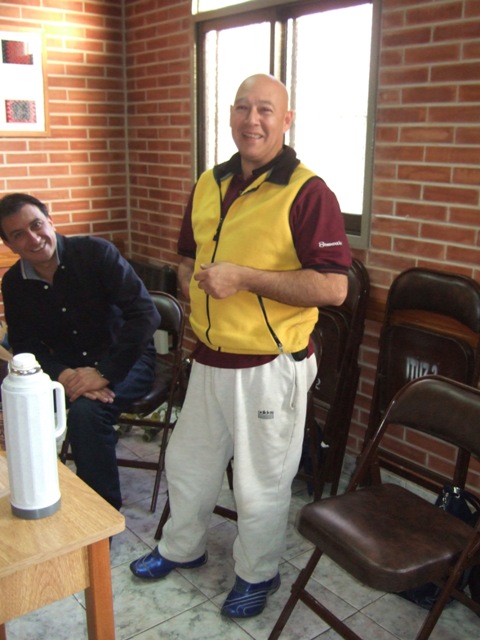 ---
I stayed at Alejandro Villareals house. (same as last 2 times). His niece Micaela lives there and is shown here getting ready for school.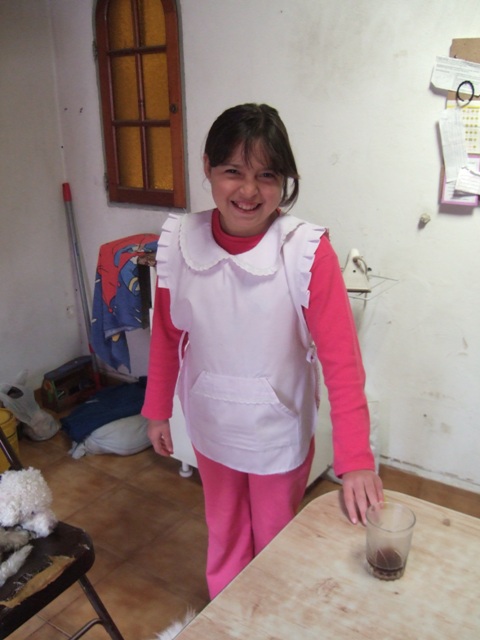 ---
People don't use the sidewalks much for walking down the street. Everyone just walks in the street. Even kids hanging out on the street corner just stand in the middle of the street and cars have to drive around them. Also here is a classic horse and trailer that you will see often going down the street.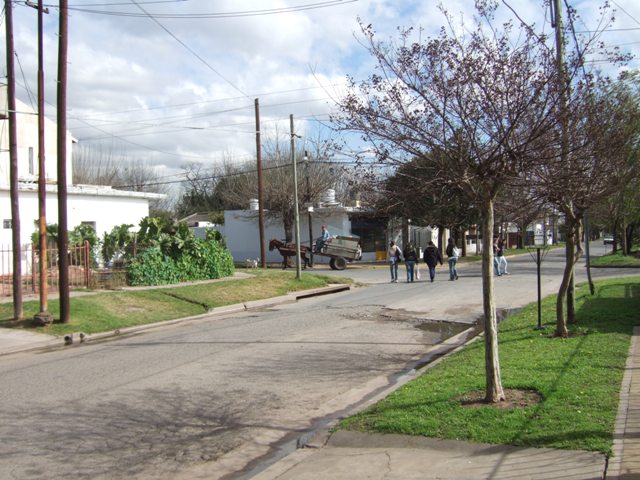 ---
The church at Ituzaingo. The chapels are often the prettiest building in the city. They don't use carpet and so the entire church has tile floors. Sometimes has a cold feel to it, but you get used to it and forget, after a while, how nice carpet is.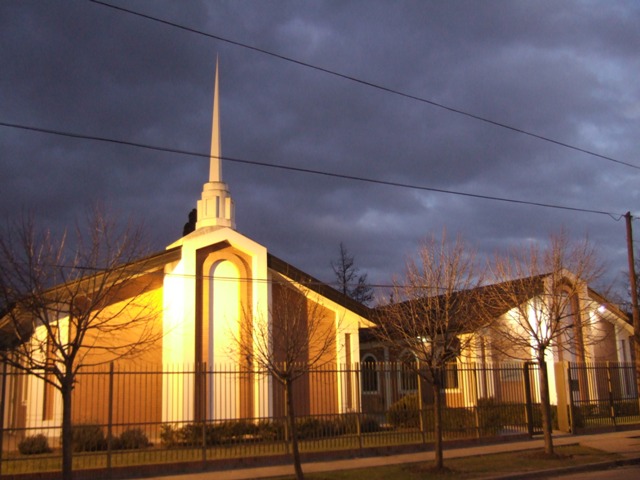 ---
On the way to the Temple for ward temple night.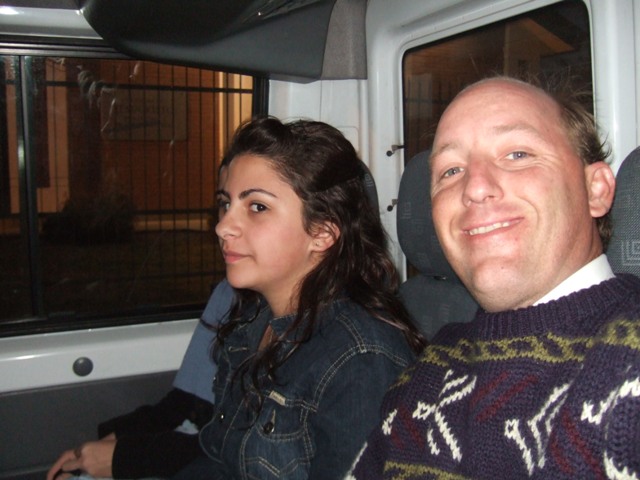 ---
At a nice Panadaria (bread store) in Castelar.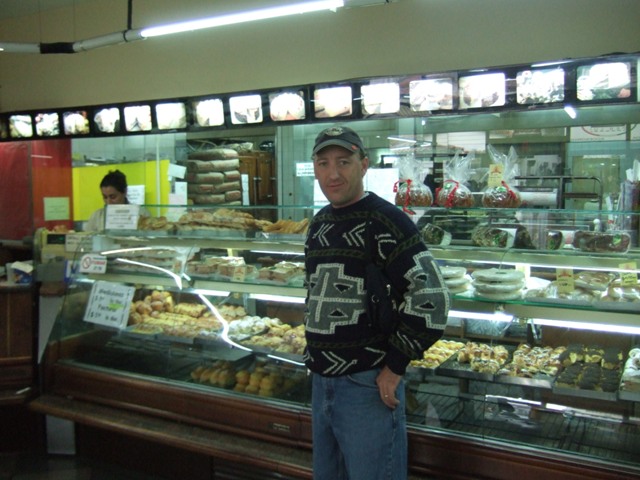 ---
Family home evening with the Servo family. We met at the "kids day" event at the church and I figured they were members. I had a lot of fun with the kids and at the end Alejandro told me they weren't members. I said that we should have a family home evening at his house and invite them over for some US food. We had Kraft Macaroni and cheese (I brought about 50 boxes of it - no joke) Everyone loves mac-n-cheese when they try it. But you cant get it down there. Something so basic. Also on the menu was Kool-Aid and Peanut butter and Jelly sandwiches. Afterwards was glowsticks and rock candy crystal suckers from Smith and Edwards in Utah. All items were totally unfamiliar and the kids later mentioned that it was the best party they had ever had. Amazing that something so simple and common as a .50 cent box of macaroni can be the highlight of someone's life. They had been to church the week before (fast and testimony meeting) and so I guess they thought that every week was testimonies. As we were leaving to go home the oldest boy said in excitement "now I have something to talk about on Sunday"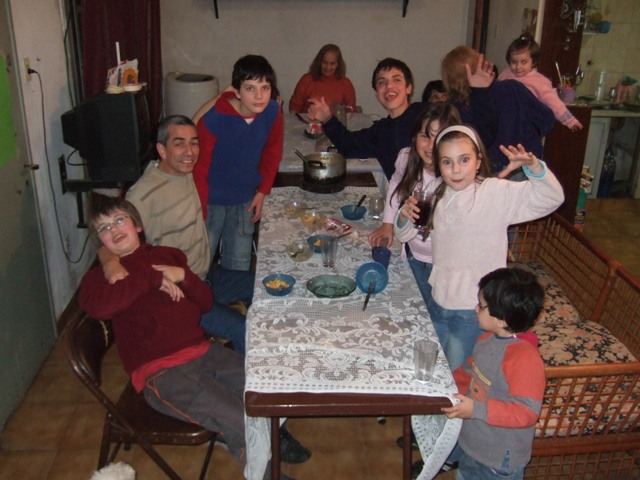 ---
We had the family home lesson on the Holy Ghost.
---
The difference between feeling the influence of the Holy Ghost and having the Gift of the Holy Ghost.
---
Walking the Servo family back home.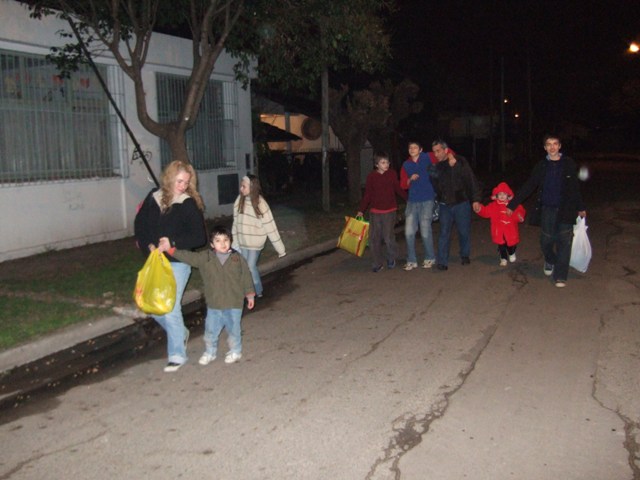 ---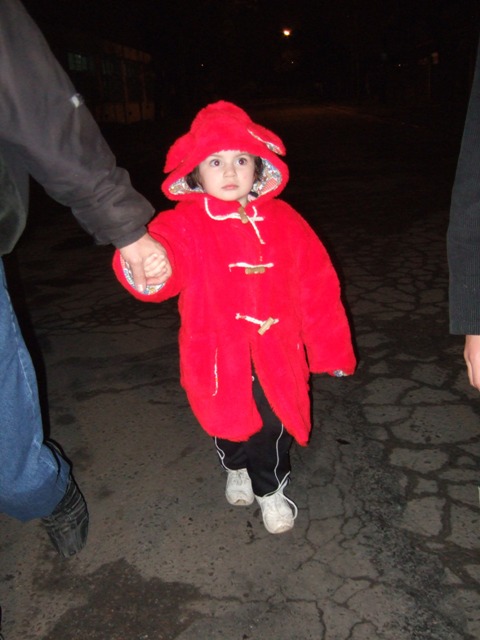 ---
They came to church again on Sunday and over the week I had several conversations with the mom. She is raising her 8 kids on her own. We had such good conversations and the spirit was so strong. I felt like the timing was not by chance. I have since talked to them with video chat online and they have just decided to get baptized. It looks like in about 2 weeks.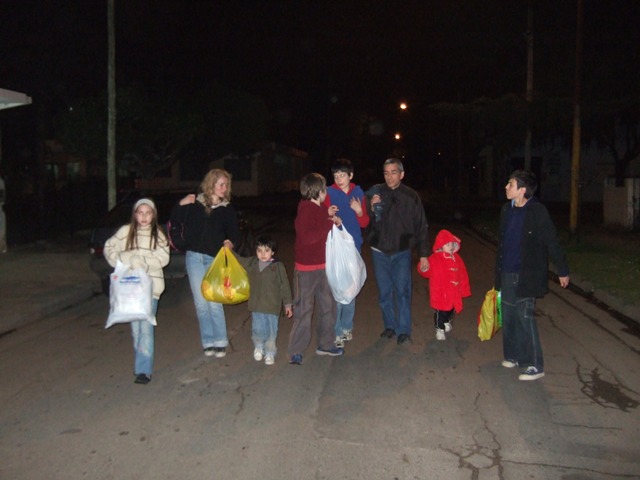 ---
Fru, also known as Super Fru.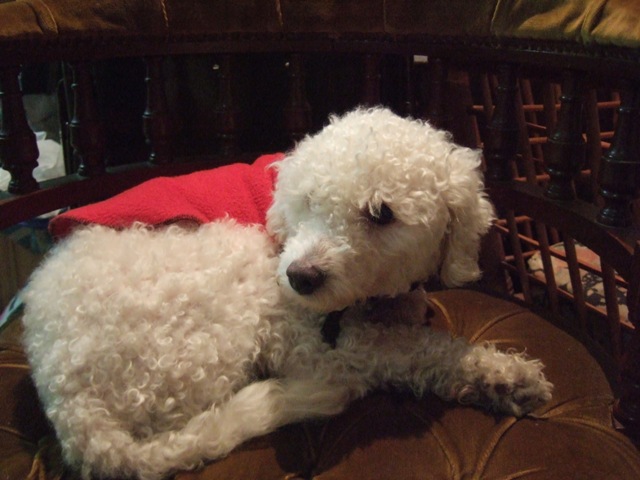 ---
So that's how meet gets to the meet market.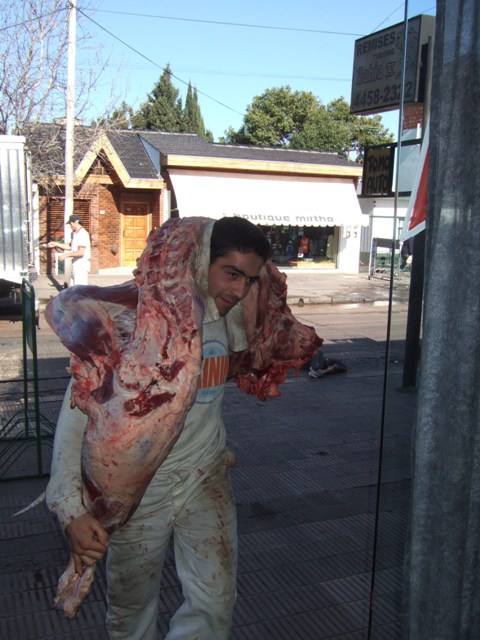 ---
We went to Gonzalez Catan to visit the Parodi Family. My first baptism was Cesar Parodi and he had a lot of kids back then 15-16 years ago. Well now he has 15 kids.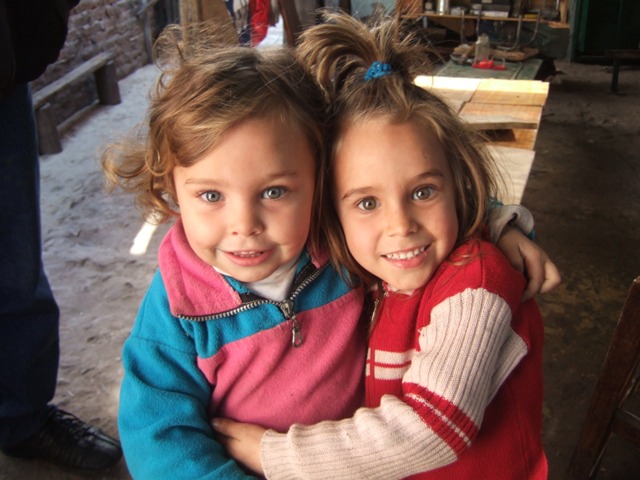 ---
We had a fun visit and the kids are all so wonderful. I'm getting to know them better each time I visit and this time was kind of like breaking the ice with the kids because they recognized me and remembered me from last time. We had a nice visit. This video is the best and you have to listen to the 2nd song they sing.
First song: LOS PIRATAS:

Second Song: Patito Feo - Las Divinas




LOS PIRATAS VAN A BUSCAR
POR AQUÍ Y POR ALLÁ
UN TESORO QUE ES DE ORO
Y ES DIFICIL DE ENCONTRAR.

PORQUE UN BARCO QUE SE UNDIÓ
ESCONDIDO LO DEJÓ
PERO TENGAN MUCHO CUIDADO
QUE ANDA SUELTO EL TIBURÓN!!!!


Nadie pasa de esta esquina
aquí mandan las divinas
porque somos gasolina
gasolina de verdad.
Todos saben quién manda en este school
porque nosotras somos gente cool
gente que siente, con sangre caliente
que quiere hacerse oir
sea como sea, aquí no entran feas
pa, que lo veas, te voy a mostrar
mira esa fea, aquella otra fea
aquí no pueden entrar.
Nadie pasa de esta esquina
aquí mandan las divinas
porque somos gasolina
gasolina de verdad.
Nosotras bailamos bien you know?
dance, dance y mucho dance
lo que pide tu corazón
your heart, your heart, a tí te vamos a dar.
Las divinas, las divinas, brillan, brillan, como stars
fuera feas, fuera feas, para ustedes no hay lugar.
Nadie pasa de esta esquina
aquí mandan las divinas
porque somos gasolina
gasolina de verdad.
Nadie pasa de esta esquina
aquí mandan las divinas
porque somos gasolina
gasolina de verdad
Nadie pasa de esta esquina
aquí mandan las divinas
porque somos gasolina
gasolina de verdad
Nadie pasa de esta esquina
aquí mandan las divinas
porque somos gasolina
gasolina de verdad
Nadie pasa de esta esquina
aquí mandan las divinas
porque somos gasolina
gasolïna de verdad
---
Parodi #15 is barely one month old.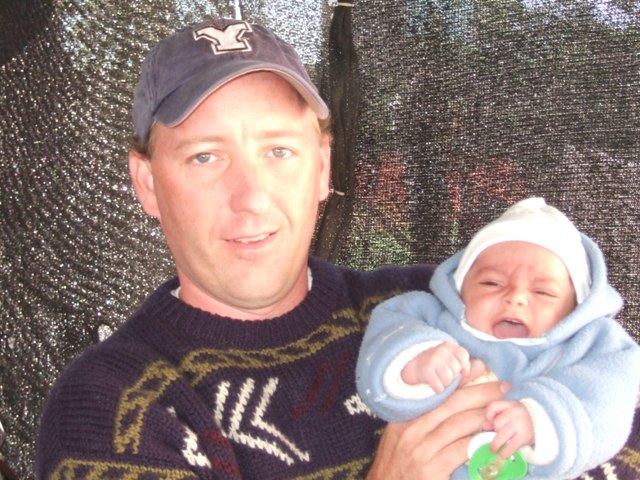 ---
This is Nicole and is just bursting with life. We went to the candy store and she had eaten her chocolate even before we could get it paid for.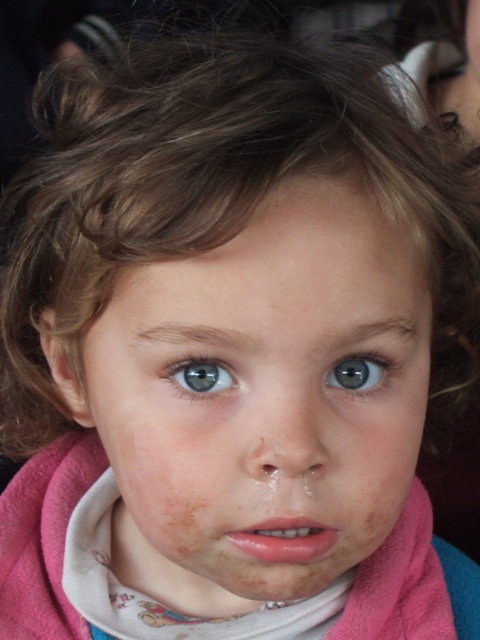 ---
I went to the city Libertad to visit Daniela and Herminda. This is Crystal, Daniela's girl. I always have really neat experiences when I visit this family. Rarely have I met a family so bathed in miracles. This time was no exception and I had a really neat experience while visiting with them. Herminda is behind Crystal in this picture. I'll have to get a picture of Daniela later.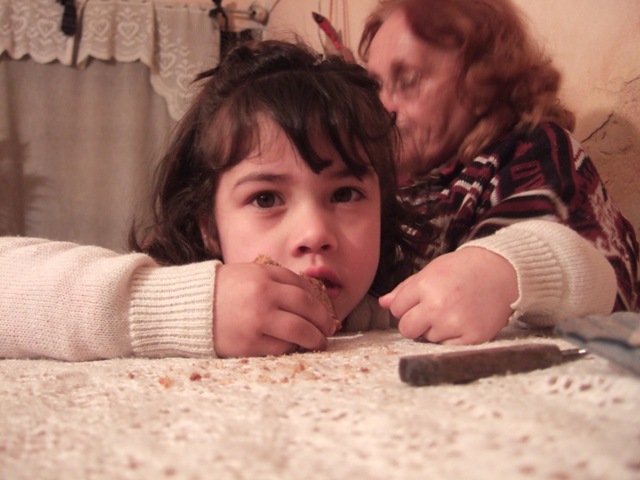 ---
Maria Eugenia making a most delicious dinner. Here she is making a ham and cheese tarta. Its like a huge empanada and is soooooo yummie!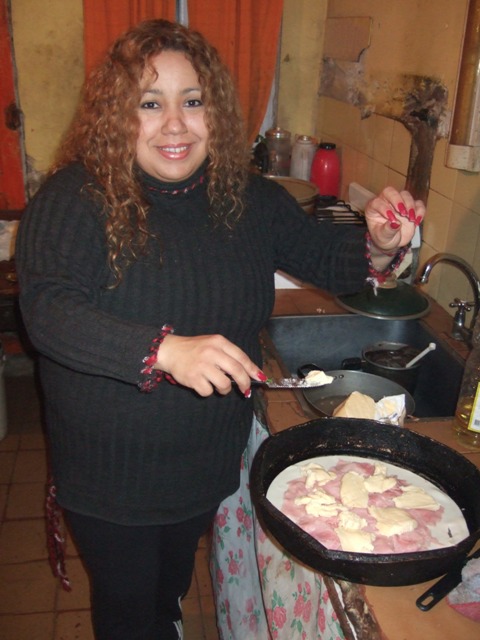 ---
Dinner with the Fernandez family in Libertad.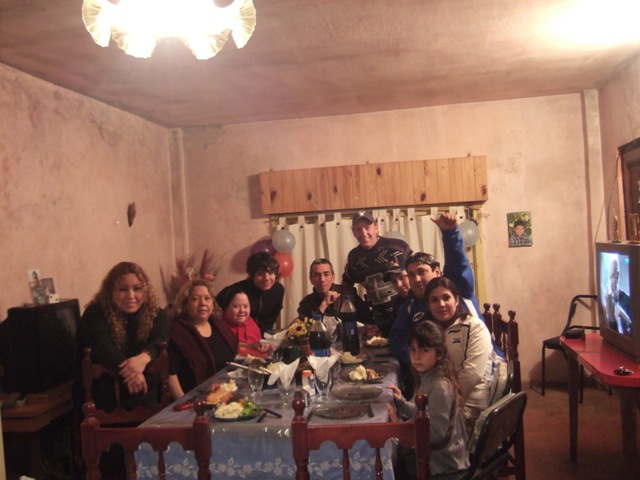 ---
Alejandro, Brian and me.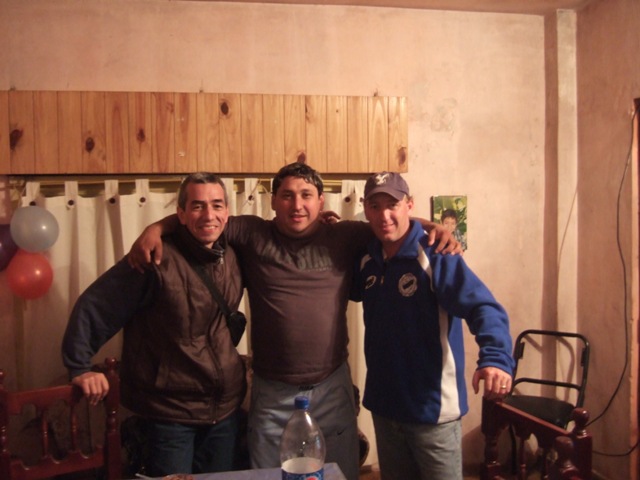 ---
---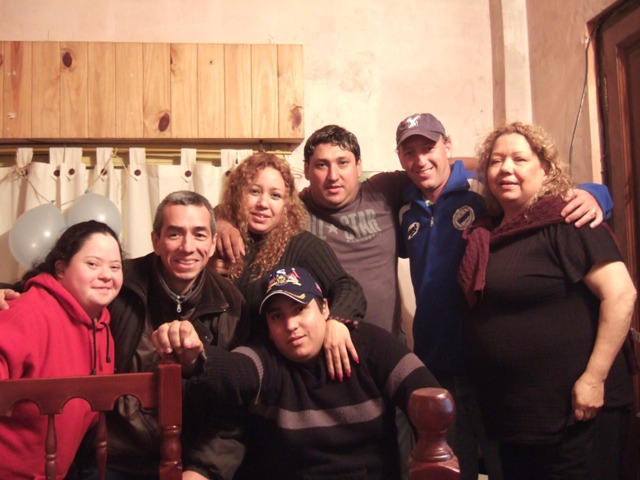 ---
This is how you drink mate.
---
Cookies, milk and a Racing Cup.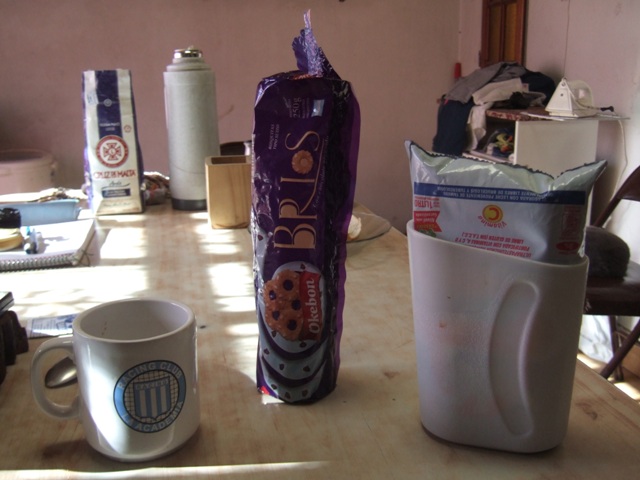 ---
Going to Capital on the train. Not a lot of travelers at this time of day, but avoid the morning and evening commute if you can because these trains can get really loaded down and packed full.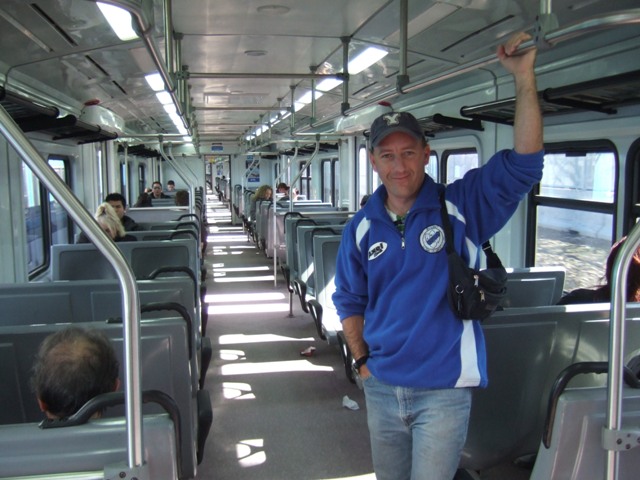 ---
Street performers in the city of Morón
---
McDonalds in Argentina, this one has an "Automac" (drive through)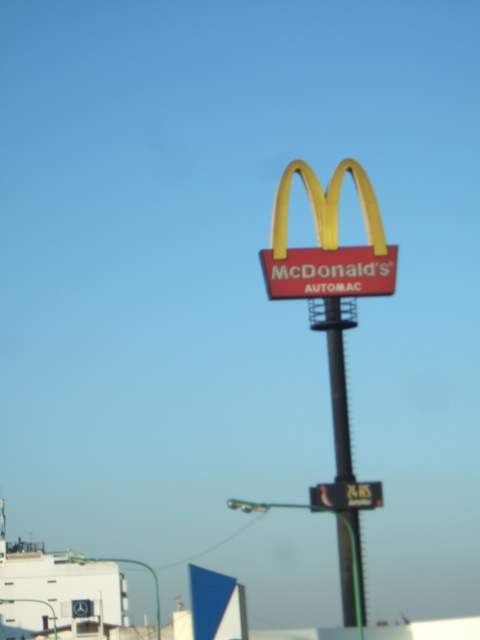 ---
Different Fernandez family in Hurlingham. We made macaroni and cheese. Nobody liked the Twizzlers cause they taste like wax. Hmmm... that's ok of me, I'll eat them. This is the family that joined the church in my last area. The girl in the red sweater (Pricila) was born after her dad died of Multiple Sclerosis. Ivan (to the far left) is getting ready to leave on his mission in less than a year.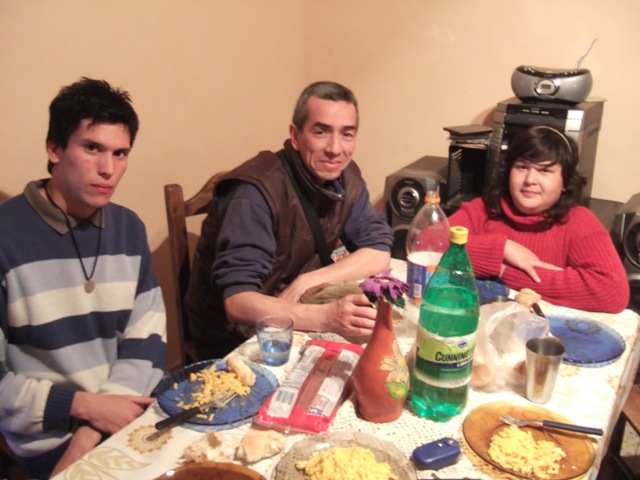 ---
We celebrated a few birthdays there.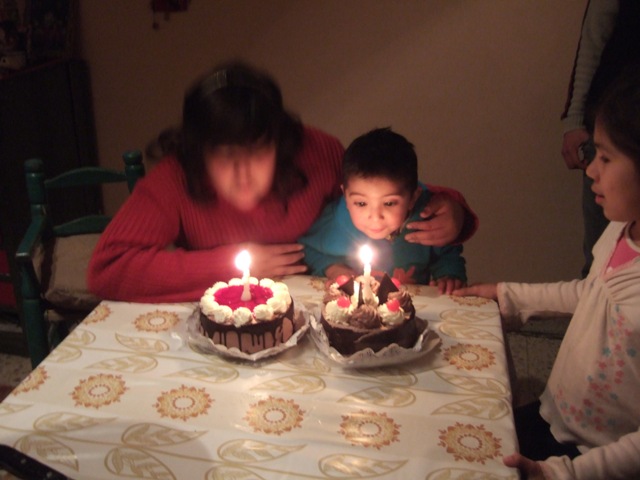 ---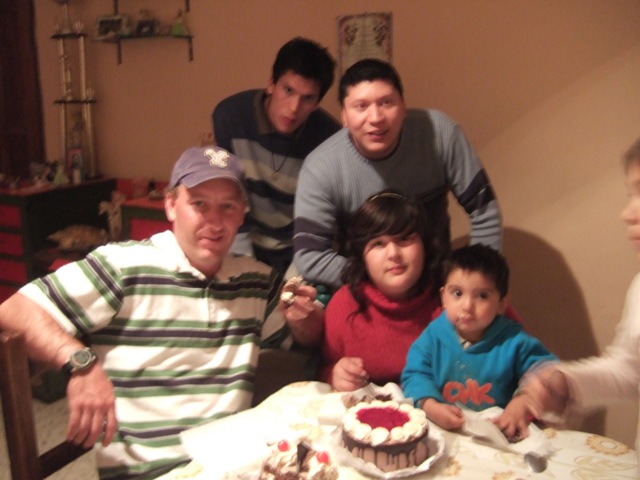 ---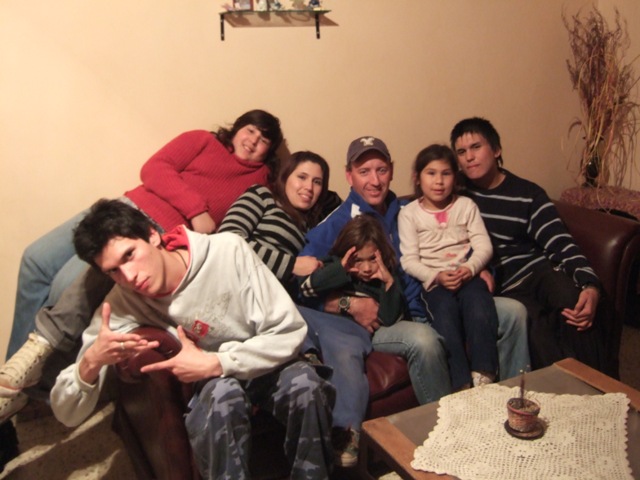 ---
On our way to the Argentine WalMart in a Remis (taxi). Here I am with Anibal and Paula.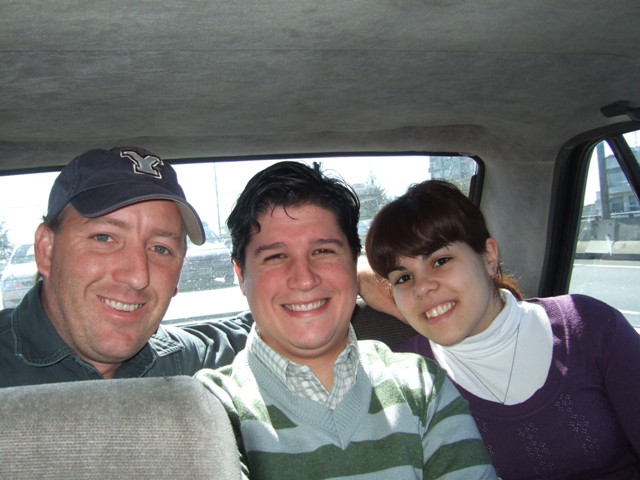 ---
Classic argentine construction. Make a Cement skeleton and fill-in the holes with brick.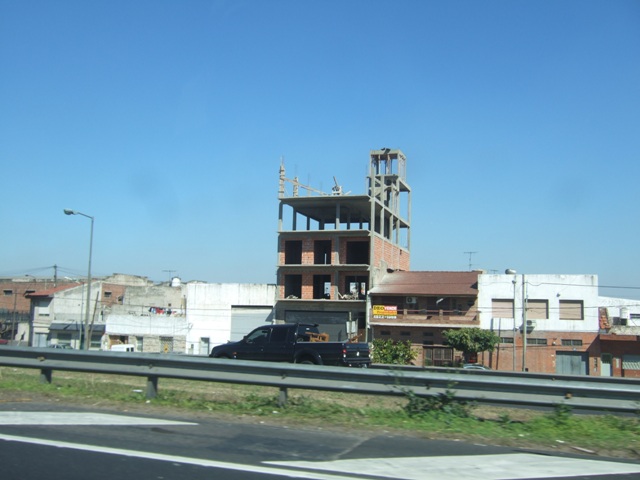 ---
Lots of dogs to be found everywhere, but this was the biggest one I saw.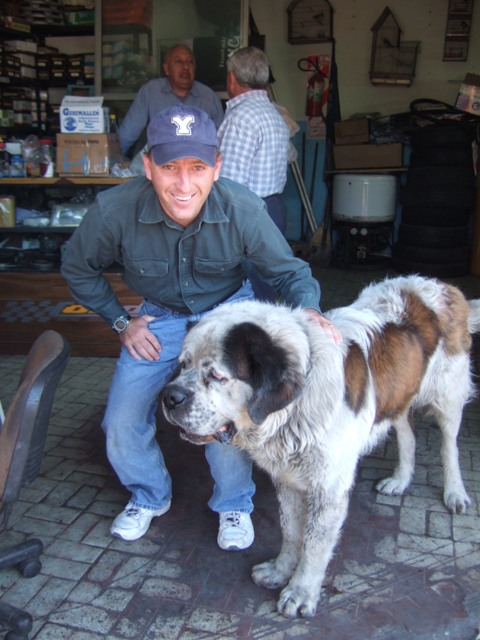 ---
Anibal cooking up another one of his miracles. Wow his food is soooo good!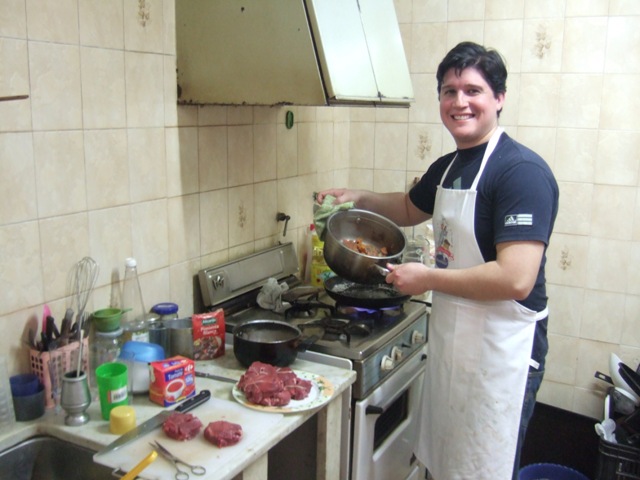 ---
My addition to the meal was Root Beer made from Extract. Its easy to make there because of the soda bottles. you just have to make the syrup and put a little in the cup and then squirt the soda water in.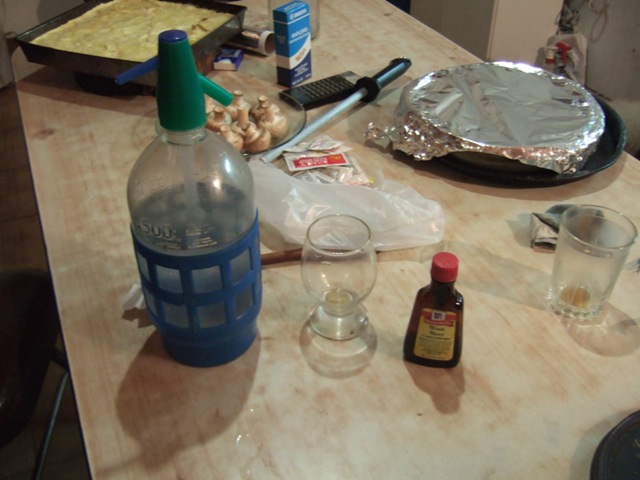 ---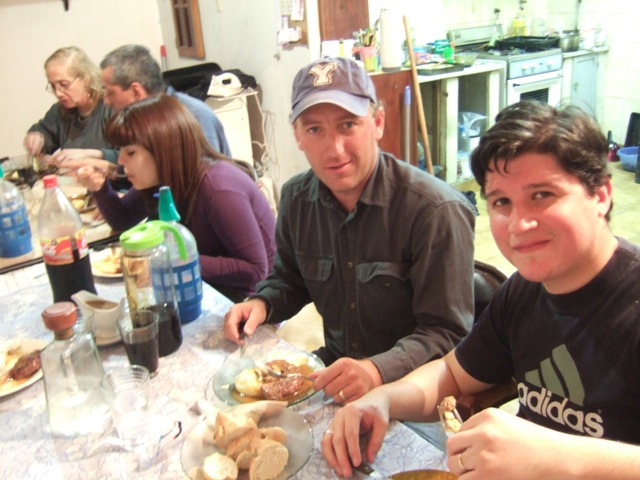 ---
Another meal with Anibal at Alejandros house.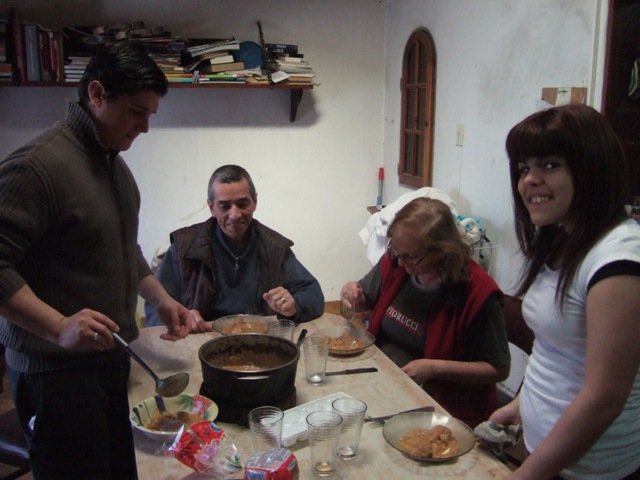 ---
Chicken soup with creamy tomato sauce. Indescribably good. I don't know how Anibal does it.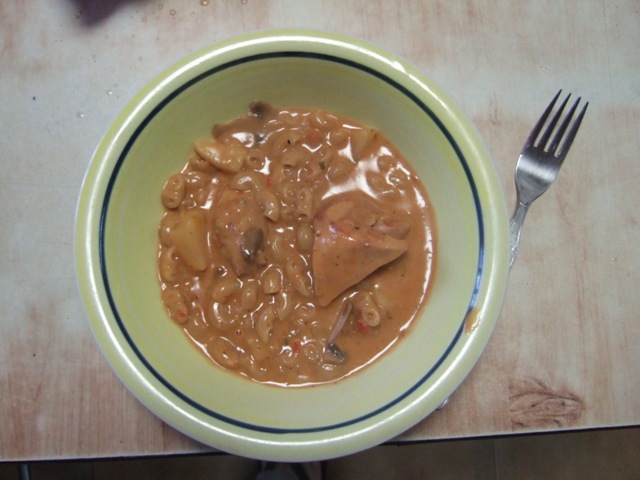 ---
Anibal and Paula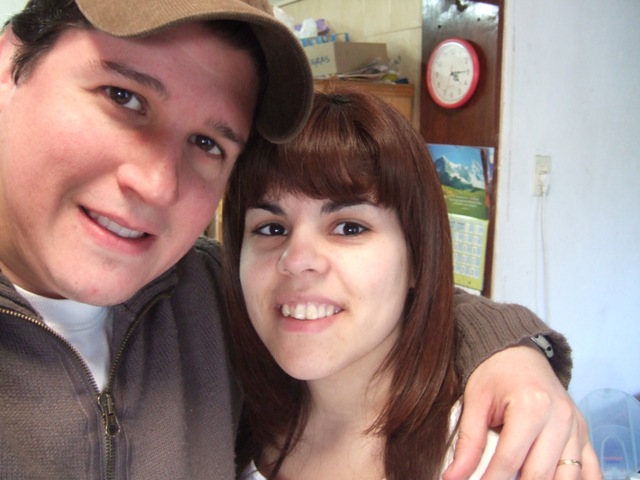 ---
Wolfy and Fru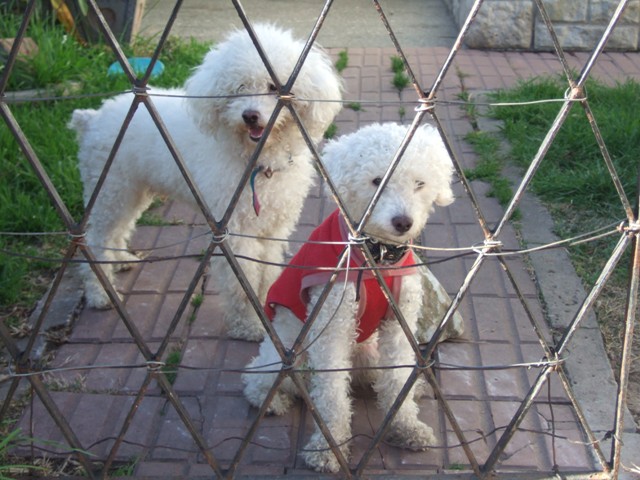 ---
A church near where I stayed.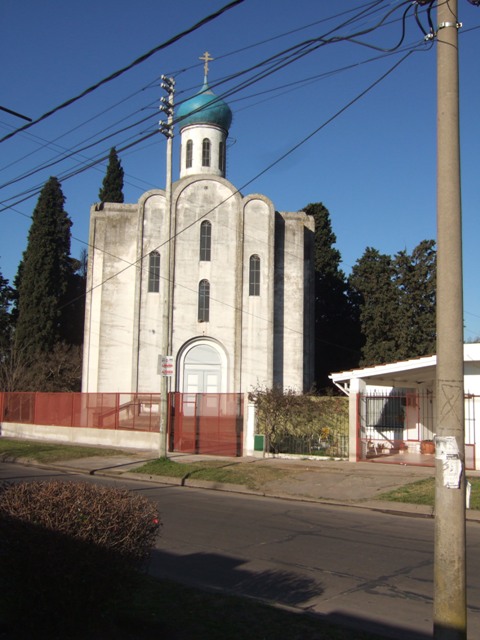 ---
Kids getting out from school.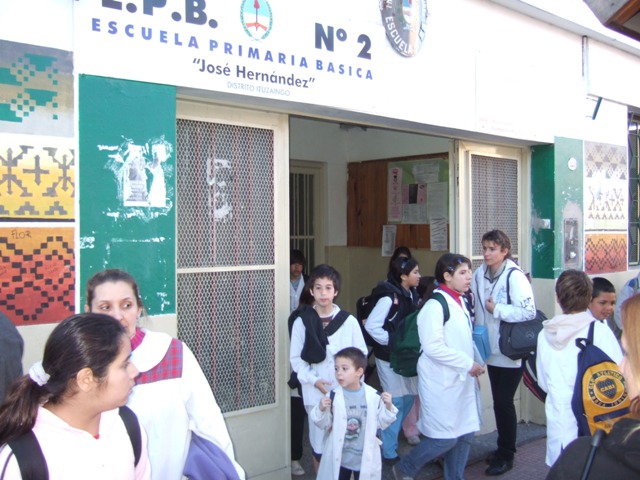 ---
Me with sister Romero. She is the sweetest lady with a wonderful family. She joined the church while on my mission and was what you would call pure gold. There was no teaching her, she was a conduit ready for the truth and recognized it. I never saw anyone with such a testimony as hers. Over the years I think her entire family has joined the church. You cant be around her and not catch the fire of the gospel.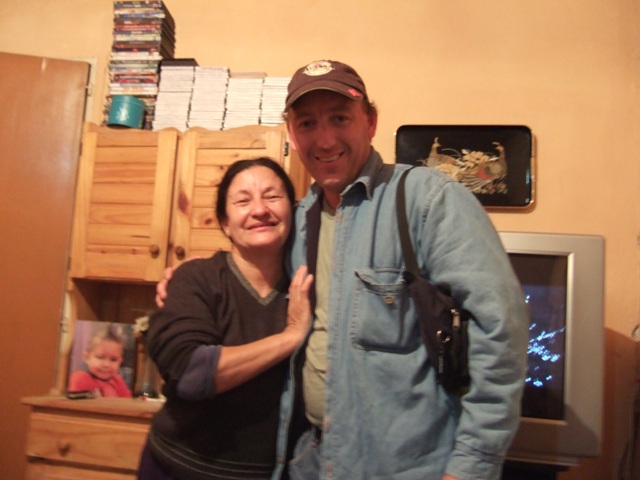 ---
At the Salembeni Fereteria (hardware store) with Carlos and his brother.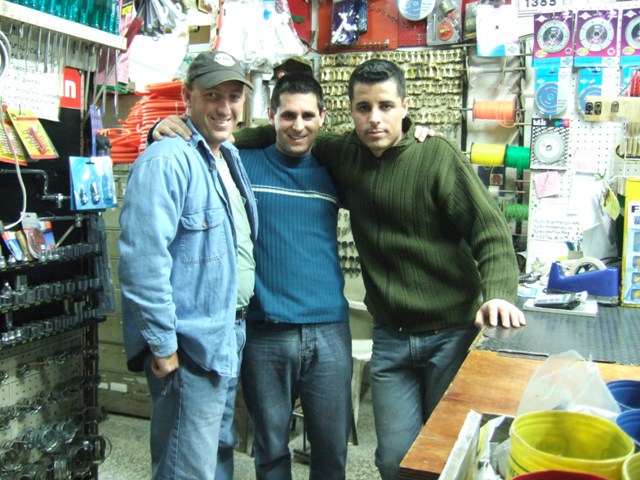 ---
We went back one more time to visit the Parodi family in Catan. Here are 10 of the kids. We had dinner and played games and magic tricks. It was a lot of fun and was hard to leave.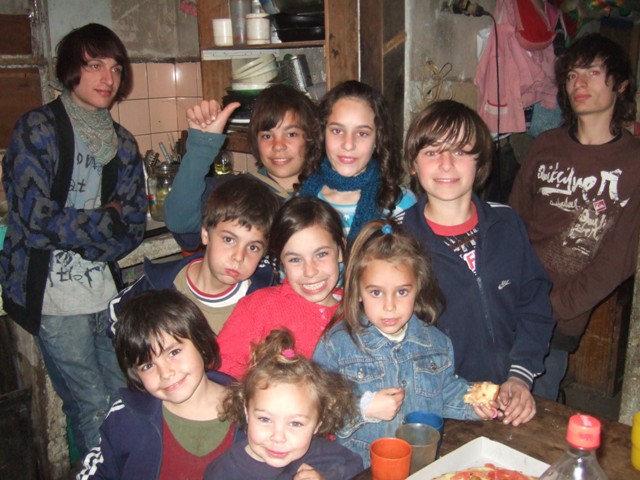 ---
My last day before coming home I had to get one last sampling of Argentine pastries. These facturas are so yummy for breakfast.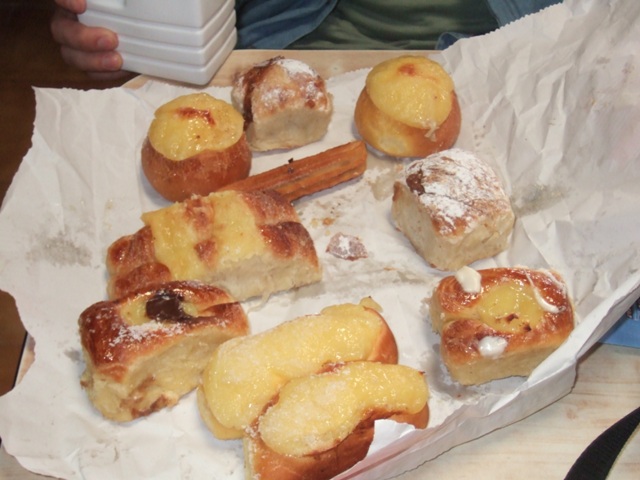 ---
Facturas con Leche in a bag. Mmmmmmmm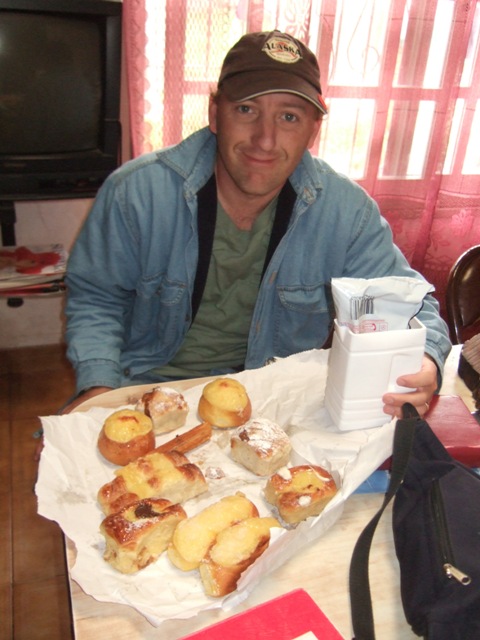 ---
Visiting Juan and Yvette Minardo before leaving to the Airport. Here we had a nice visit and I got to drink my final Mate before I had to go.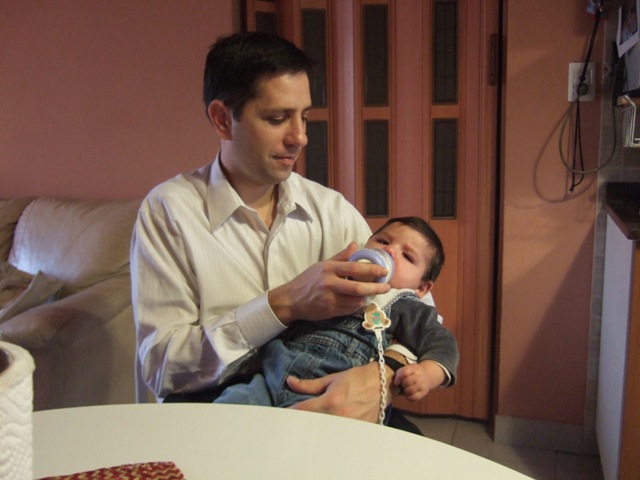 ---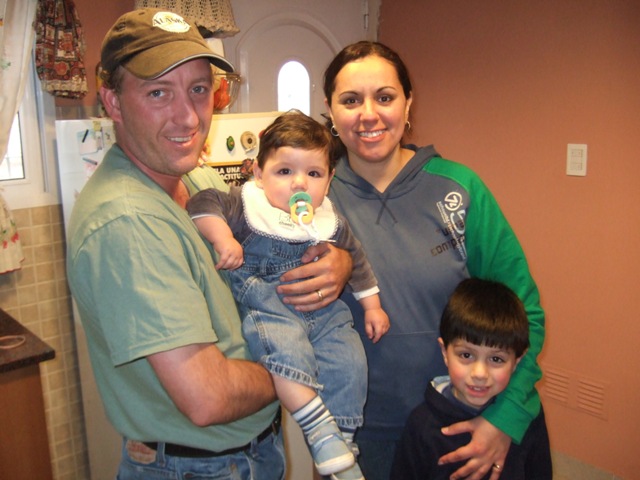 ---
Poor victims of my "I think the lens on my camera is broken" trick.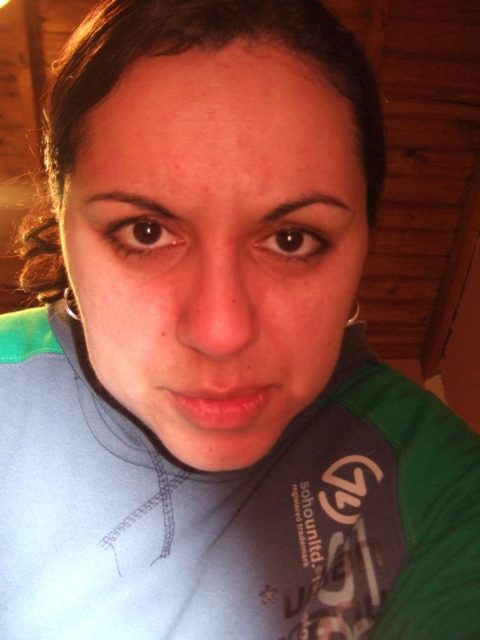 ---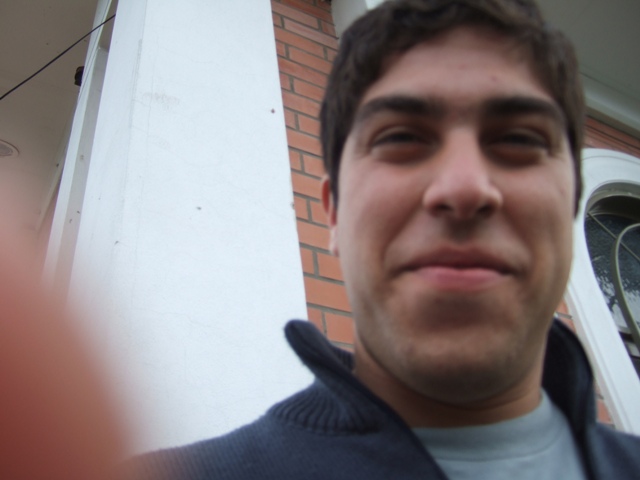 ---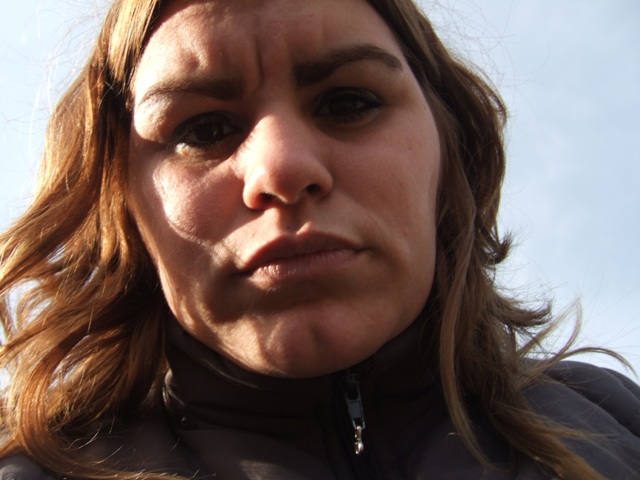 ---
hehe, got 2 victims on this one!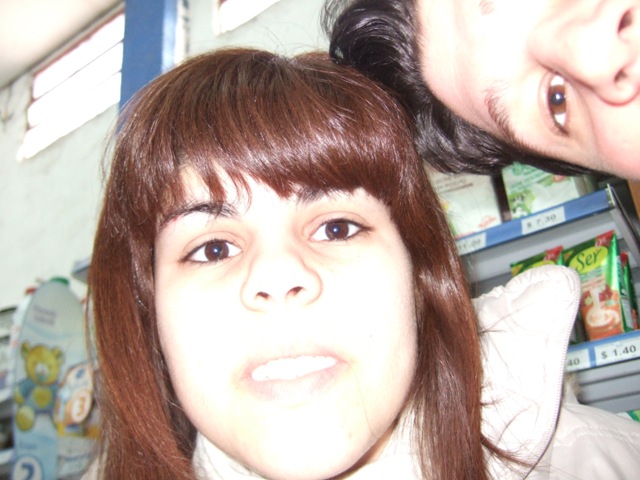 ---