They say that a picture is worth a thousand words. Well I took over 1,600 pictures/videos on this vacation. Here are a few of my favorites.
Friday, January 7th 2011 - Here we are packed in the car and heading to Disneyland. It is freezing cold, with lots of snow, outside. We are excited to get to California where it is nice and warm.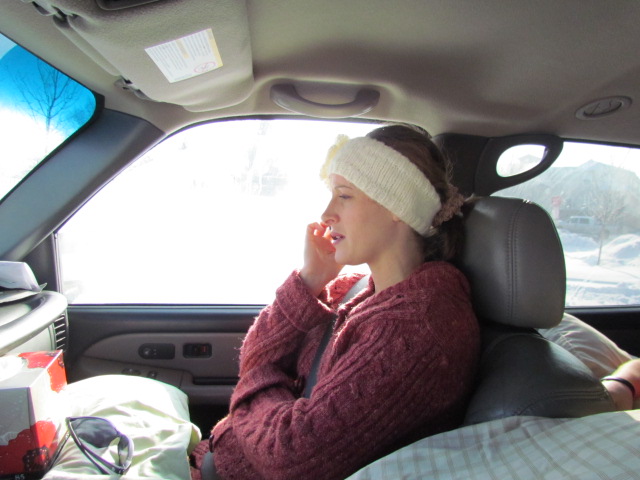 Our first stop is for fuel at exit 167 Chevron / Subway.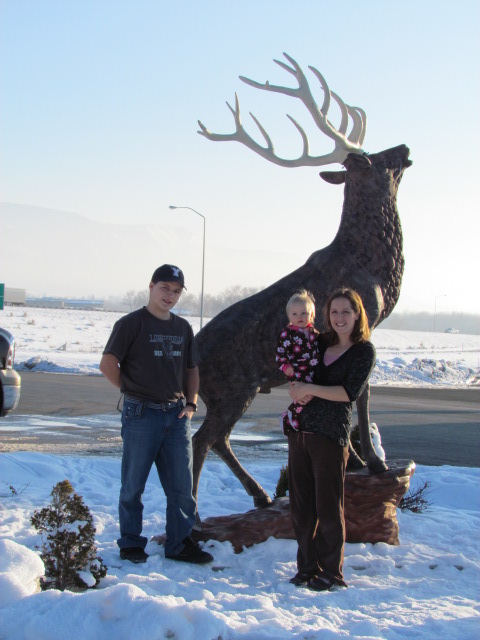 Someone has to drive (and he will do a lot of it on this trip).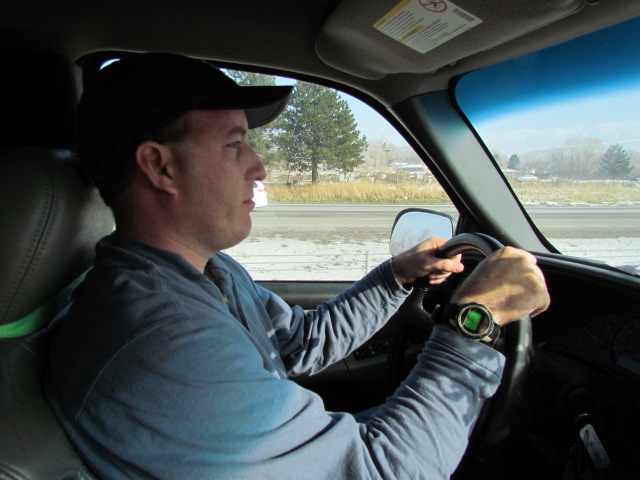 This is a sign that you are well on your way into a vacation.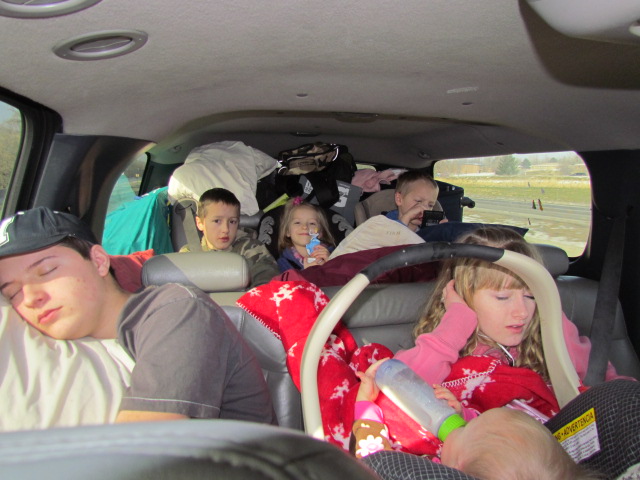 Exit 109, Beaver Chevron. Time for restroom breaks and pictures on The Big Chair.
Here is Jacob.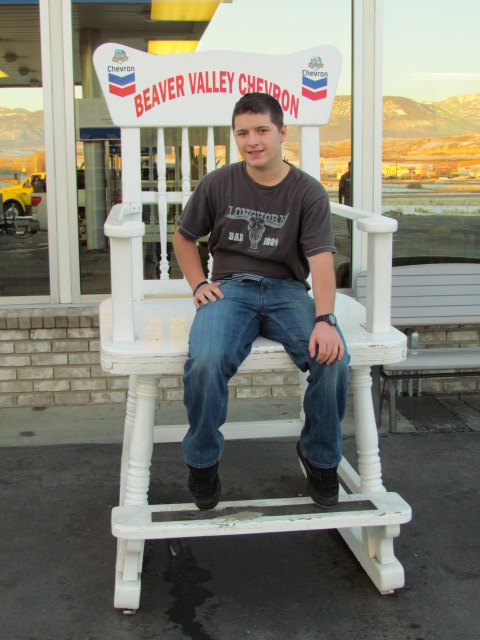 Megan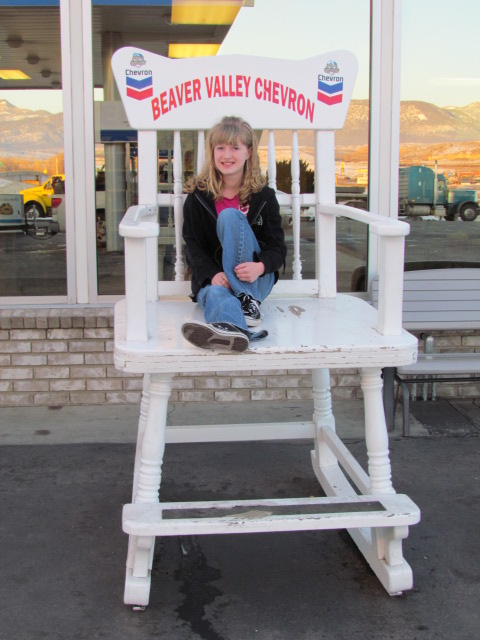 David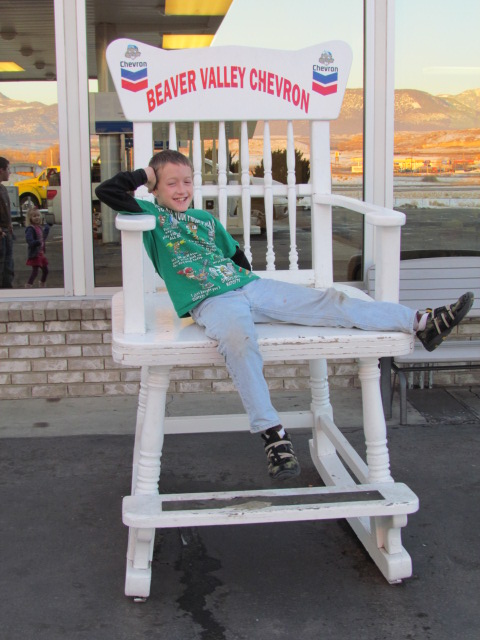 James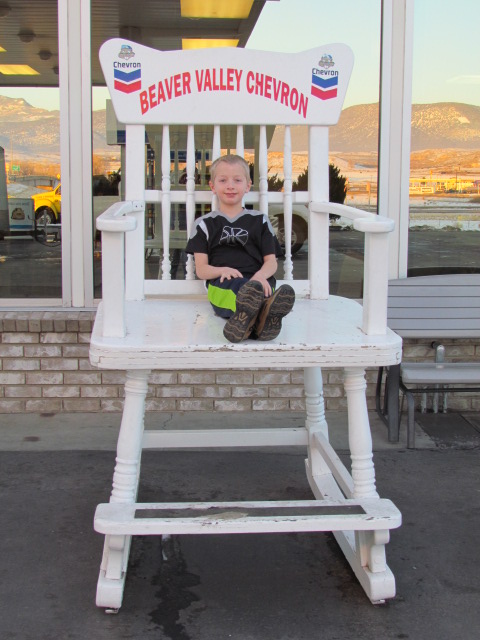 Julia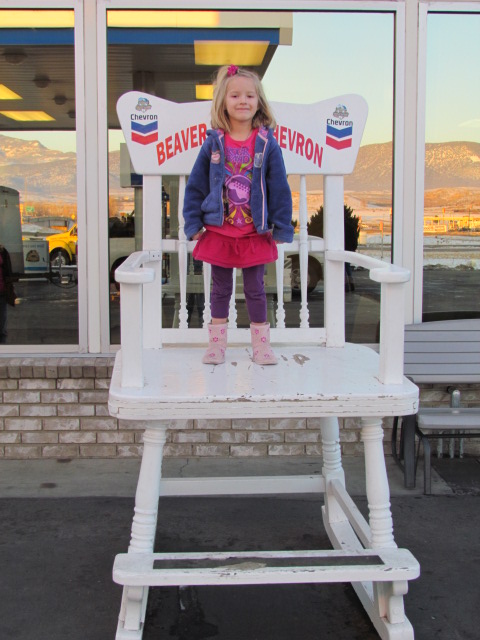 Ellen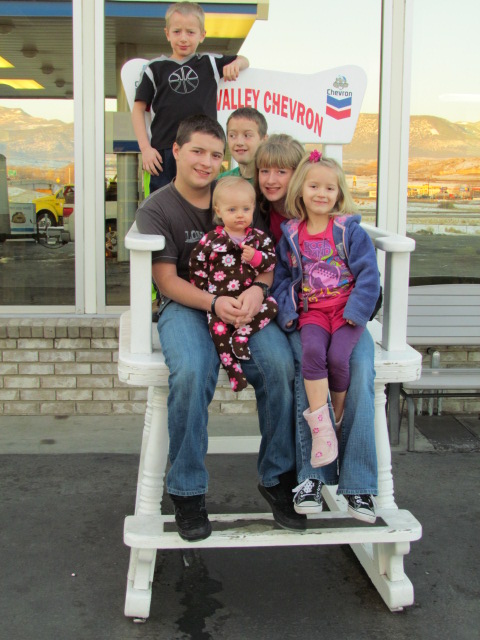 Me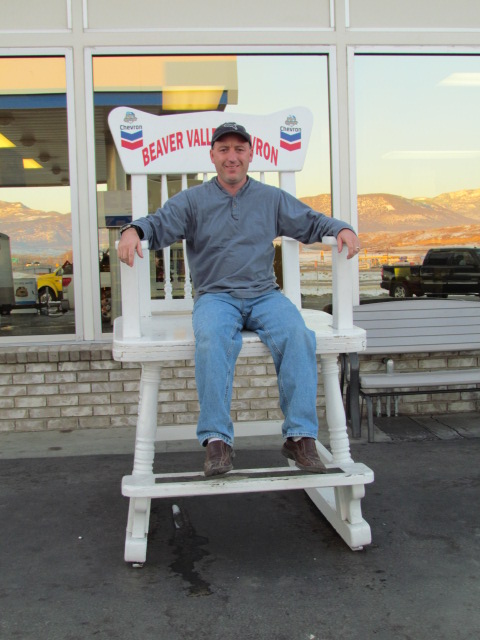 Audrey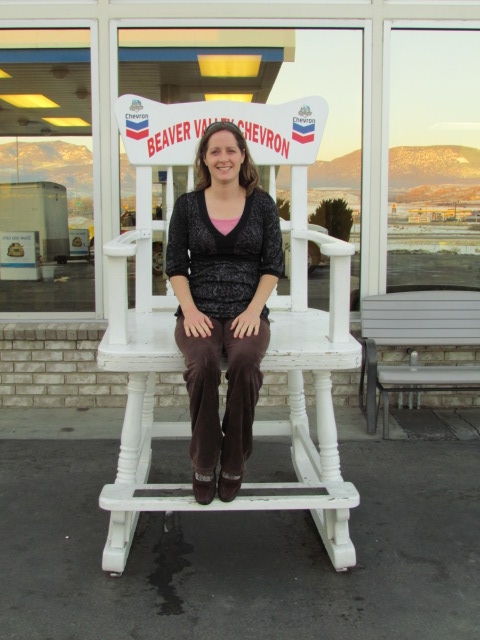 Whew....we made it all the way to exit 122 in Mesquite, Nevada. Time for a serious break from the road and there is no better place for a break than McDonald's Playland!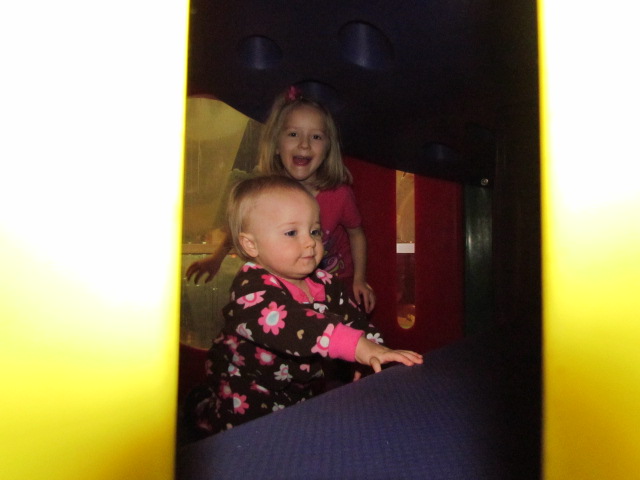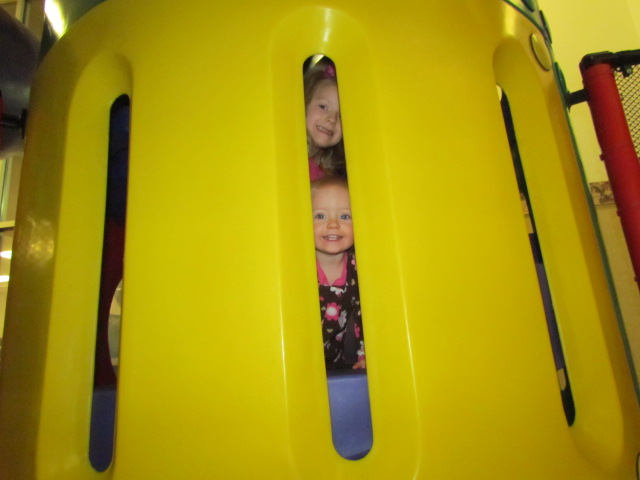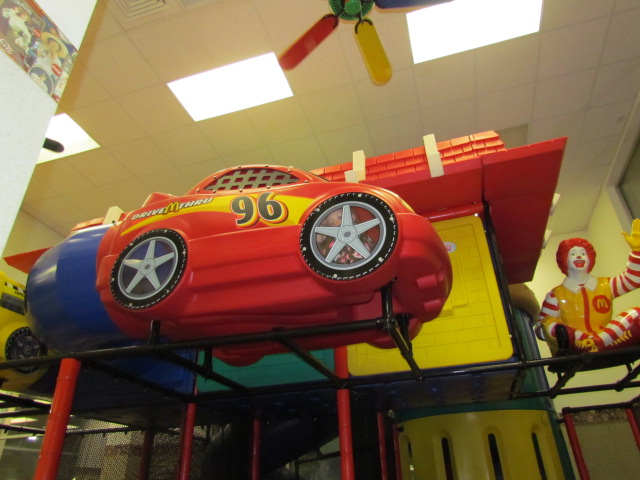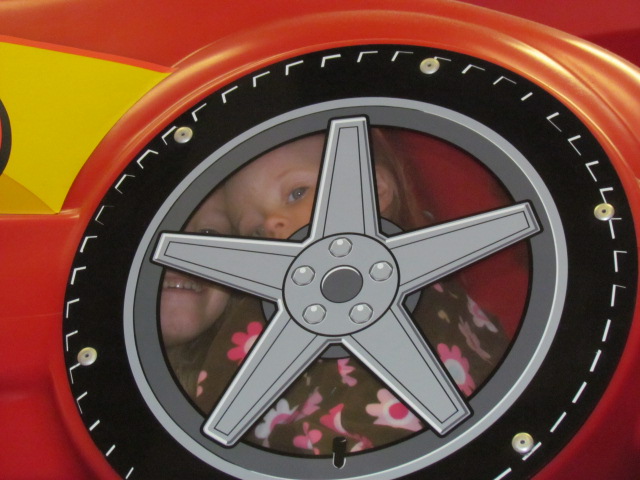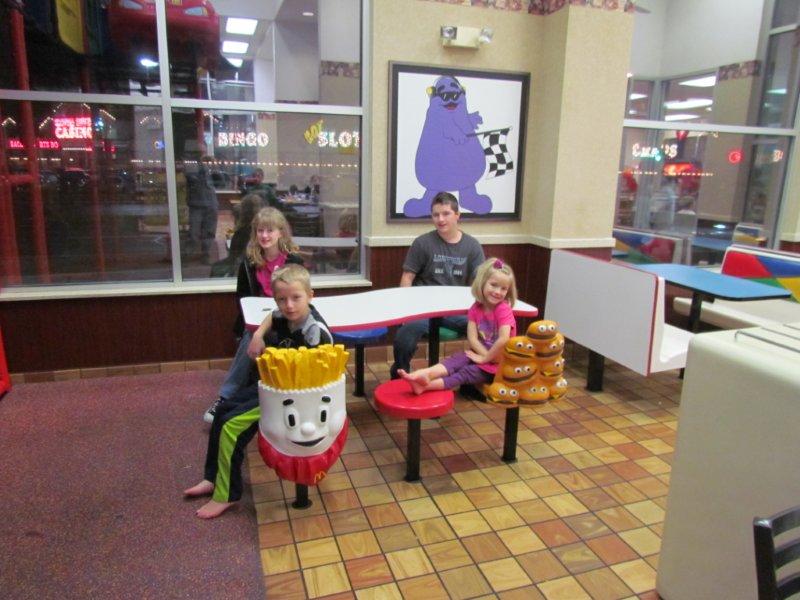 ---
Now we have arrived in Las Vegas. We get off the freeway for another potty break, but mostly to walk around and see the lights for a few minutes. Here we are at the City Center Hotel/Casino.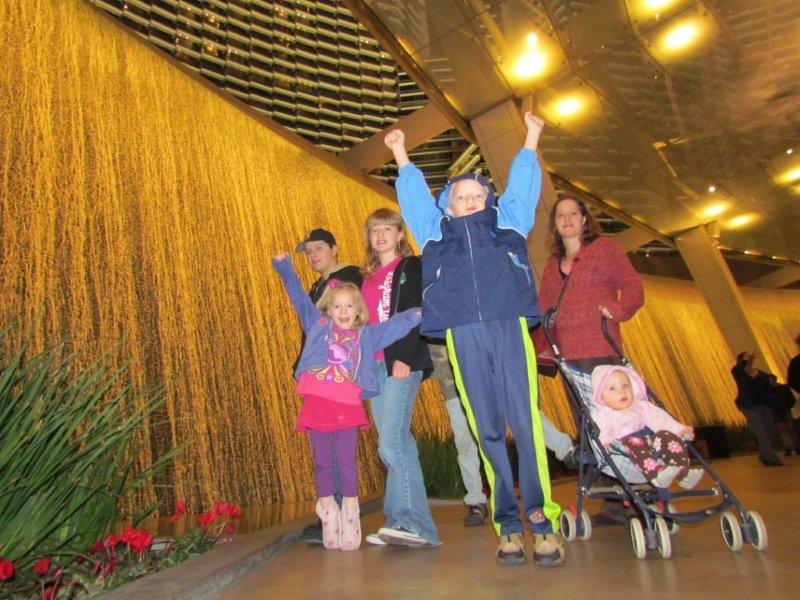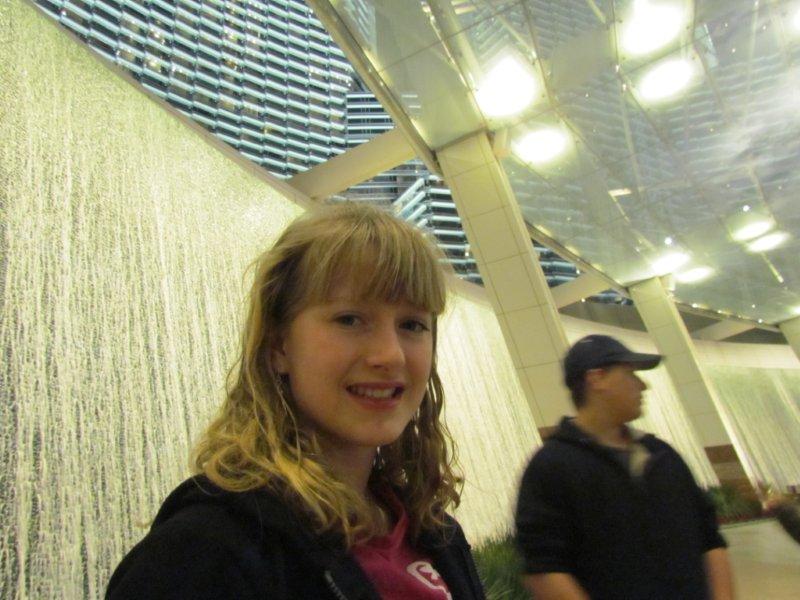 City Center has a few neat art galleries that we went to.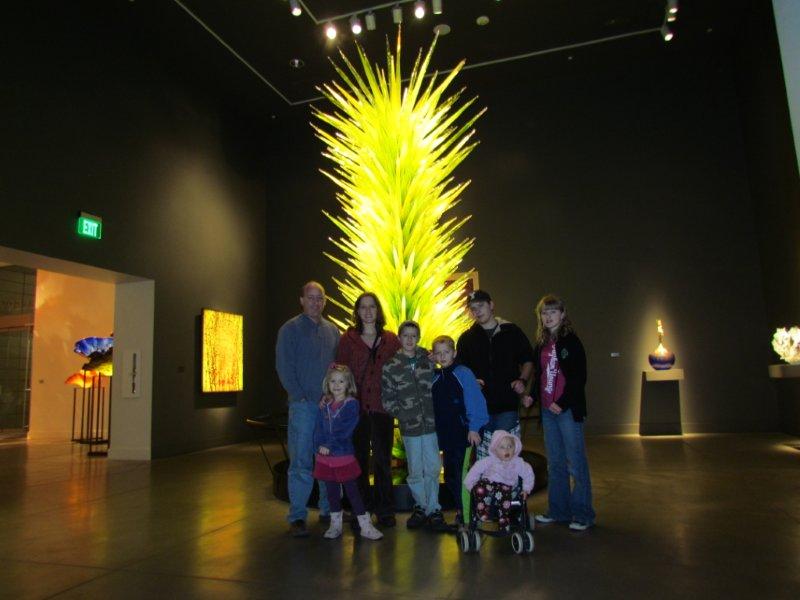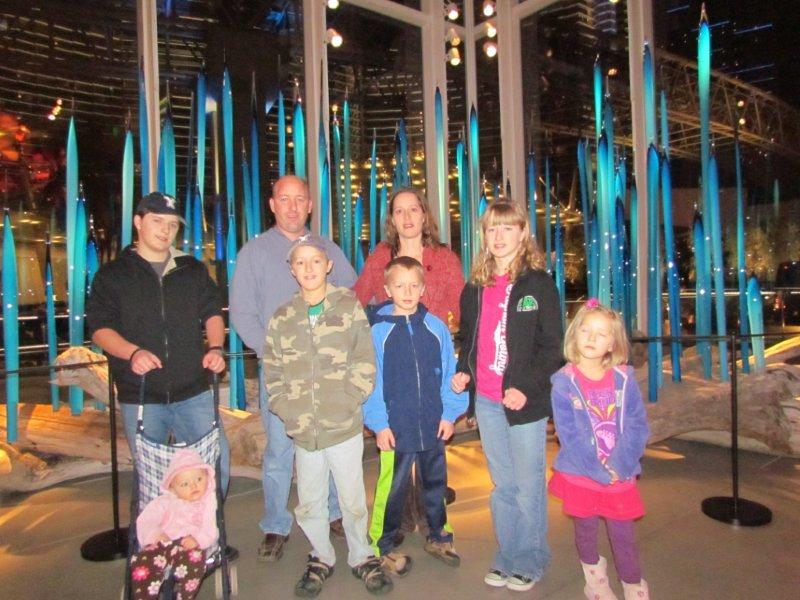 ---
Saturday, January 8th.
After a long day of driving yesterday, we arrived at Buffalo Bills, in Primm, Nevada (off Exit 1).
We checked into a hotel and spent the night. Now we are only a stone's throw from California.

Here we are waking up in the morning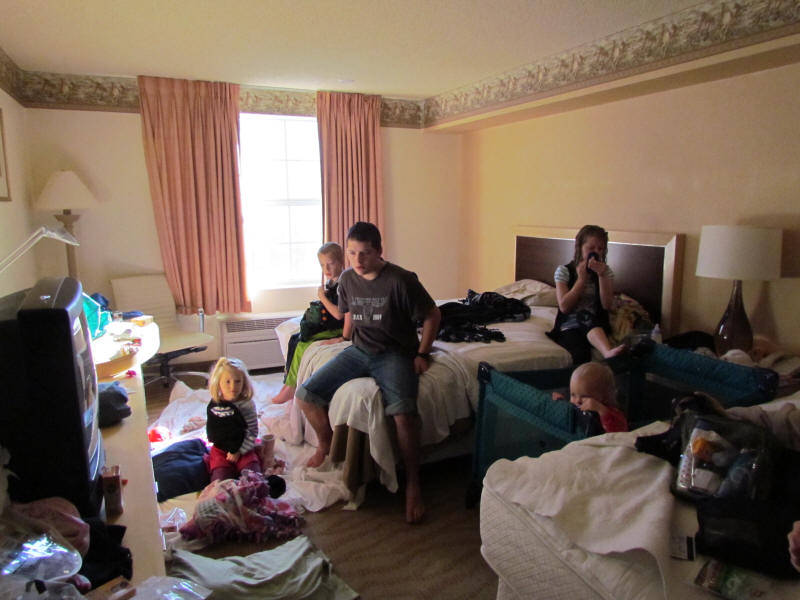 Julia at the hotel pool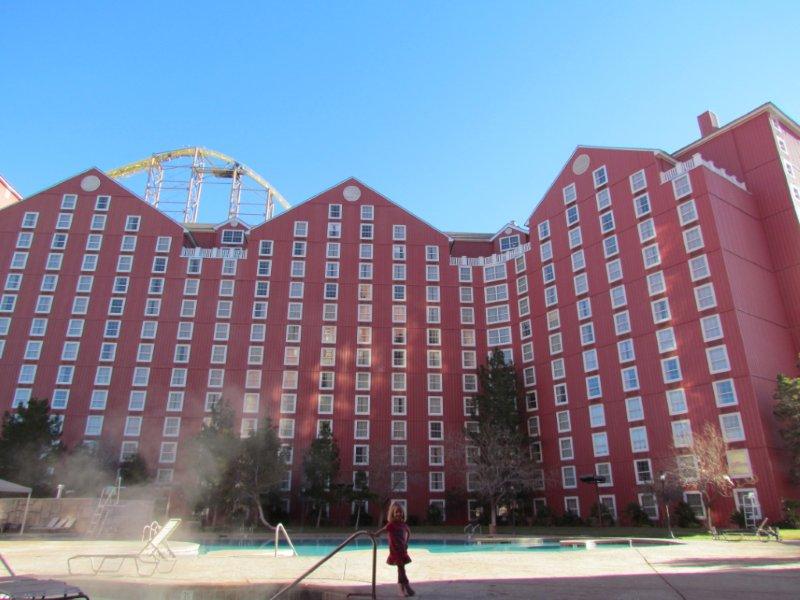 Audrey at a theme portion of the hotel.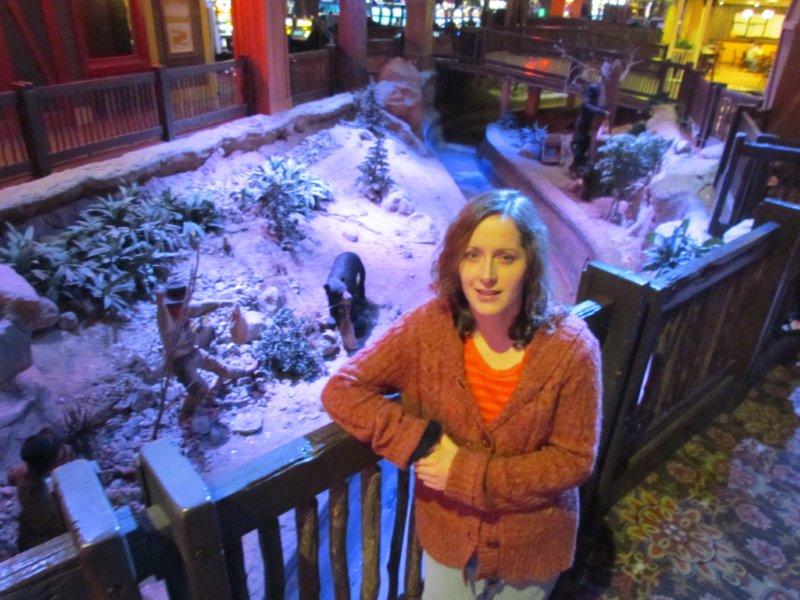 In Las Vegas (...or Primm), even the McDonald's signs get extra fancy.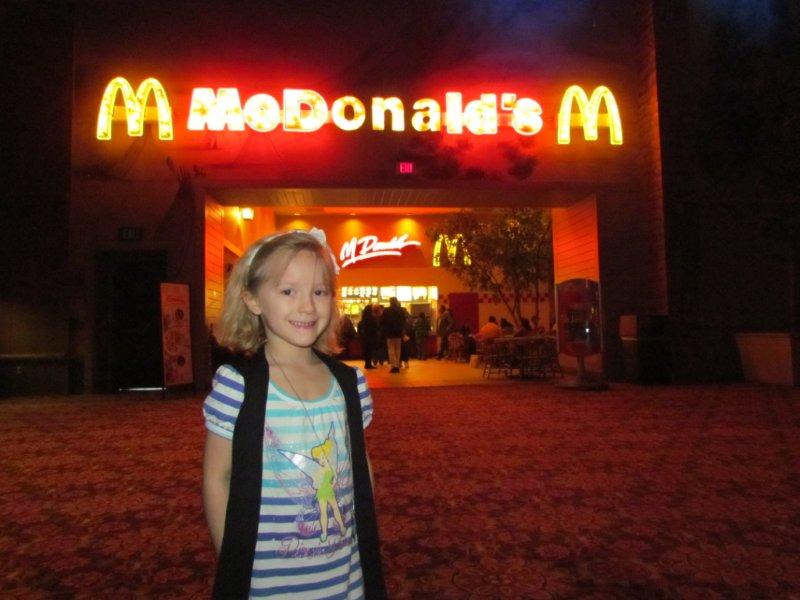 ---
Getting ready to hit the road again.
Here is Megan in front of Buffalo Bills.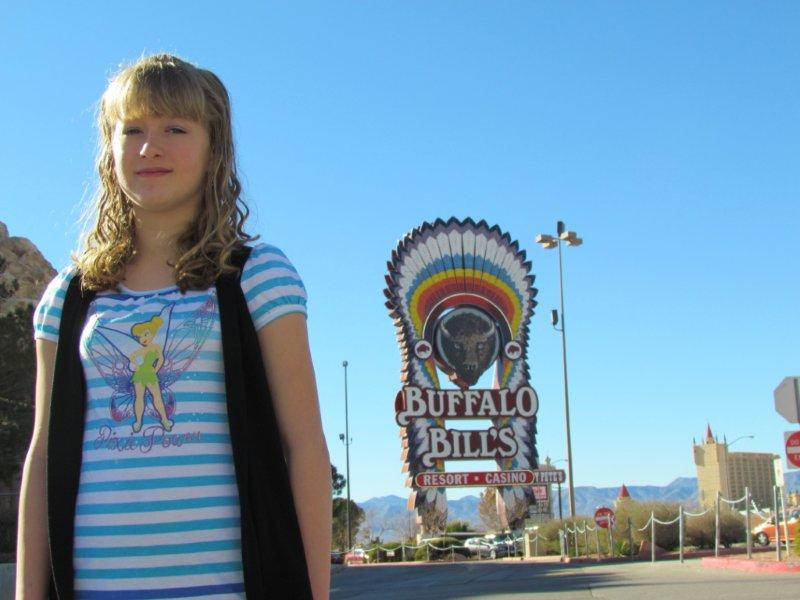 Stopping at the "Train Station" McDonalds in Barstow has always been a tradition.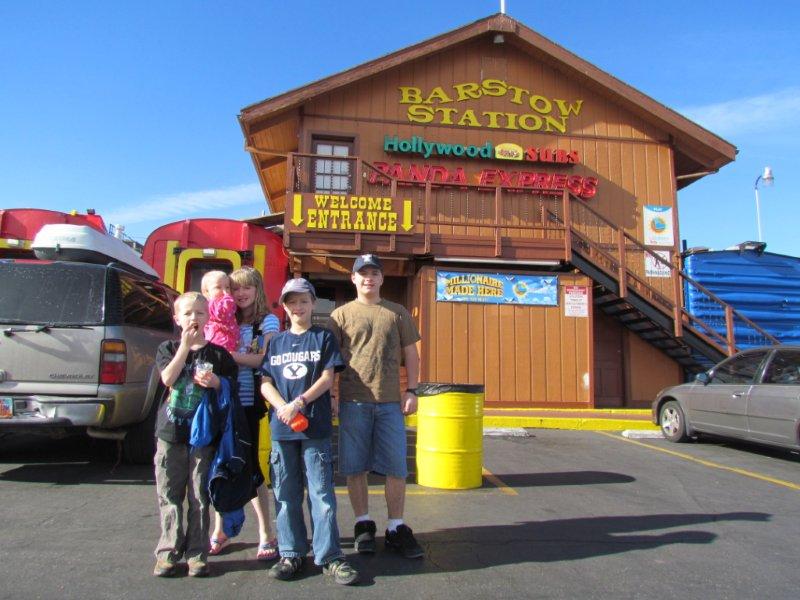 ...you get to eat inside a train car!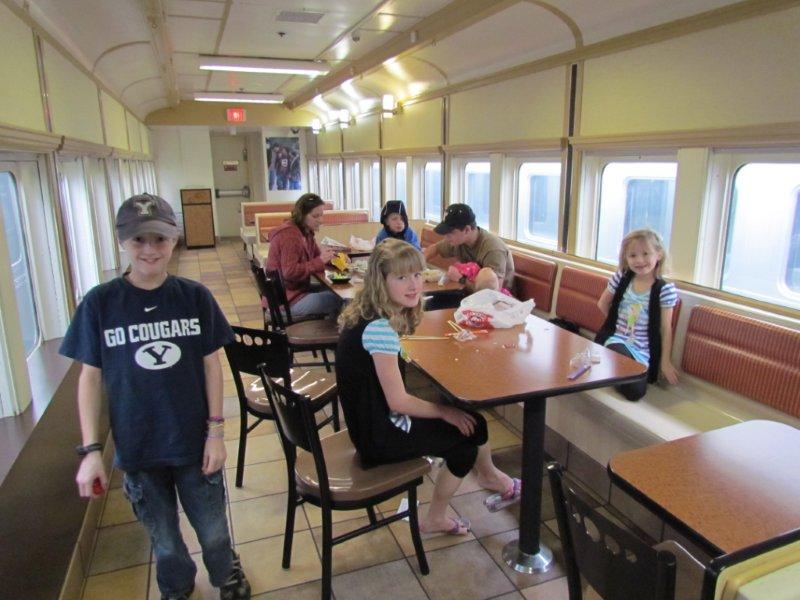 We arrived in California, dropped off a few things at the hotel, and went straight to Aimee and Donald's house.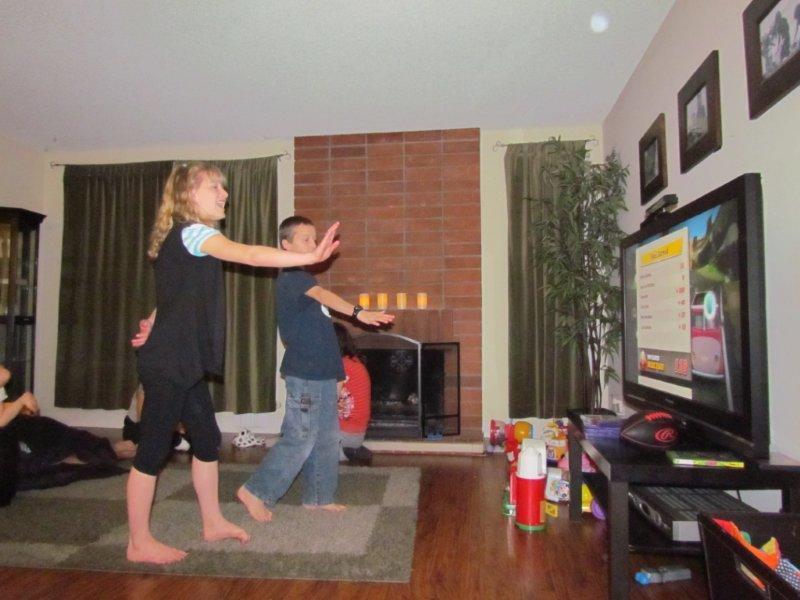 Brooklyn and Donald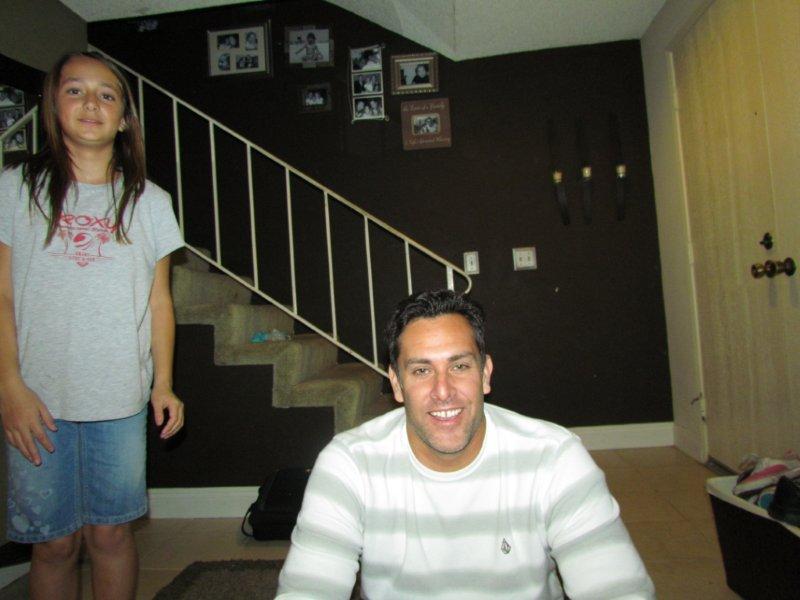 A rare shot of me since I'm usually the one taking the pictures.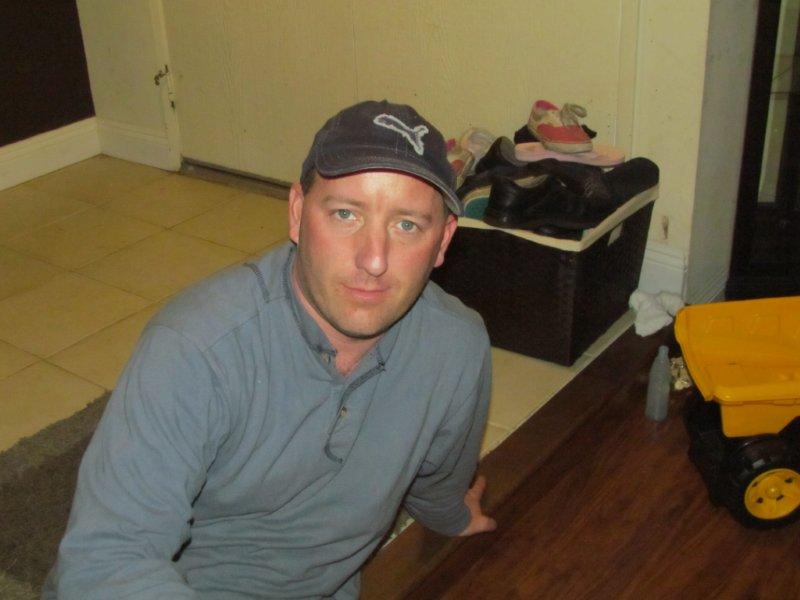 ---
Sunday, January 9th
We went to church at Aunt Aimee's ward. It is a huge church that has 2 chapels, 2 gyms and double the set of classes under one roof. This was due to building regulations in the area so they had to build it in one structure, but large enough to fit twice the traffic. Then we went back to hang out at Aimee's house.
Uncle Steven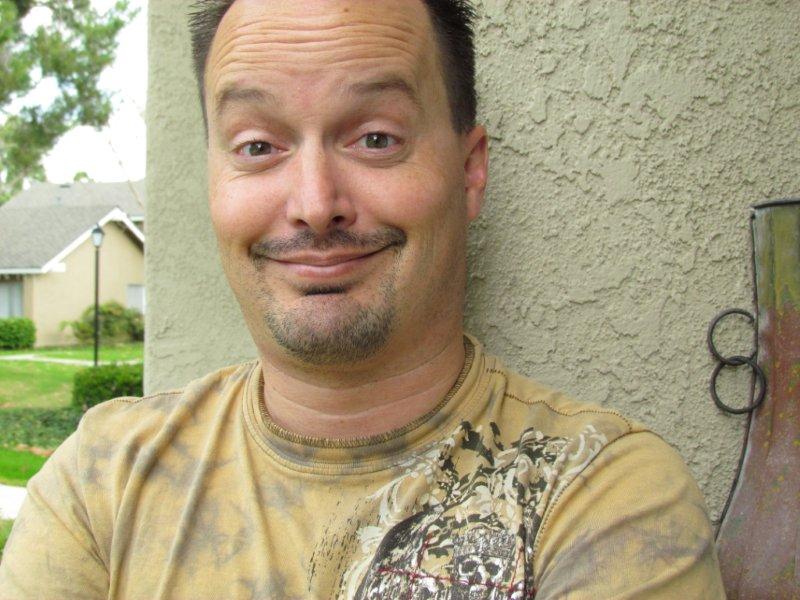 Ellen still dressed in her church outfit.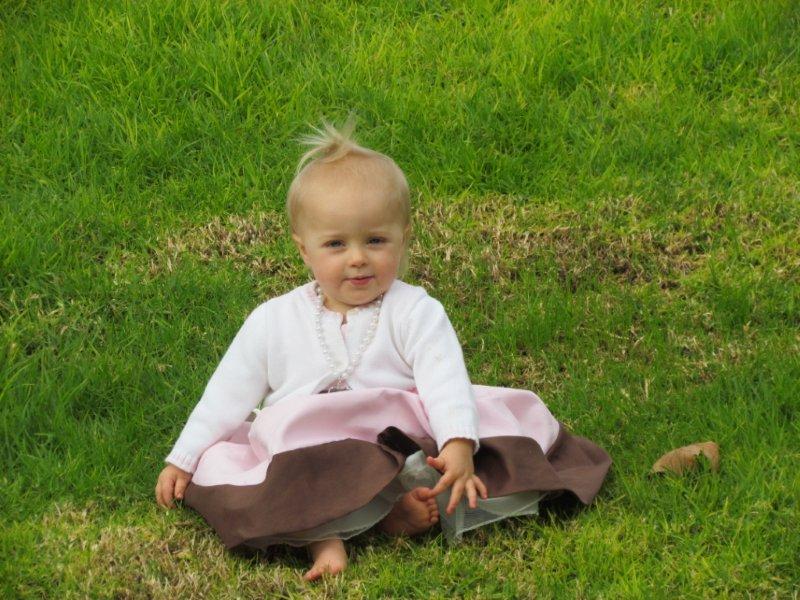 ---
Monday, January 10th
Audrey wasn't feeling so well, so I took a few of the kids to downtown LA and we walked around an area called the Garment District.
This was a common store display for cloths, unfortunately. But it made for a funny picture.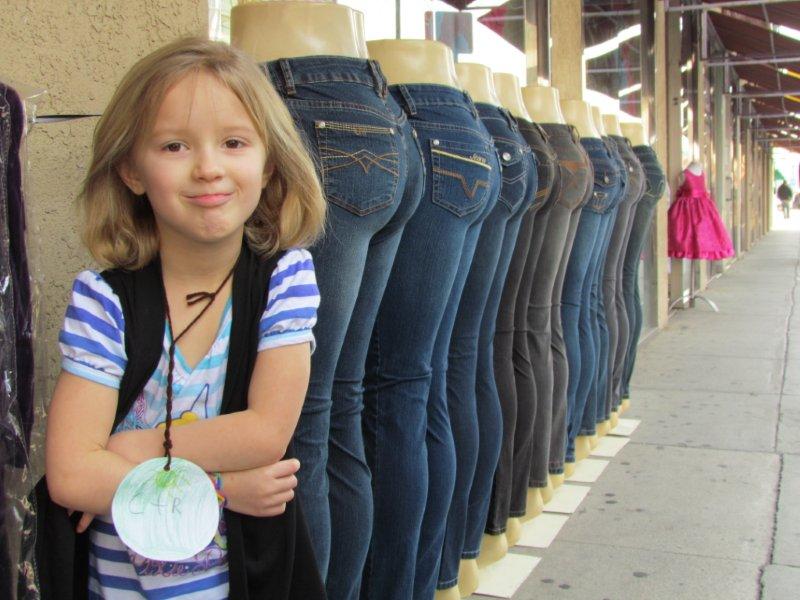 We did find a good place to eat tacos.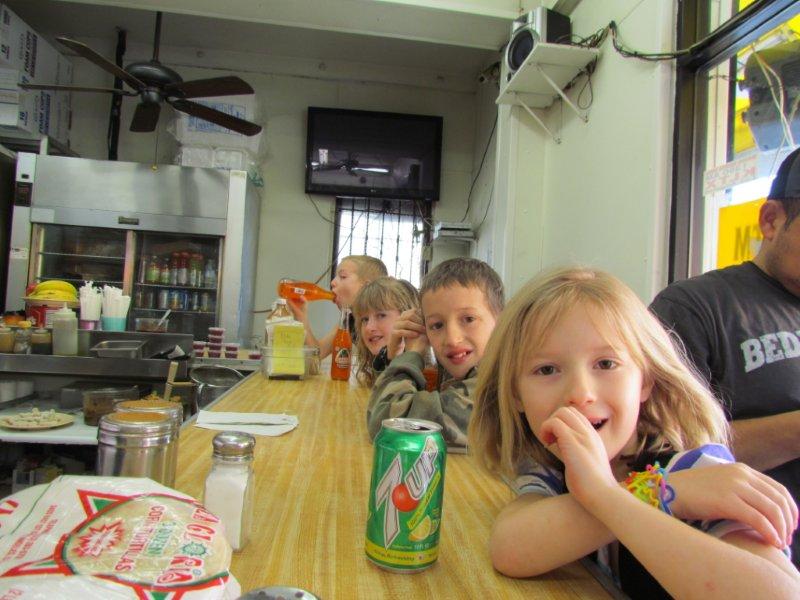 Fish tacos are always something that we like to try.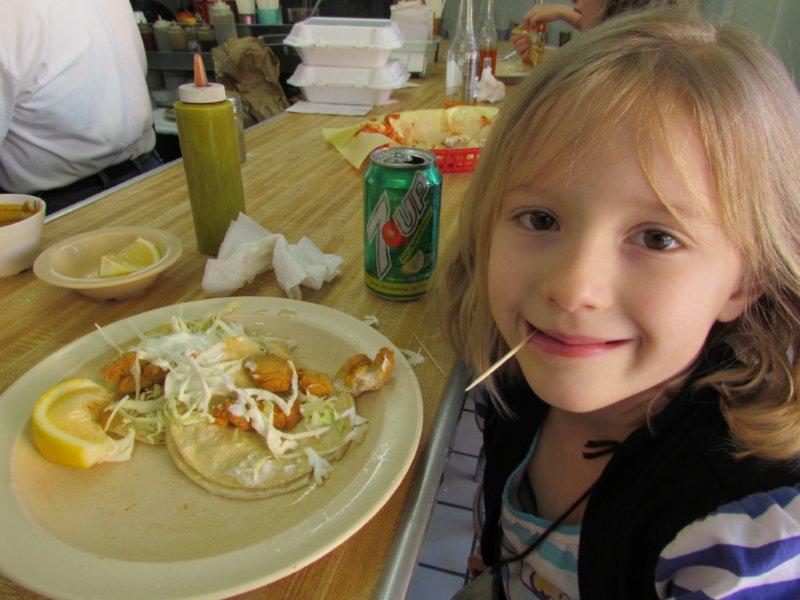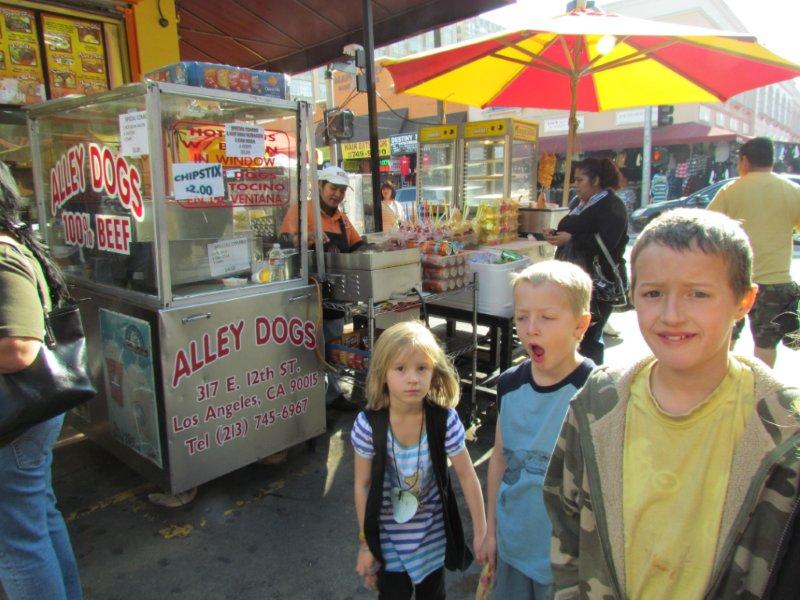 We found Julia's Store, "Julia's Fashion".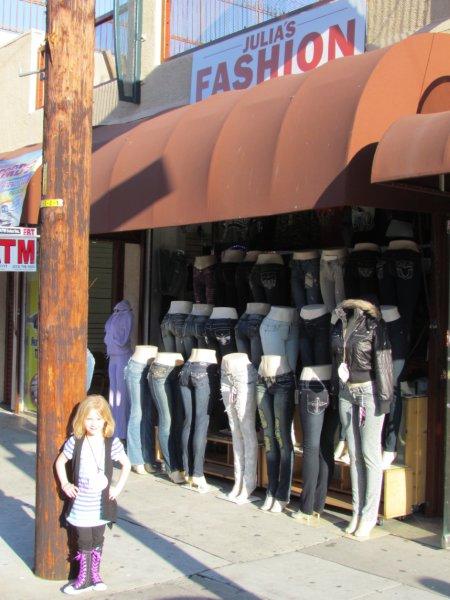 Then we went shopping a few blocks away at China Town.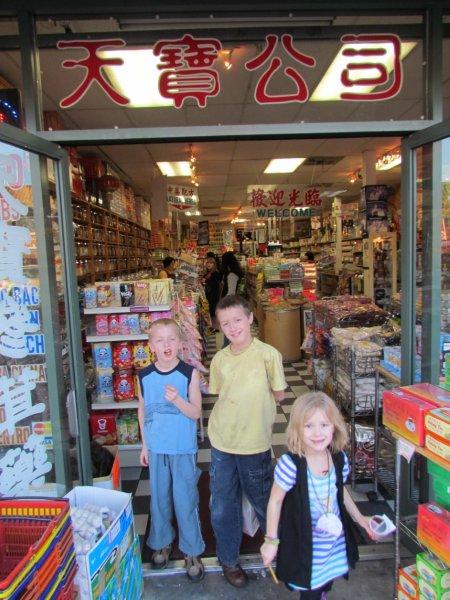 The locals.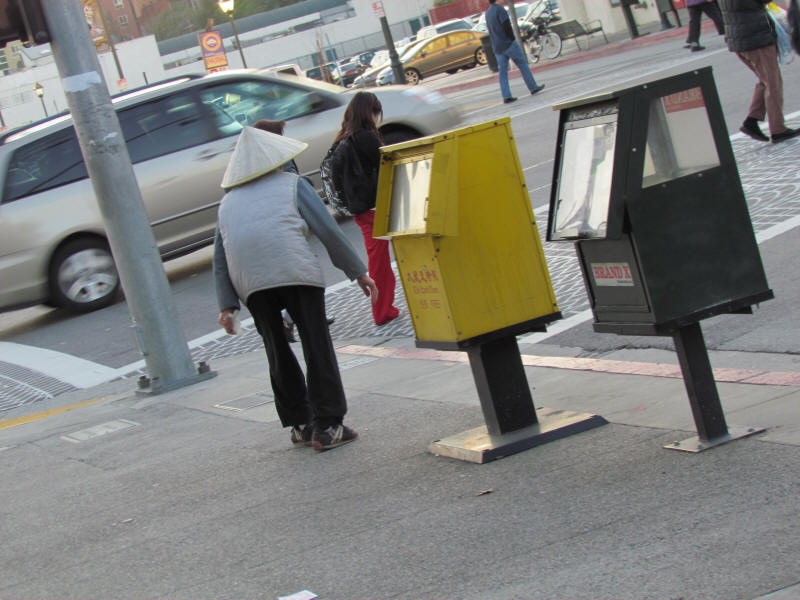 We're driving back to the hotel and I'm sure I'm going to break the law faster than I can figure out what this sign means. I'll take a picture and decode it later.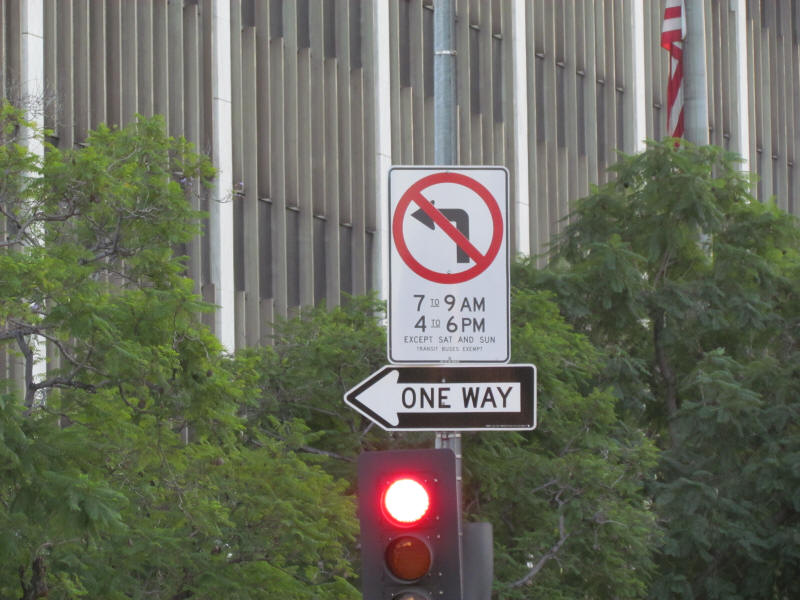 First we stopped by a bakery and brought home all kinds of tasty pastries.
Here we are back at the hotel trying them out.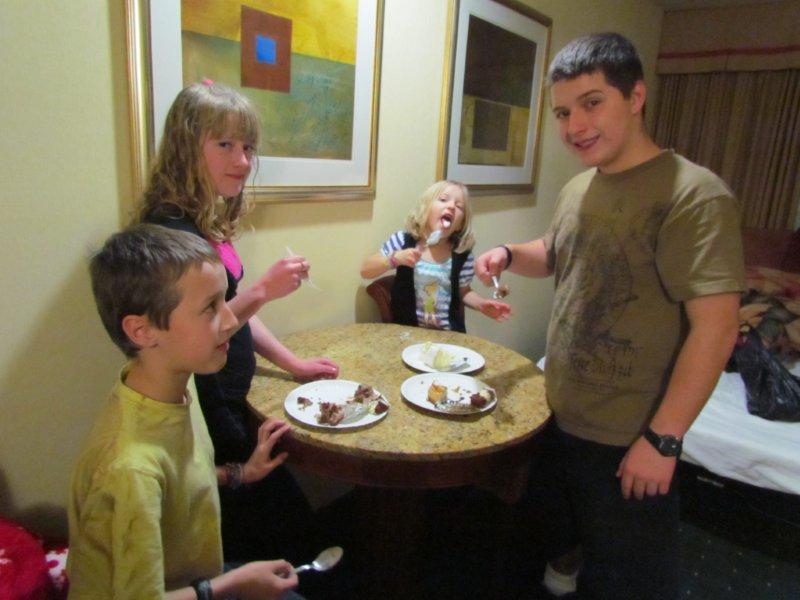 My camera has a pretty decent zoom on it. I went to the airport to pick up Laura. On the way back to the hotel we stopped at a store and I zoomed in and took this picture of the moon.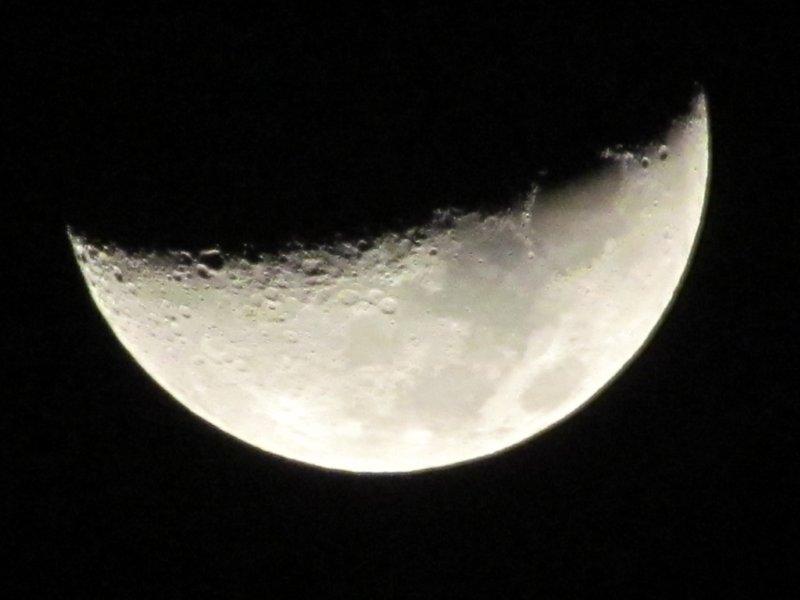 Each night we would go swimming in the hotel pool, even if only for a few minutes. I don't generally take the camera. However, today I had my cell phone in my swimming shorts. I didn't realize until I got out of the hot tub. So I wont have a cell phone for the rest of the vacation. That will make the next 3 days of Disney a little more frustrating. :-(
At the end of the day, we are all done with swimming and Ellen is ready for bed.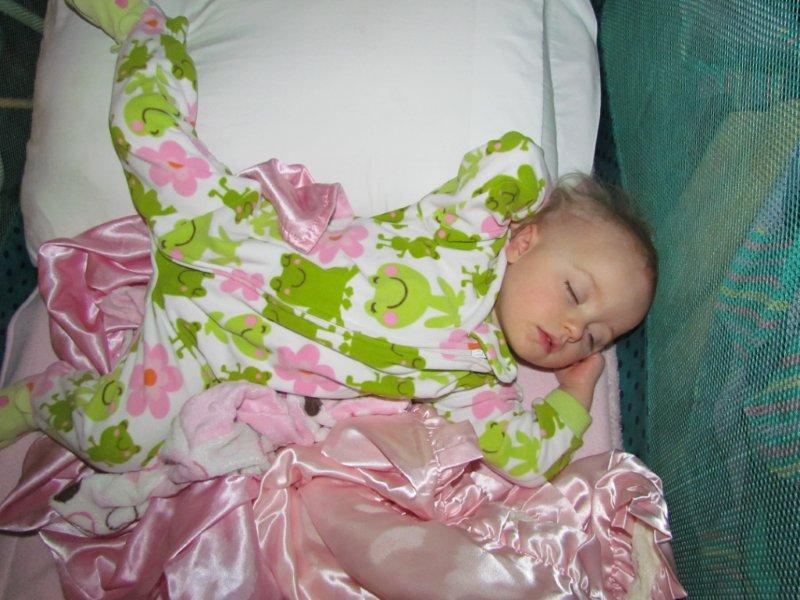 ---
Tuesday, January 11th
Today we get to go do Disneyland! 3 full days of Disney!!!
Our first ride is from the parking garage to the front gate.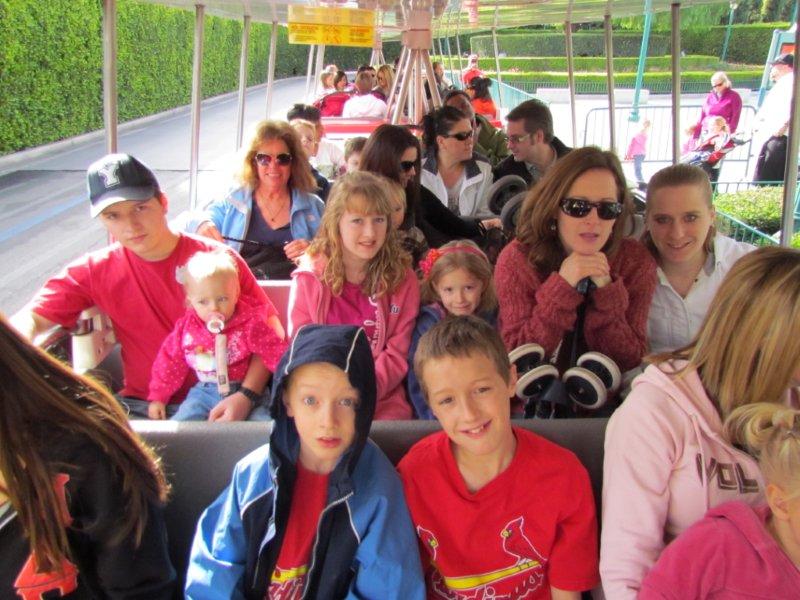 We begin the first day at the "California Adventure" side of Disney.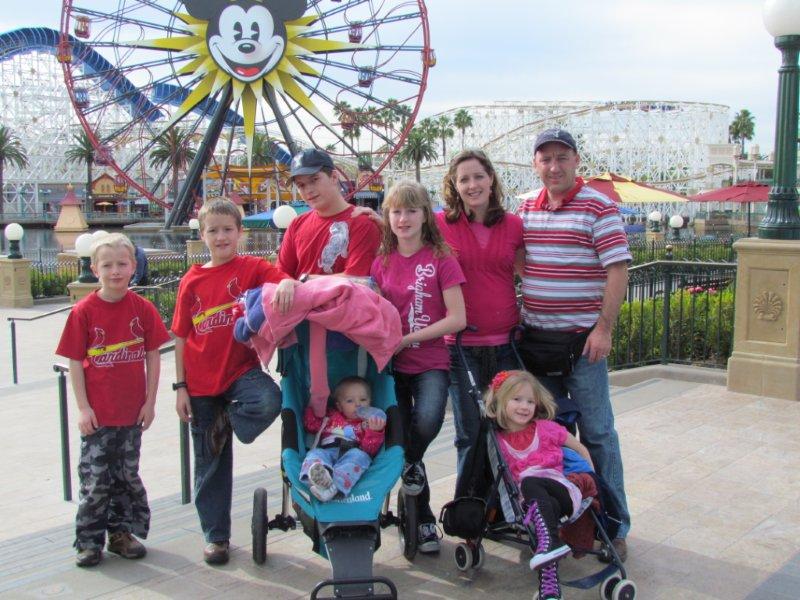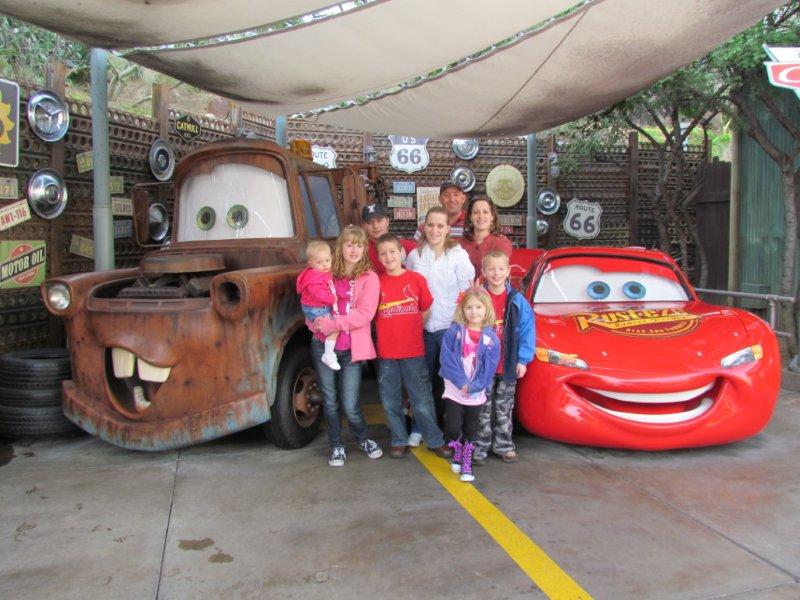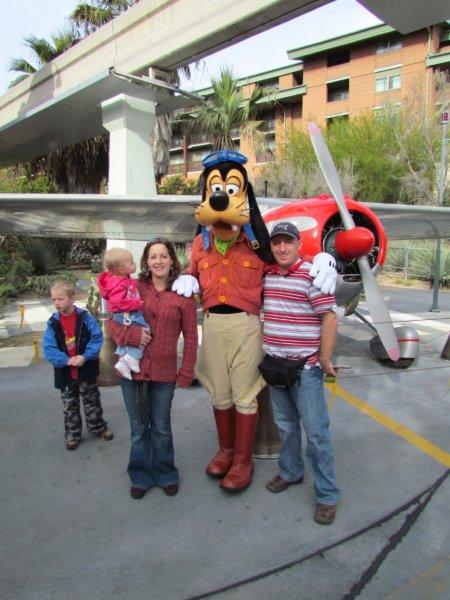 Taking a ride on the Golden Zephyr.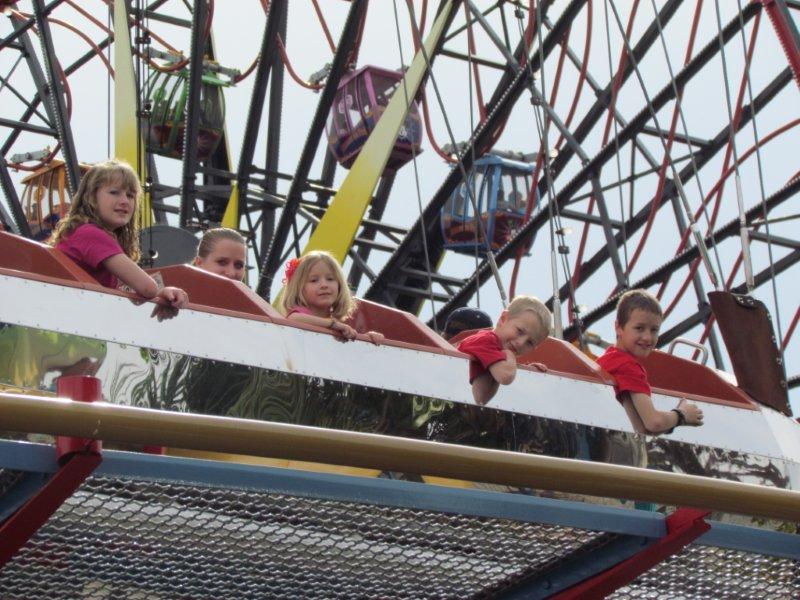 Megan and Julia on the "Jumpin' Jellyfish".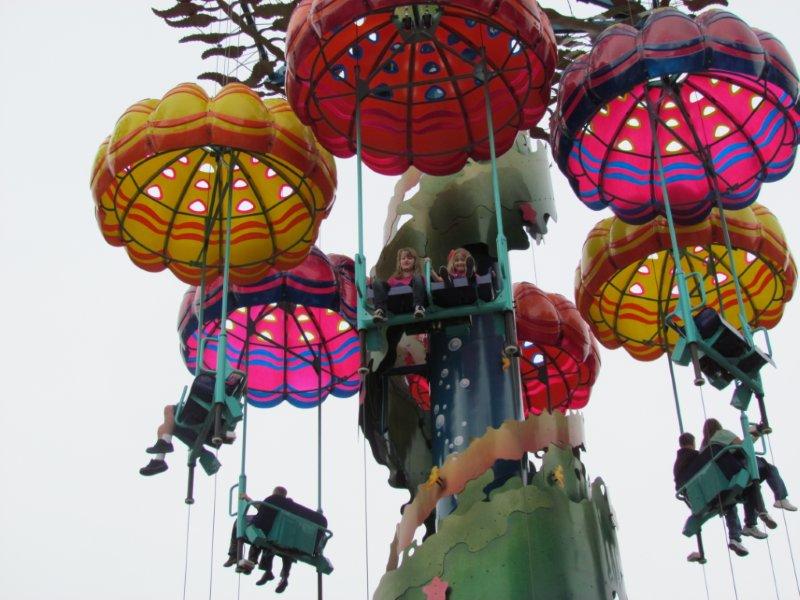 The Toy Story ride in 4-D.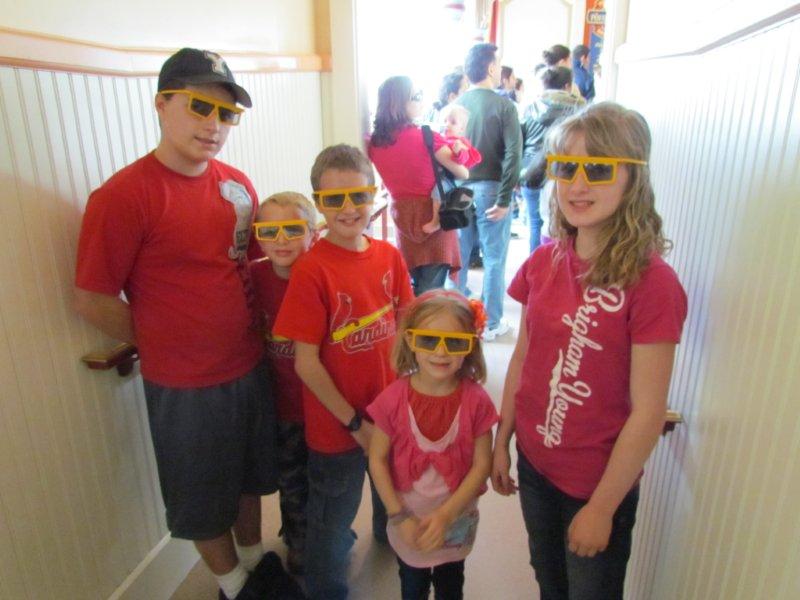 Ellen loved King Triton's Carousel!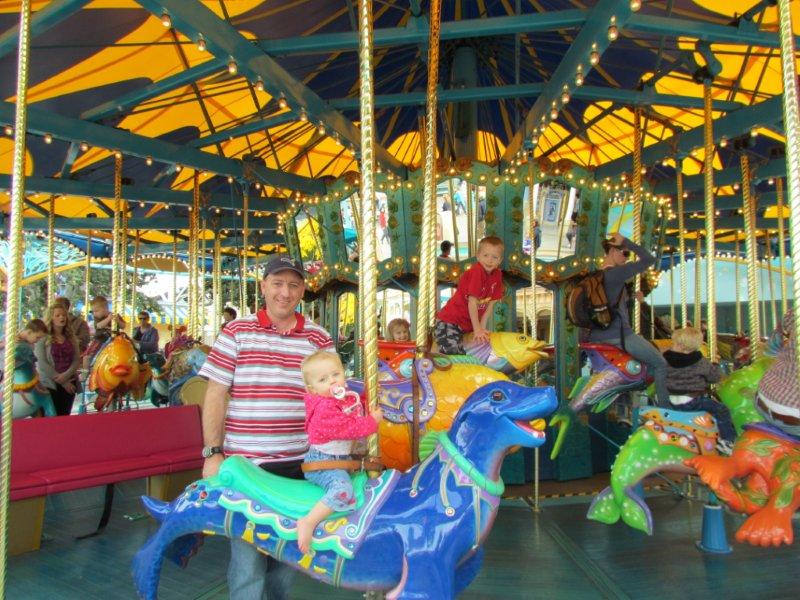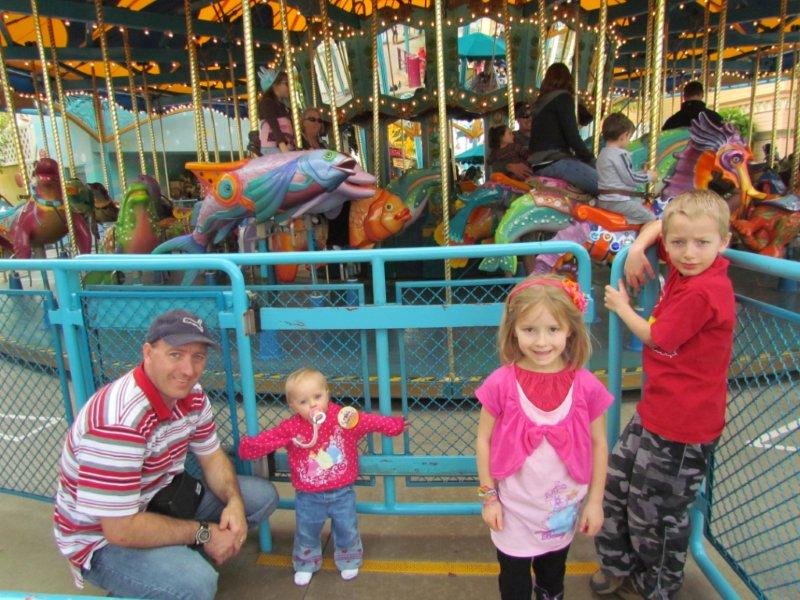 Ok, that's too many loops for me.

Waiting in line for the Bug's Life 4-D ride. (You'll notice that when we are standing in lines, there are never that many other people around. We went at a really good time)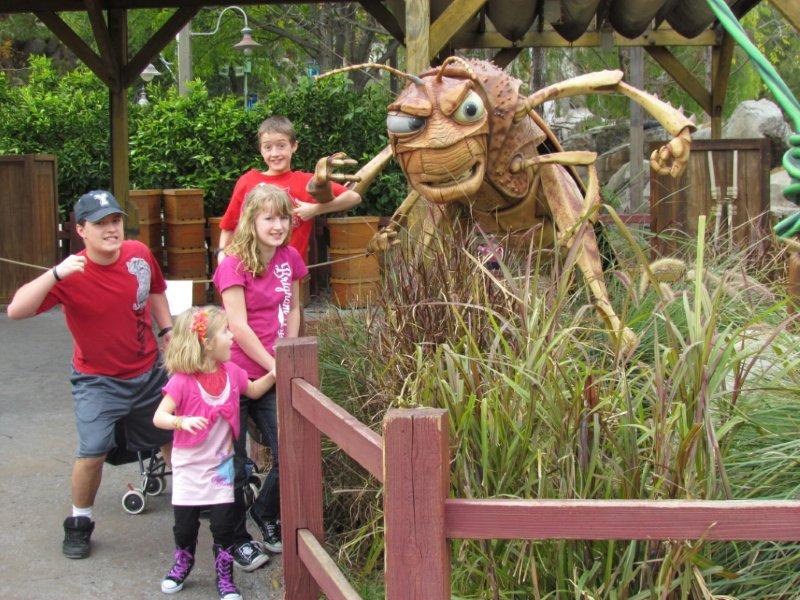 When there are smaller lines, you get to spend more time taking pictures with Mickey and all the other characters.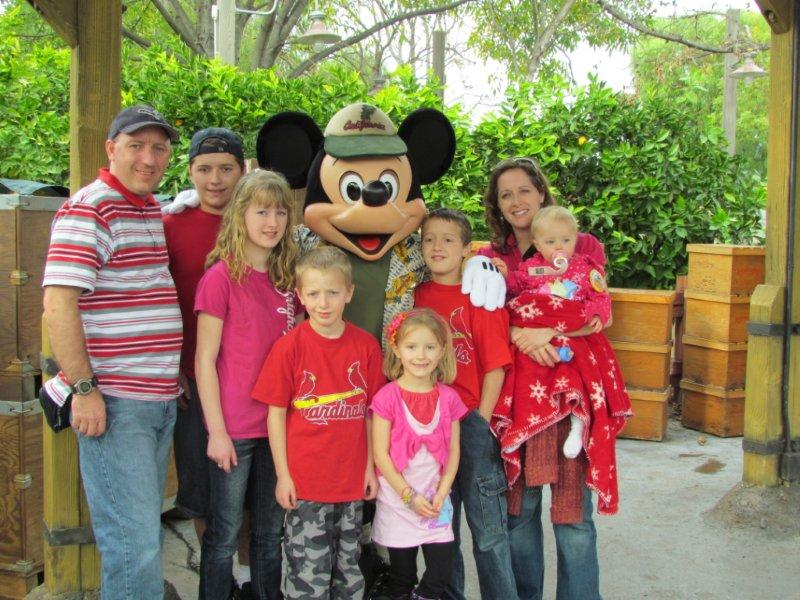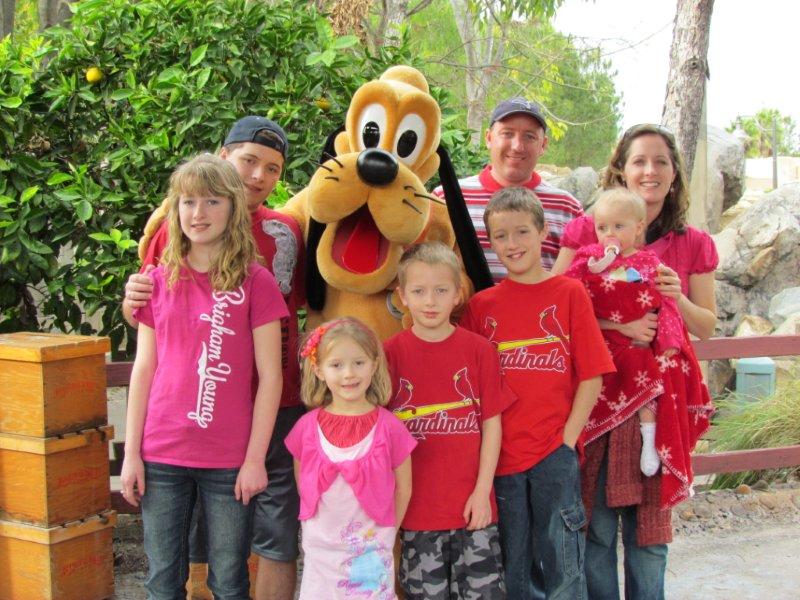 Can you spot the stick bug? ...can you also spot the James Bug eating a tree?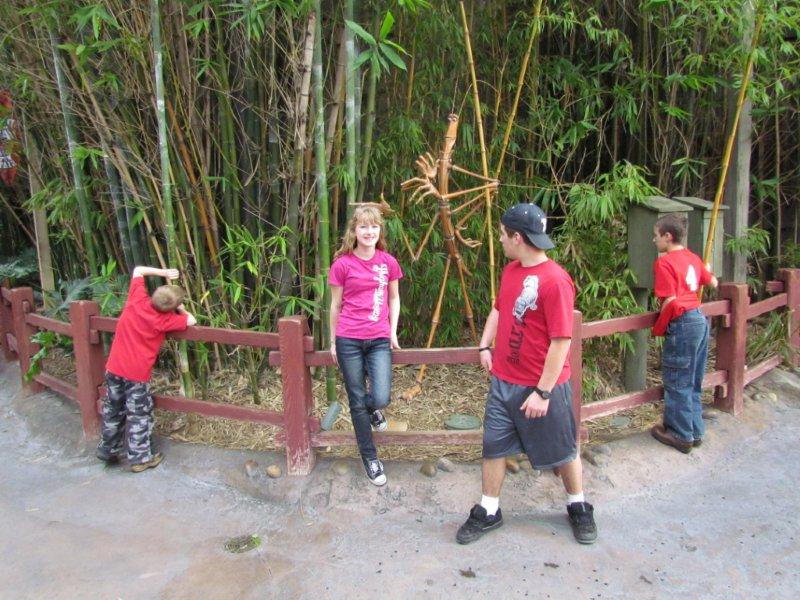 One of our family favorites, especially for Ellen, is Heimlich's Chew Chew Train.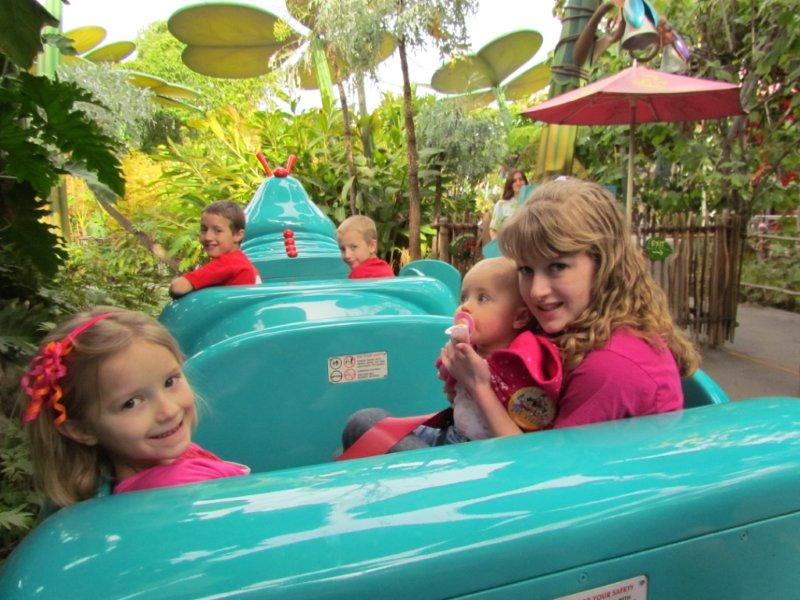 That ride was soooo fun.
....lets stand in line and do it again.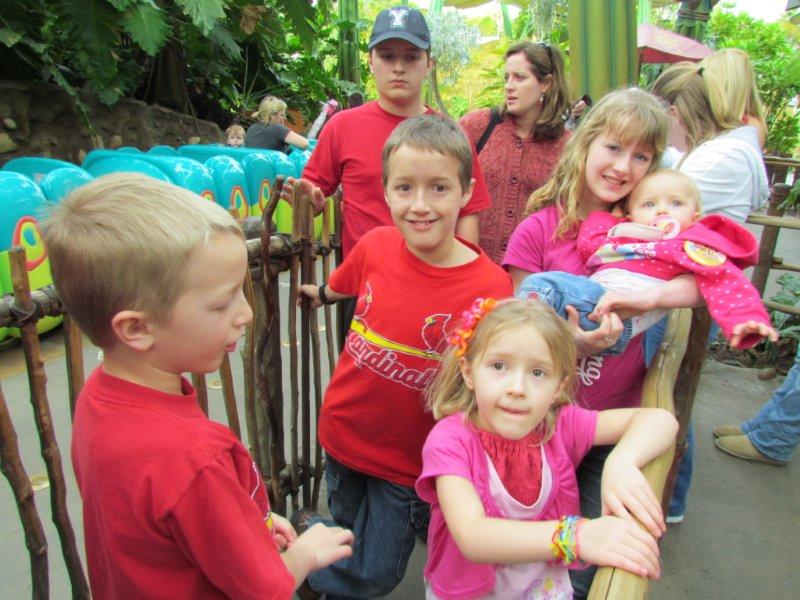 ...possibly the enthusiasm for this ride is not equally shared.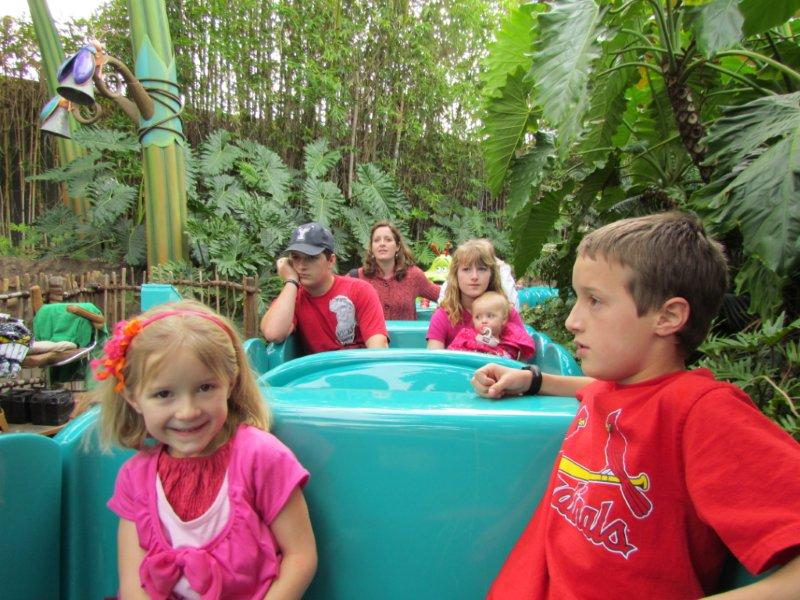 Tuck and Roll's Drive 'Em Buggies.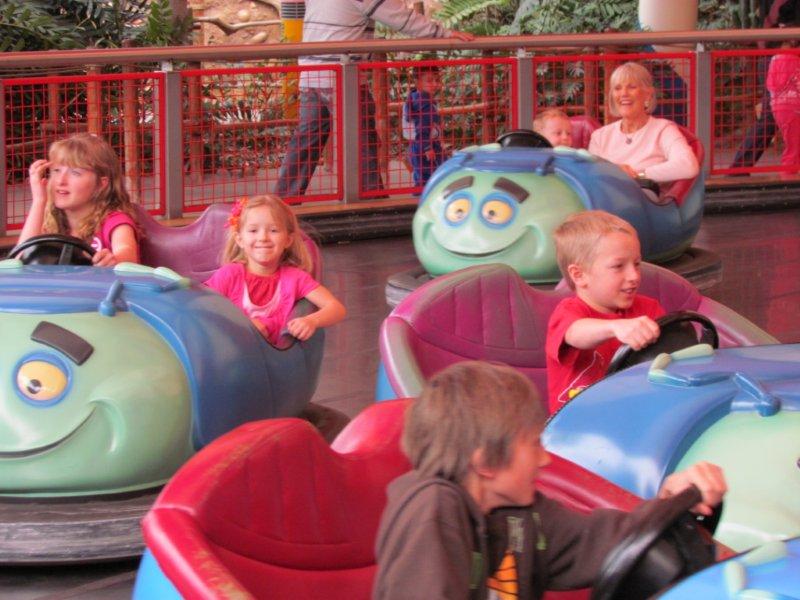 Francis' Ladybug Boogie. It's kind of difficult to see the kids sitting down inside this ride.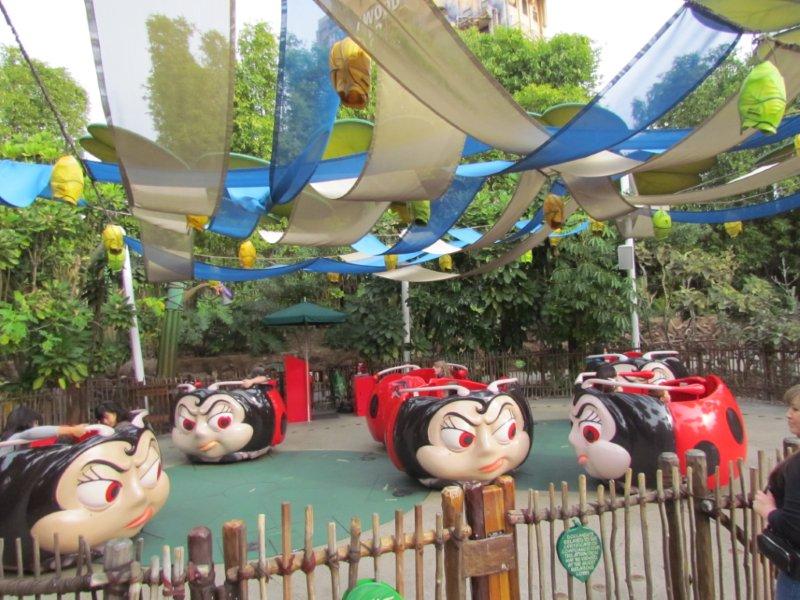 While everyone was going on all those bug rides, Ellen was taking a break. She had a button on her that she really liked and would point out the animals and make sounds.

---
The Twilight Zone Tower of Terror ride. We didn't know what we were getting into at this point (especially Julia).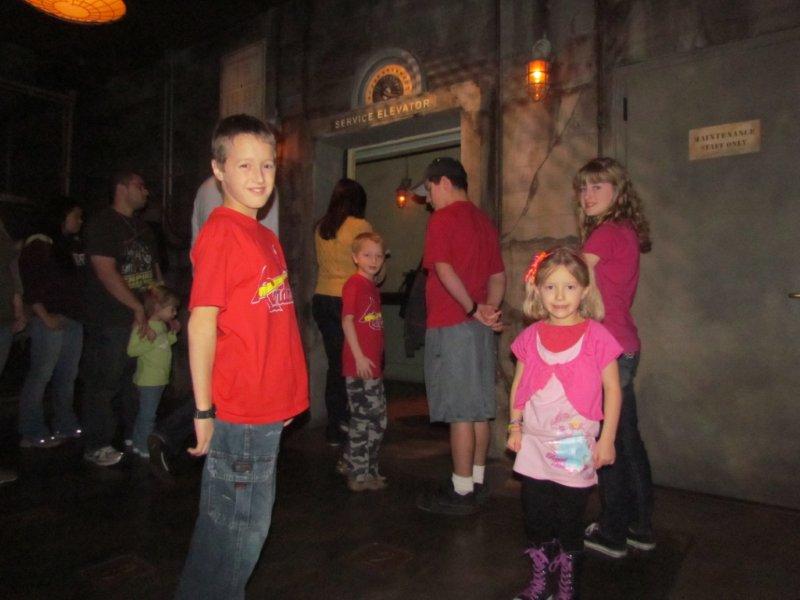 You'll notice that this is our first time on this ride because we are wearing our hats and I have not stowed my camera in a safe spot. Notice the concern starting to appear on Julia's face, and James settling into survival mode. James was not very happy afterwards. (But you'll see in the next picture he still gave it a good rating.)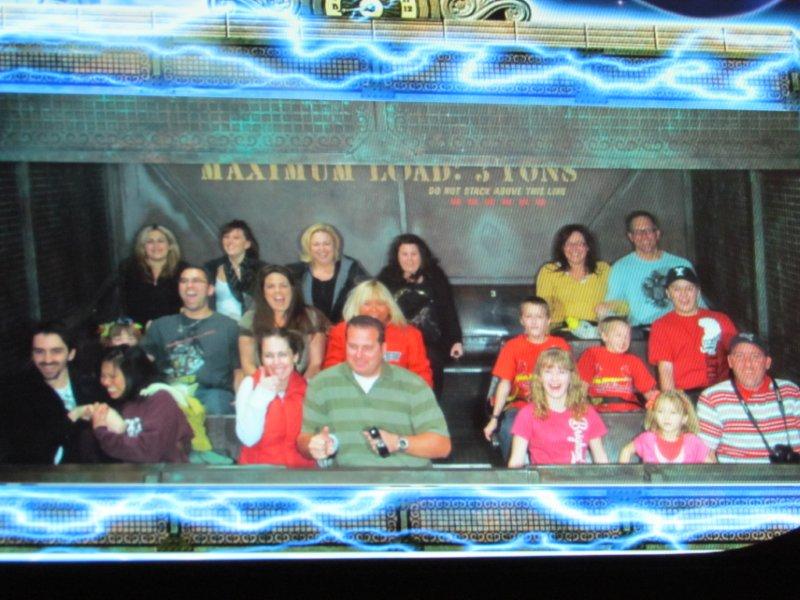 Ok guys. How would you rate this ride?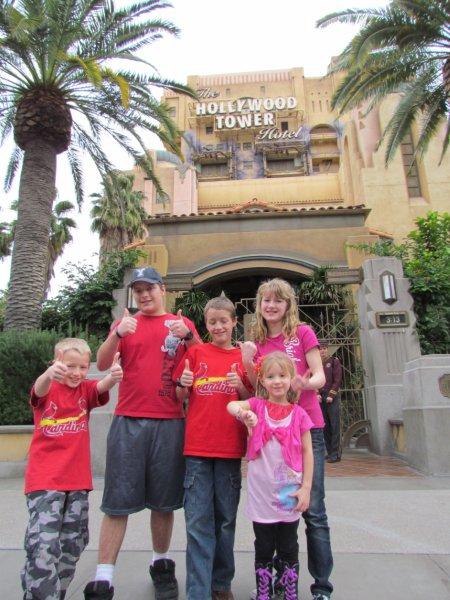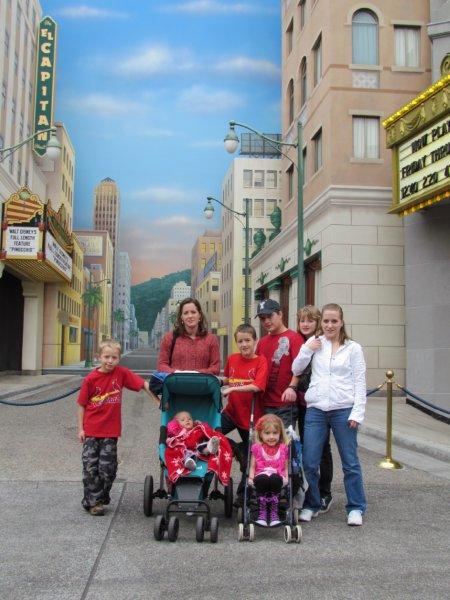 Mmmmmmmm, a turkey leg.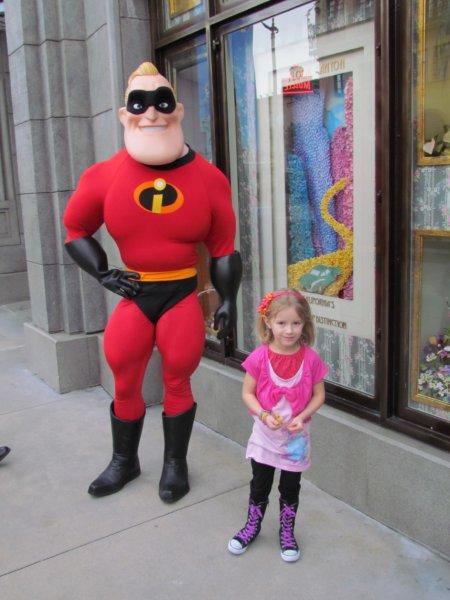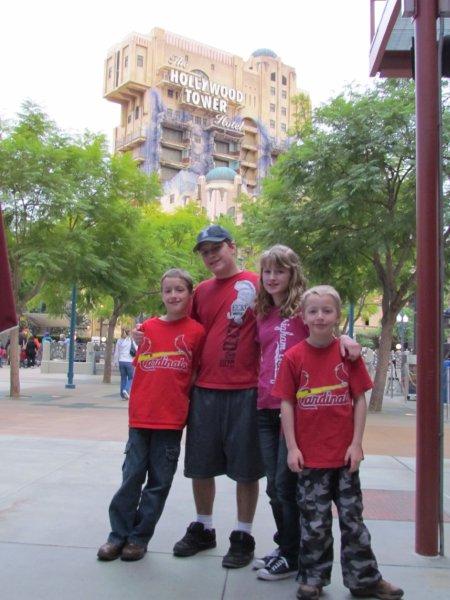 This time Julia and James did not want to go with us again.
Notice we were smarter this time with the camera and our hats.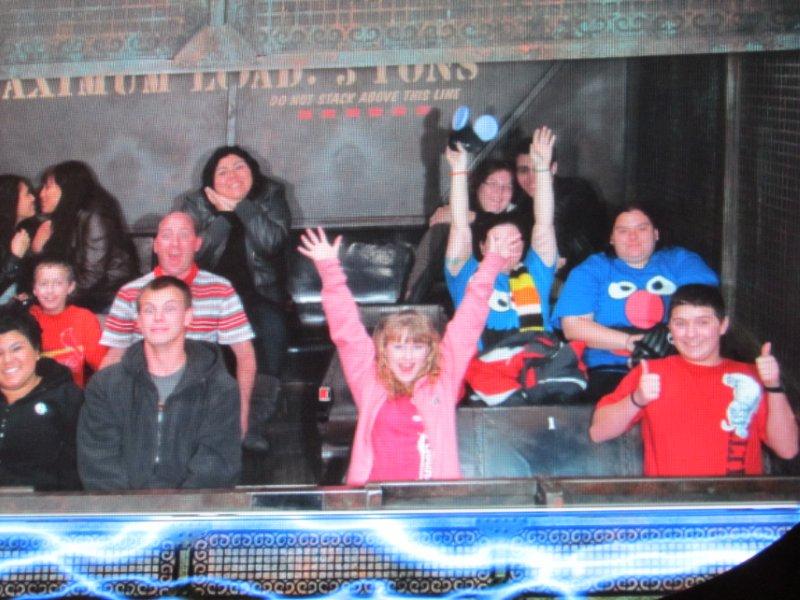 Day 1 is coming to a close, but there is still enough time to get one last ride on Toy Story.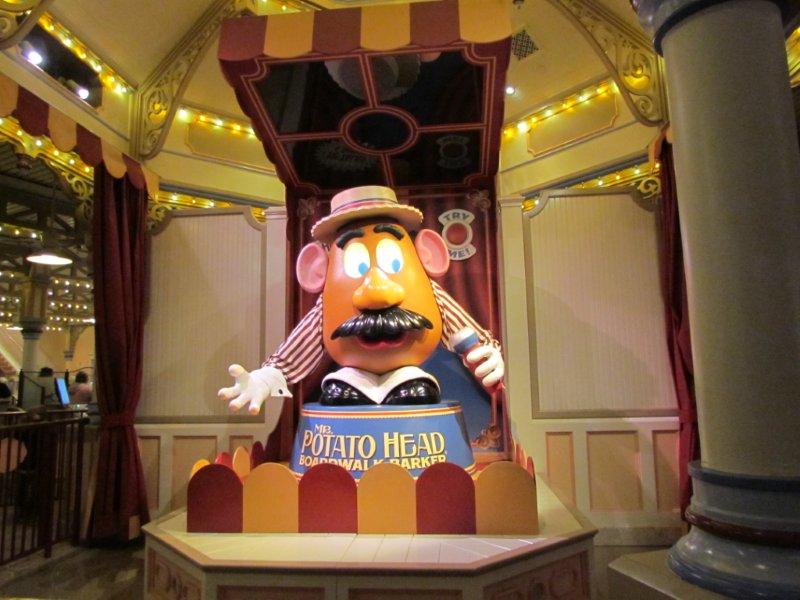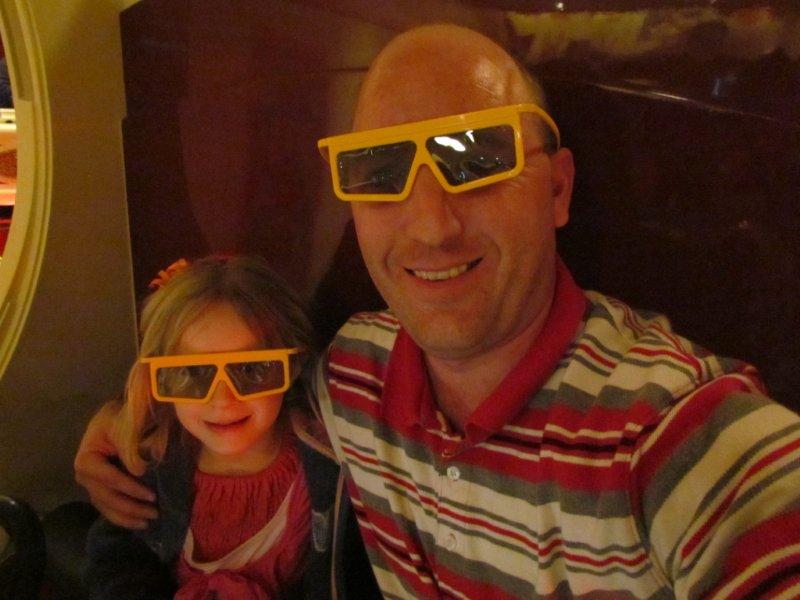 We finished the night with the World of Color presentation.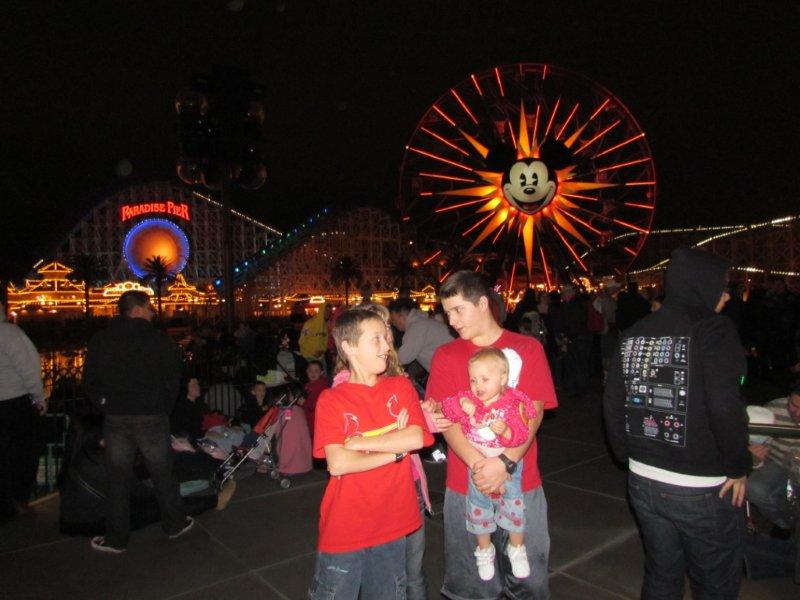 ---
That was a long day and it didn't take long for the kids to fall asleep. That blanket is the Tinkerbell blanket we purchased yesterday at the Garment District in LA.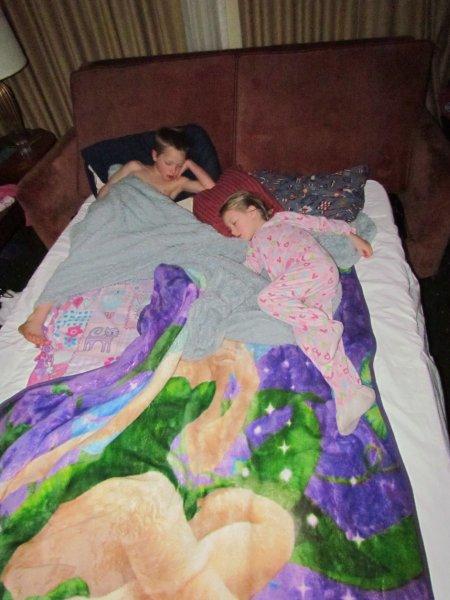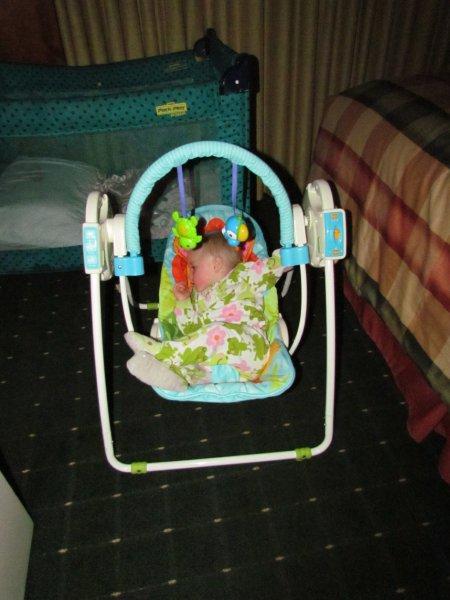 ---
Wednesday, January 12th
Each morning we get up and go downstairs to get the complimentary breakfast (Hard boiled eggs, toast, cereal, juice, milk, pastries, etc...).
Ellen is still tired. It doesn't look like she is ready to wake up yet.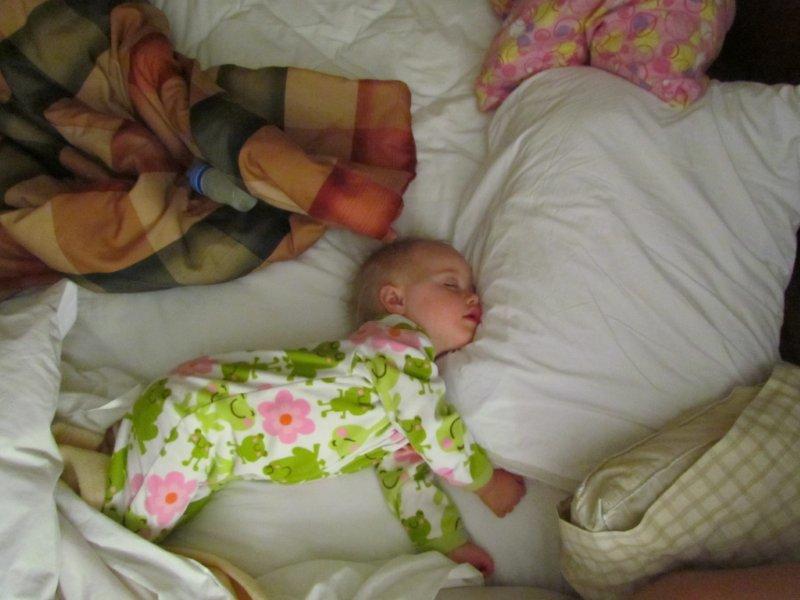 ---
Disney Day #2. Yesterday we went to California adventure. Today and Tomorrow will be at Disneyland.
Here we are competing with the crowd to get our picture taken at the most popular picture spot at Disneyland. After a few minutes of trying to get our turn, we just squeezed in this shot.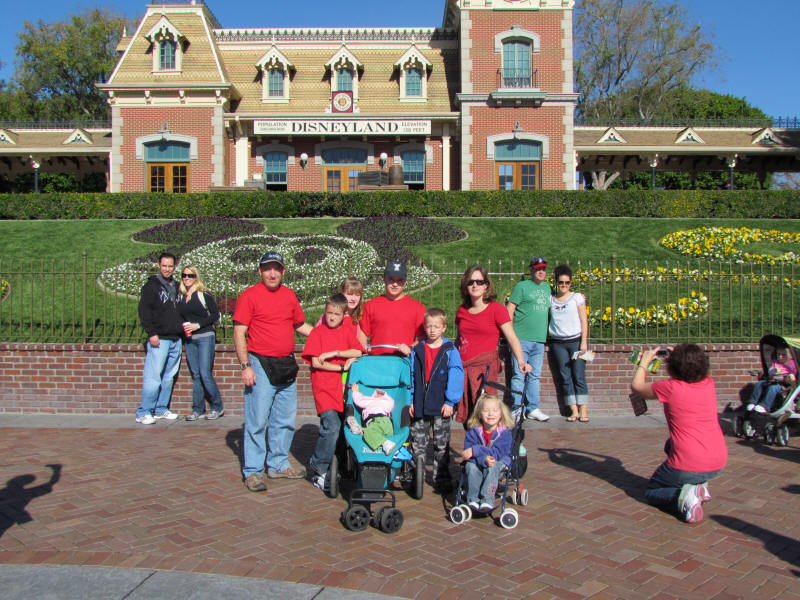 Julia on the Buzz Lightyear Astro Blasters ride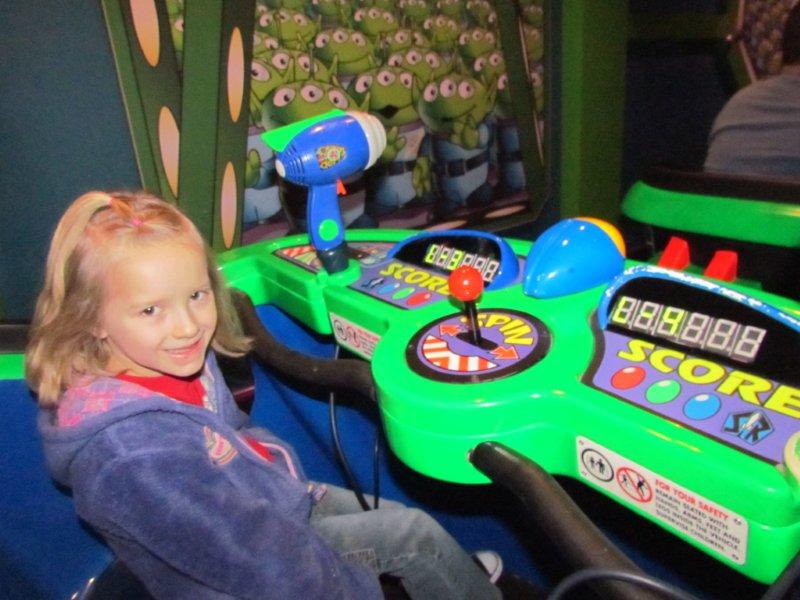 Waiting in line at the Space Mountain ride. Not much of a line, we only had to wait a few minutes.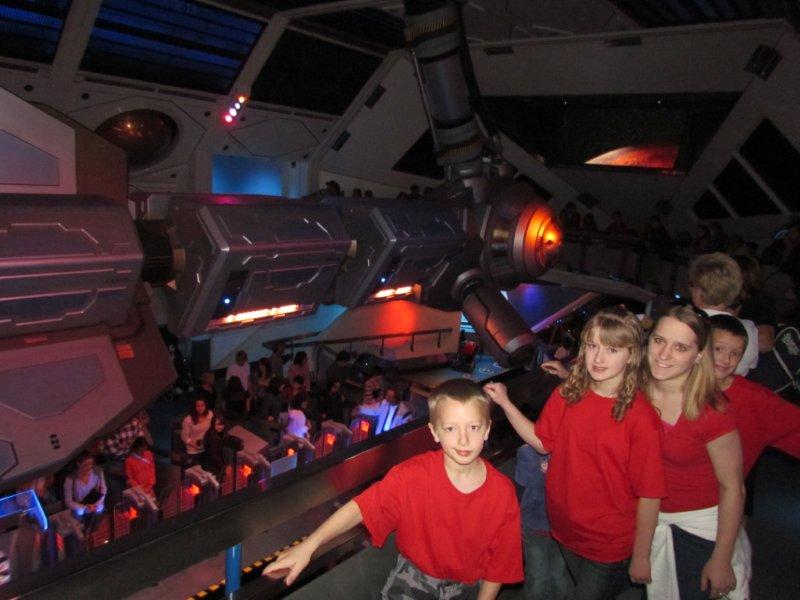 Julia and Aunt Laura waiting in line at Autopia.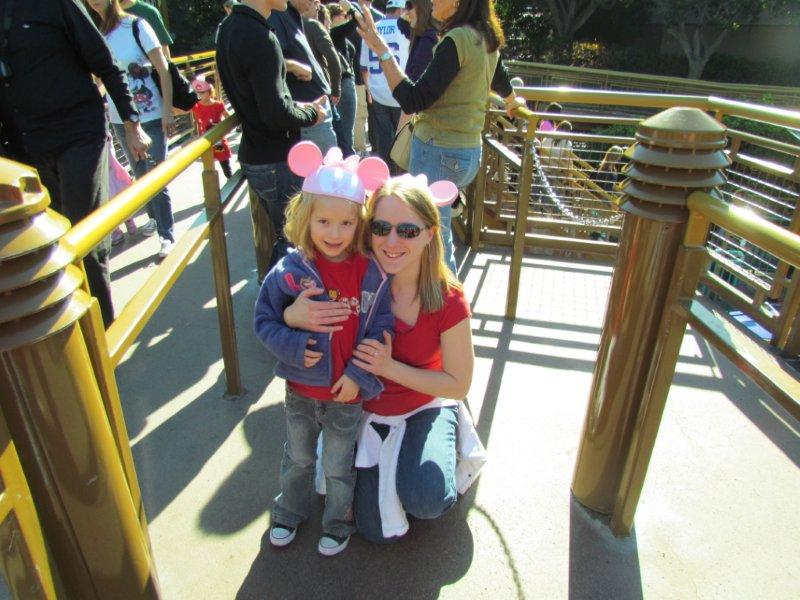 Julia got to drive!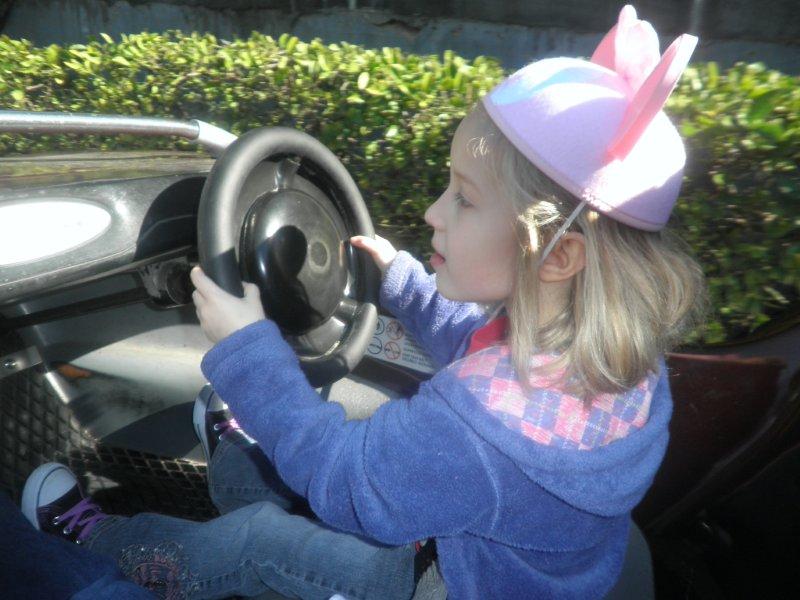 ...so did James. But James does not always like to get his picture taken.

The Matterhorn behind James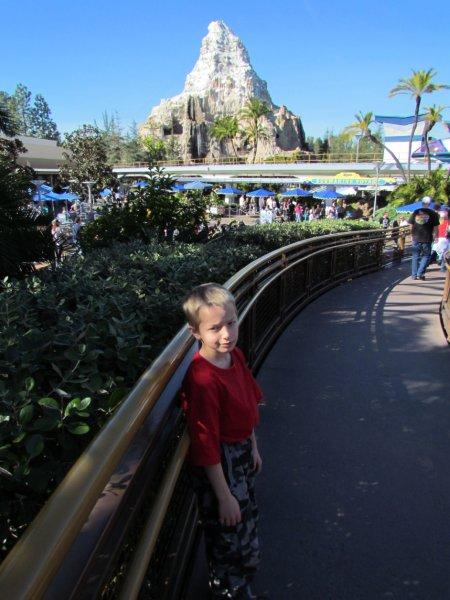 Finding Nemo submarine ride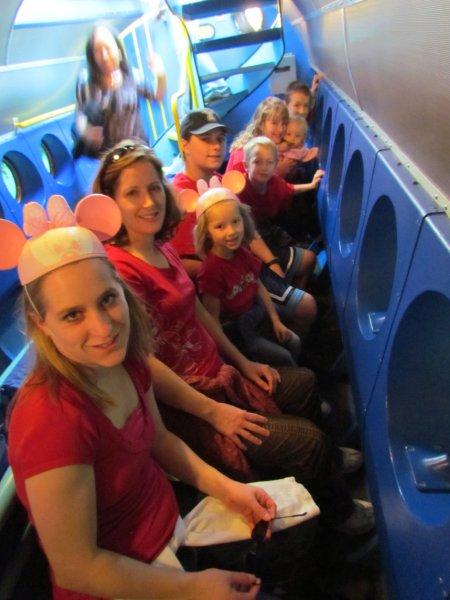 This was the view from my porthole.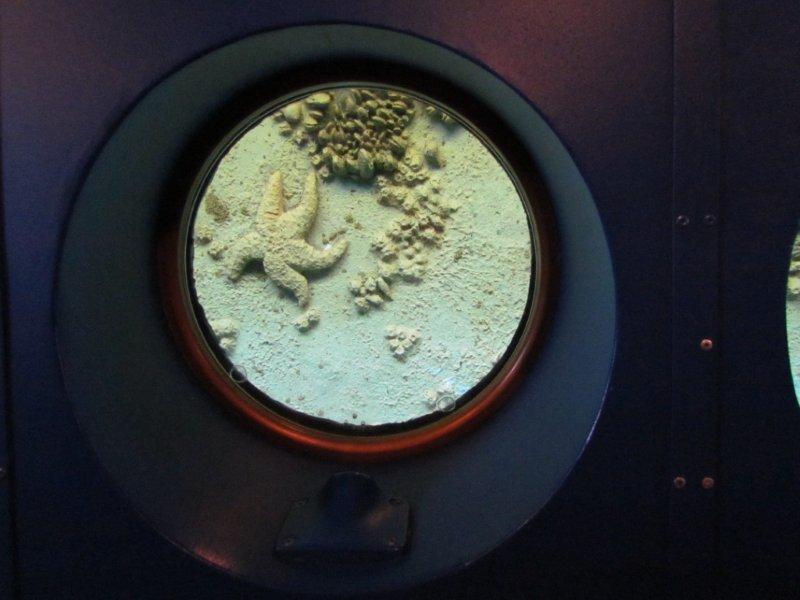 Some pictures of the Finding Nemo submarine ride. (Taken from outside of the submarine)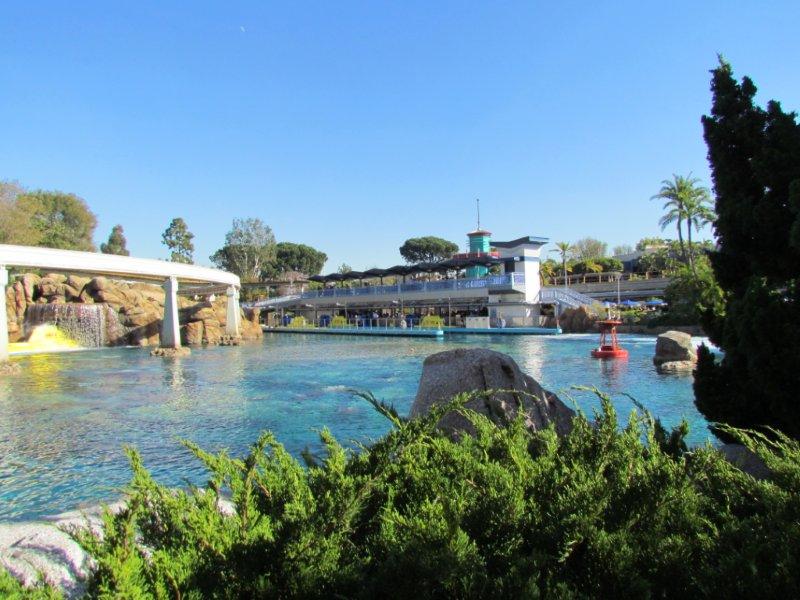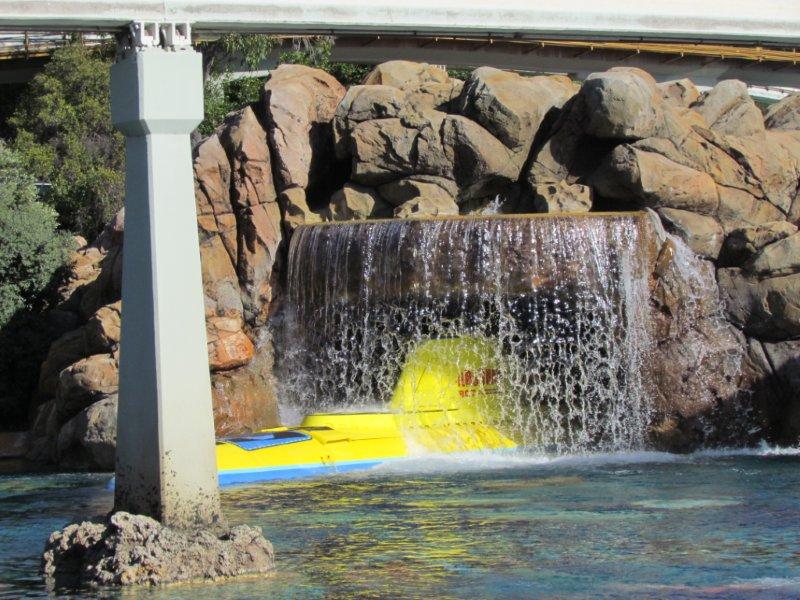 Megan, Jacob and David going on the Matterhorn Bobsleds.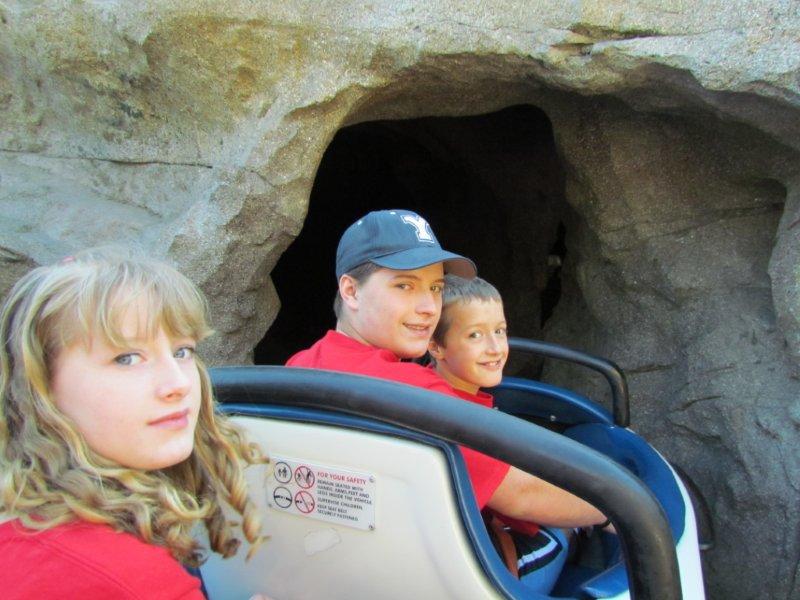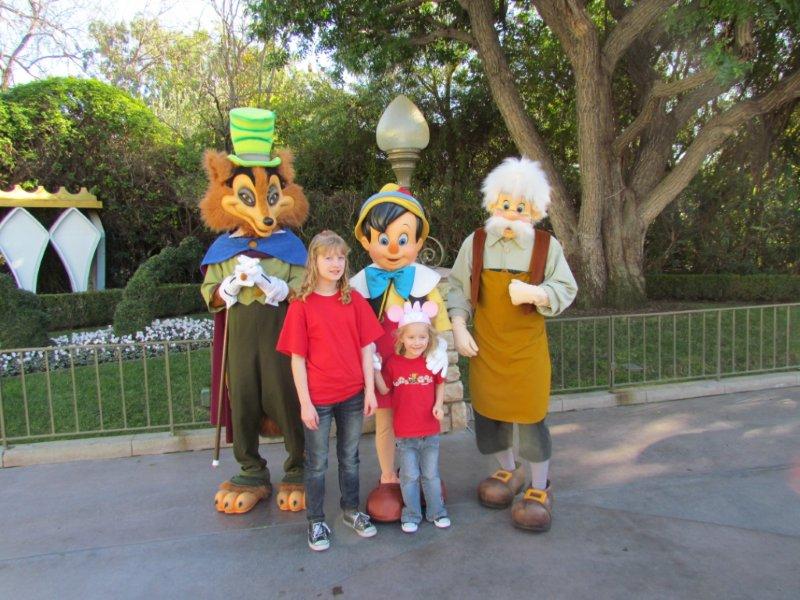 Julie in front of "It's a Small World".

This is the ENTIRE RIDE!

---
I ran across the park to get fast pass tickets to the Indiana Jones Adventure, and then ran back to the group. Later, we had to run across the park to use those fast passes. (If you plan head, like this, you can really save time waiting in line) However, it turns out that all this running around was totally unnecessary since there was almost no line at all!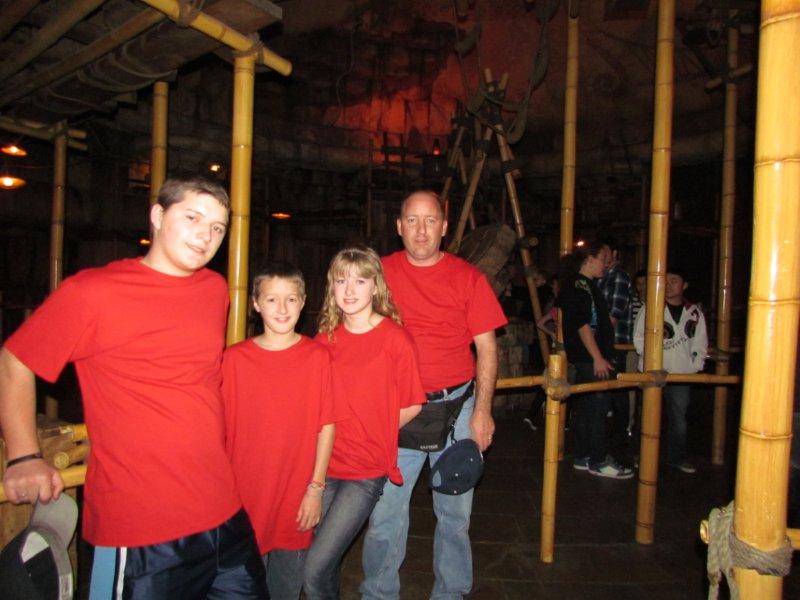 Jacob, Megan, Julia, Laura and I were the only ones that wanted to go on the Big Thunder Mountain Railroad.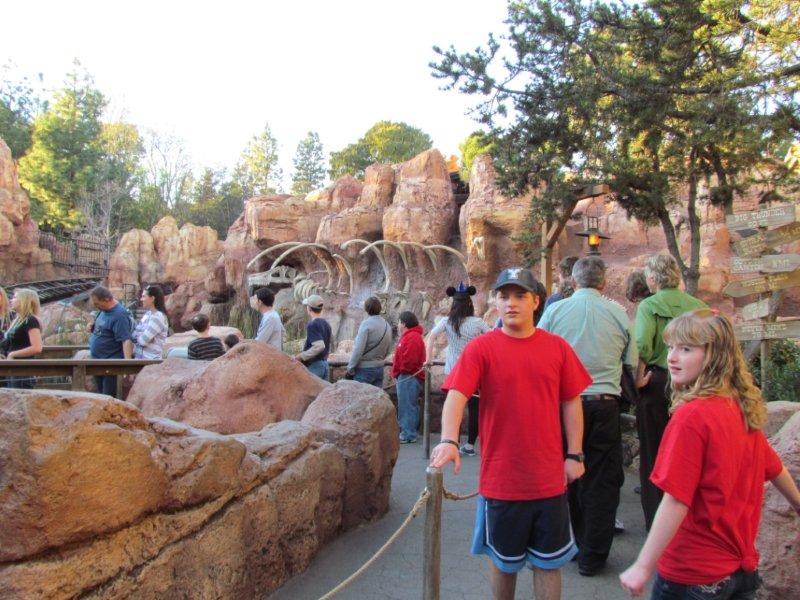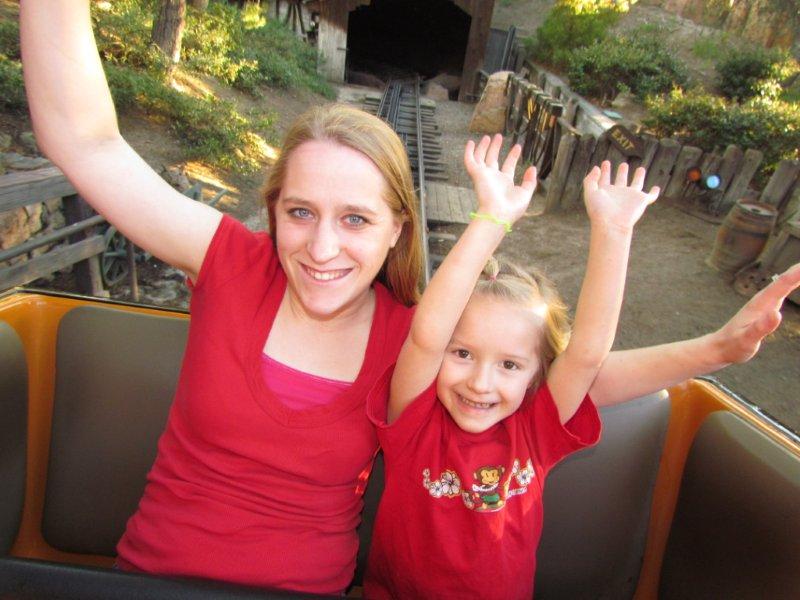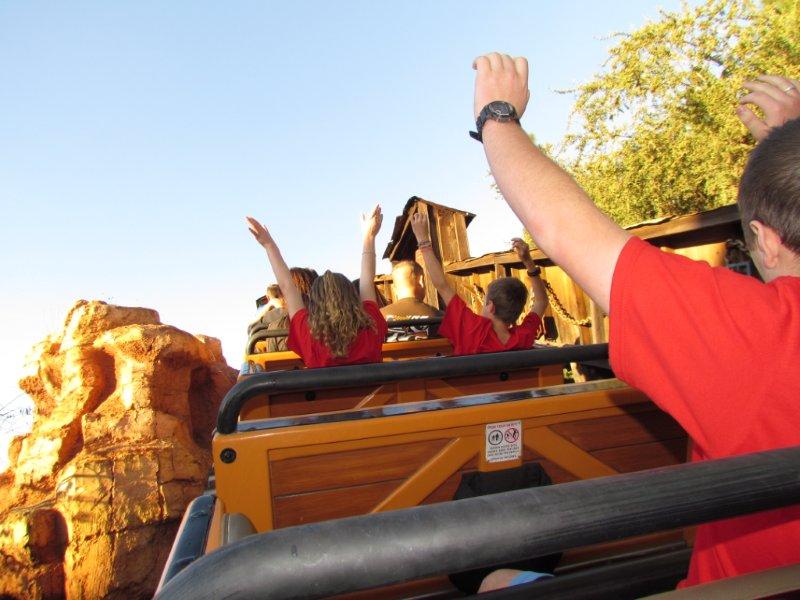 Splash Mountain was fun. Front to back: Megan, Me, Jacob, David, Julia, Laura. Unfortunately Julia got cut out of the picture (and so did Megan's hands).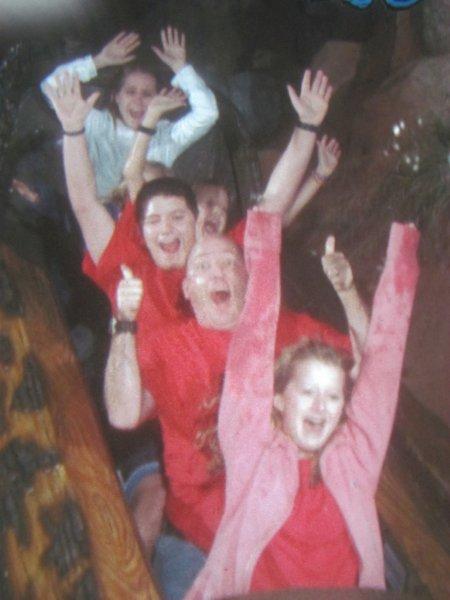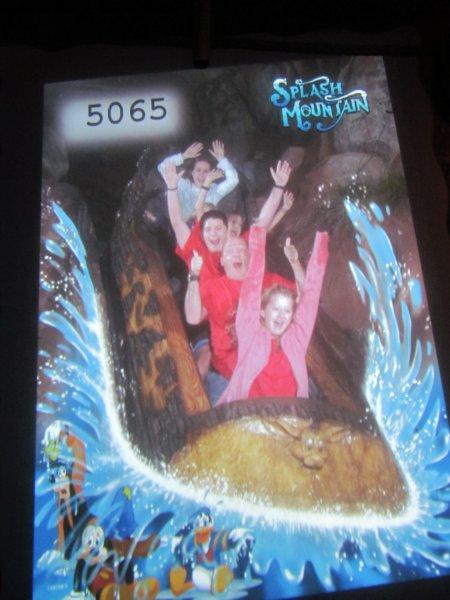 ---
I love all the little theme rides in Fantasy Land. They have always been some of the most memorable rides at Disney when I was a kid, especially Peter Pan and Mr. Toad's Wild Ride.
James on the "out of control motorcar".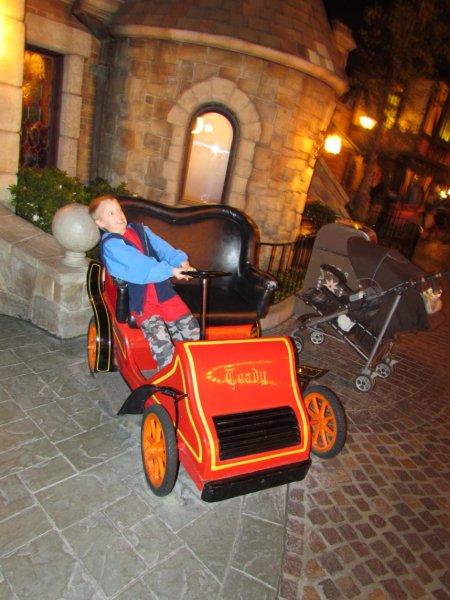 Sadly the Haunted Mansion was closed. So here is a picture of me instead. (while standing in line at the Peter Pan ride) For some reason, the longest line we ever stood in was this Peter Pan ride.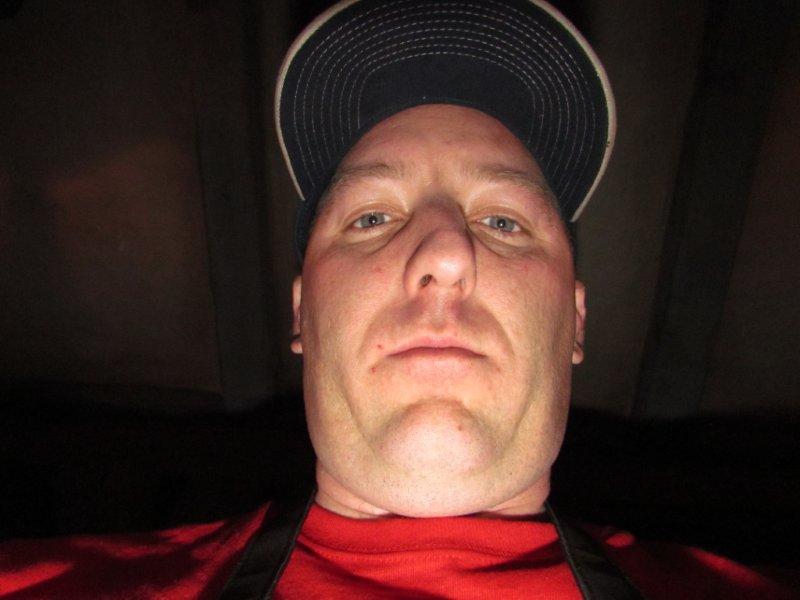 Today, Alice in Wonderland was the last ride we could get before the park closed.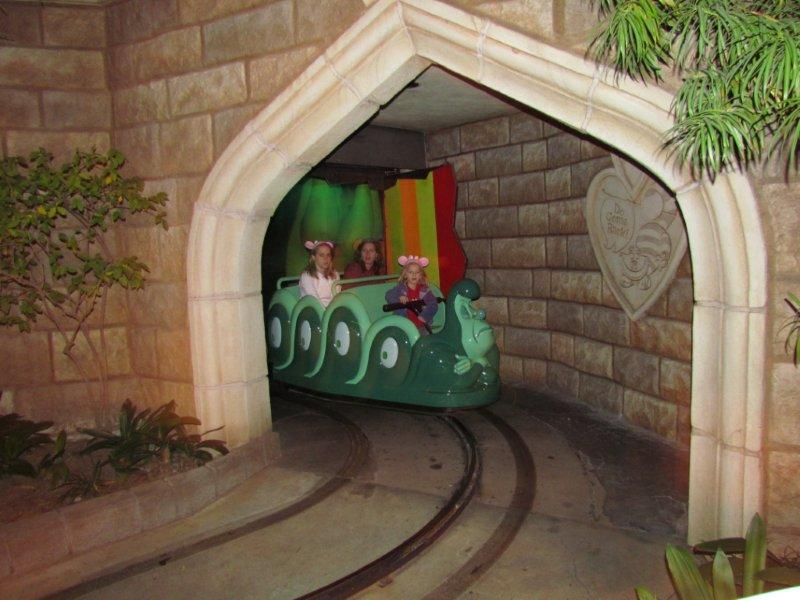 Arriving back at the hotel.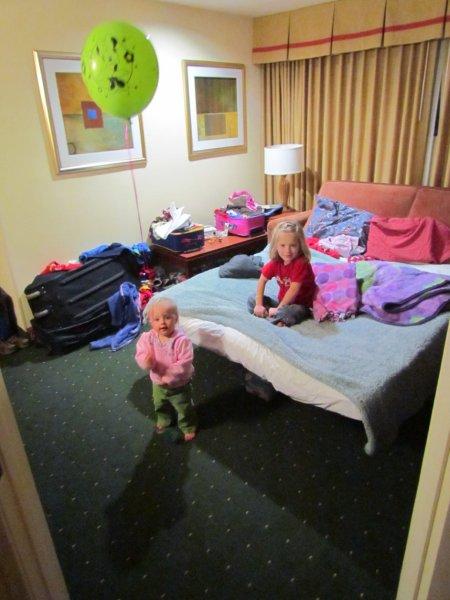 ---
Thursday, January 13th
Just starting our 2nd day at Disneyland side of the park.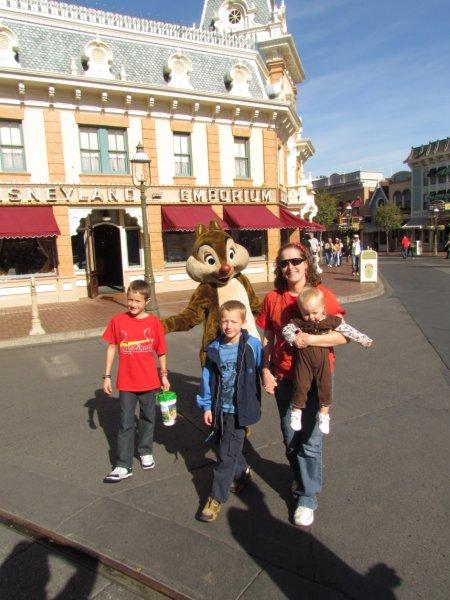 While waiting for Laura and Julia to get their hats monogrammed over at the Mad Hatter, we got a picture with Minnie. Ellen really liked Minnie Mouse.

We started off by taking a train ride out to Toontown, to continue where we left off the day before.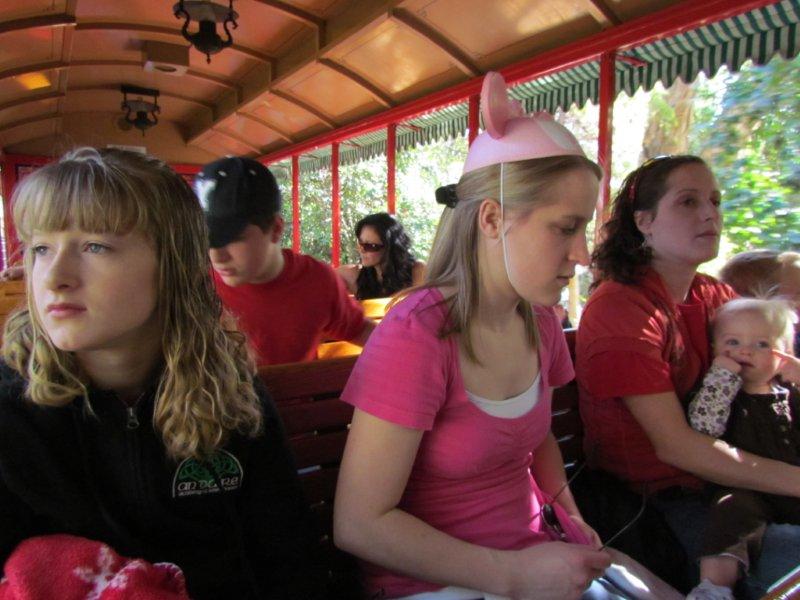 Mickey's Toontown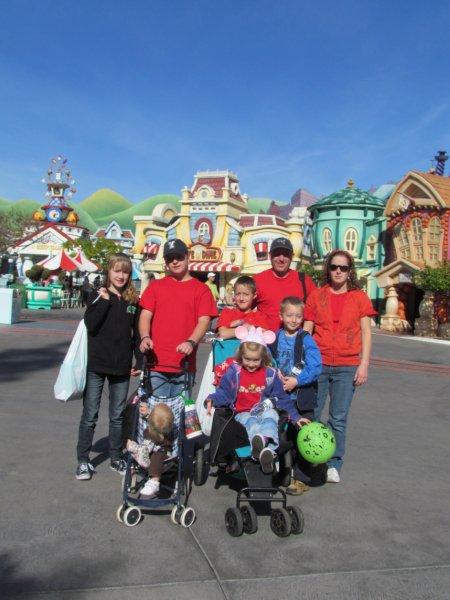 Roger Rabbit's Car Toon Spin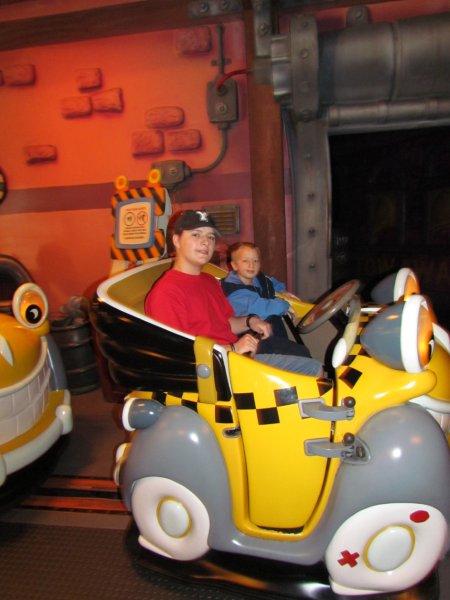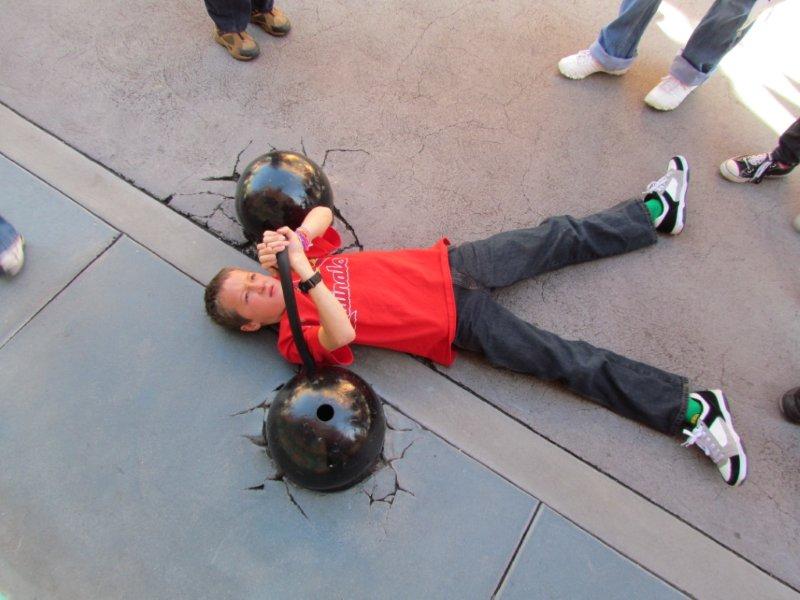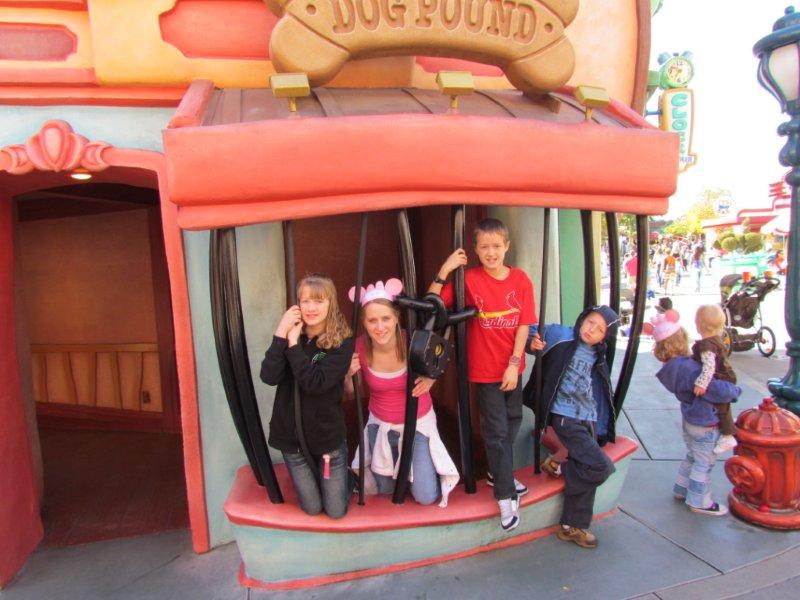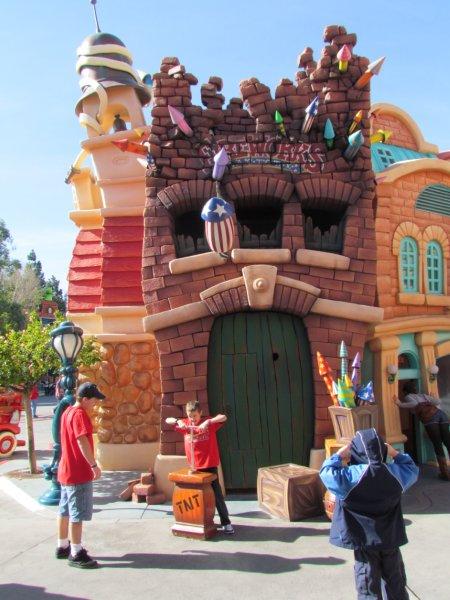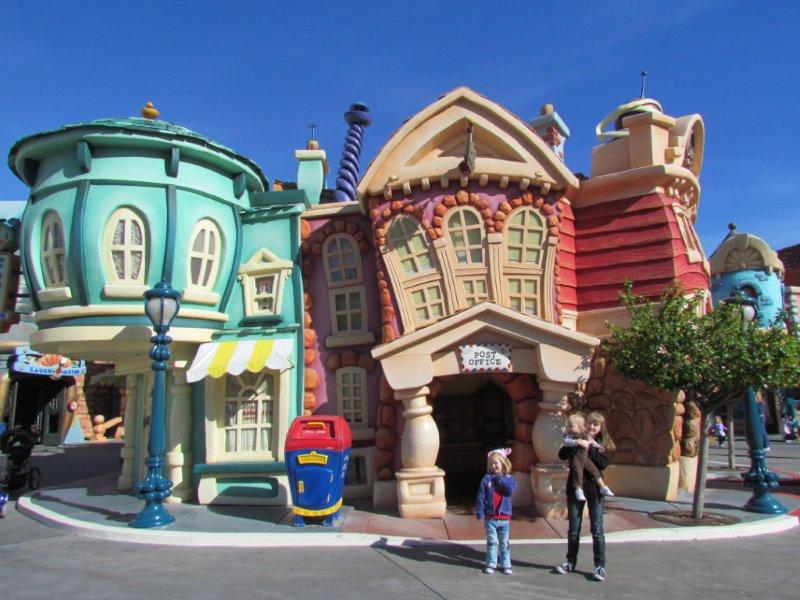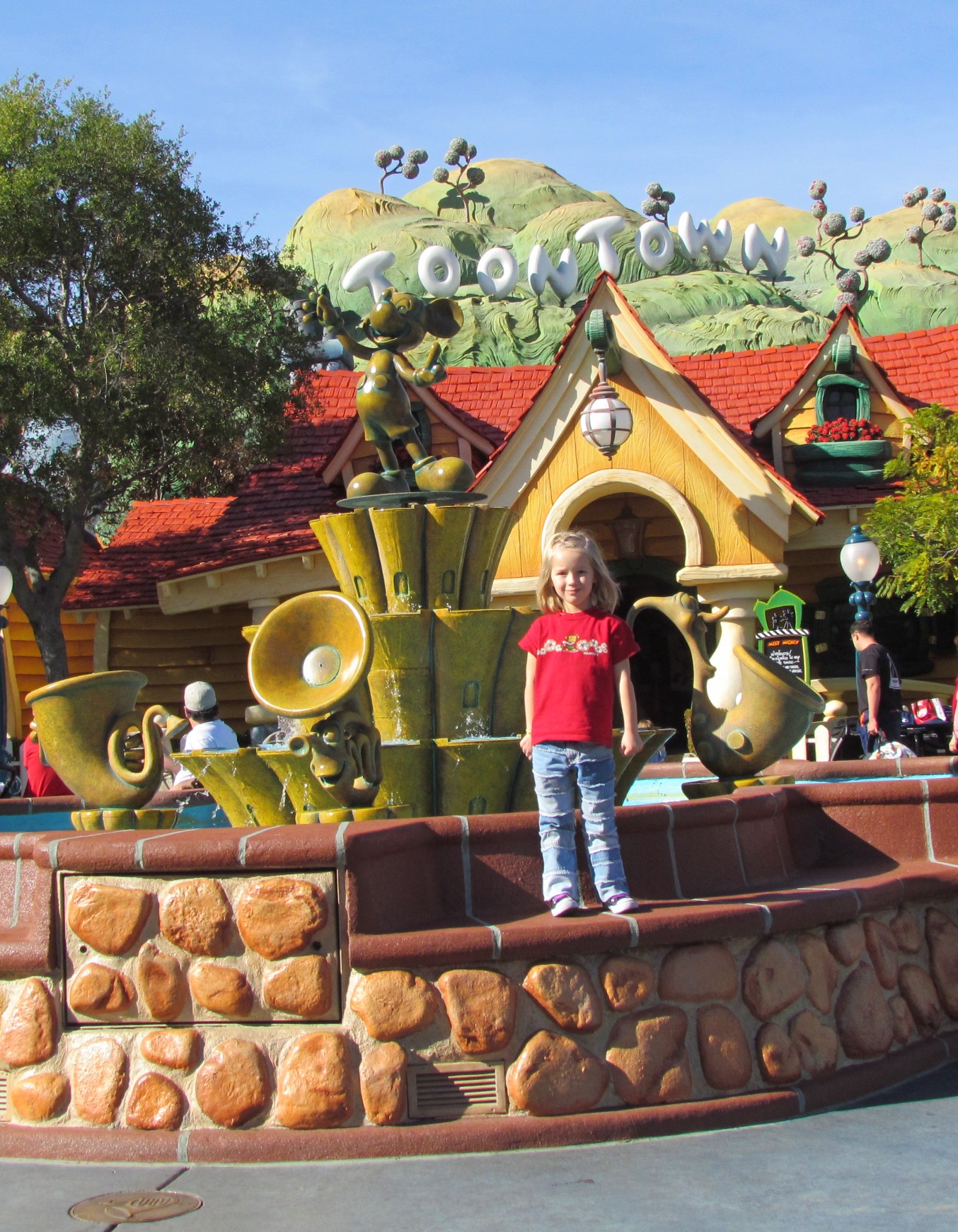 Going for a ride on Gadget's Go-Coaster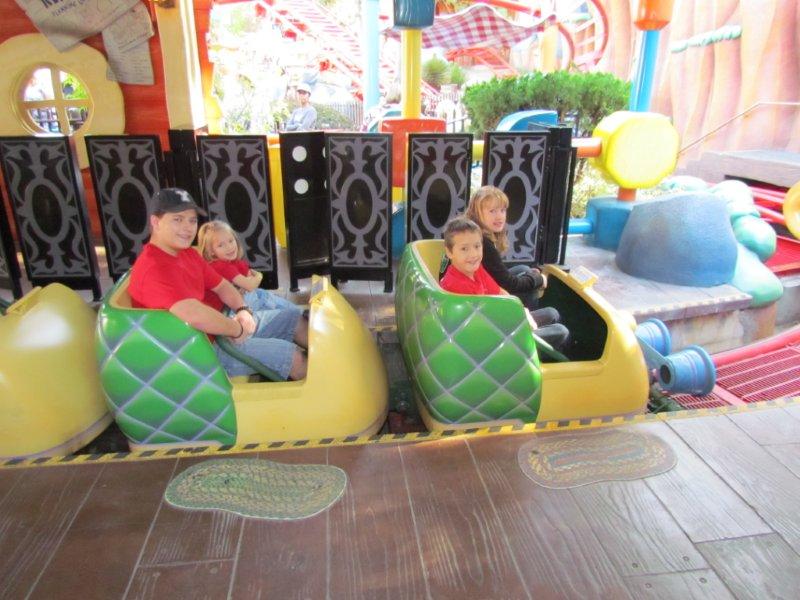 Inside the Mickey Mouse House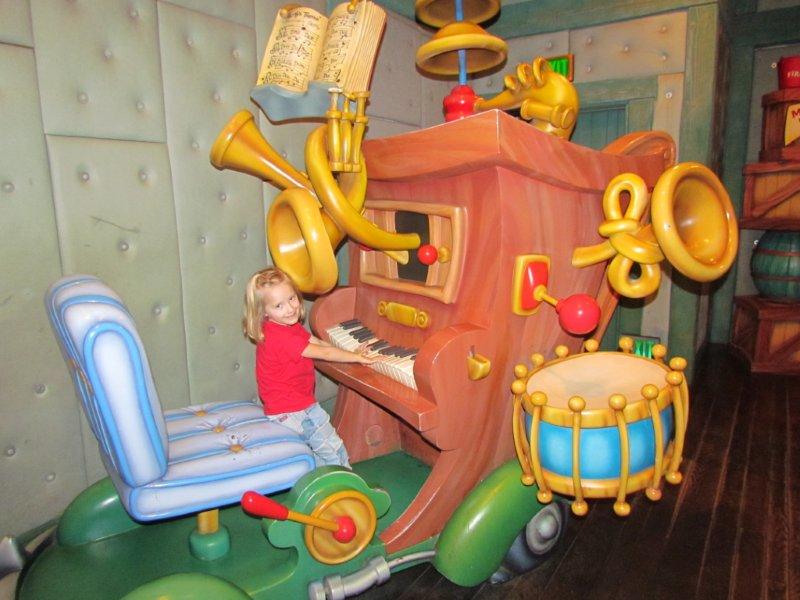 If you want to meet Mickey Mouse at his house, it is usually really long wait. He's always there, but could cost you a lot of time in line to get to see him. Again, we got lucky with the lines and there was no wait.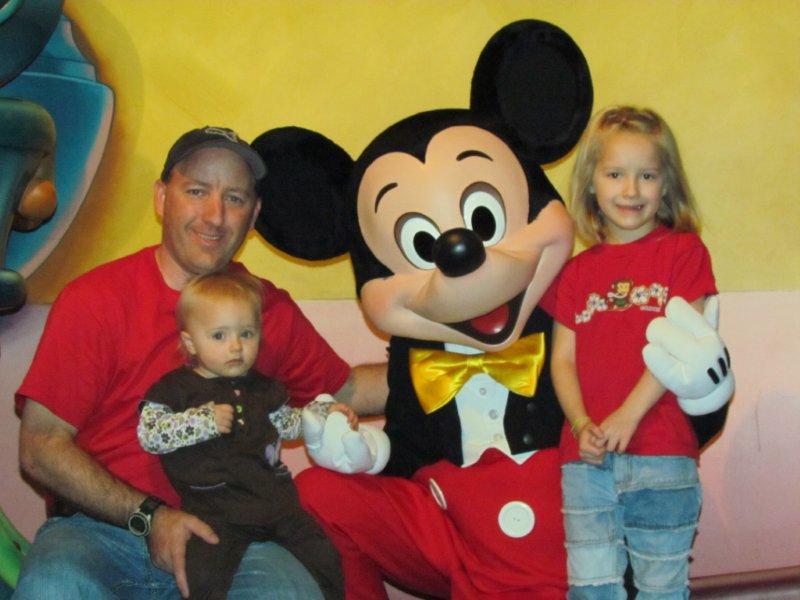 Riding the Casey Jr. circus train.

Resting for a few minutes while Ellen goes with mom to the petting zoo.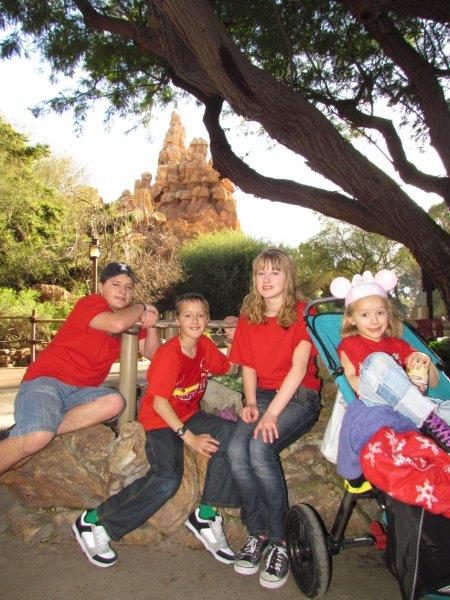 We left our farm animals to spend some time with the farm animals who get to live at Disneyland.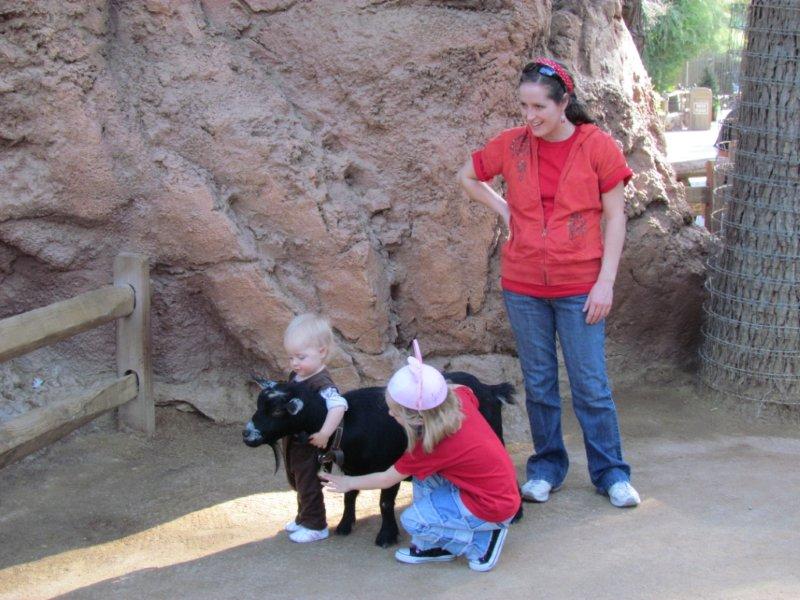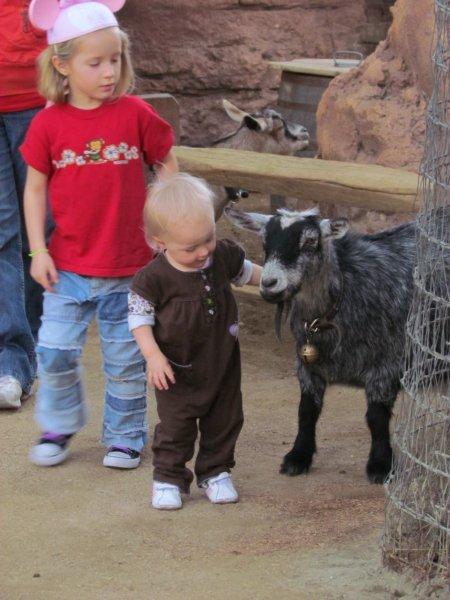 Then we went on the Mark Twain Riverboat. The boat could be quite loud at times, especially when the horn went off.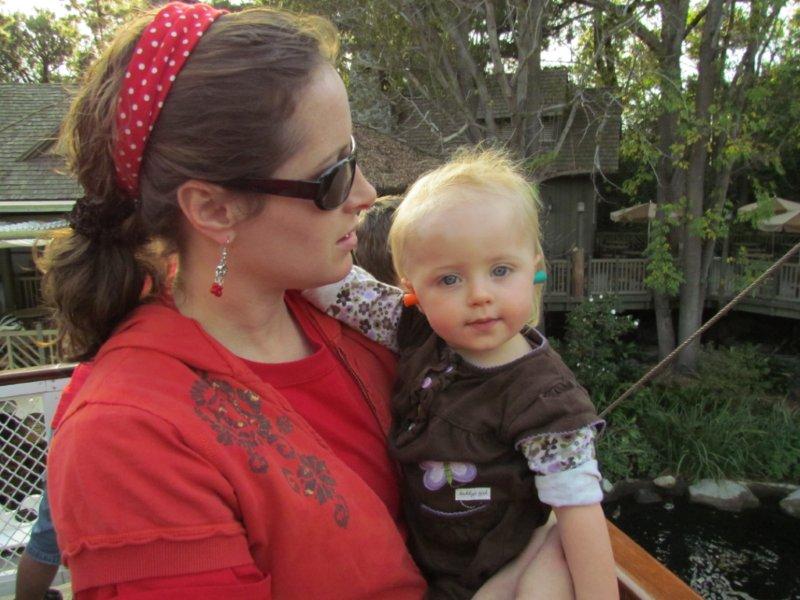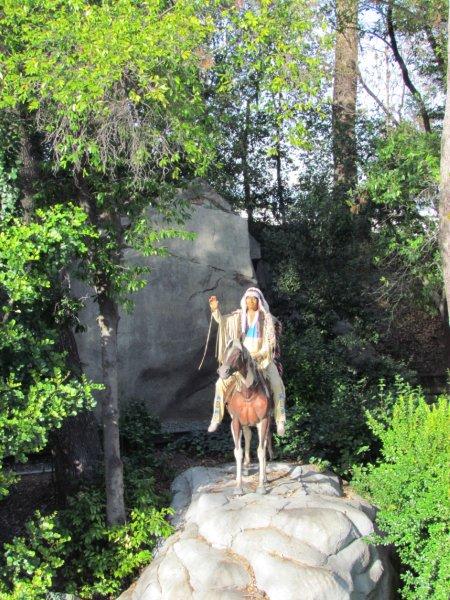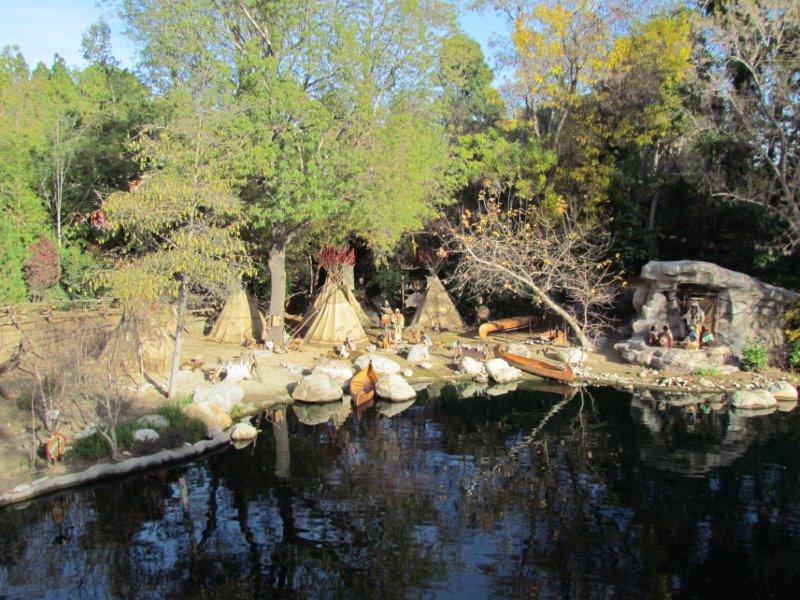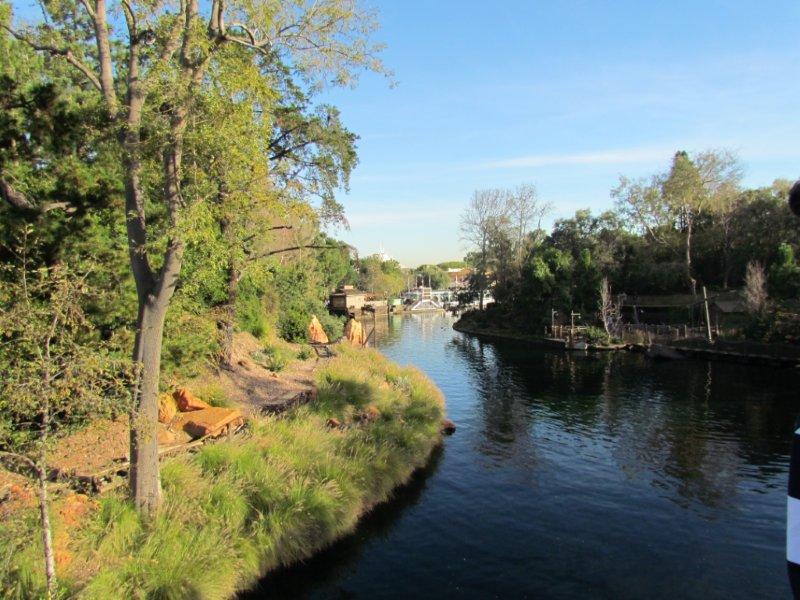 Jacob and James at Pirate's Lair on Tom Sawyer Island.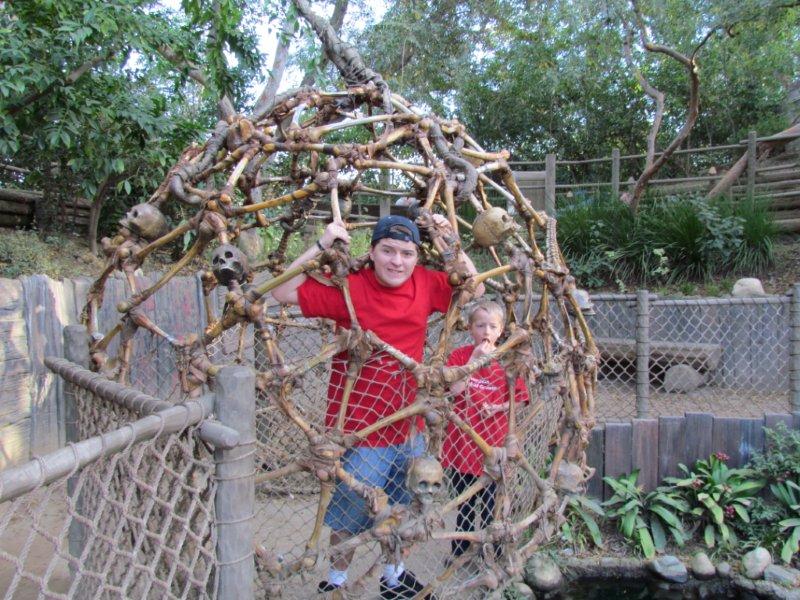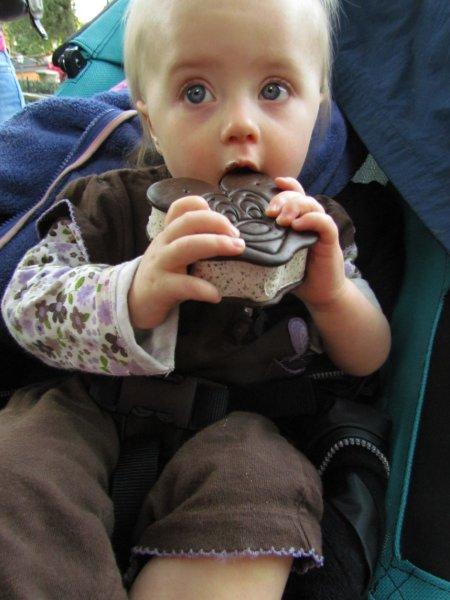 This is what $30 of cotton candy looks like (I can't remember how much it really was, but I think you get the idea).
The real value is in the smile of the girl holding it.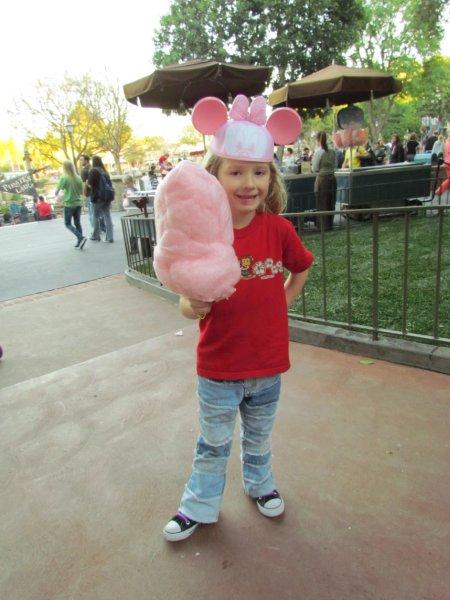 We all really liked the Pirates of the Caribbean ride. I think we went on it 4 times. One time the line was so short we didn't even have to get out of the boat, we just stayed in and they let us loop through another time.
As Day 2 started to near the end we realized that we were starving to death. (We were almost as thin as the skeletons in Pirates of the Caribbean.) We were each in the mood for different kinds of chow, so Audrey went to the all-you-can-eat Big Thunder Ranch Barbecue, and we we stopped off at the Rancho del Zocalo Restaurante. It is a great feeling to have partied all day and then sit with a tummy stuffed full of good flavor.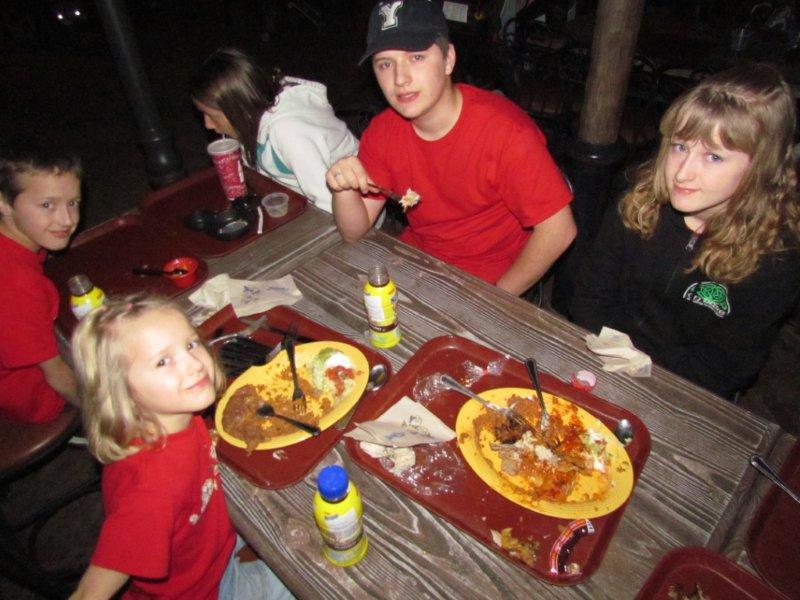 Ellen loved the Winnie The Pooh ride. I think this was out third time. We didn't even have to get off to get back in line.

---
Jacob and me trying on hats at the Mad Hatter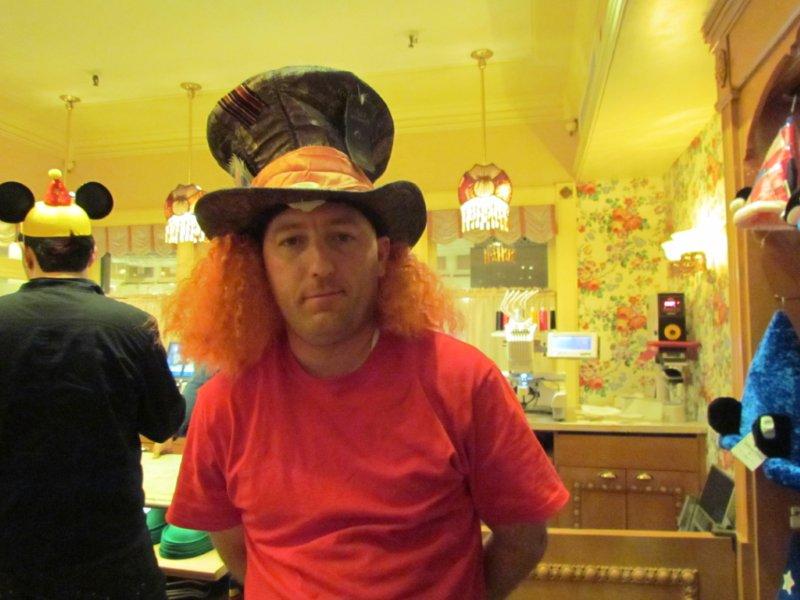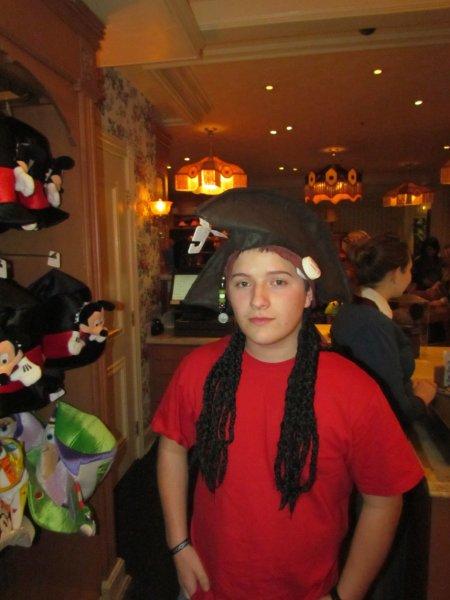 ---
A trip to Disneyland could never be complete without catching the presentation "Great Moments with Mr. Lincoln". I remember watching this show as a little kid. It deeply it impressed me and I remember getting choked up while watching it. It seemed like whenever we went to Disneyland that we would watch this show at the end of the day before leaving the park.
I wanted this to be the very last Disney attraction that we saw, so that we could leave the park on a high note.
Here we are in the art gallery waiting for the show to begin.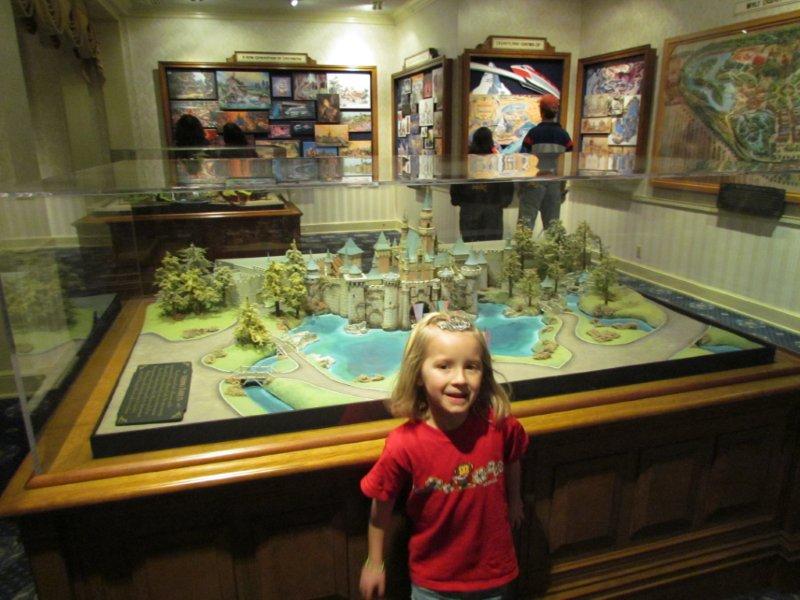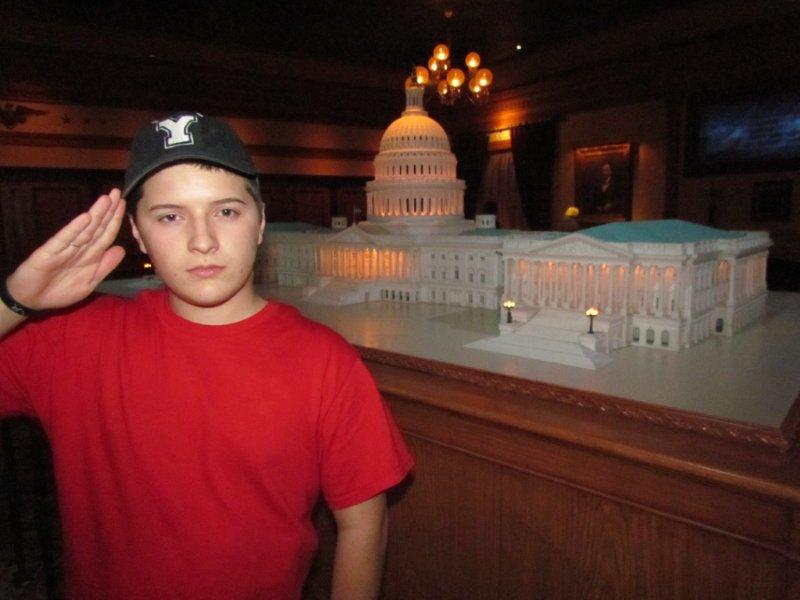 I especially loved this picture titled "The Burden of War"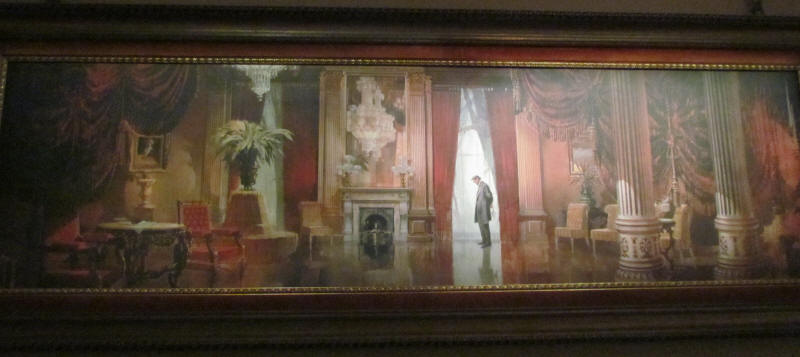 Great Moments with Mr. Lincoln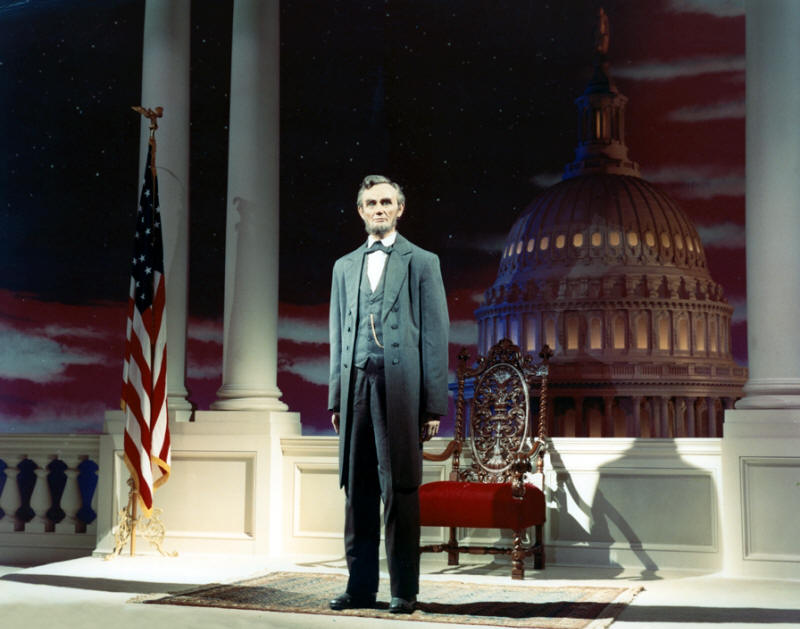 Julia at the end of the day.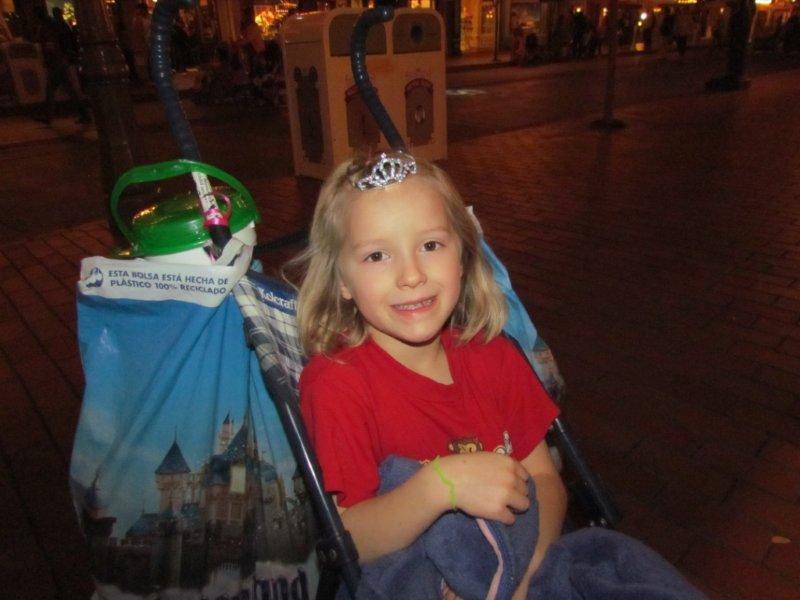 ---
Friday, January 14th
Today was kind of a recovery day, swimming at the hotel pool and just relaxing. I went with Laura and a few of the kids to go to some stores. We tracked down an Argentine food store where we got some milanesa sandwiches and other Argentine food. I'm not sure how I didn't get any pictures of any of that. Then we met up with Aimee and they took us to a beach. By the time we got there it was dark, but we played on the beach anyway.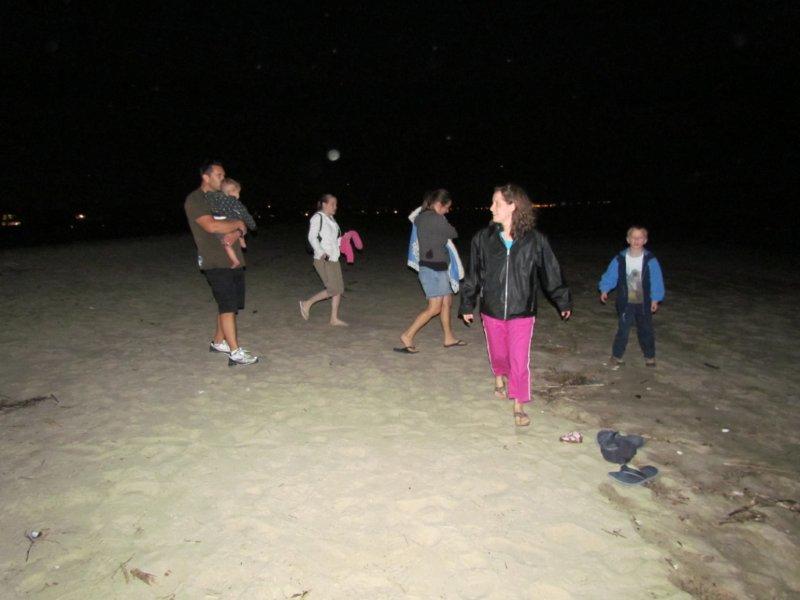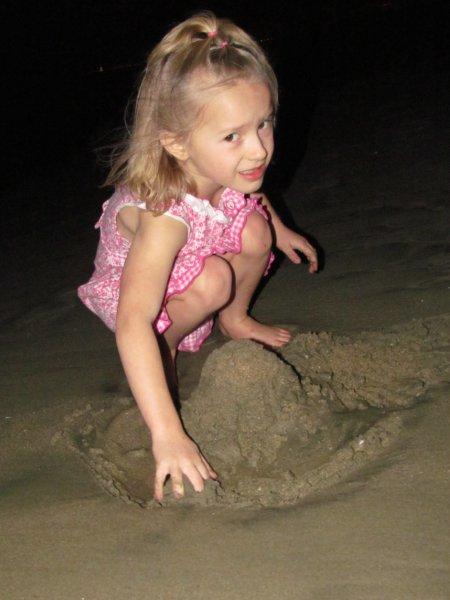 I took another moon picture.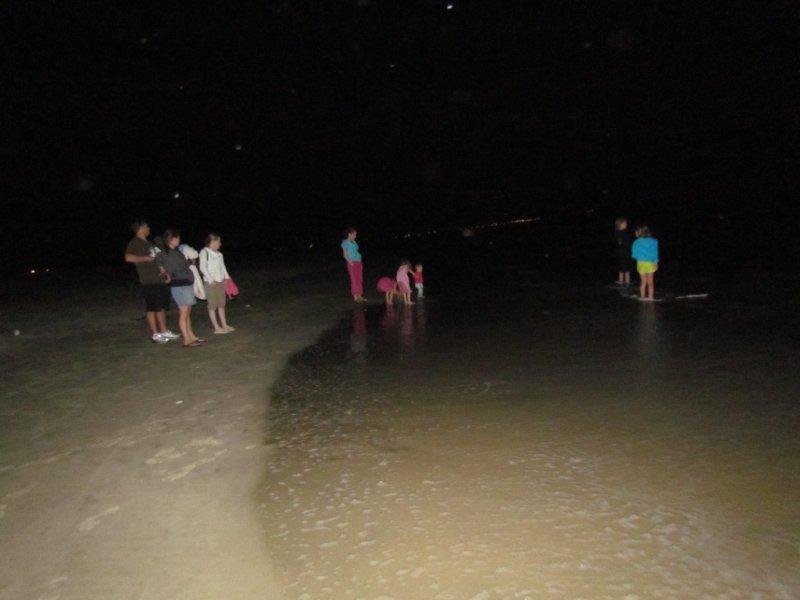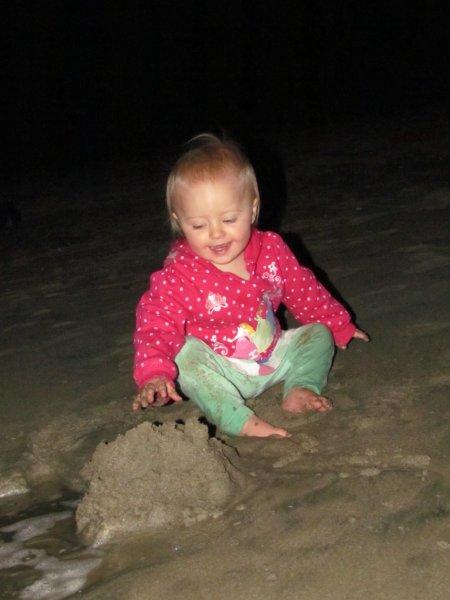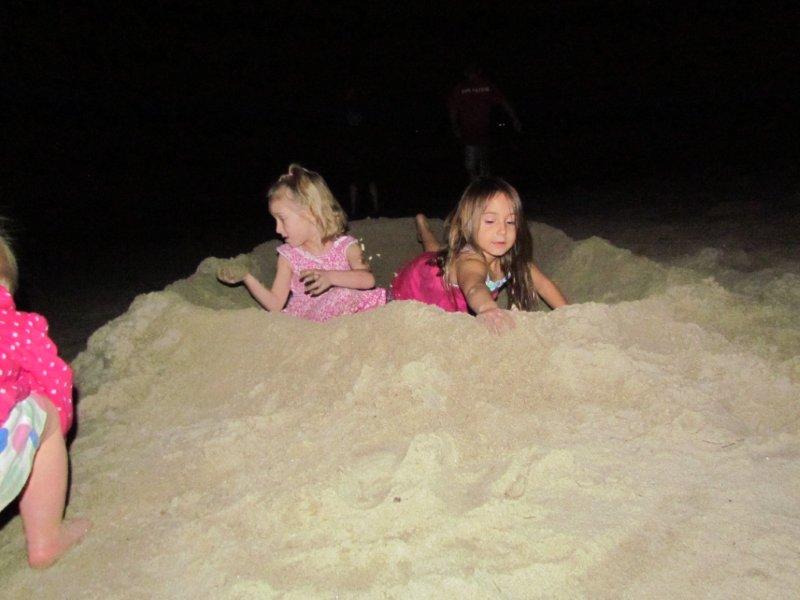 ---
Saturday, January 15th
We got up in the morning and went swimming one more time at the pool. Even though we did it every day the entire week, I think these are the only pictures I have.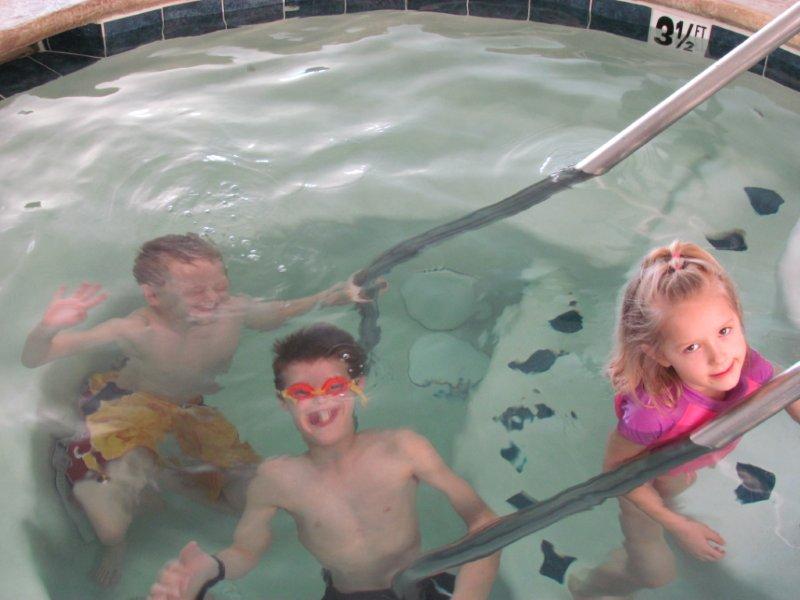 Both of these pictures of David turned out pretty good.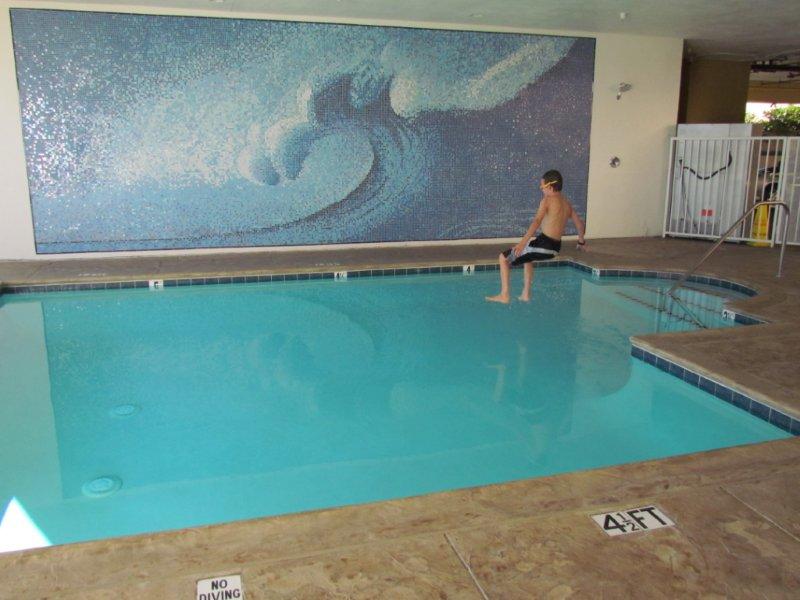 These are the palm trees by our pool.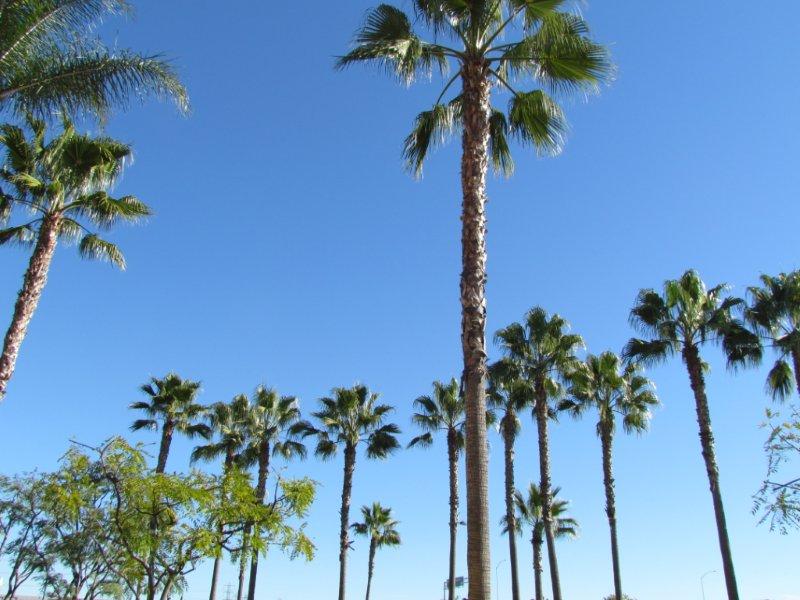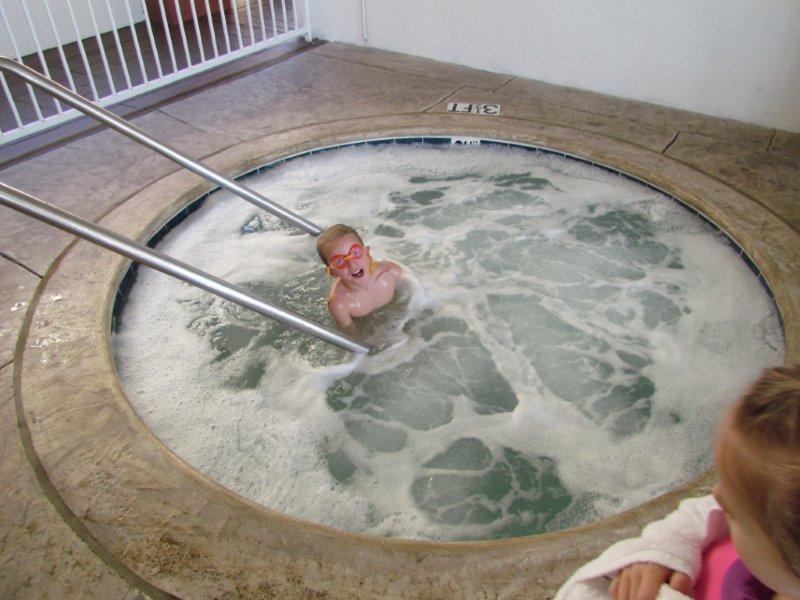 It's check out time. We had a great time at this place. Our rooms were at the end of the hallway. Audrey, James, Julia, Ellen and I were on the room on the right, and Jacob, Megan, David and Laura were in the room to the left.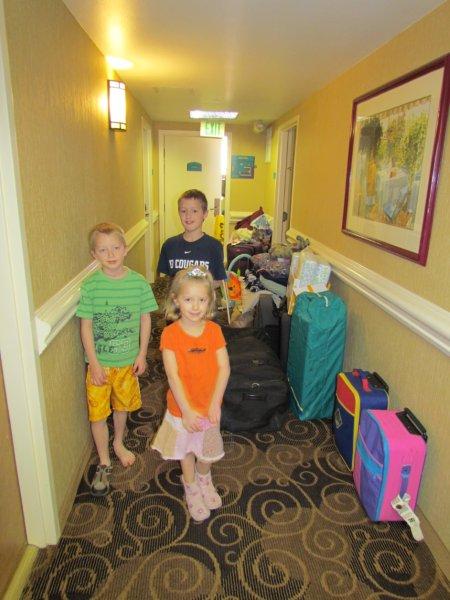 As we are packing to leave, Ellen finds a comfortable spot drinking a bottle and holding Means hair. She likes to suck on something and hold someone's hair. She has been doing it for a little while now, but I think this is the first time I caught it on camera.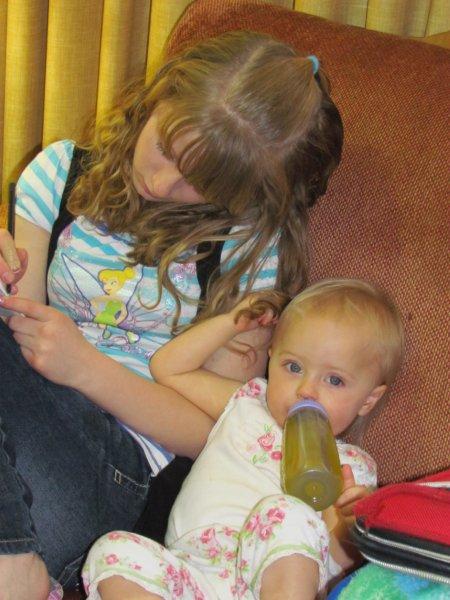 ---
We met up with Aimee to go to the Beach one more time.
One of the beaches we like going to is Huntington beach. It is fun to walk on the pier. I got some Clam Chowder at Ruby's Diner out on the end of the pier.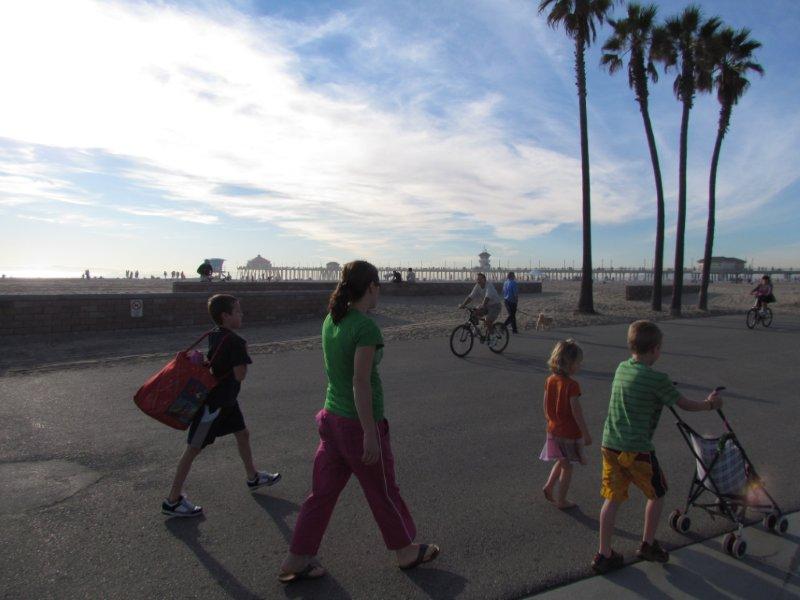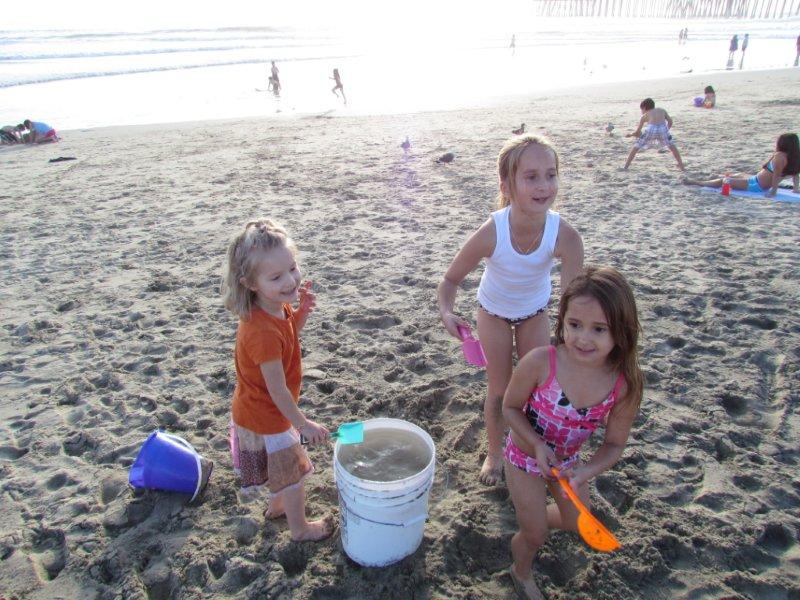 Rhylan, Laura, Donald, Aimee, Avalon, Kyla & Brooklyn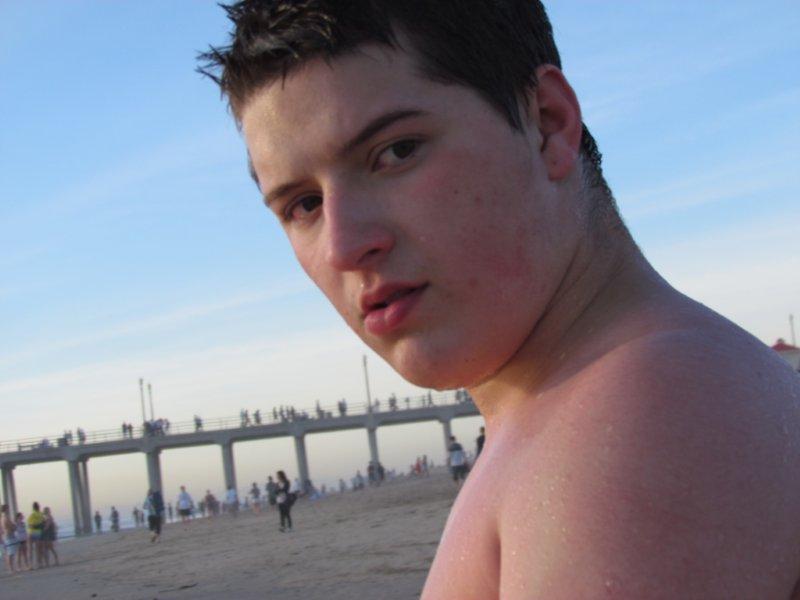 ---
Audrey and Ellen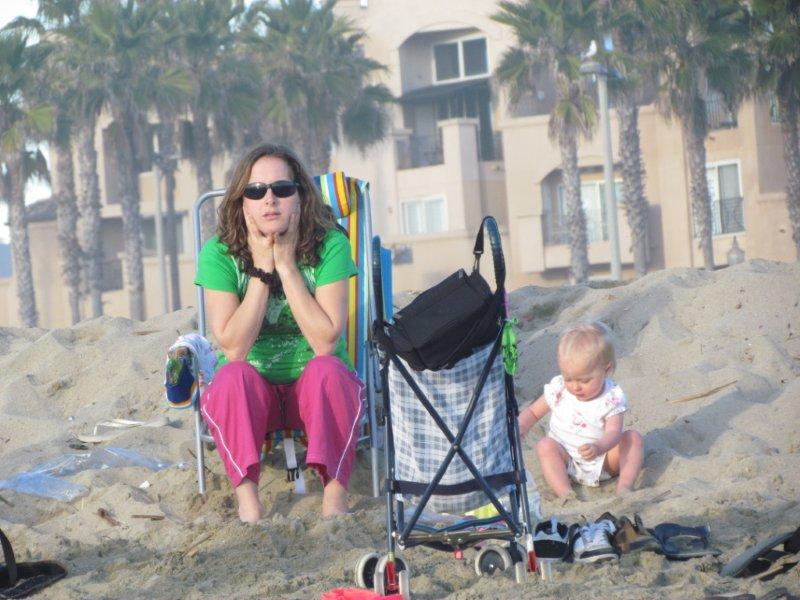 Jacob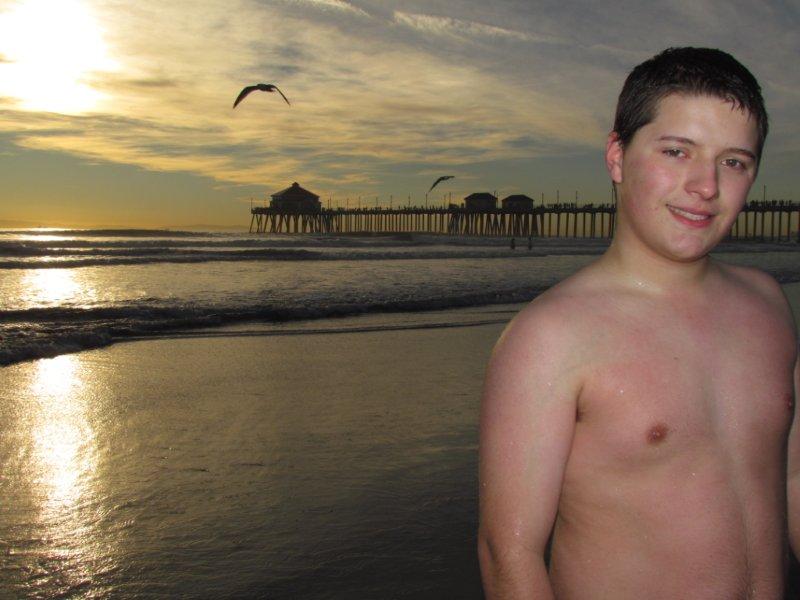 Megan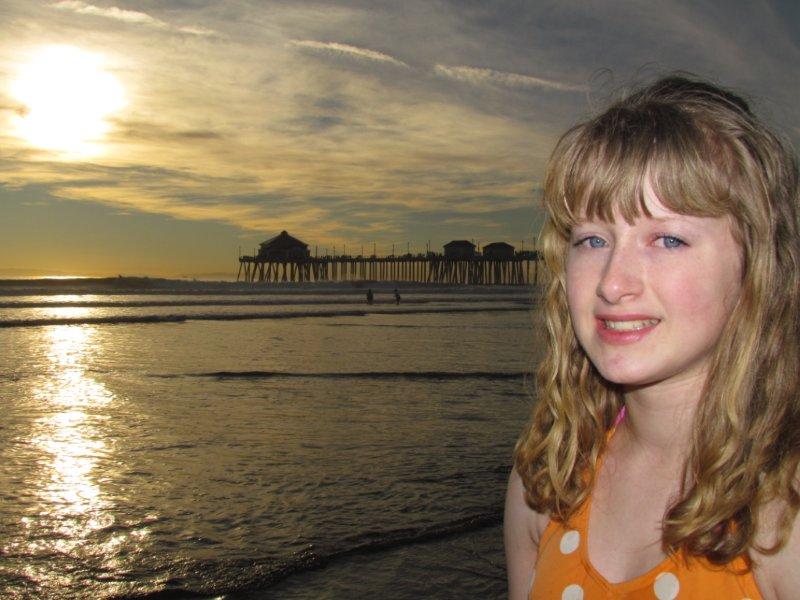 David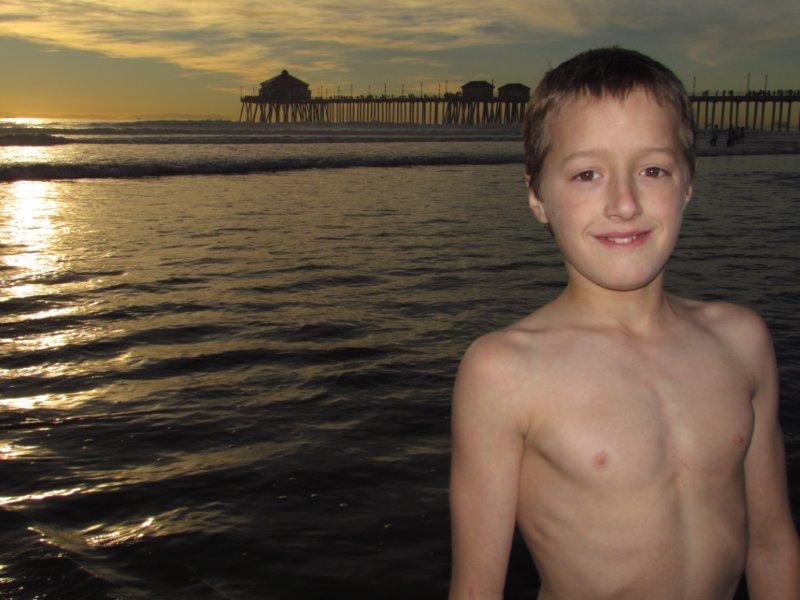 James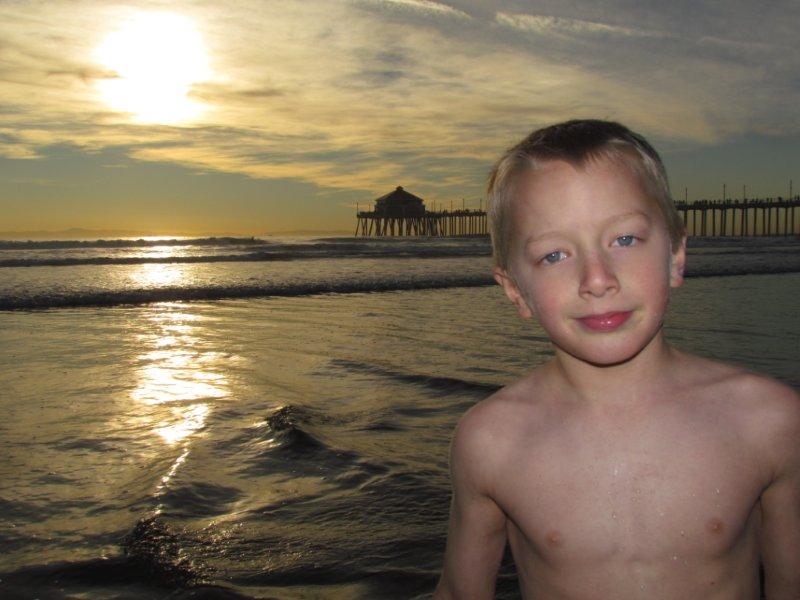 Julia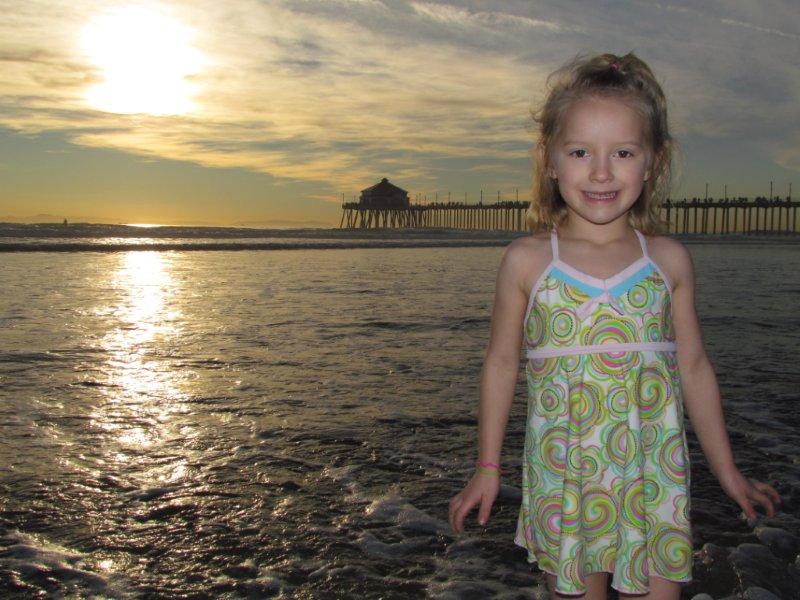 Audrey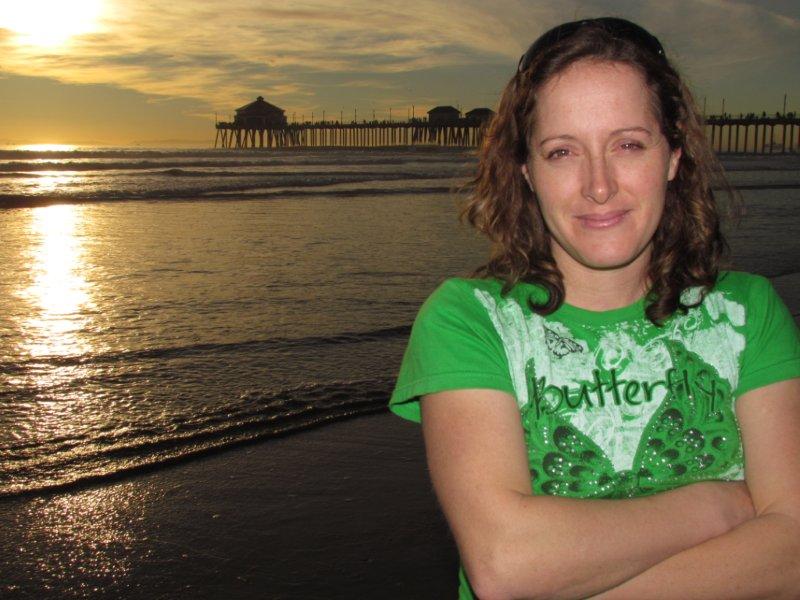 This is the picture you get when a wave of cold water hits an un-expecting persons feet right at the same moment you hit the button to take a picture. (It was just a split second reaction, but now it's captured forever)

Ellen was happy & having fun right until I took this picture of her. I cant remember what made her cry.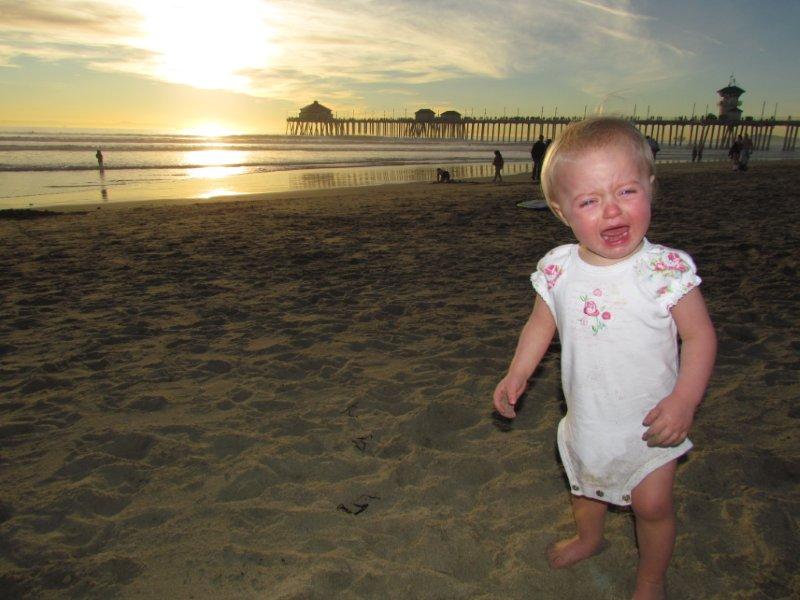 But then it was over and we got a good picture.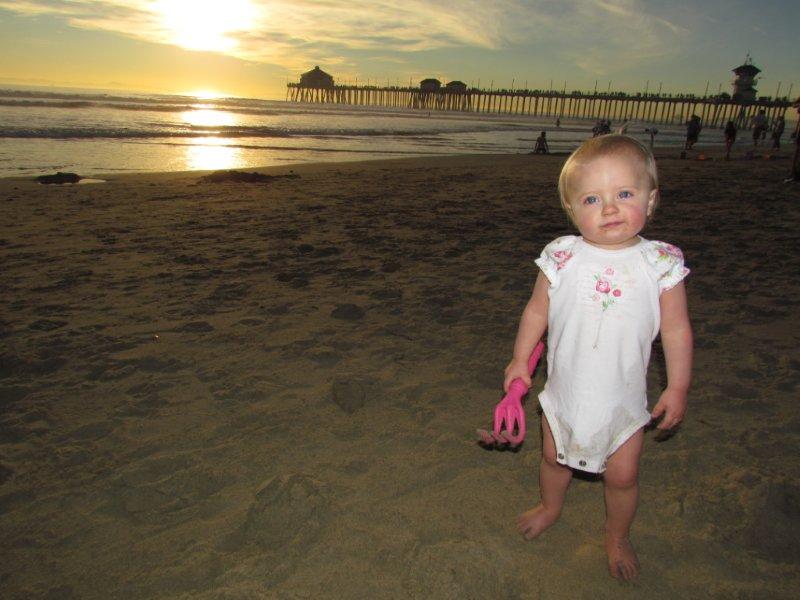 There was one person here that was too tired to take any more pictures and just wanted to go.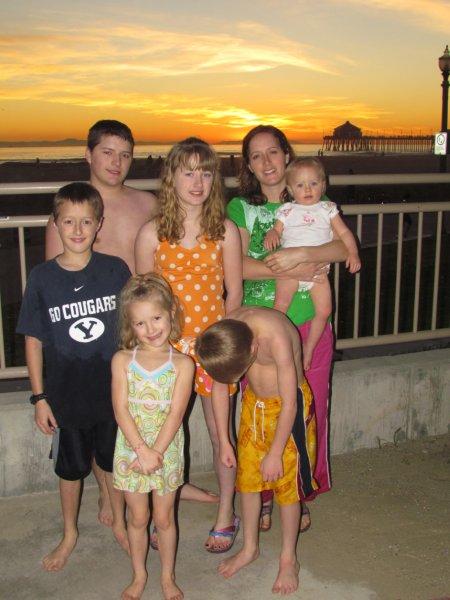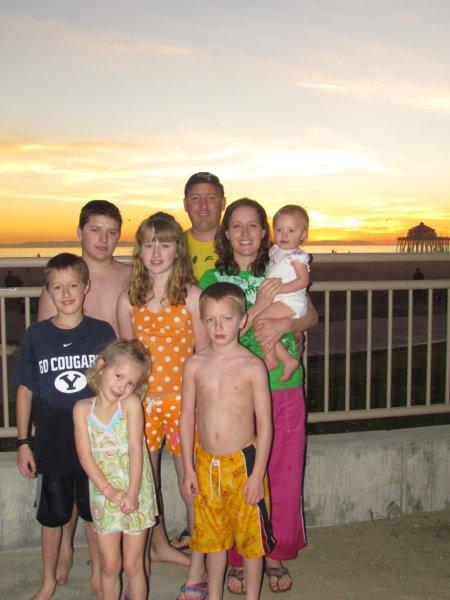 ok... one more picture of the moon. This one was odd because I decided to take the picture while it was still a little bit light outside. But once I zoomed into the moon, the surrounding area went completely dark.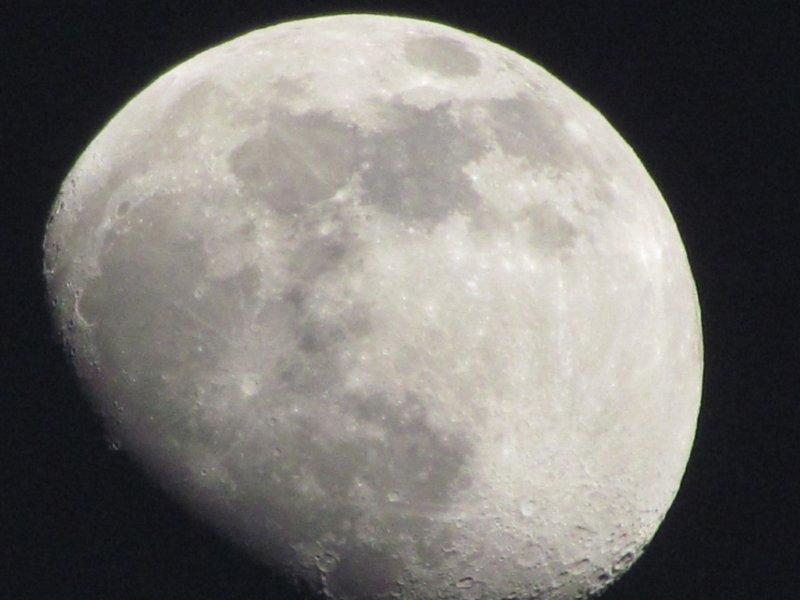 This is a nice picture that I took of Ruby's Diner, as the sun was setting.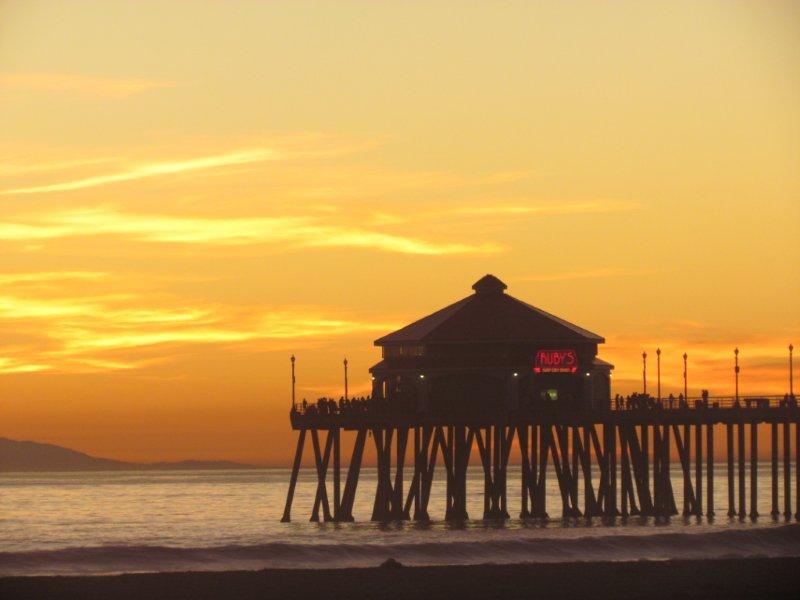 Me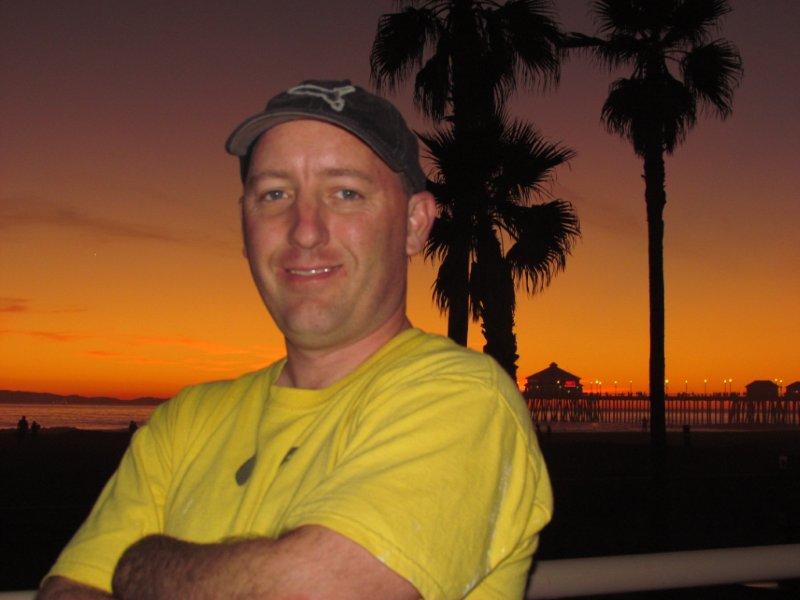 ---
Sunday, January 16th
After leaving Huntington Beach last night, we drove up the coast to Santa Barbara. We stayed at the Sandman Inn, off exit 100, on State Street. It was a nice motel with a large family suite that had multiple rooms & plenty of beds for all of us. We got there just in time to still be able to go swimming in their pool before it closed.
The next morning we got up and enjoyed a really nice complementary breakfast.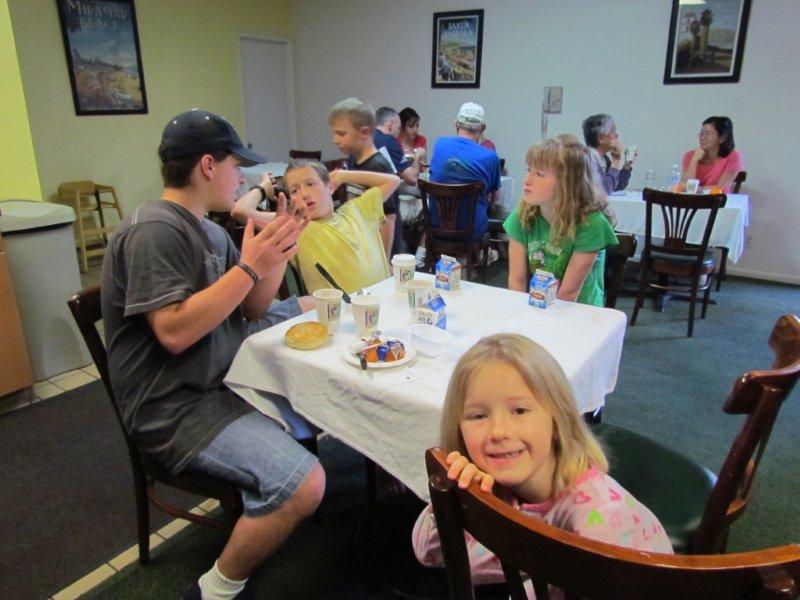 This was a nice motel and they had lots of fun landscaping.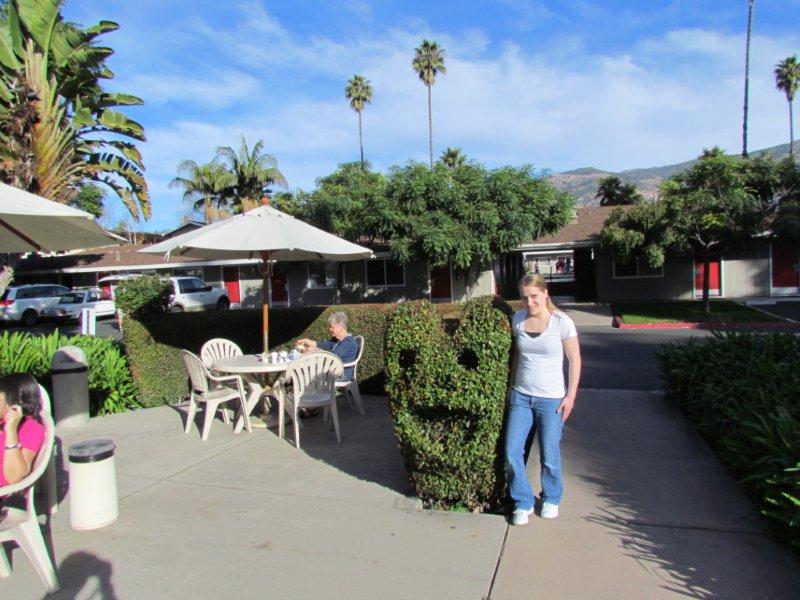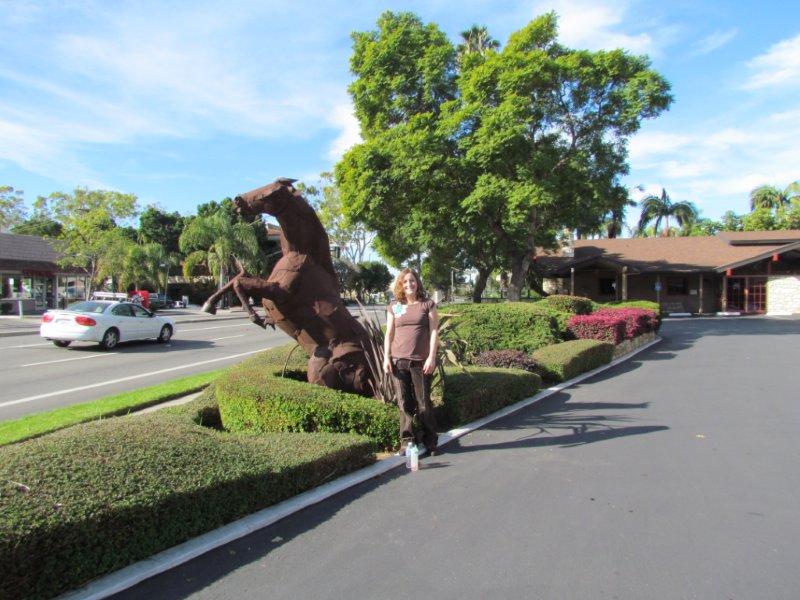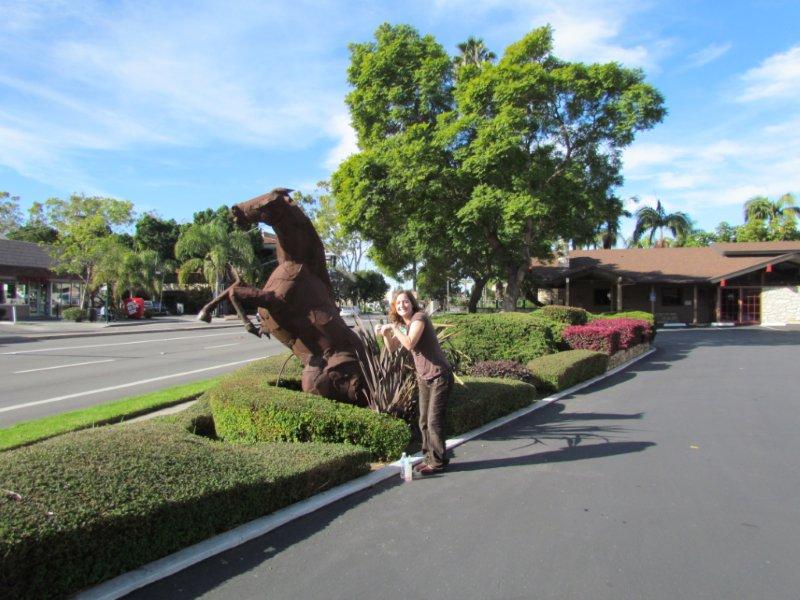 Back on the road, and only a few miles up the street, we really wanted to stop at the beach at Gaviota State Park, but there just wasn't enough time. This is a Beach that has a lot of fun memories for Audrey when she was little.
We did take enough time to stop and take a picture.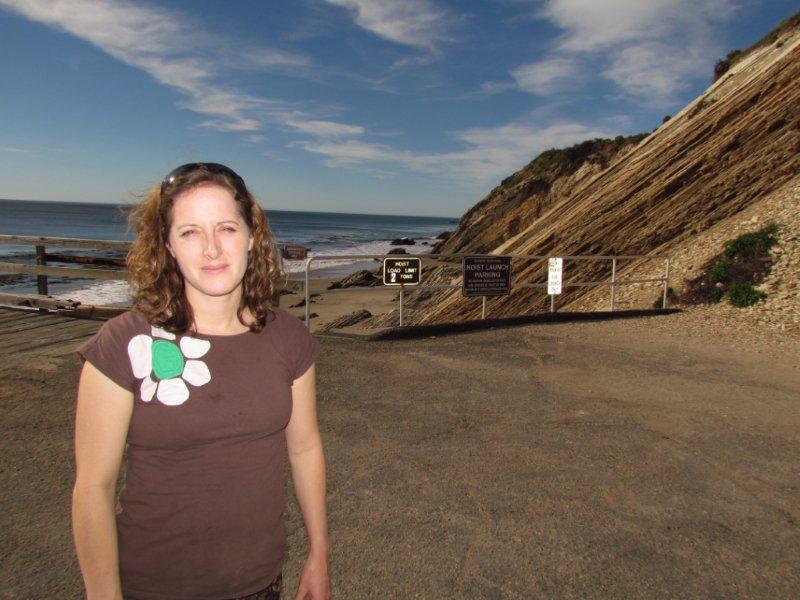 As we were arriving at Solvang, we passed an ostrich farm.
David is feeding the ostrich. The timing on this picture turned out pretty good (look at the food in the ostrich's mouth).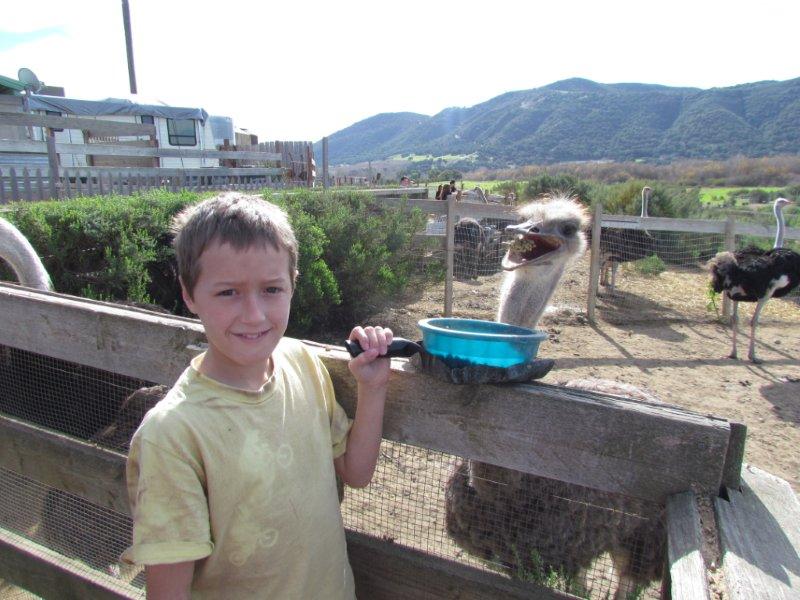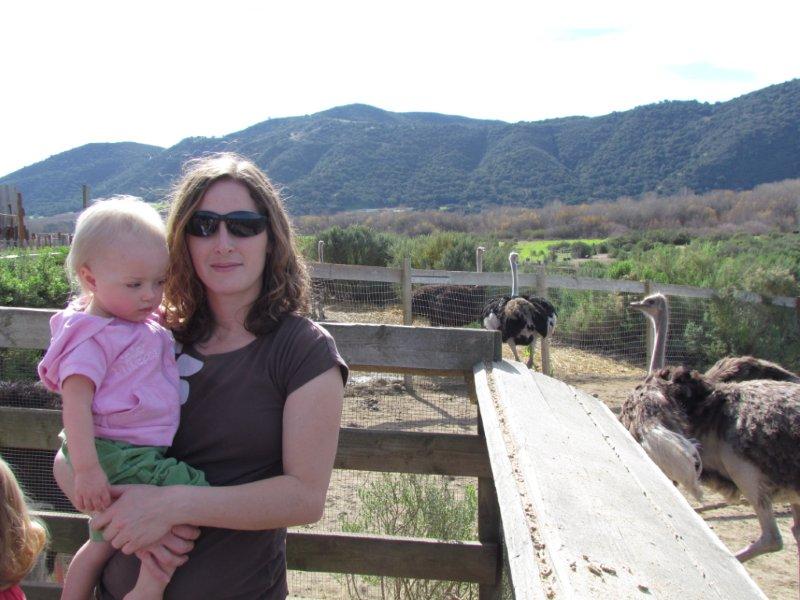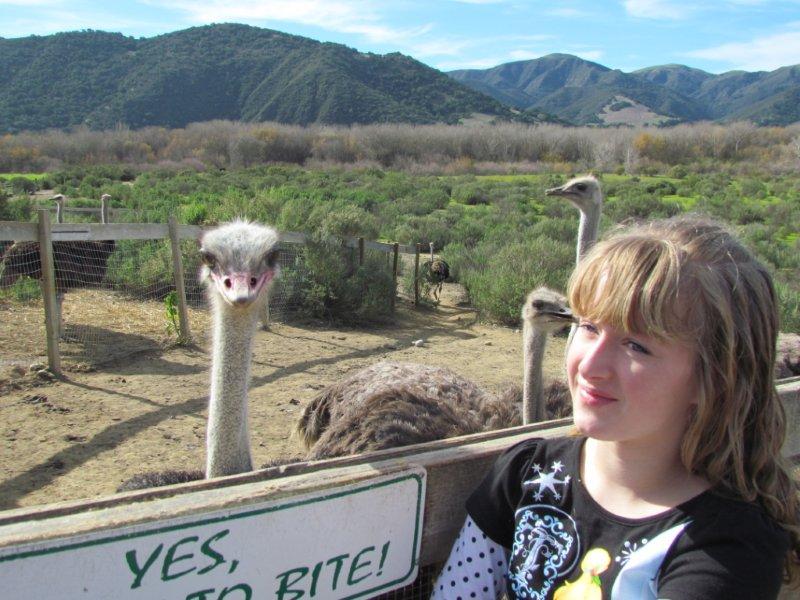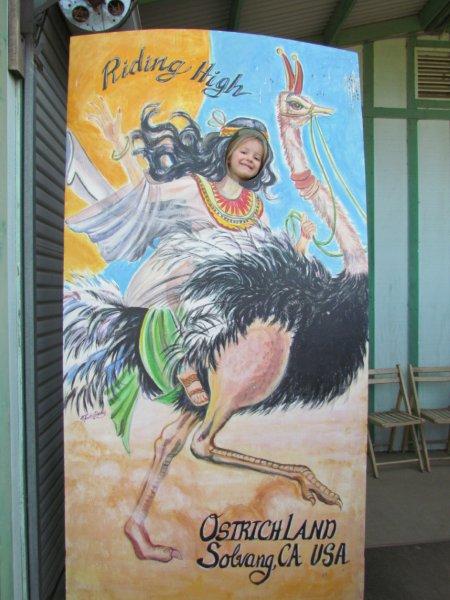 Arriving at Solvang one of the first things to do is eat some aebleskivers. In Danish it is spelled ∆bleskiver.

Mmmmm yummy!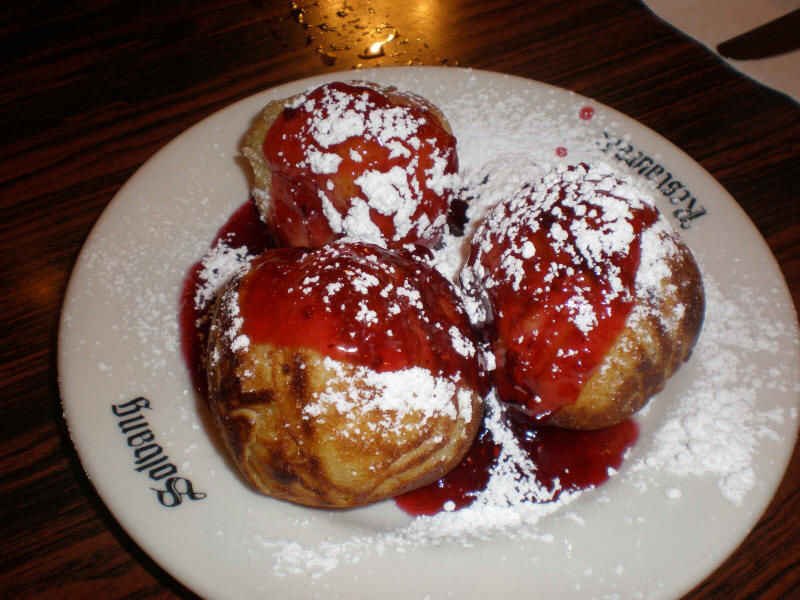 Audrey and I visited Solvang as newlyweds. We have a picture of us in one of these booths. Now 16 years later, this is what the picture looks like.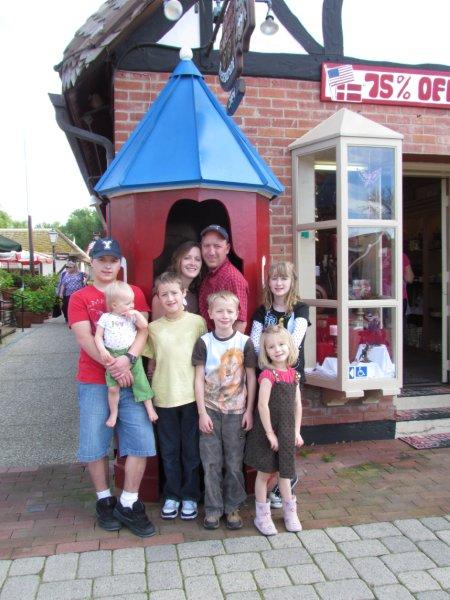 These are the bells from the clock tower in Solvang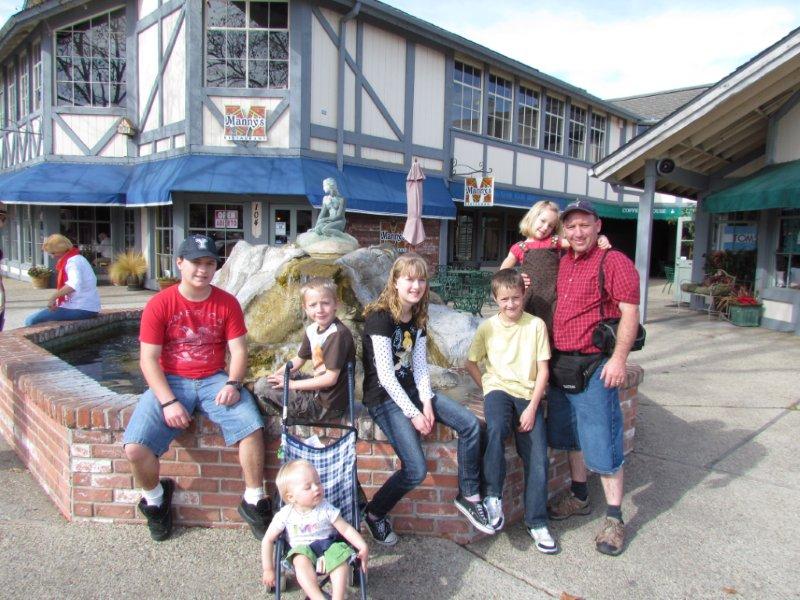 This was in one of the bakeries just before we left Solvang.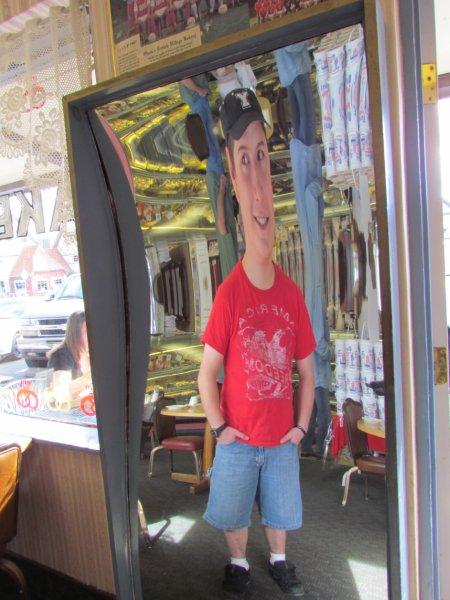 ---
Then we drove to Santa Maria. We visited familiar places from Audrey's childhood, like her school, Church, and other familiar places.
We drove around and looked at houses where she used to live. We stopped and talked to the people that now live there and each one invited us in to see the house. We stopped by the Reas who were Audrey's neighbors and good family friends. They are still there and we went in and visited with them for a while.
Then we went to Audrey's Grandpas house where we had a wonderful Santa Maria Style BBQ dinner. It tasted so good.
Me with Grandpa George Crosby.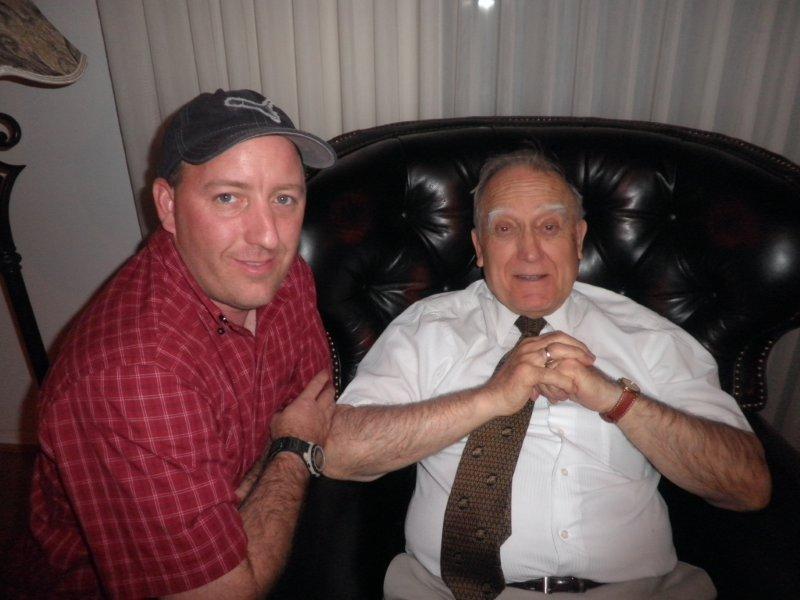 We visited for a little while and then loaded up in the car to keep driving home. We drove for a long time until we arrived at Primm, Nevada and we spent the night at Whiskey Pete's.
---
Monday, January 17th
We drove all day making regular stops for food, fuel and rest. Audrey was a trooper all week long, but expecting a baby, she had been quite sick all week. Now she was really sick and could hardly make it another mile. We pushed to get to Provo but heavy construction on I-15 set us back about an hour just as we were about to arrive in Provo. Finally we stopped at this McDonalds play place for a long break before finishing the last 2 1/2 hour drive home.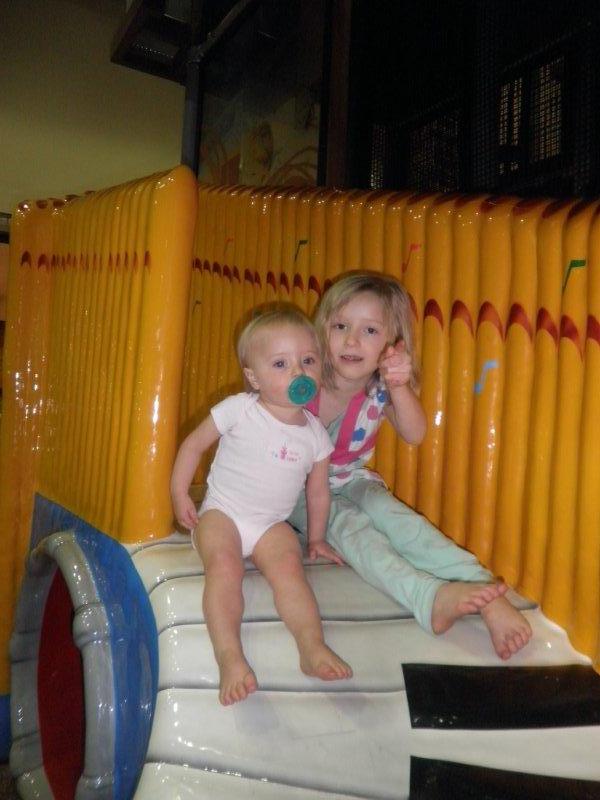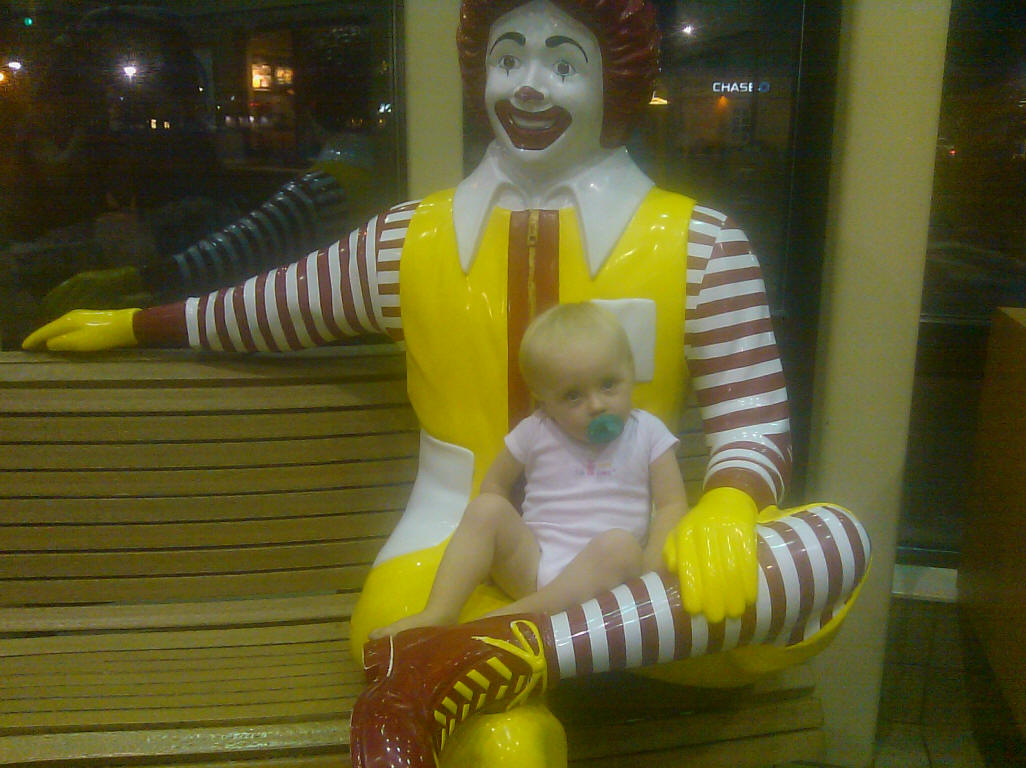 And that was our 2011 family vacation to California!!!