I'll give the long version. :-) Its been a crazy few days and full of life. We have had a lot of baby chicks hatch (about 20) and got to watch some of them hatch out of the egg.
Sunday night Megan and I put chicks under one of the broody hens. It was dark and we were walking out without a flashlight. I was carrying all the chicks, along with one egg that had already poked a hole in the egg and was only hours away from hatching. Megan somehow passed me and was walking around right in front of me scrambling over the wood pile. It seemed odd and I stopped and said "Megan you are going to trip me what are you doing?" As soon as I said that she bumped into me, from behind. So now I thought, well if that's Megan behind me then what is ahead of me?! As soon as I could even think it I knew it must be another skunk. So I said "Megan back up quick there's a…" but by then our noses had already confirmed what I had assumed to be there. So we scrambled back to the house for the flashlight (that we should've had in the first place) and for my pellet gun. We came back and looked around for it. We were able to find and catch the skunk. Then we put the chicks under the hen, who has happily accepted them, and came in for a needed shower.
Audrey and I stayed up watching her contractions and wondering whether or not to go in to the hospital. Eventually, around 3:00 am, we checked into the hospital. It didn't progress any more so they sent us back home. It was light by the time we got home and we hadn't slept the entire night. We were wiped out and spent the day recovering. Later I went back outside and cleaned up the mess we had made the night before. Megan and I showed our skunk to the other kids. If I wasn't so tired we probably would've made a skunk hat or something. (hehe not likely). Here is Megan with her skunk.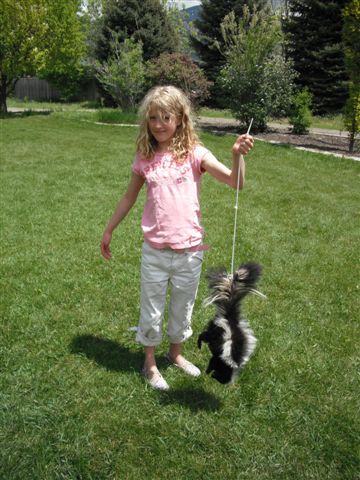 They scheduled Audrey for a possible induction the next morning (today) and so we went to bed early so we could be rested up. Julia got asthma really bad and threw up and was coughing and throwing up all night. So I was up till past 4 am with her till she finally went to sleep. Audrey didn't sleep well with her increased contractions, and then we got a call at 7:30 AM saying that we need to be in by 8:30 so we got ready and took off. Not bad looking for 2 nights without sleep!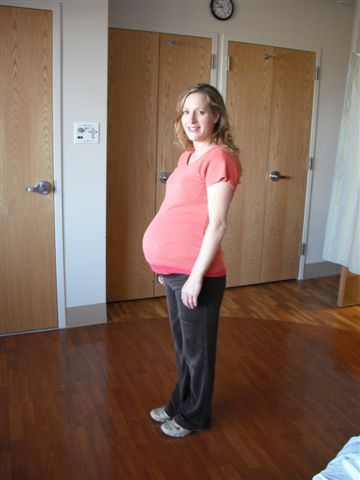 One of the first baby pictures. She took a while to start crying at first because the exit was a little stressful. Overall the whole delivery went exceptionally well and was probably the best and quickest deliveries yet. Audrey may have a different opinion but that is my side of the story. She is 6 lbs 10 oz. and 19 inches long. She was born around 4:30 PM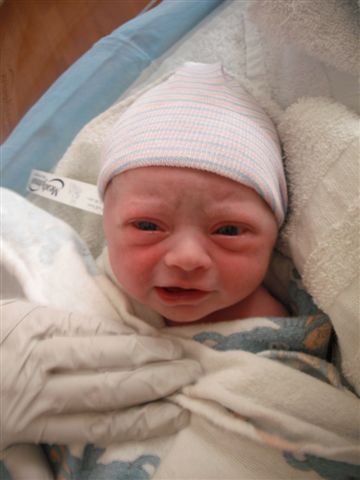 She is calm for the most part and sleeps and makes little moaning noises.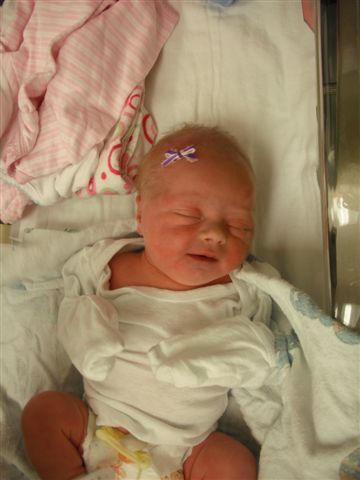 I always think baby hands and feet are so cute.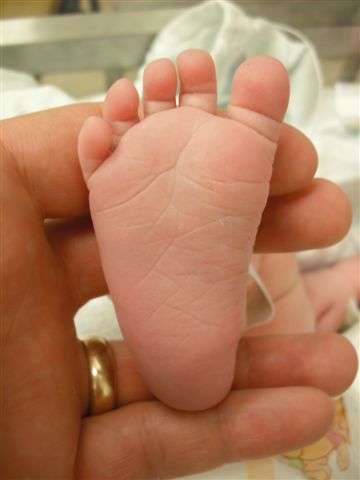 I had to stand there for a while to get this picture. She has not cried much and this was a rare fussy face, but cute.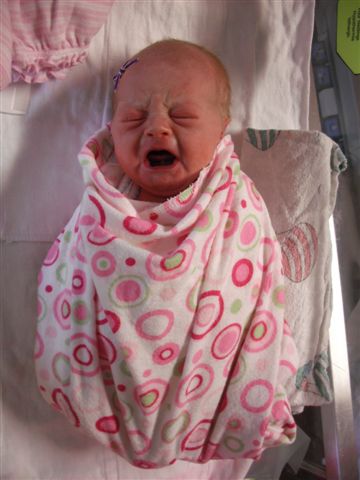 Audrey was very nauseous afterwards and spent a while recovering, but things are starting to look good.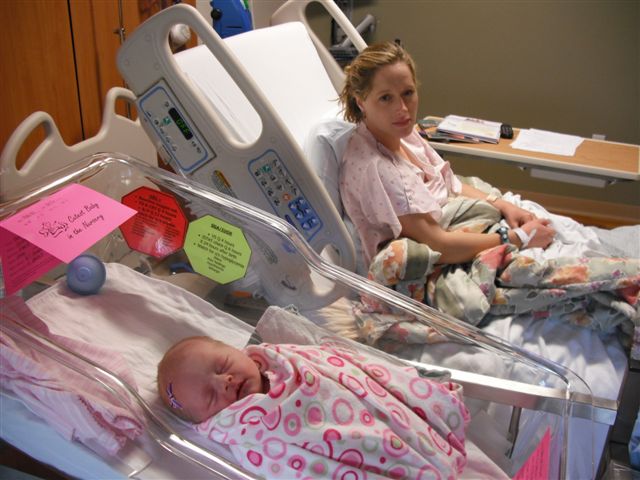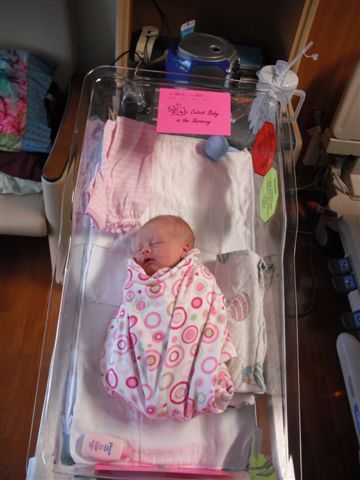 Audrey brought a bag of clothes for her and has already been dressing her up and trying cute little outfits.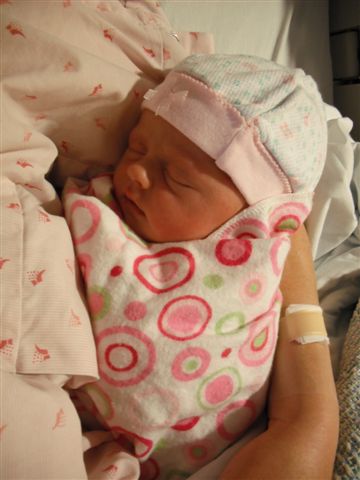 Now I've come home for a minute and, have posted some pictures, sent some emails, got a few things and am heading back to the hospital. So that's the update so far!
From, Joshua