I can hardly believe it, but I'm actually here, and it's not a dream this time!

That is my friend Alejandro. He came to the airport to pick me up and is seen here helping me load my luggage in the car.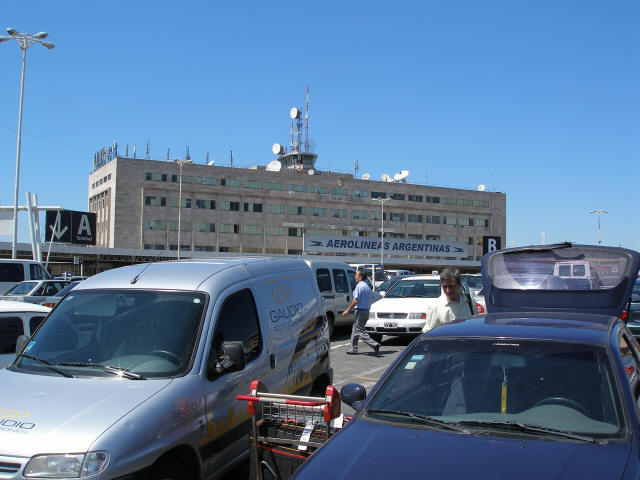 Here I am drinking an Argentine staple, Yerba Mate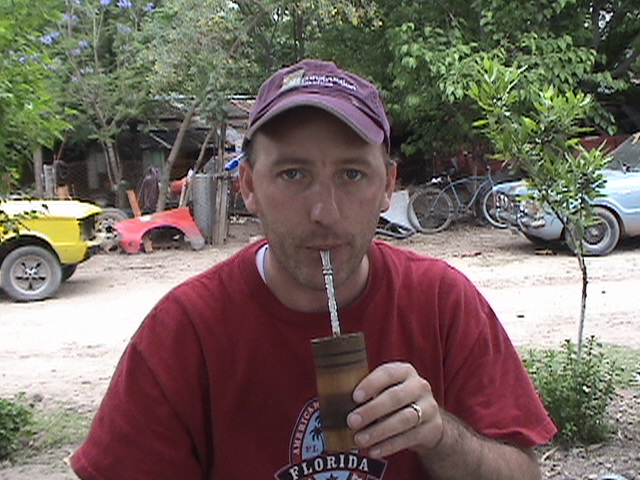 ---
This was when I went to church in Gonzalez Catan. There were some of the Kids at church.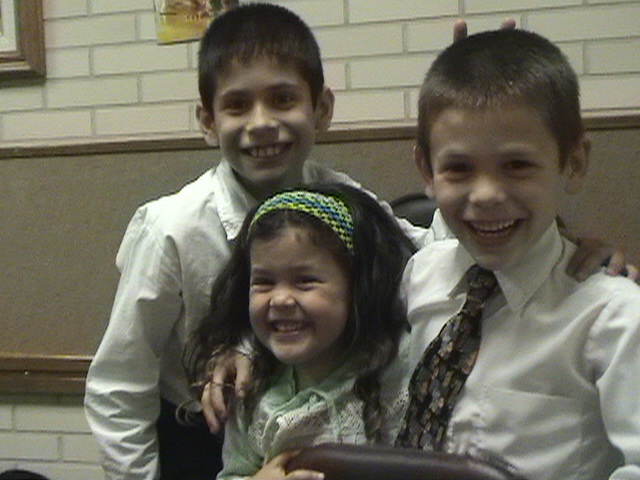 I sat in nursery class for a little while and help watch some of the kids.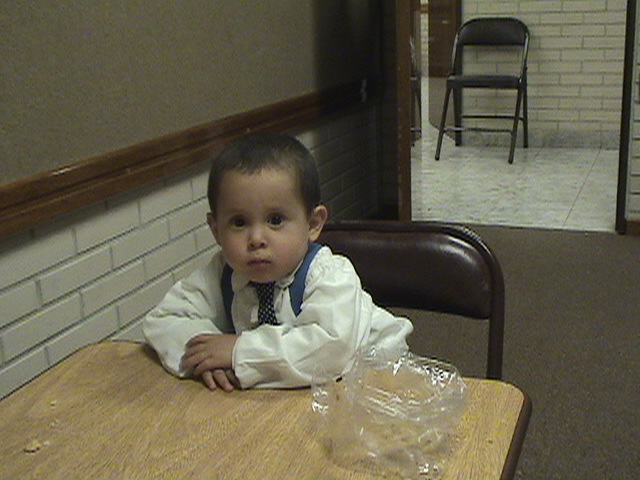 This was the church that I went to when I lived in Hurlingham, the last area of my mission.
This is Emanuel and Damian Fernandez.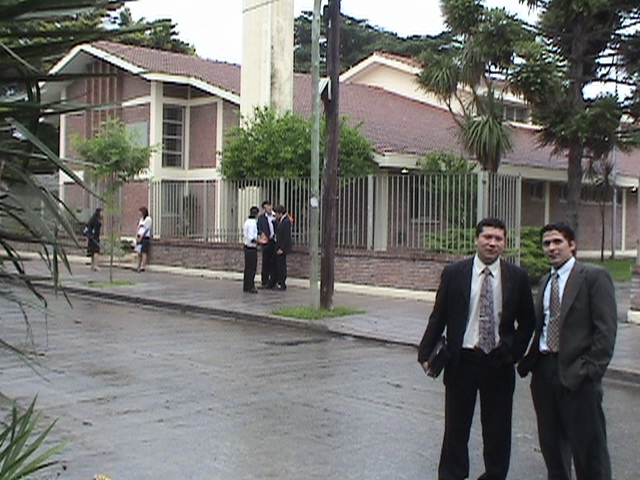 My friend Anibal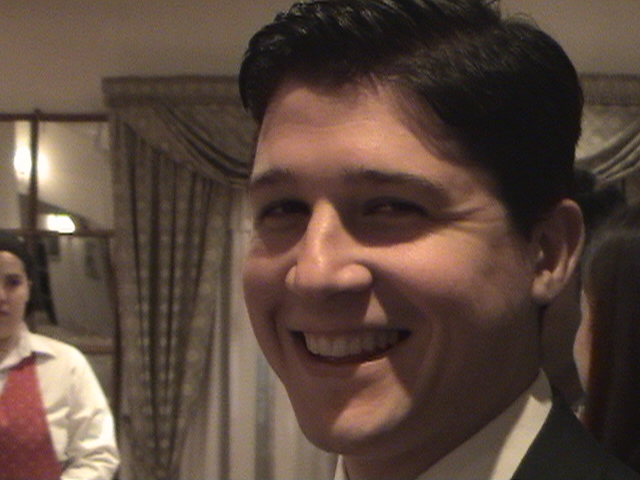 The Passion Flower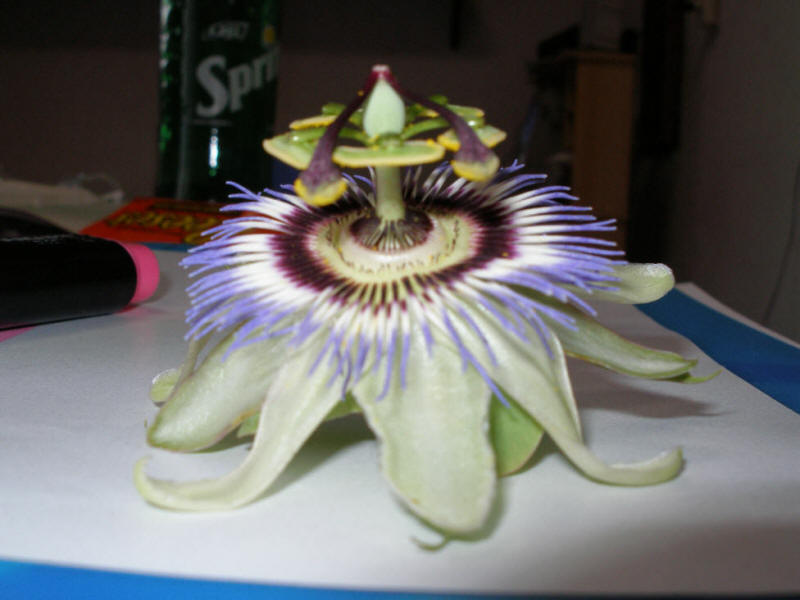 Argentine garbage cans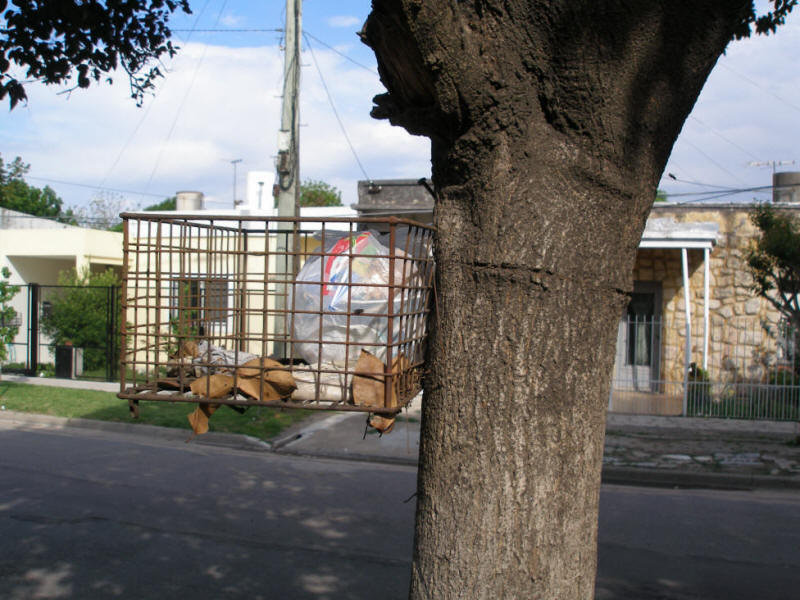 I think they are up like this so the dogs cant reach them.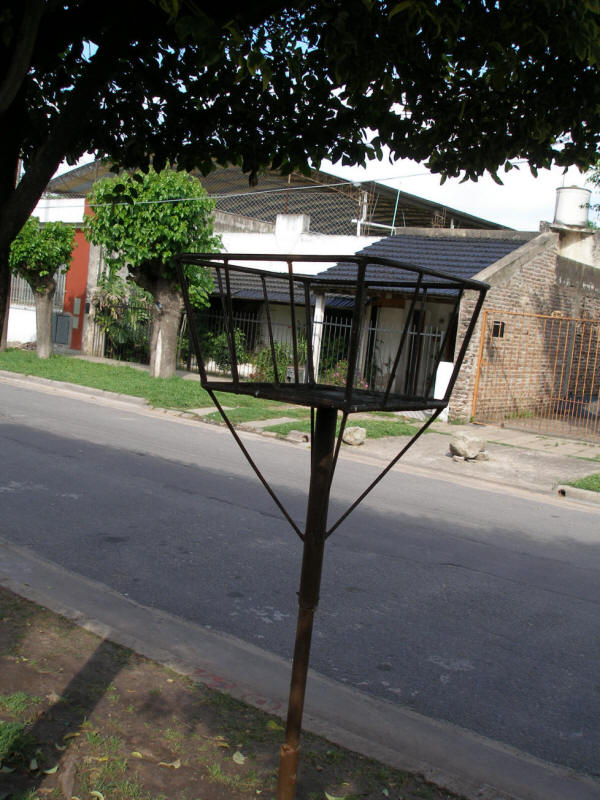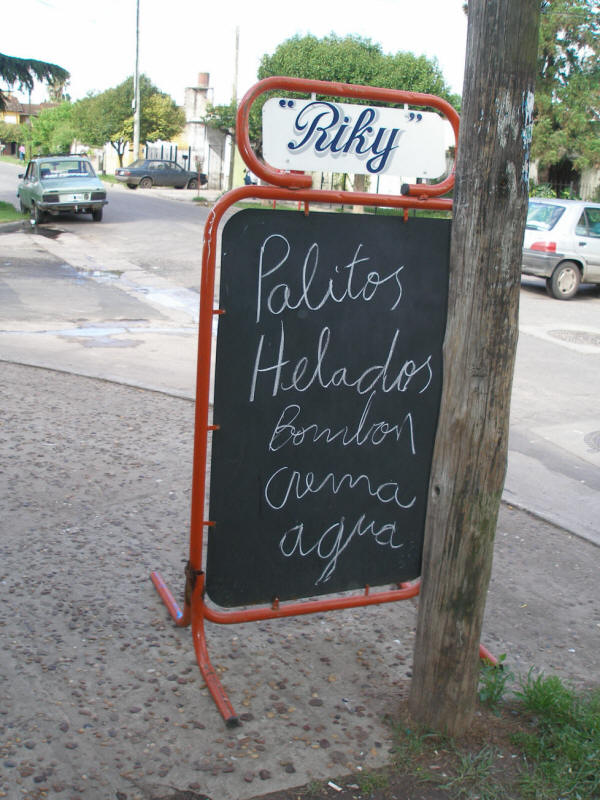 The Kiosko. (Candy Store) there is one on every corner.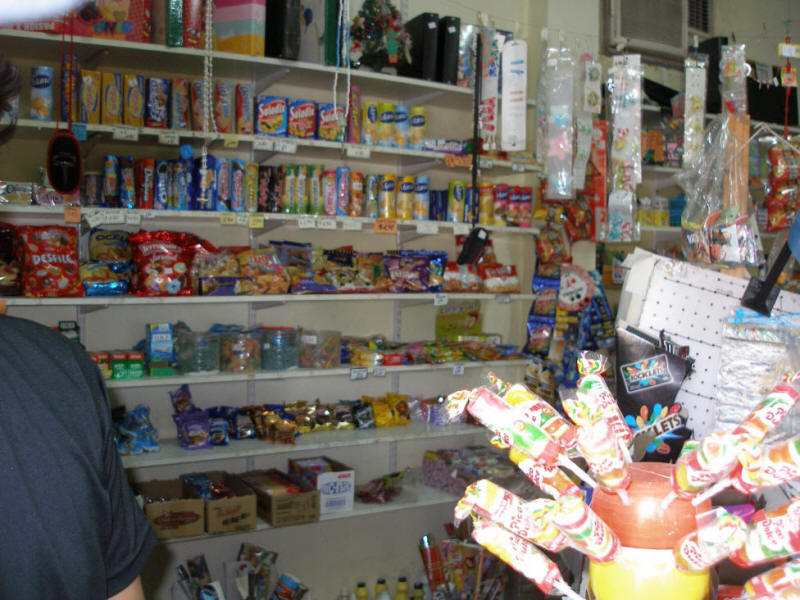 Floria Fernandez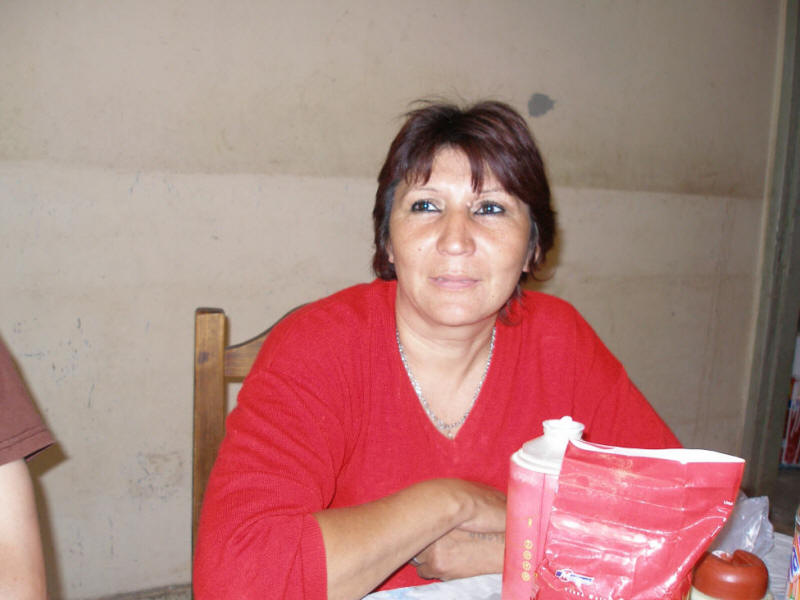 Damian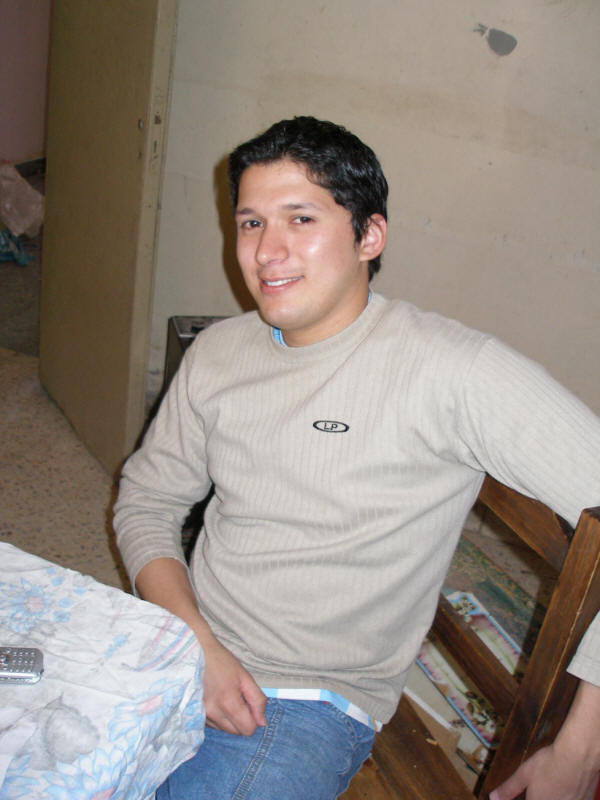 Such a cute picture of such a cute little guy!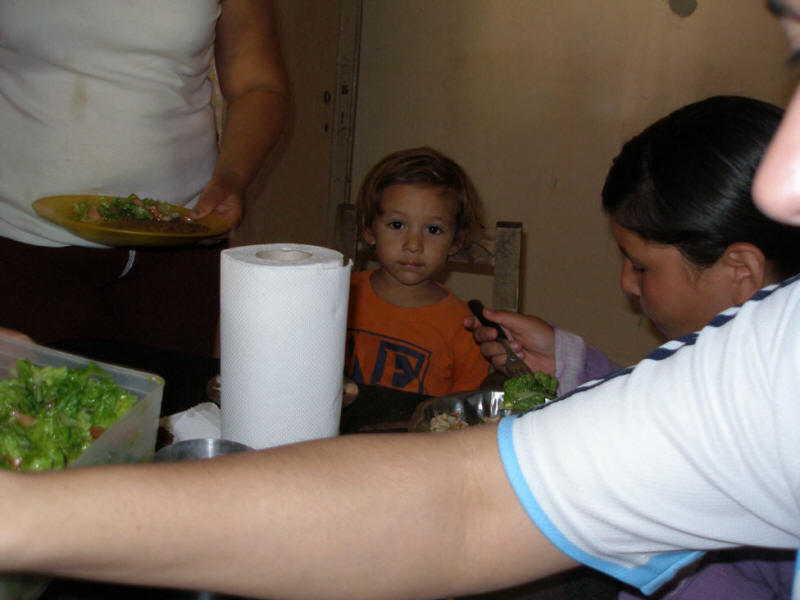 Lunch at the Fernandez home in Hurlingham.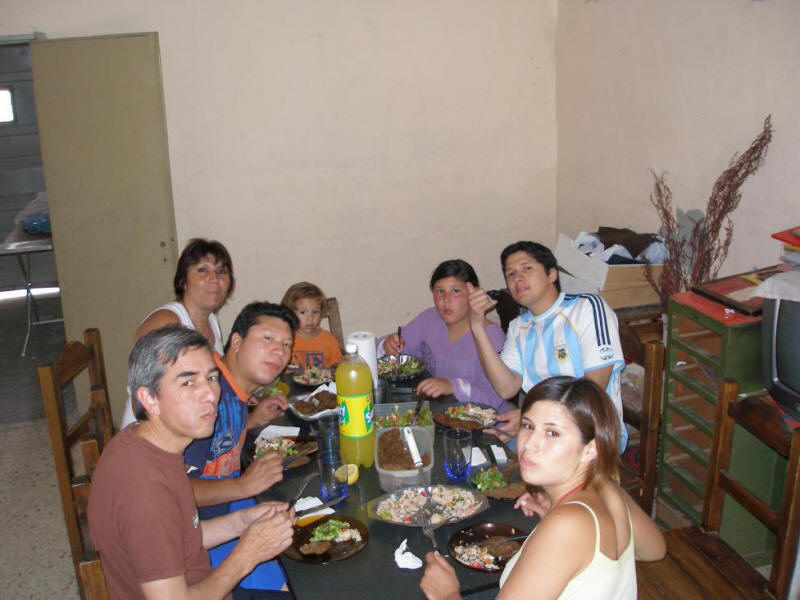 Sister Fernandez (In Libertad)

My angel, Belén.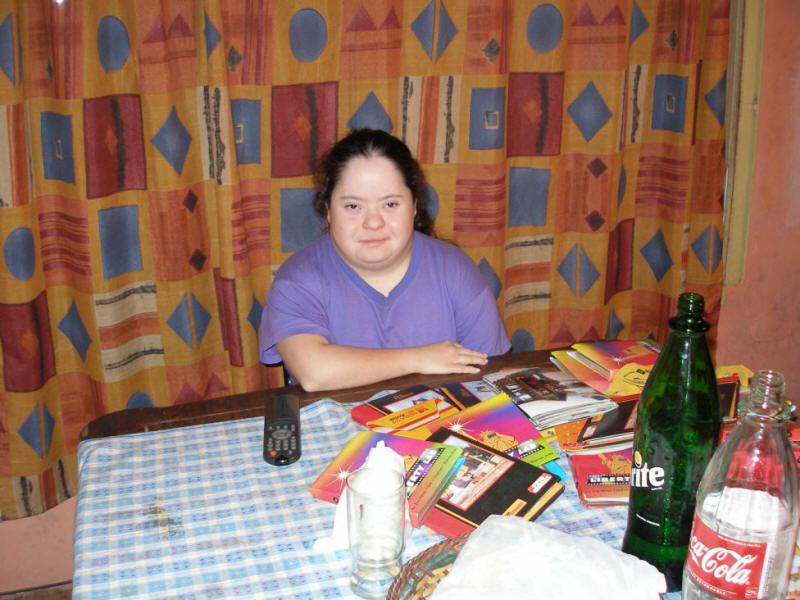 Maria Eugenia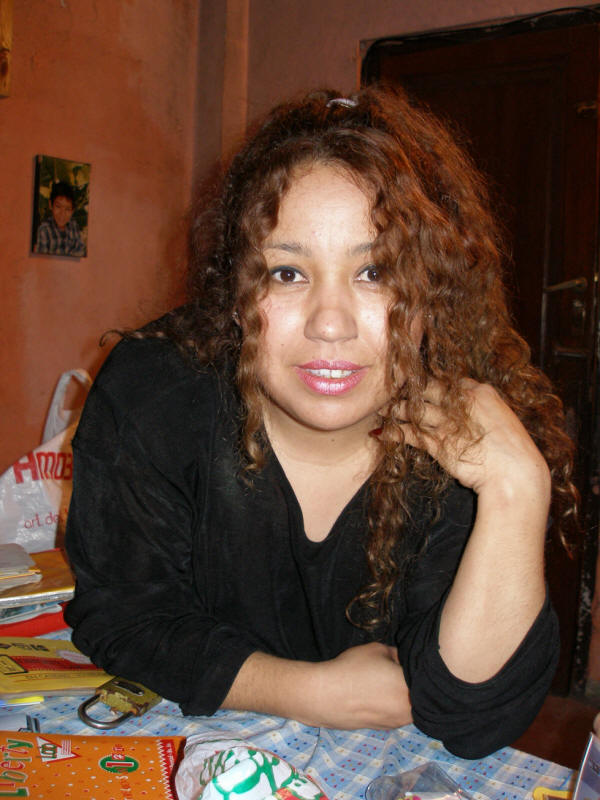 ---
I went to a soccer game. This was between Racing and Boca Jr. Argentines really love their soccer. A little too much sometimes and so they have riot police, fences to separate the opposing teams fans, and still it gets pretty crazy.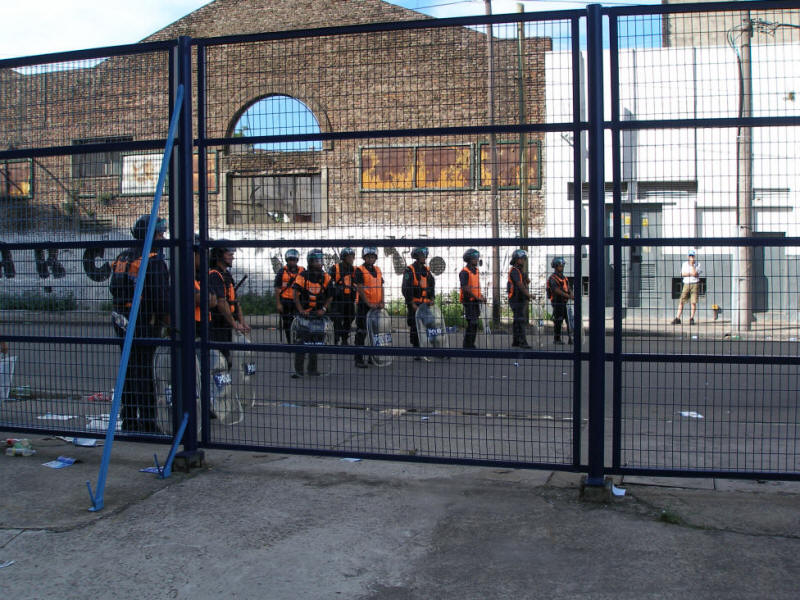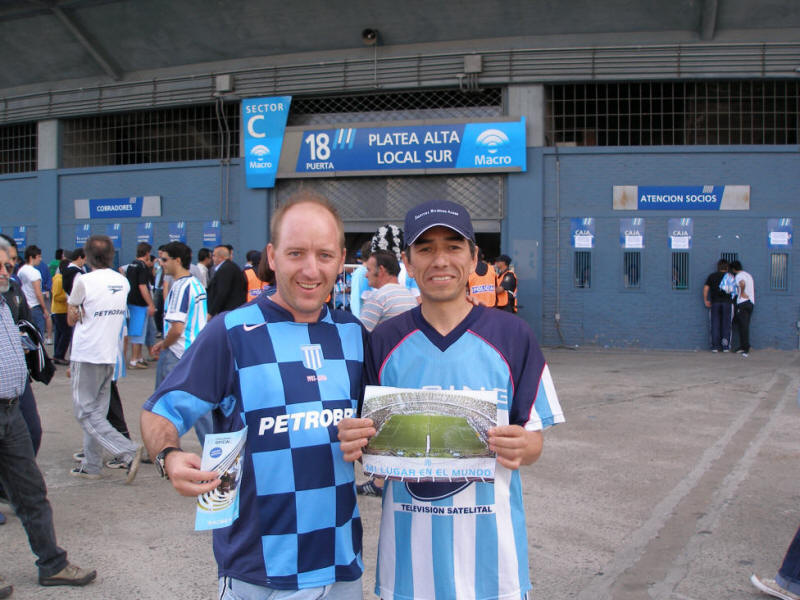 These police got to ride horses.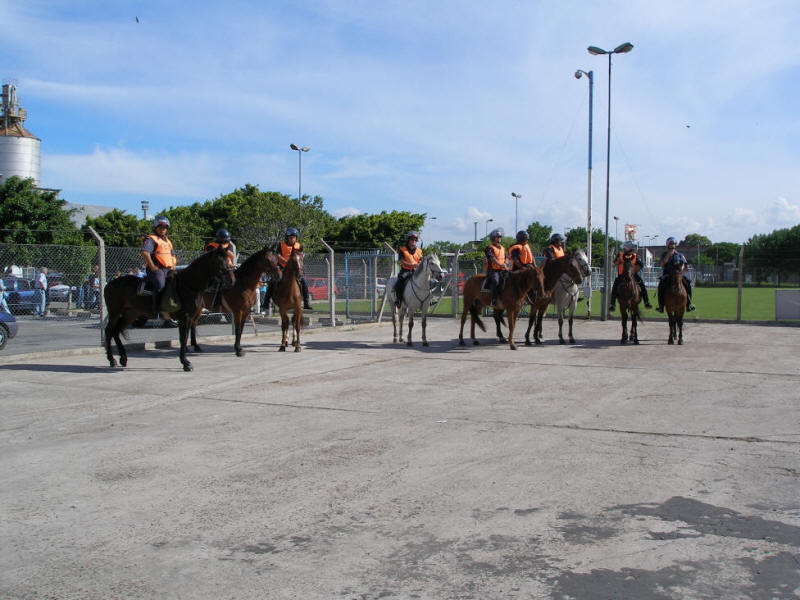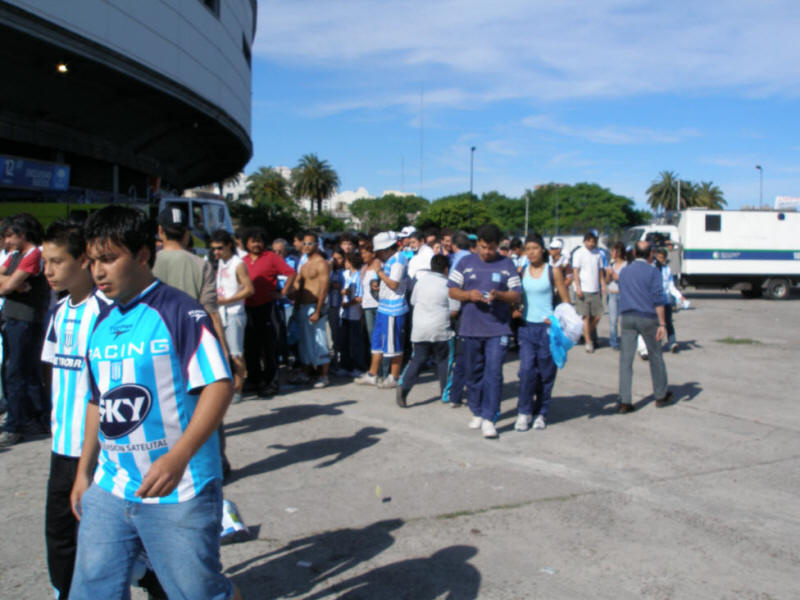 This end of the stadium can get pretty wild. There are no seats, just standing room only. There are times that you are smashed in-between people pretty tight and the crowd pushes each other around in one huge mass. It can be quite a workout to survive a game. ....and this was just a regular small game. I cant imagine the playoffs even after seeing them on TV.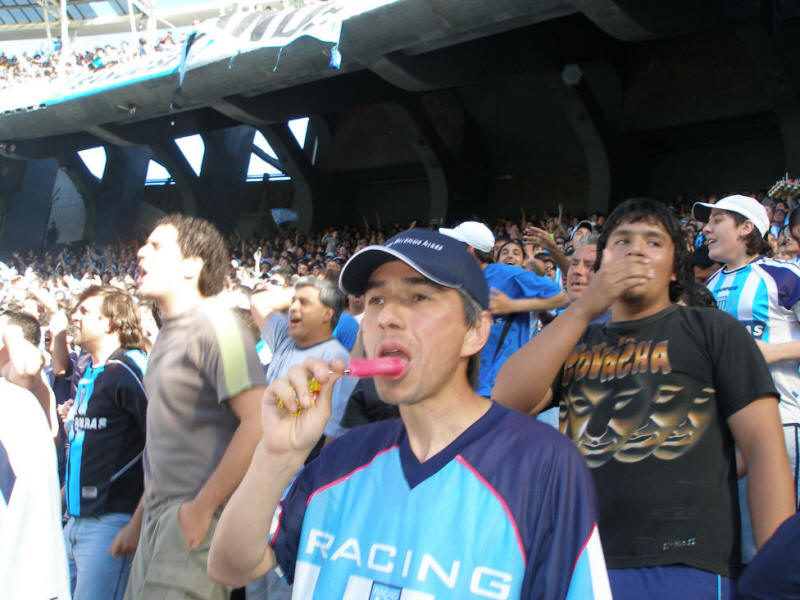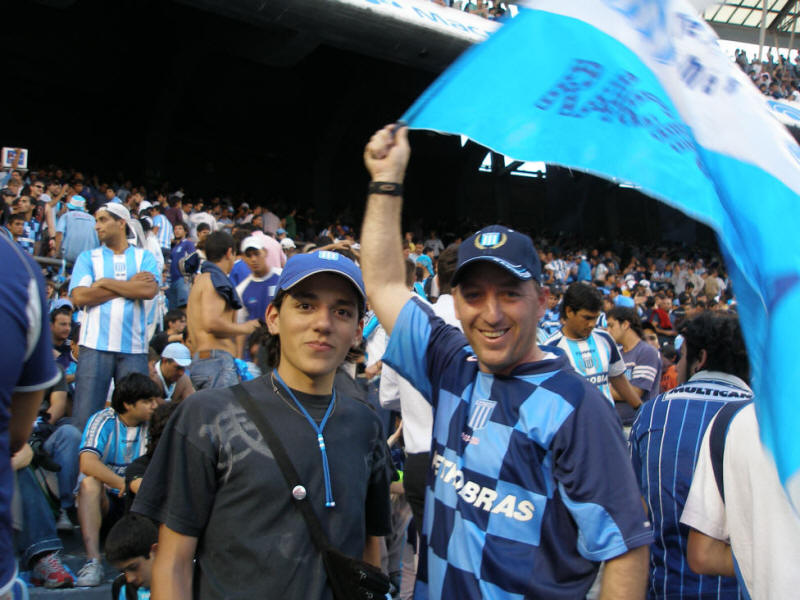 Here are some video clips of the game:
Where's Waldo....I mean Alejandro.

These games can get pretty wild. One thing that will happen is that the crowd "liquefies" and becomes a tight mass of people flowing. It can get pretty dangerous, but this game was pretty tame.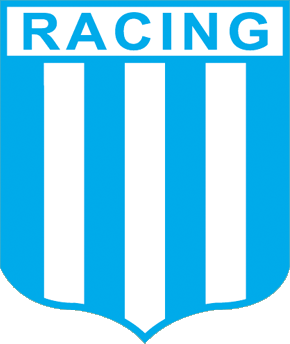 Todos los Domingos,
cuelgo la bandera.
Voy a ver a Racing,
en Avellaneda.
Yo lo llevo adentro,
de mi corazon,
por que la Academia va salir campeón.
Me siento bien, yo tambien.
Me siento bien, yo tambien.
Vamo la Academia me siento bien!
Boca boton, boca boton,
Boca boton, boca boton.
Este año RACING sale campeón!!


---
Visiting the home of some neat friends, the Rosalez Family.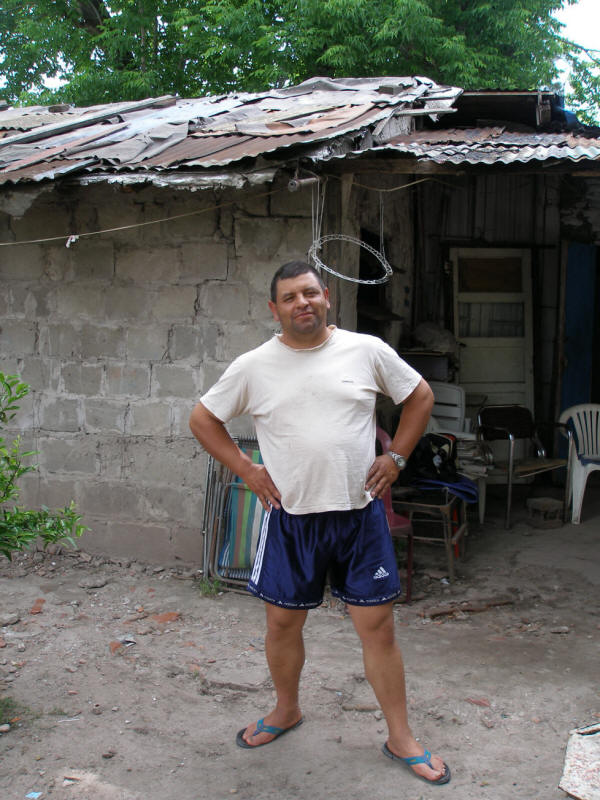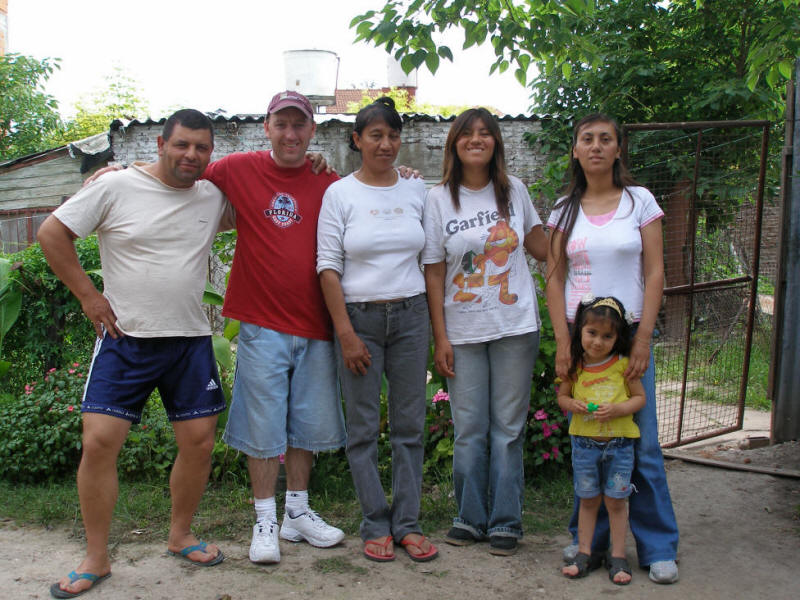 ---
Then we went to visit another friend, Eduardo Chamorro.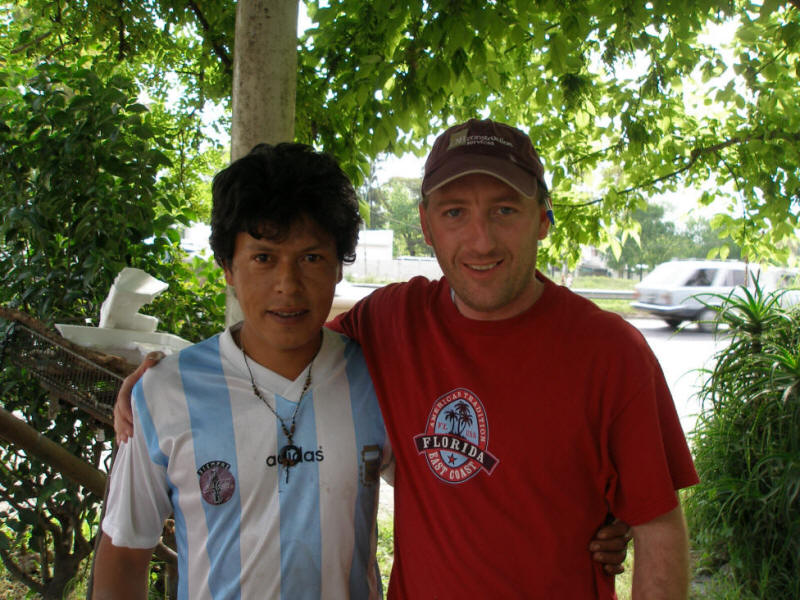 Eduardo's Daughter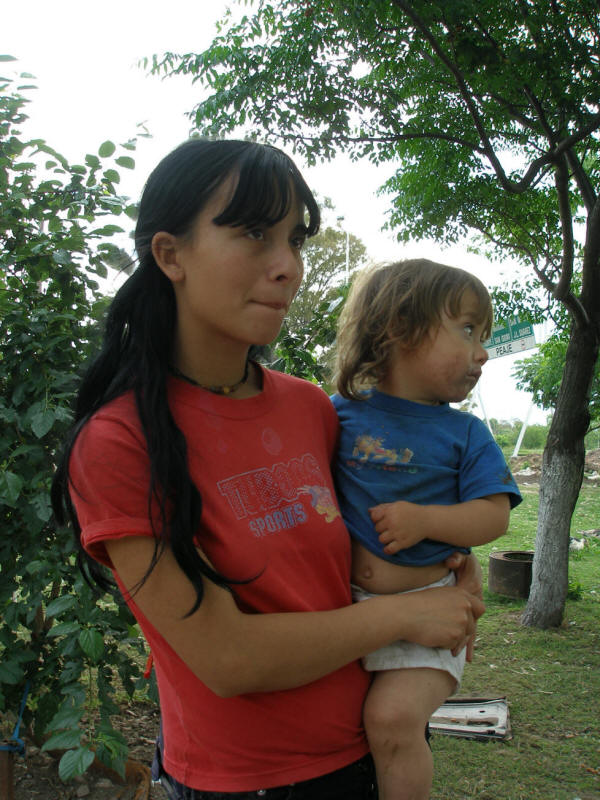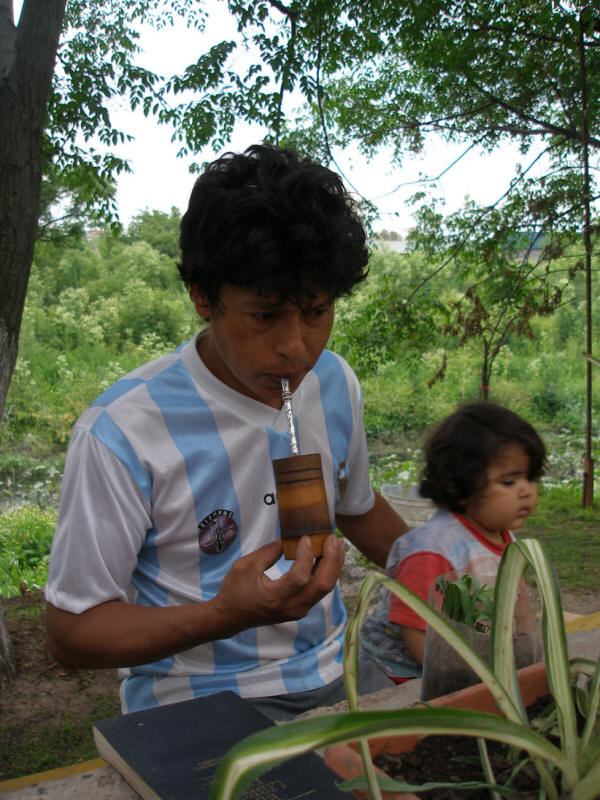 Alexis Emanuel came with me to visit Eduardo.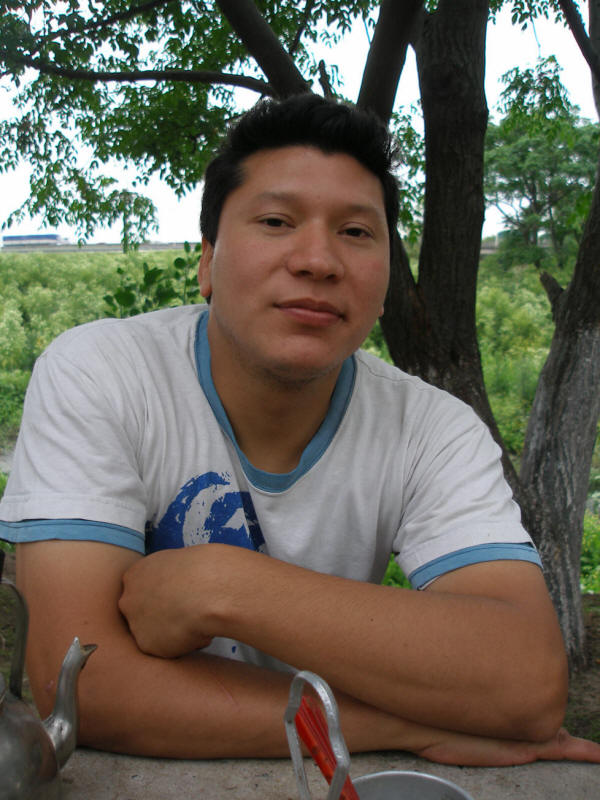 ---
I saw this odd looking spider. When I got closer I realized that it was a mom carrying over 100 babies on her back.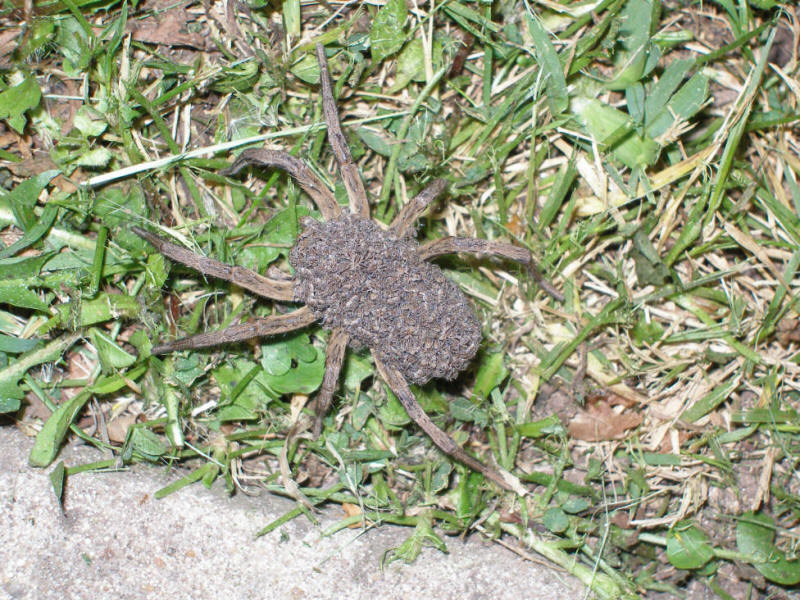 These actually taste much better than they sound.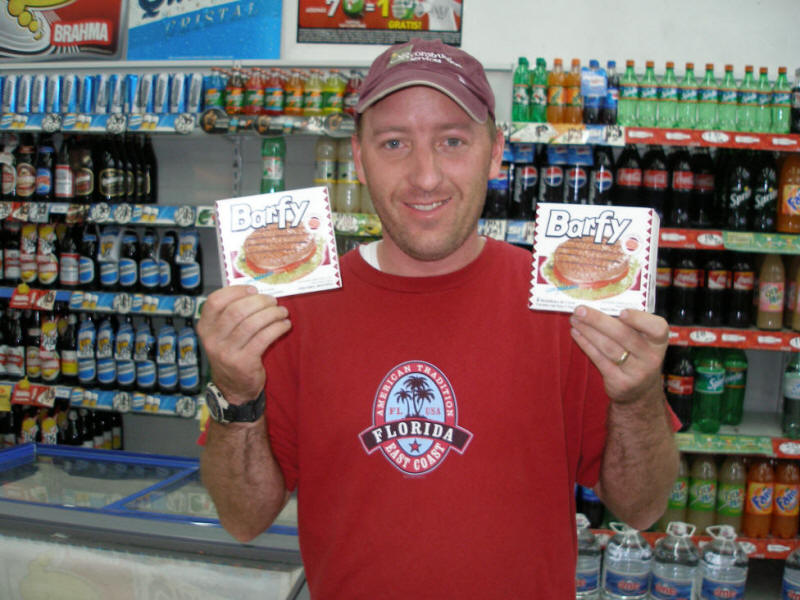 ---
I returned for another visit to the Fernandez family in Libertad.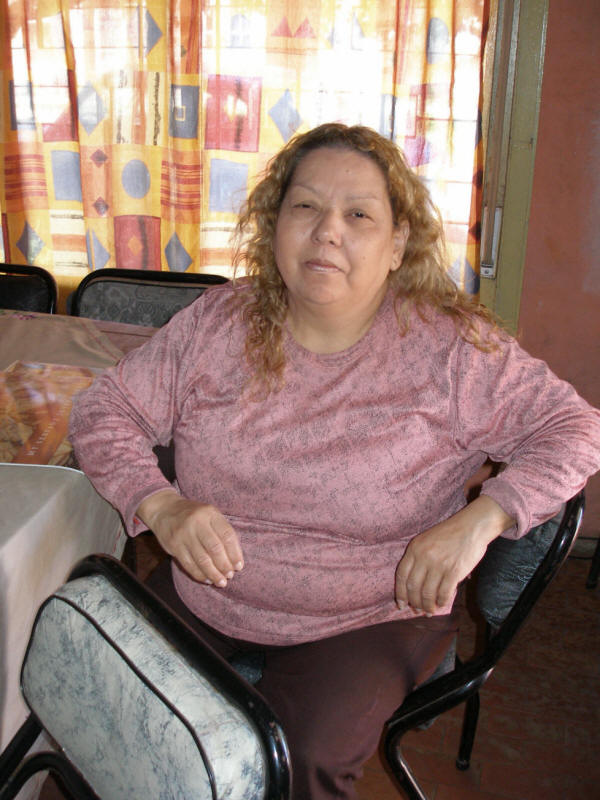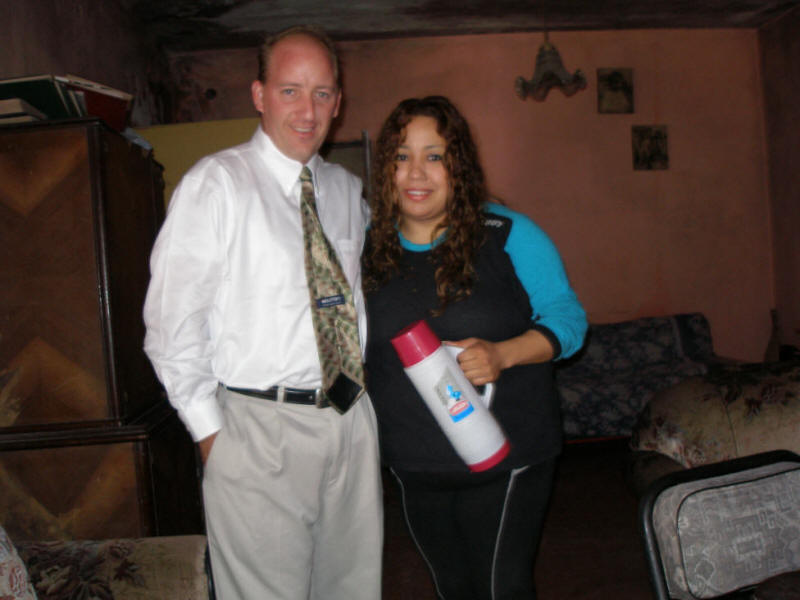 I enjoyed mate as often as it was available, and it was always available.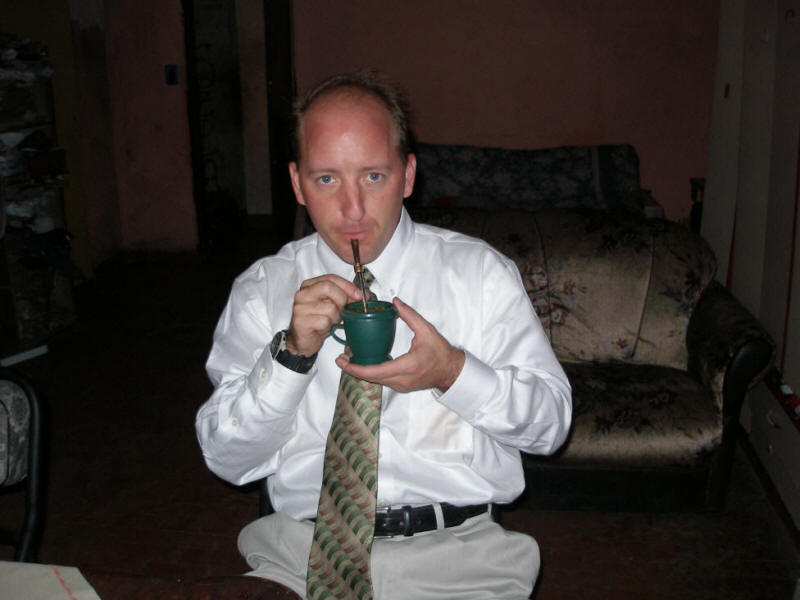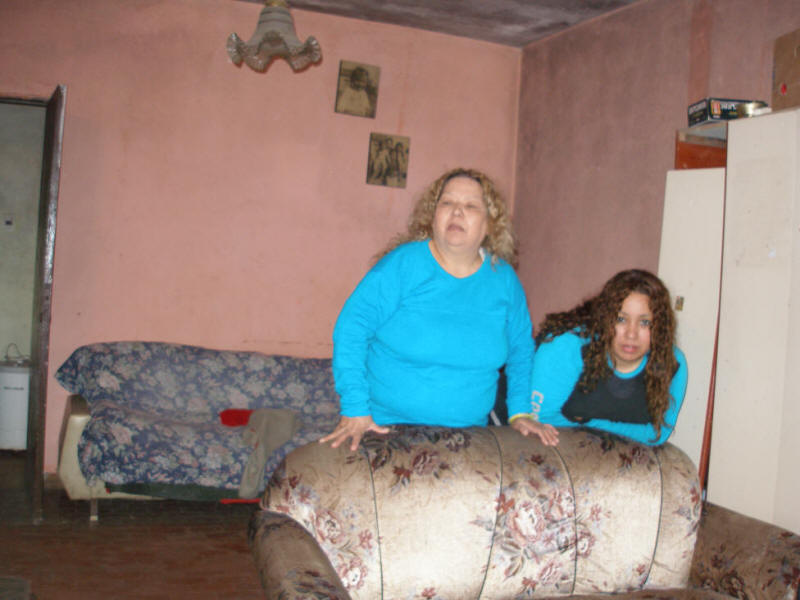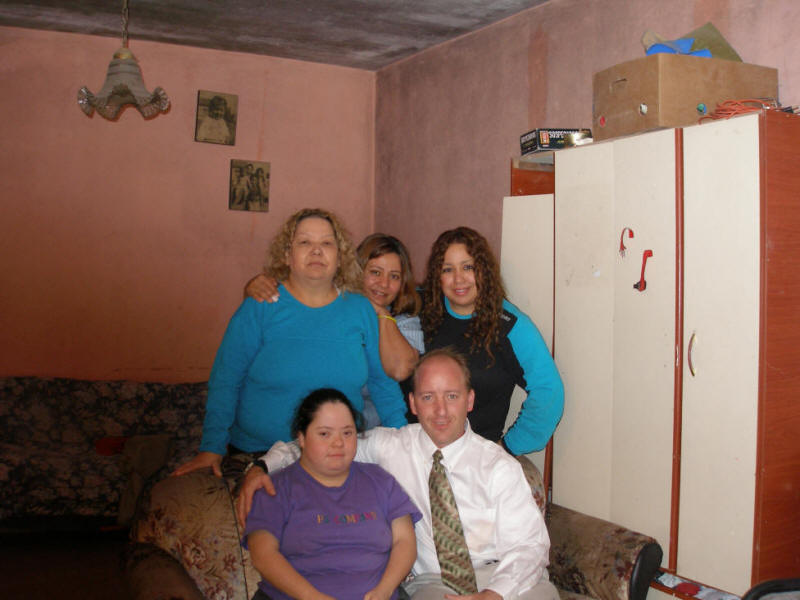 I love the Soda Bottles in Argentina. You get to mix your own concentrate, or just drink it plain.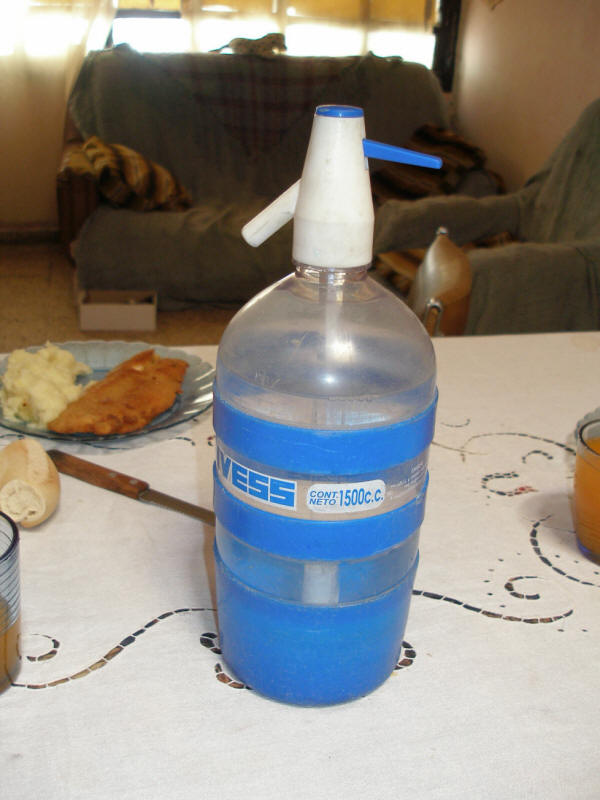 Samuel. He was just a little guy when I was here last, now he is all grown up.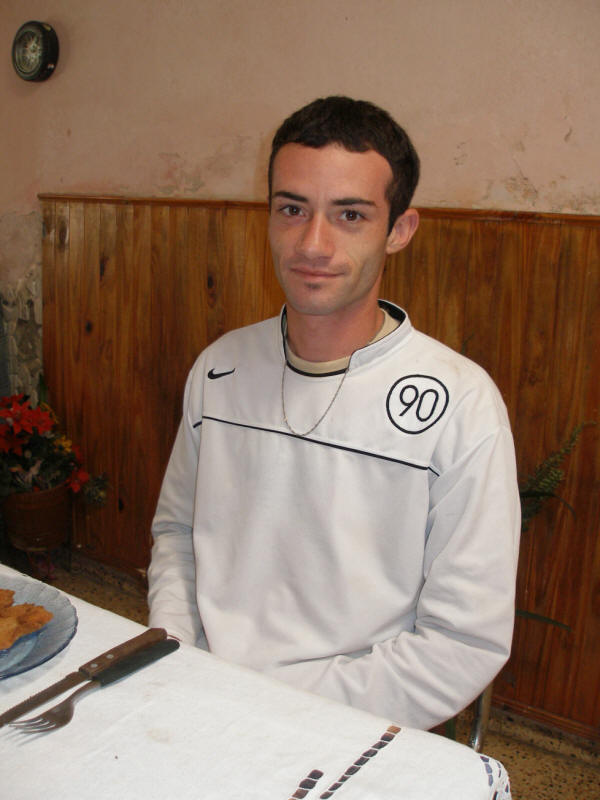 Samuel and Daniela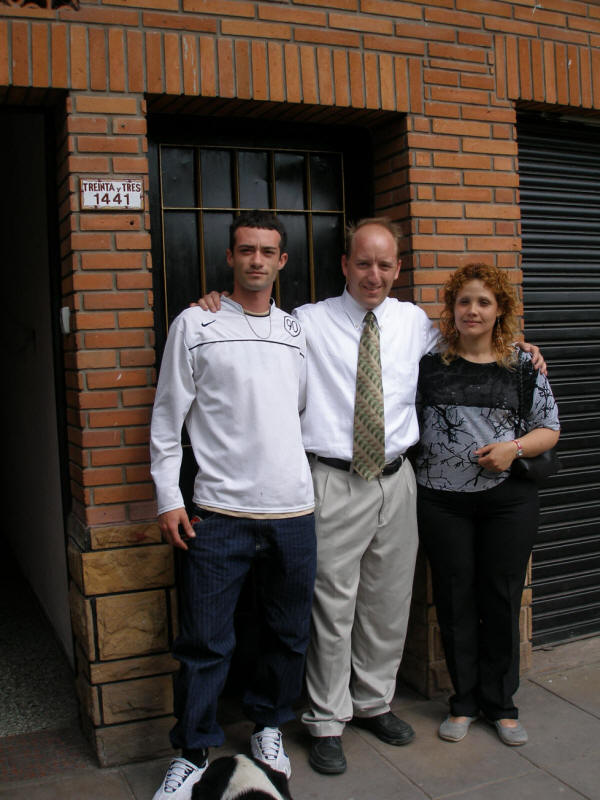 Brother Benitez gave me a ride back to Alejandro's house.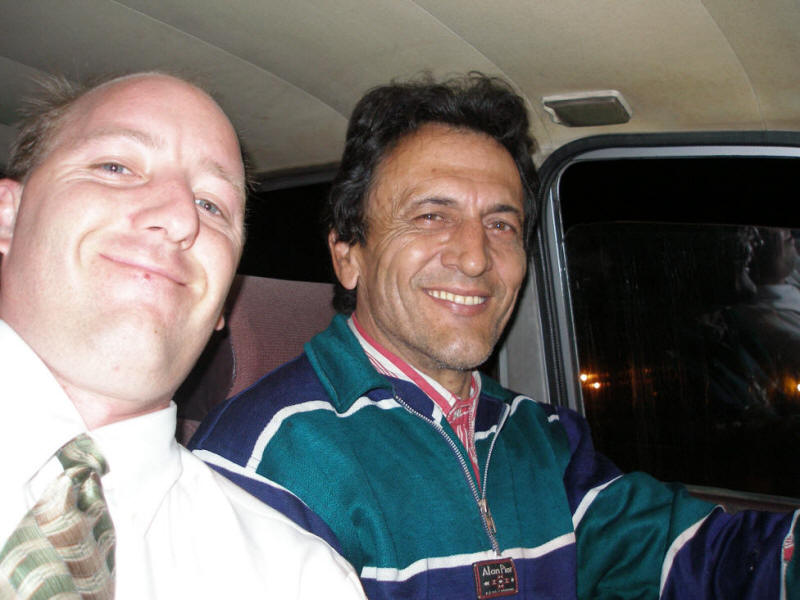 ---
Today I went to church in Hurlingham. I was excited to see a good and faithful brother in the gospel, Brother Rosalez.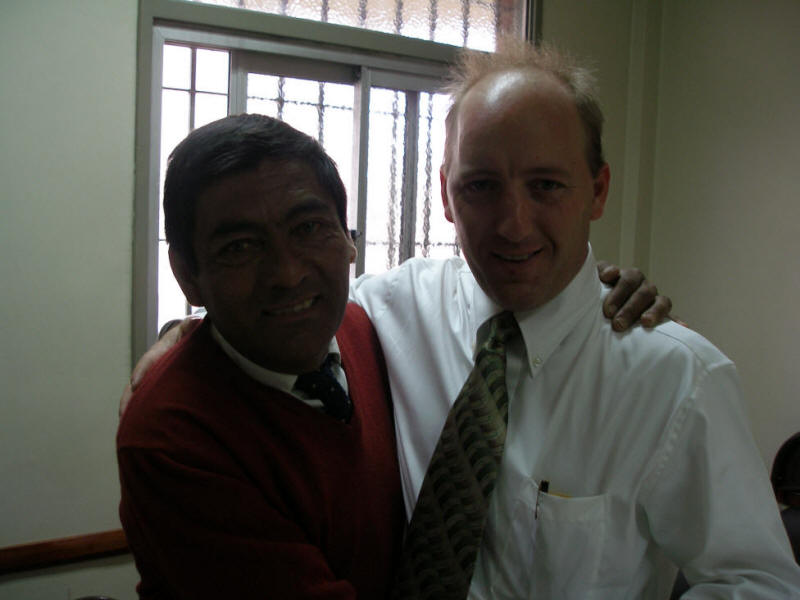 This is Sister Benitez and her Family.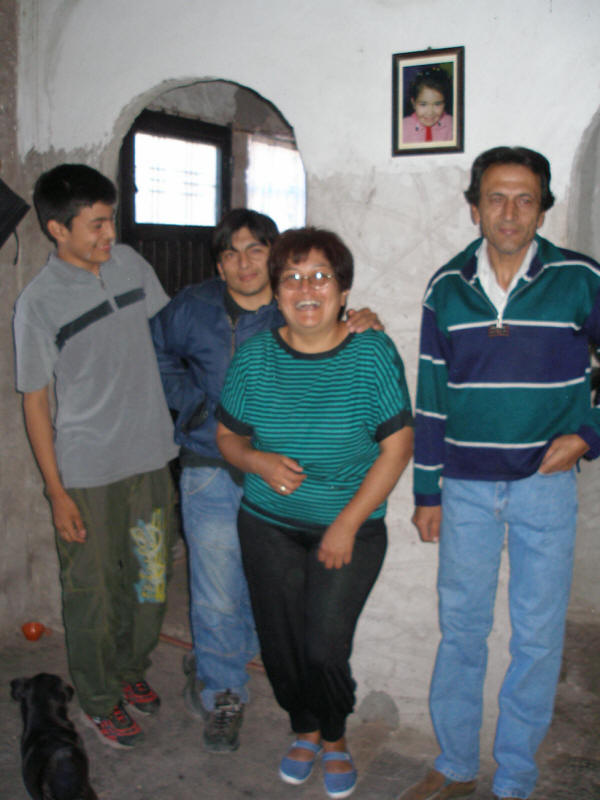 I kept trying to use the self timer on the camera and we had a hard time getting it to work.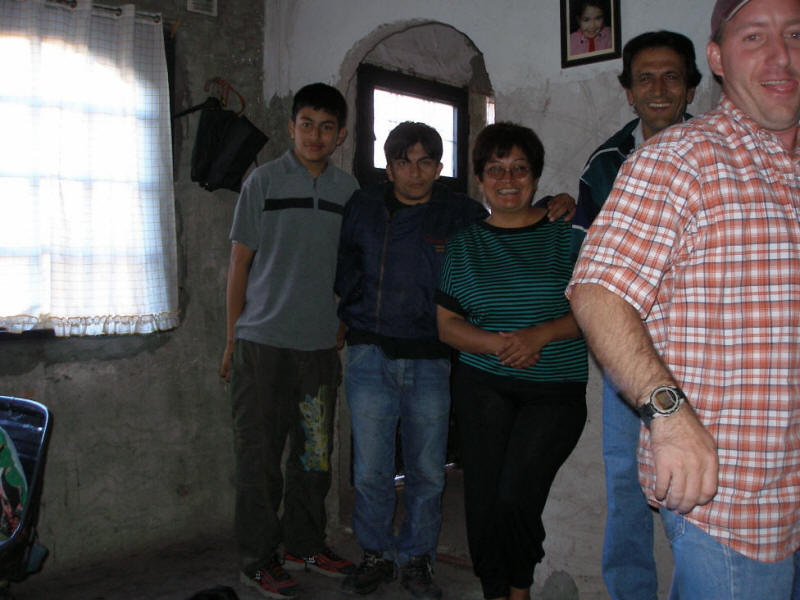 Argentine pizza.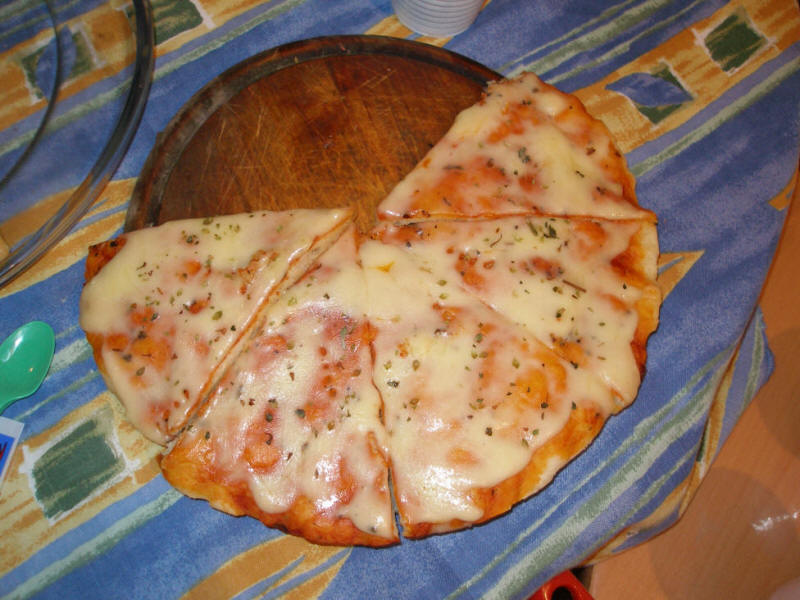 Alexis and me, at the Chacaritas cemetery, Buenos Aires.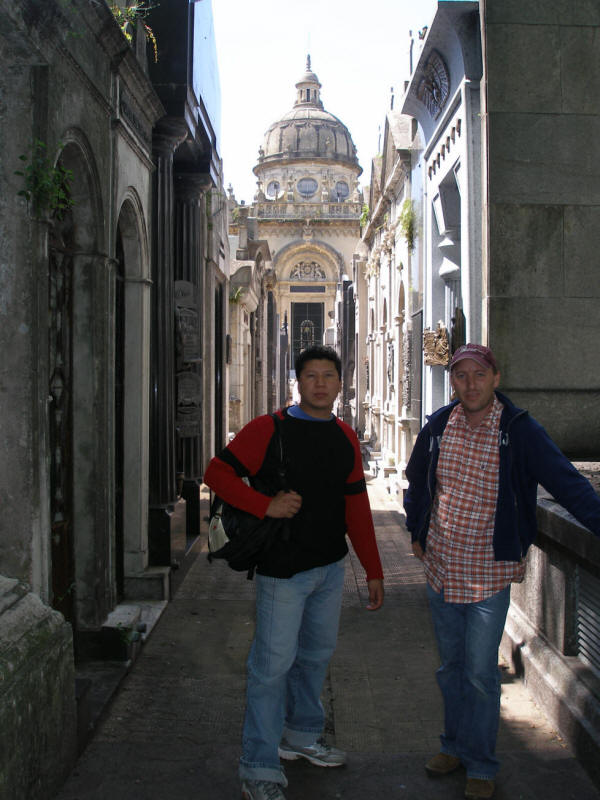 We had a good time on our visit to Capital.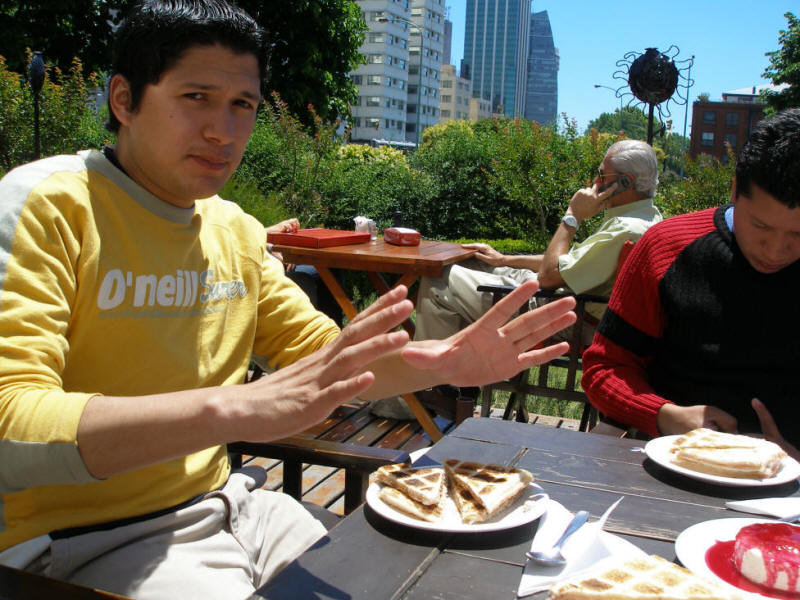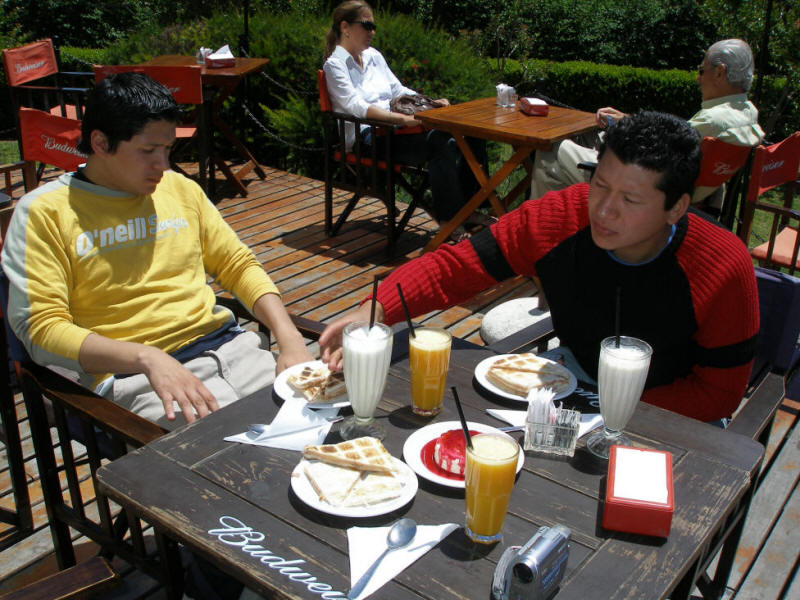 At the tomb of San martin in Cathedral - Plaza de Mayo. This is right next door to the the Pink House (Casa Rosada) which is the Argentine equivalent of our US White House.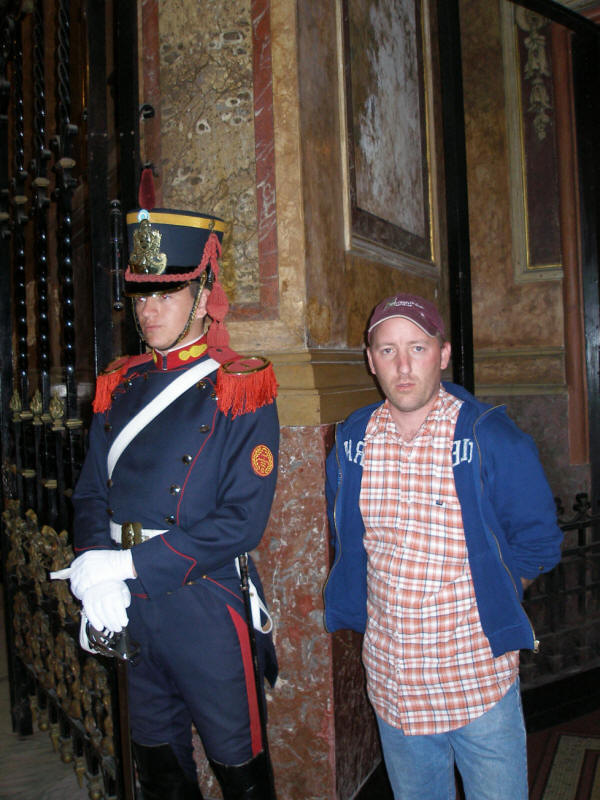 Lunch at Gabrielas house.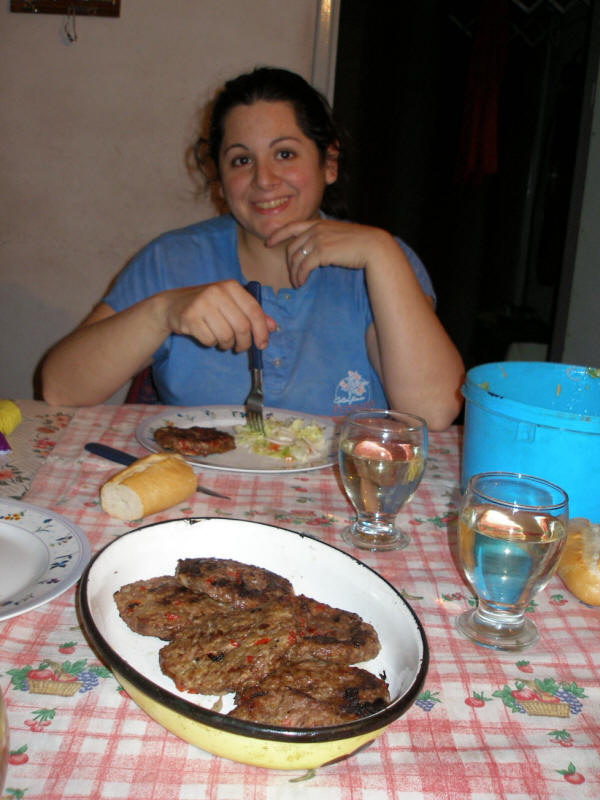 My friend Gabriela Romero and her dad.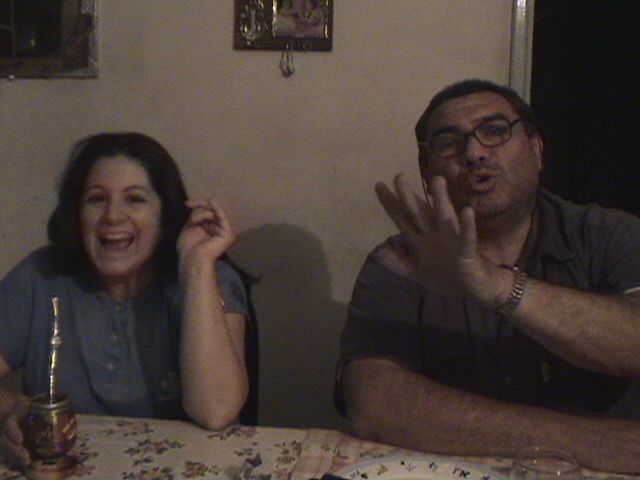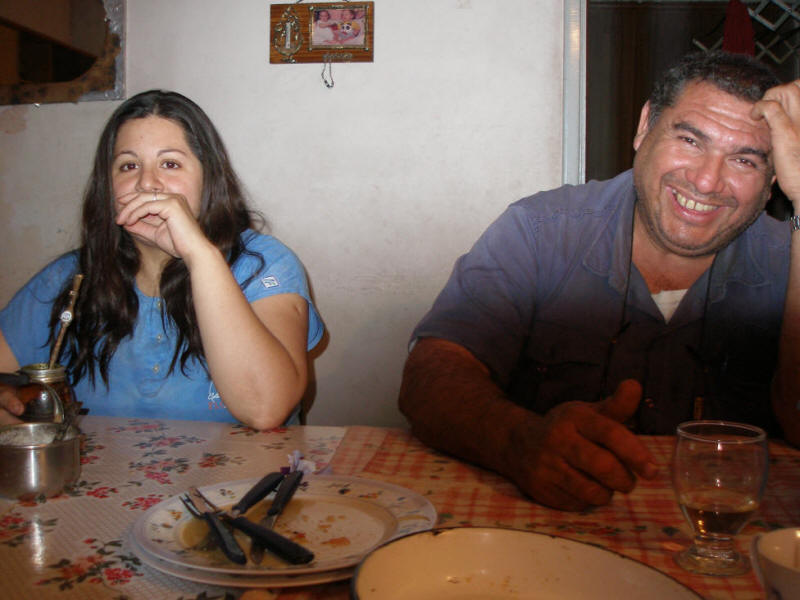 The Romero family.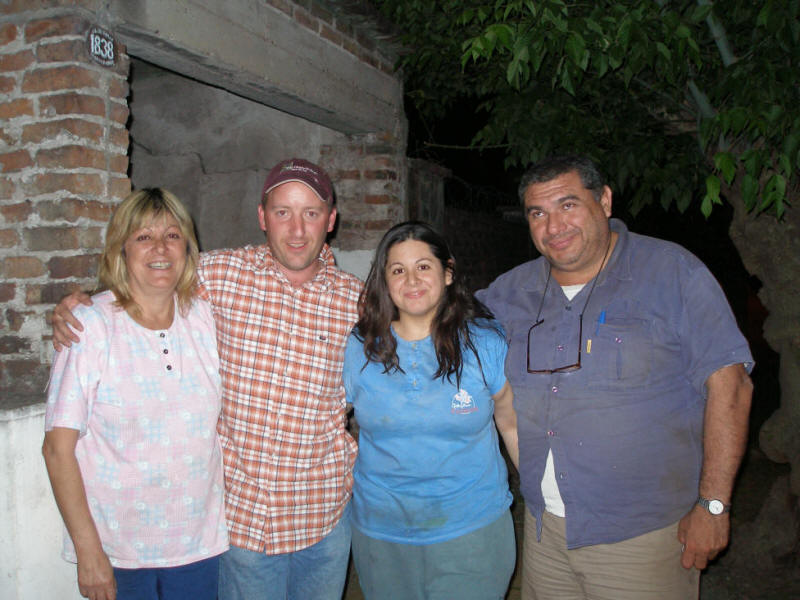 ---
The Floripón Flower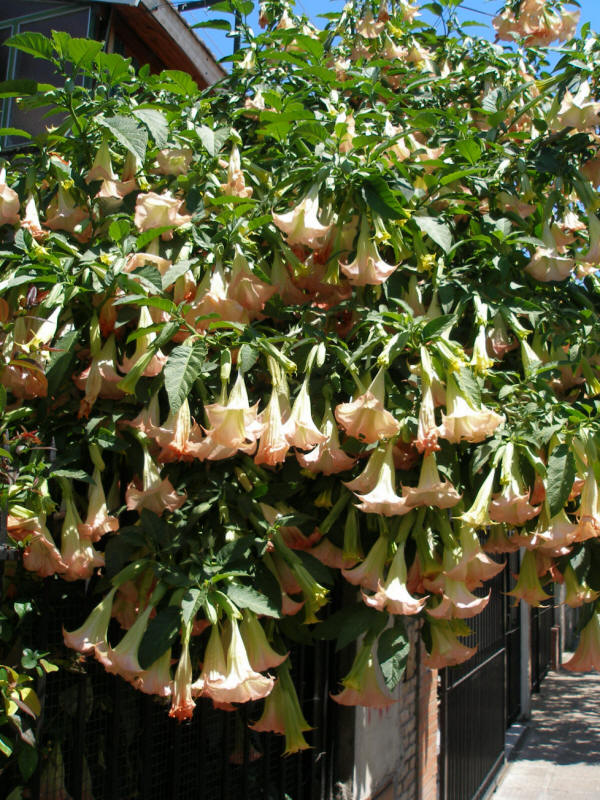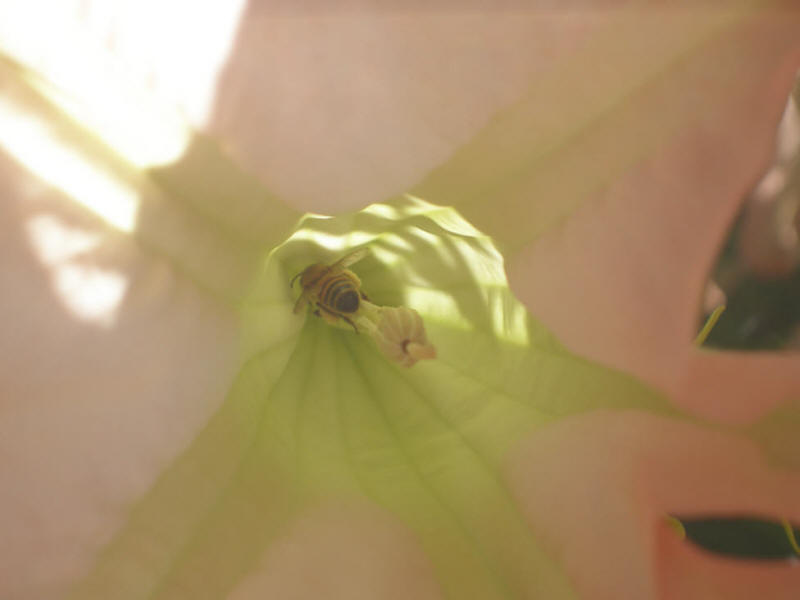 ---
Street performers on the famous Florida street in Capital.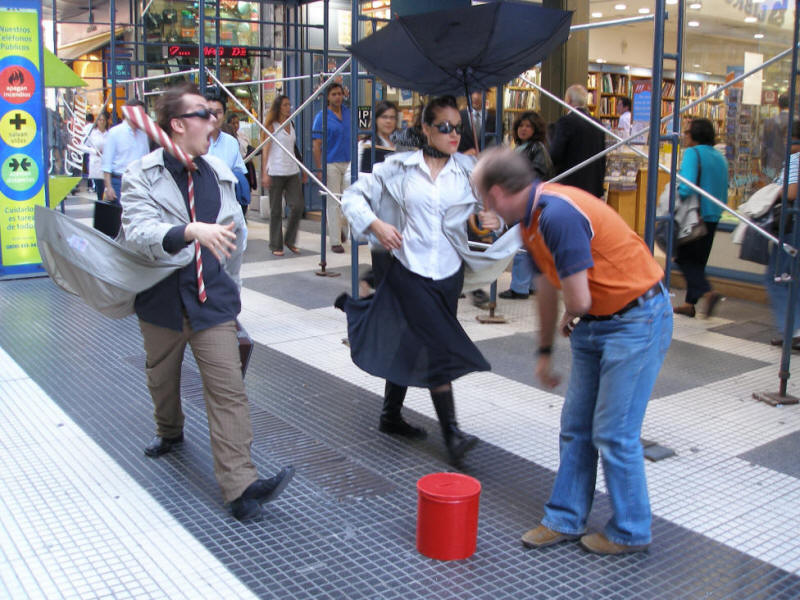 ..yeah, it gets pretty windy here in Buenos Aires (Good Airs). Even I got blown away this time.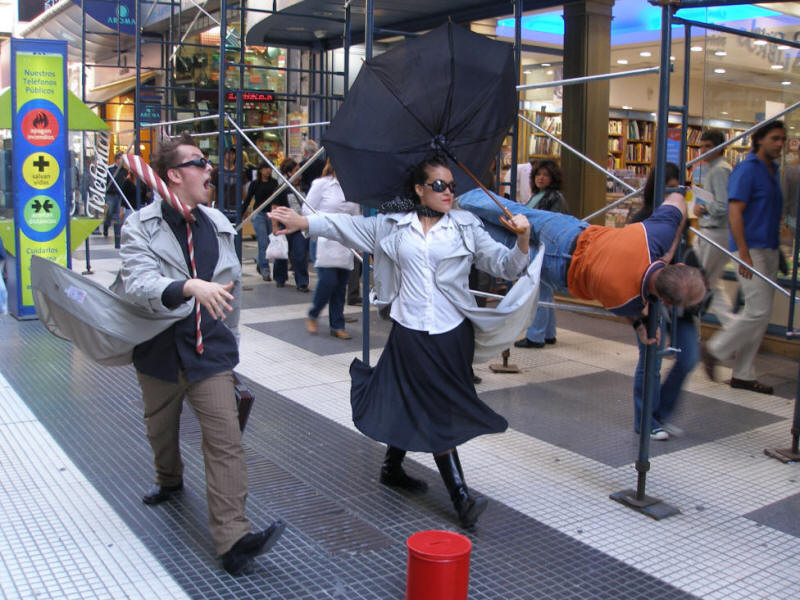 Damian and Jimena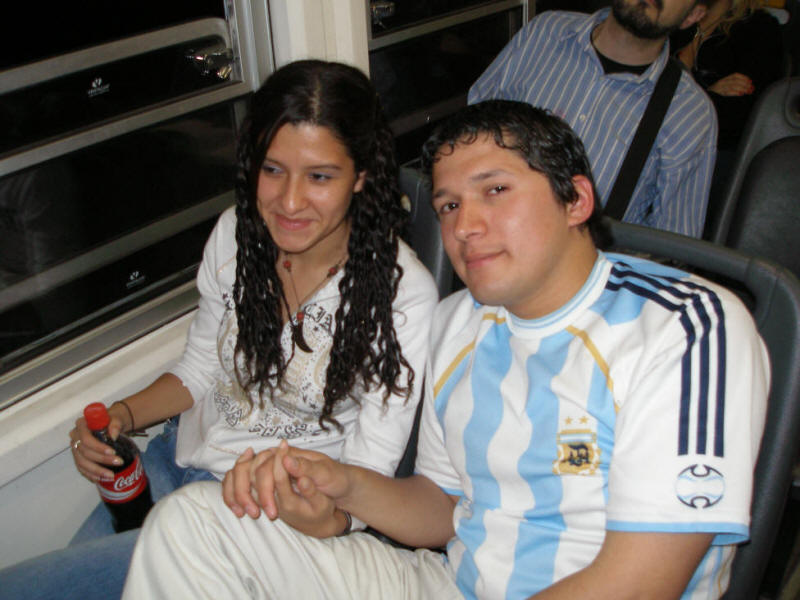 Alexis and Matias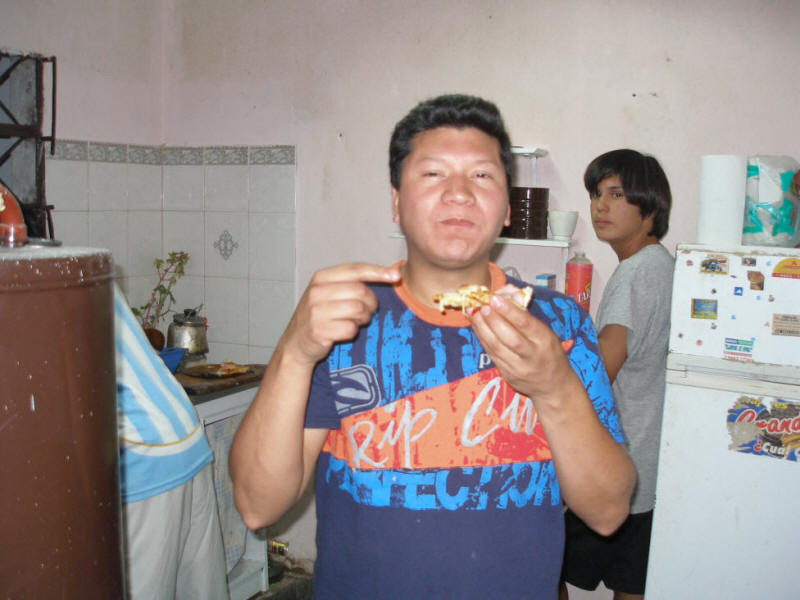 Buenos Aires Temple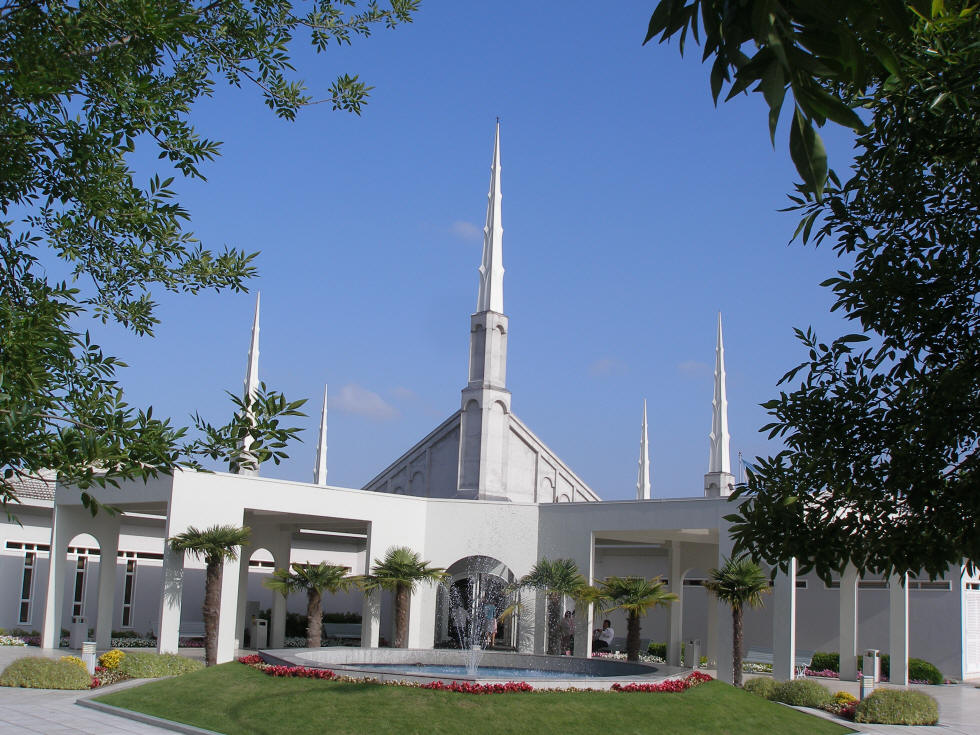 Me at the temple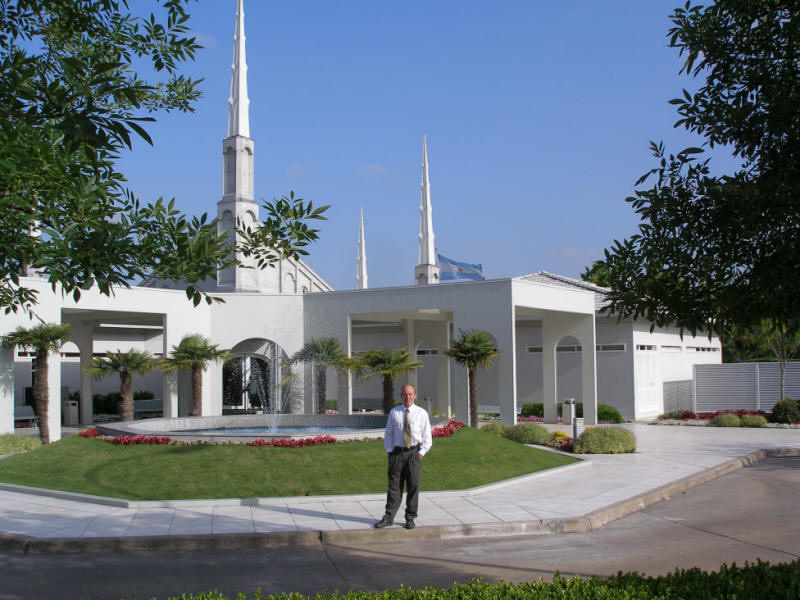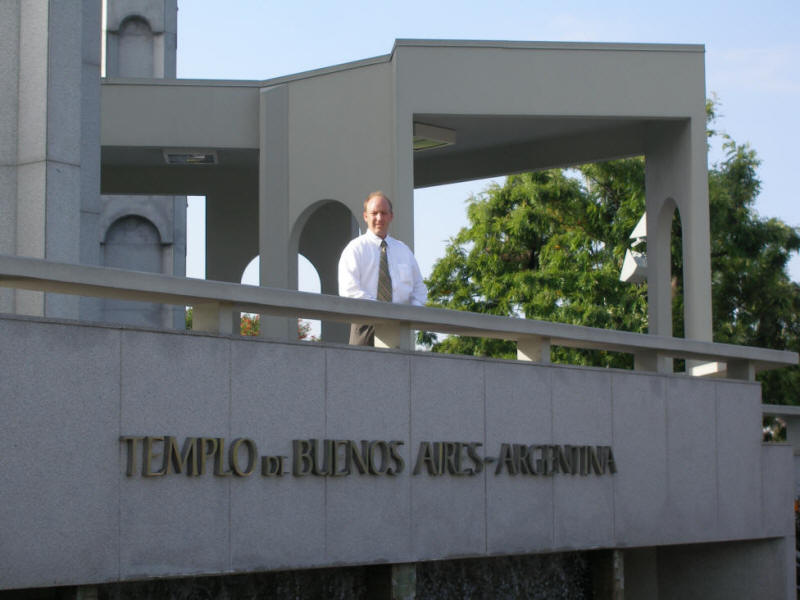 Aeljandro Villareal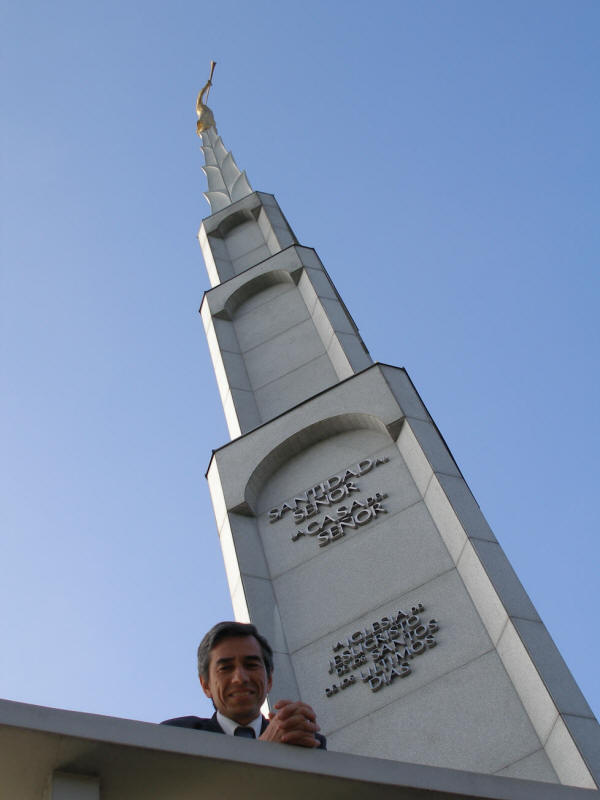 Me, recreating a picture that I took on my mission. Someday maybe I'll get that other picture scanned in to show as a compairson.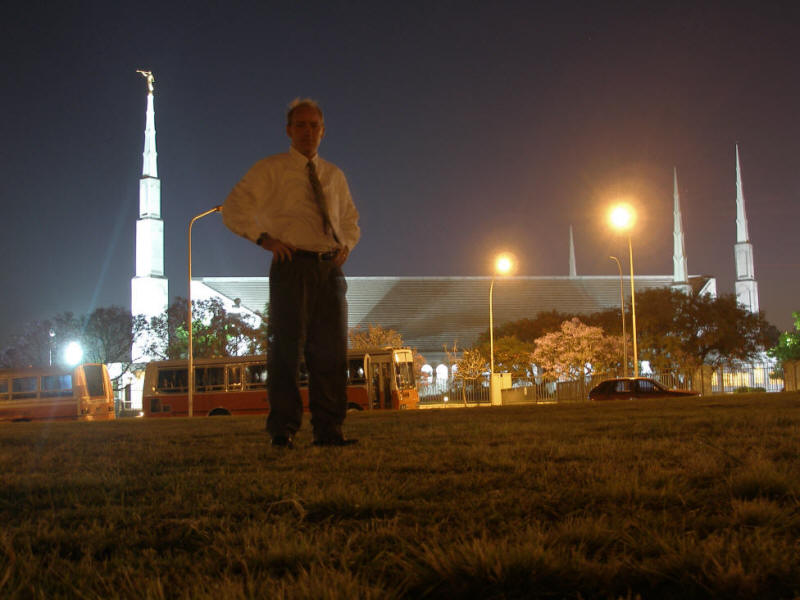 Going to dinner.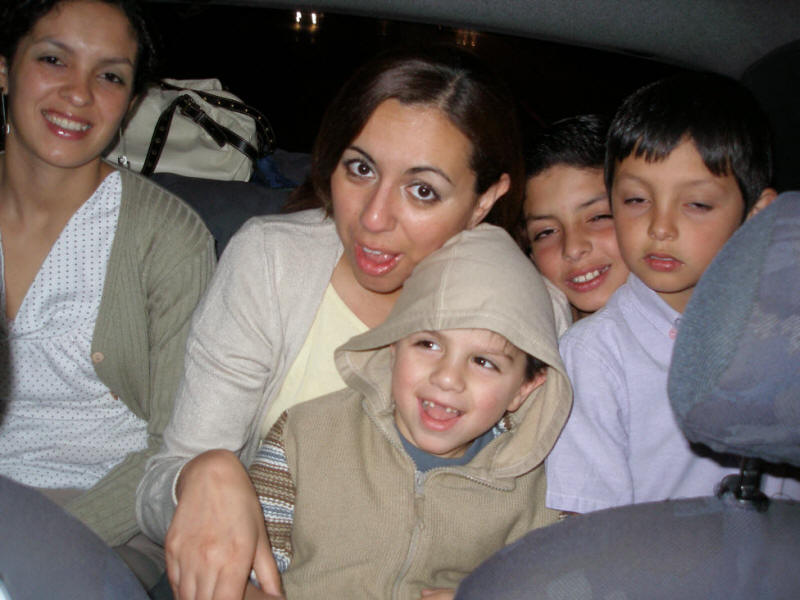 Evette and Marianas Family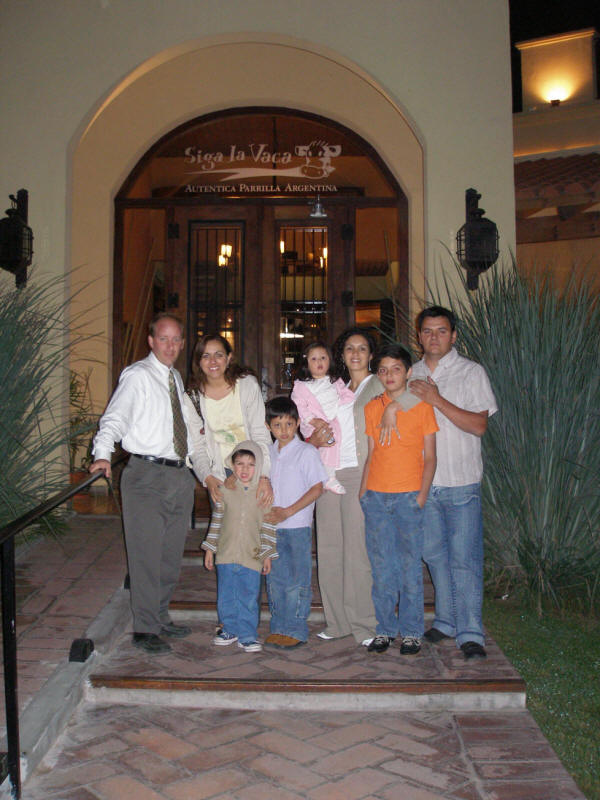 Yummie food at Sigua la Vaca (Follow the Cow) - An all you can eat restaurant in Buenos Aires.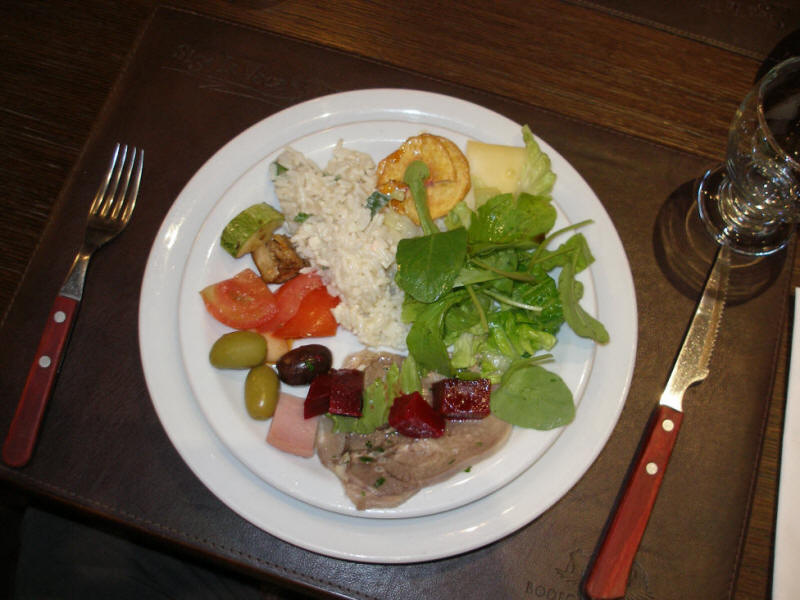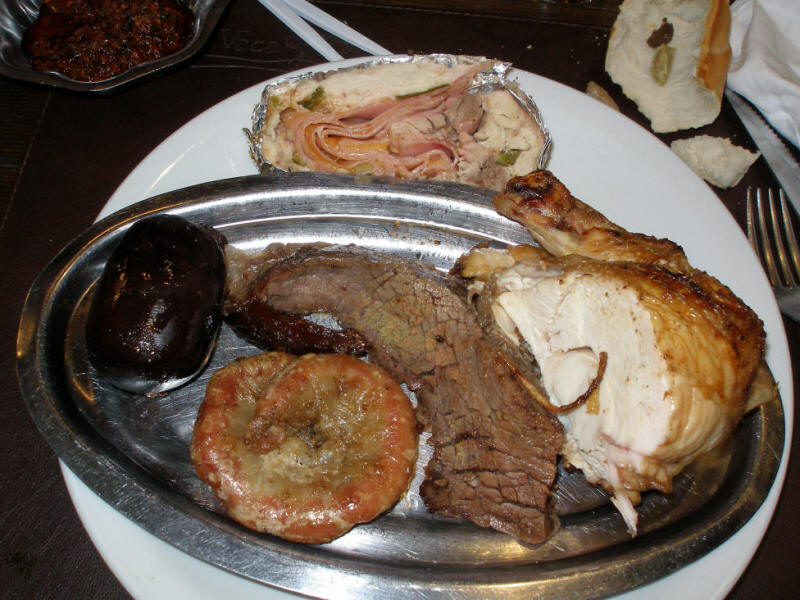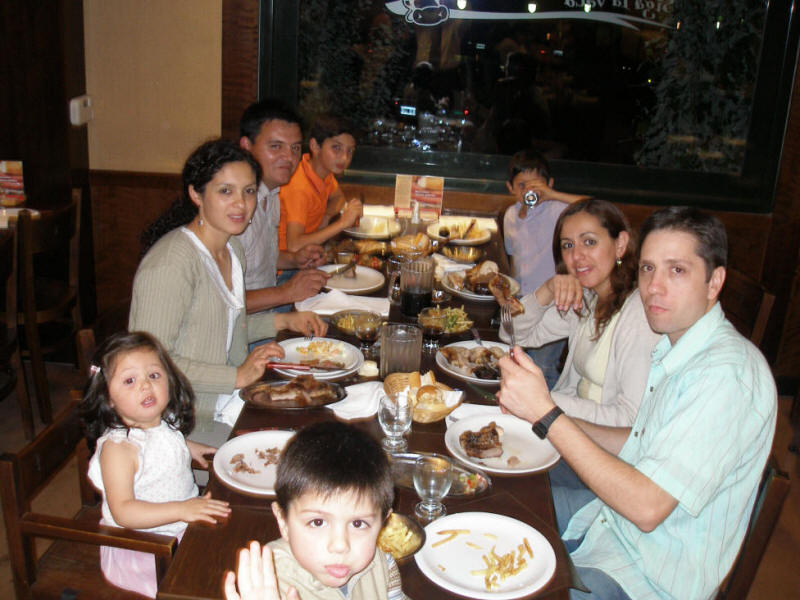 Flan for dessert. It was such a nice meal.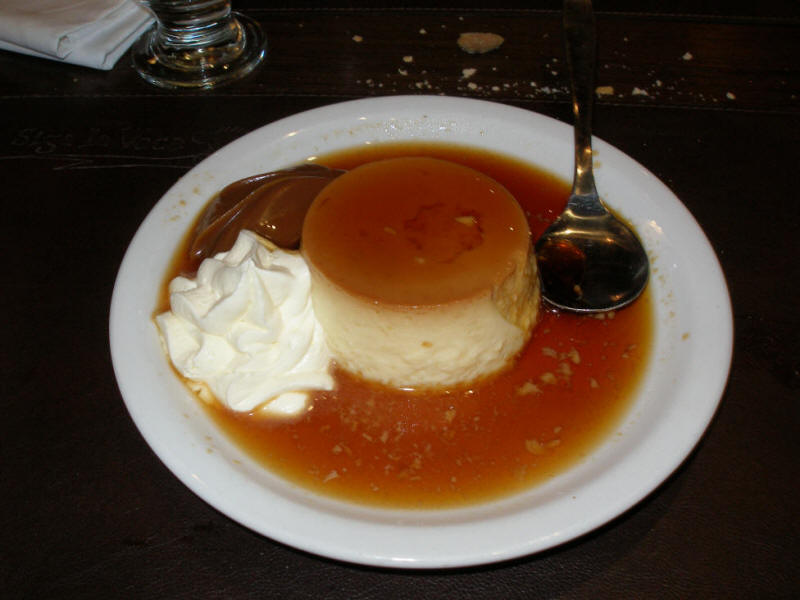 Dinner with Alejandros family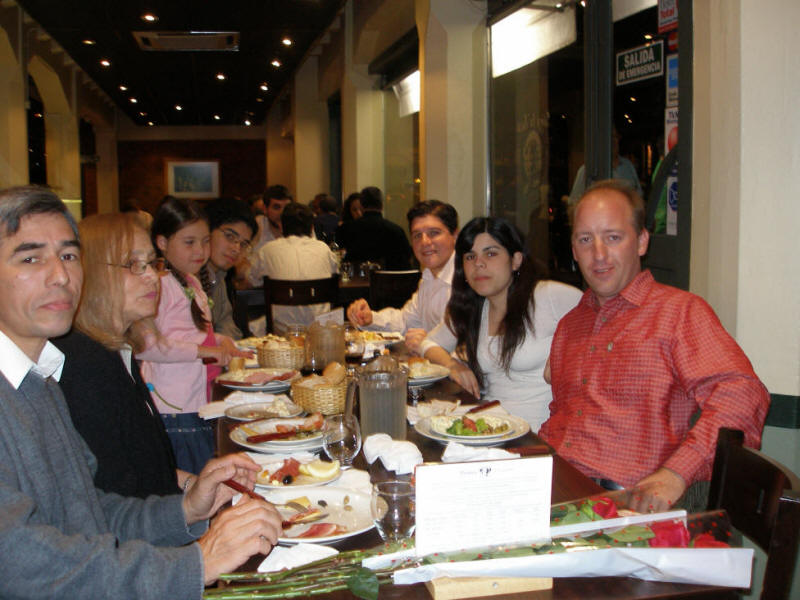 Paula & Anibal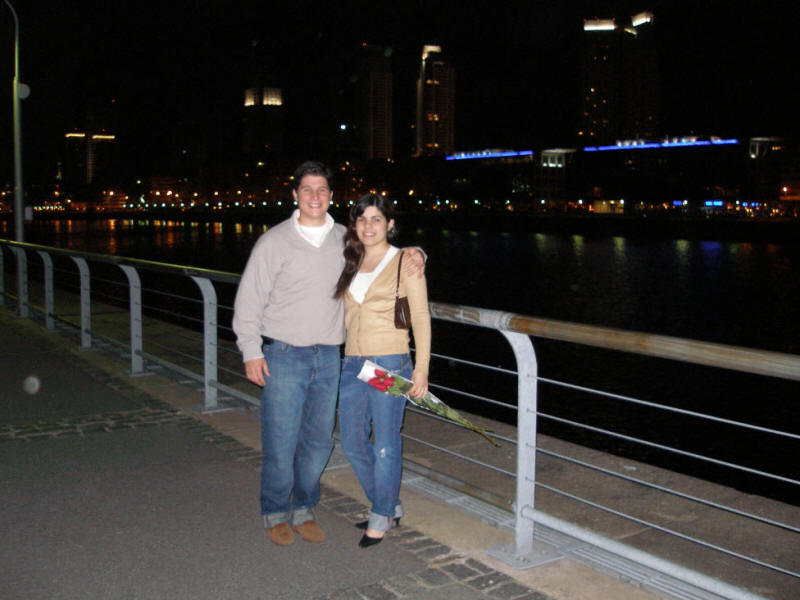 In Puerto Madero in front of the Puente de la Mujer (Woman's Bridge)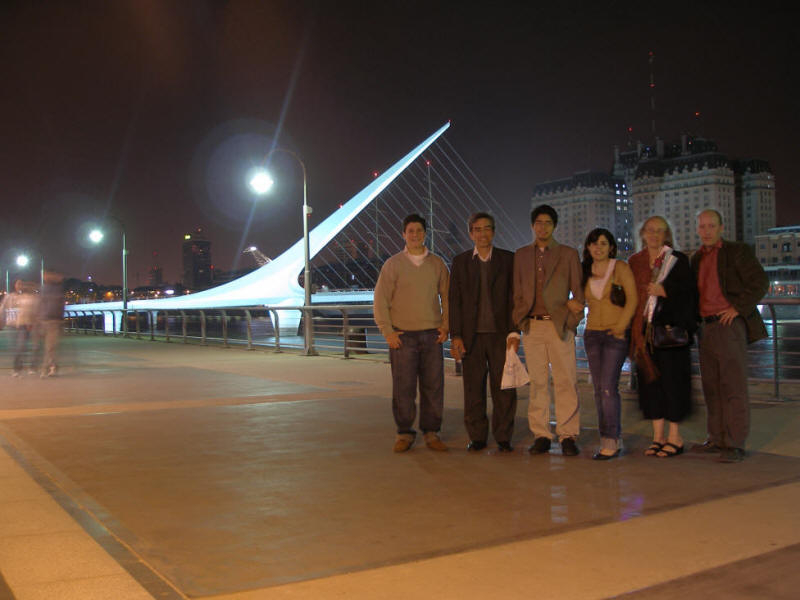 I took this picture. Can you guess how?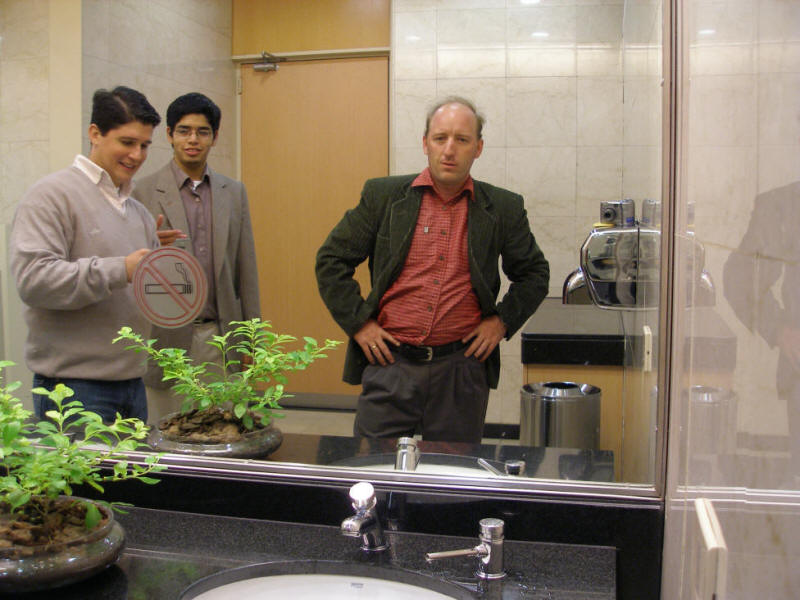 Just returning from a nice visit to Ferderal Capital Buenos Aires.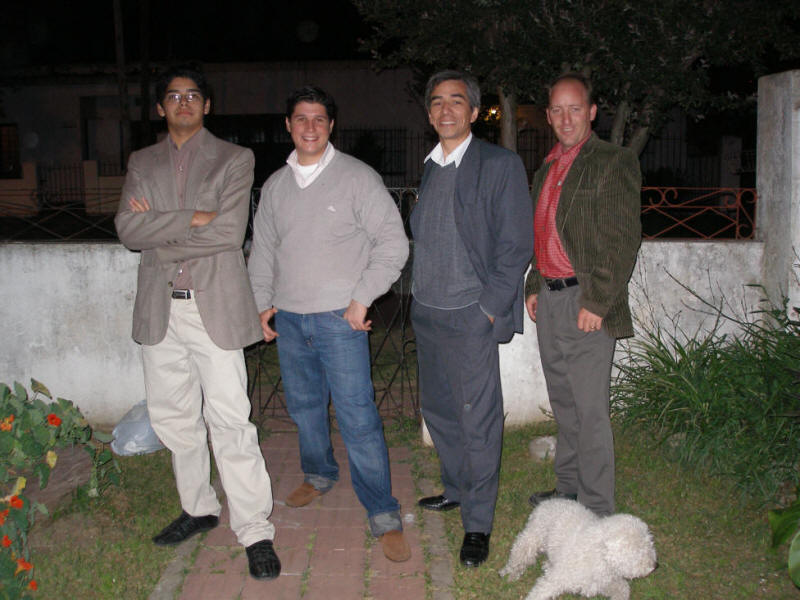 Lunch at Alejandros house. Can you see me?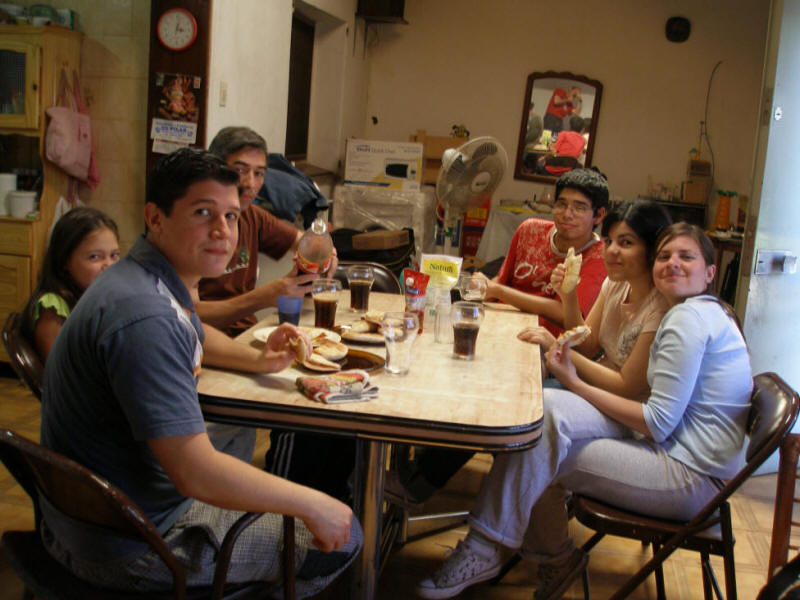 While at church in Libertad I ran into a familiar face, Elder Foster. I was his Sunday school teacher back when I lived in Clearfield. How exciting it was to see him and find out that he was serving in the best mission in the entire world.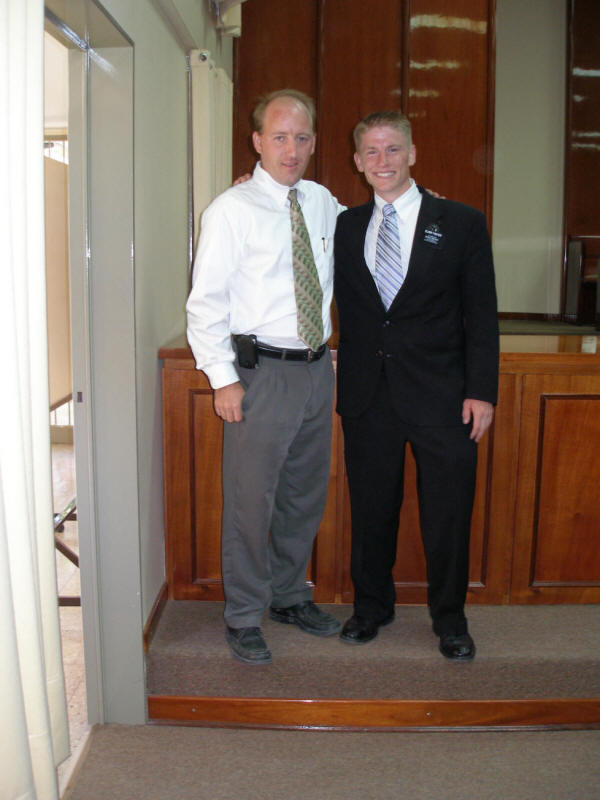 This was my Bishop when I was a missionary in Libertad. I love and respect this guy so much. He is an example of dedication and tireless gospel service. He is now the stake president.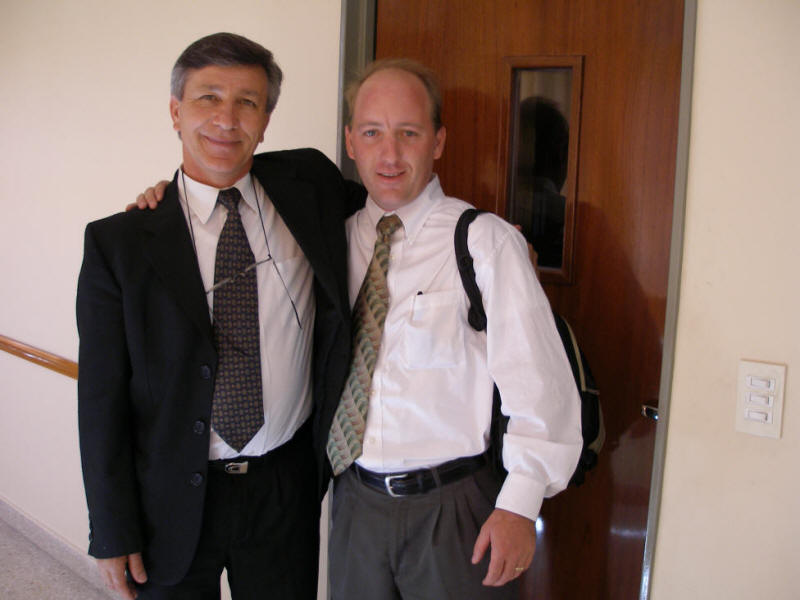 Lunch at Danielas & Hermindas house.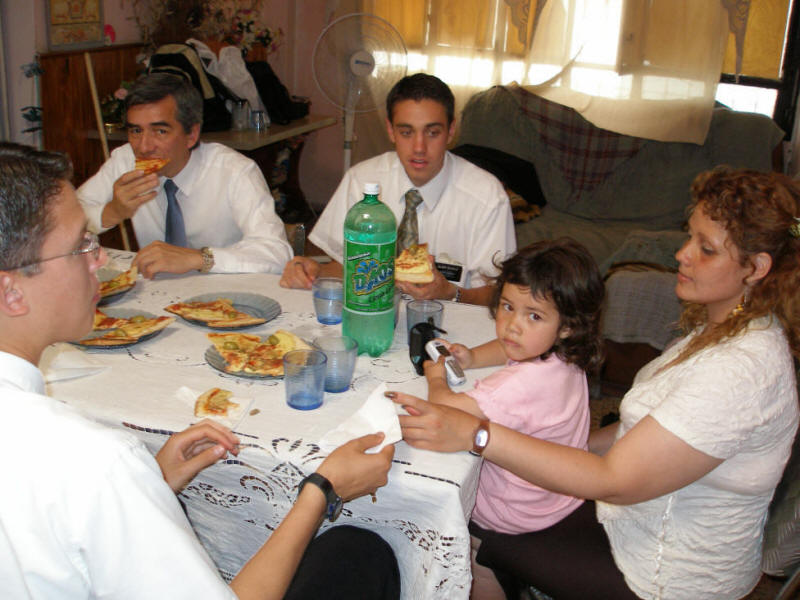 Another traditional and yummy meal.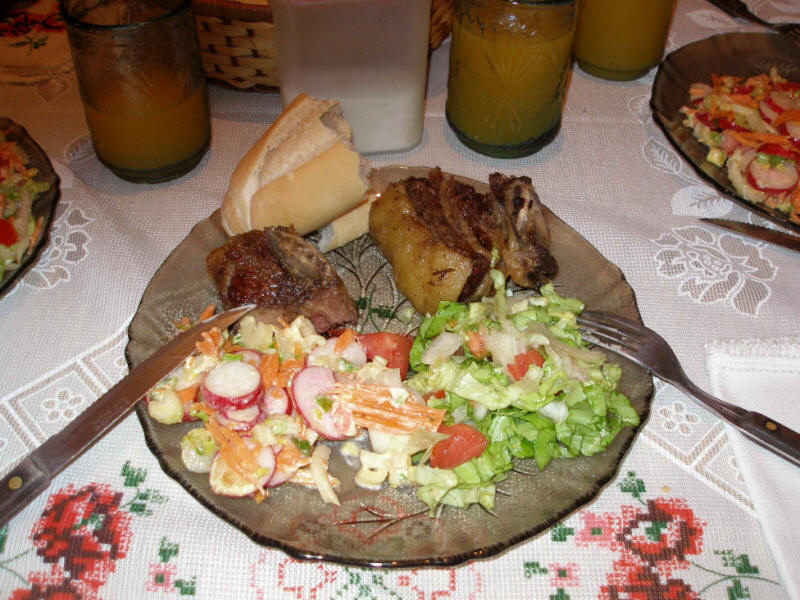 A meal with sister Ana Romero & Family in Libertad.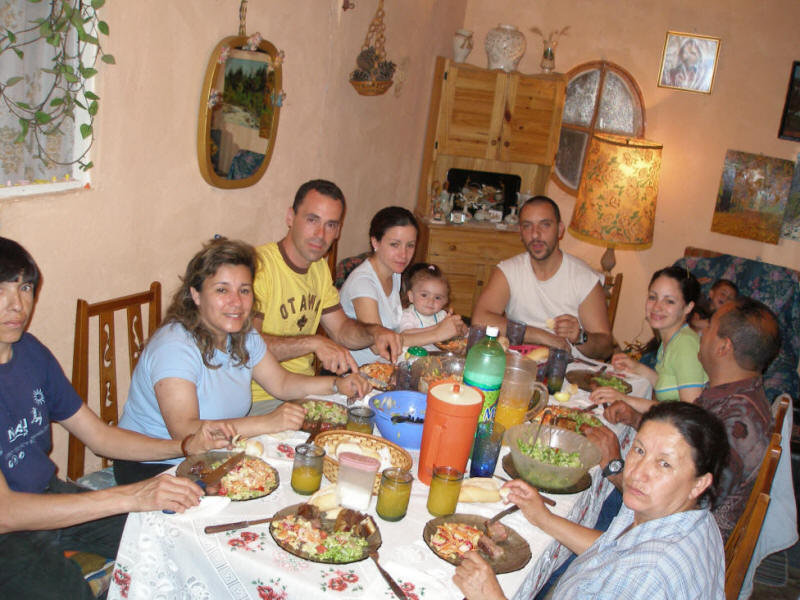 Going out for a night on the town with the Fernandez Family. How many people can you fit in one car?
(see the next picture for the answer)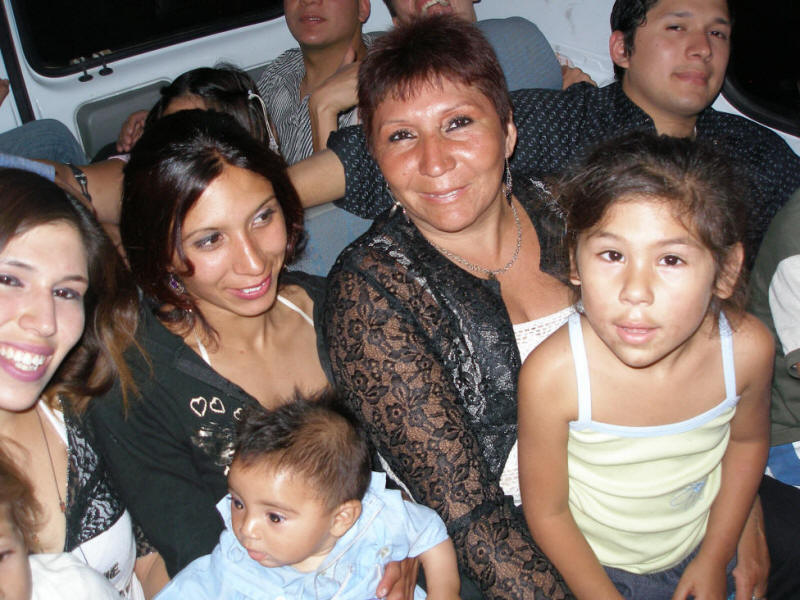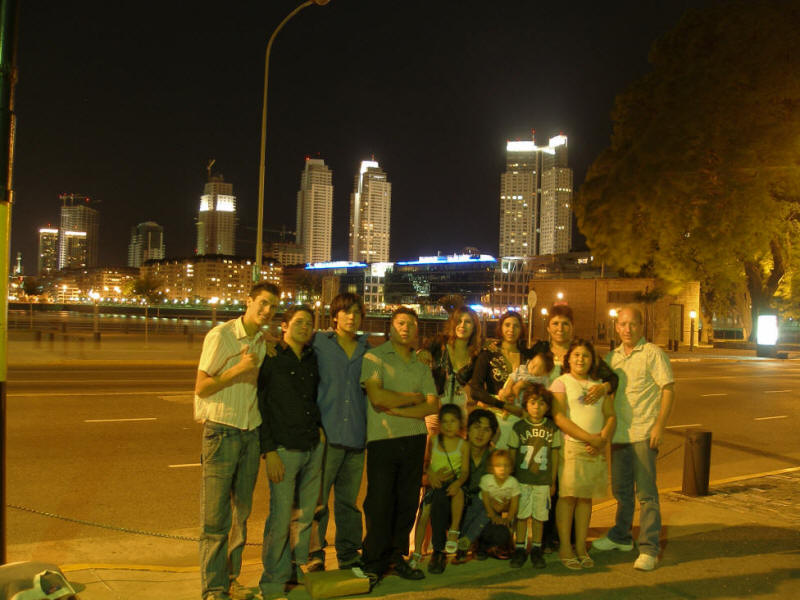 Dinner with the Fernandez family.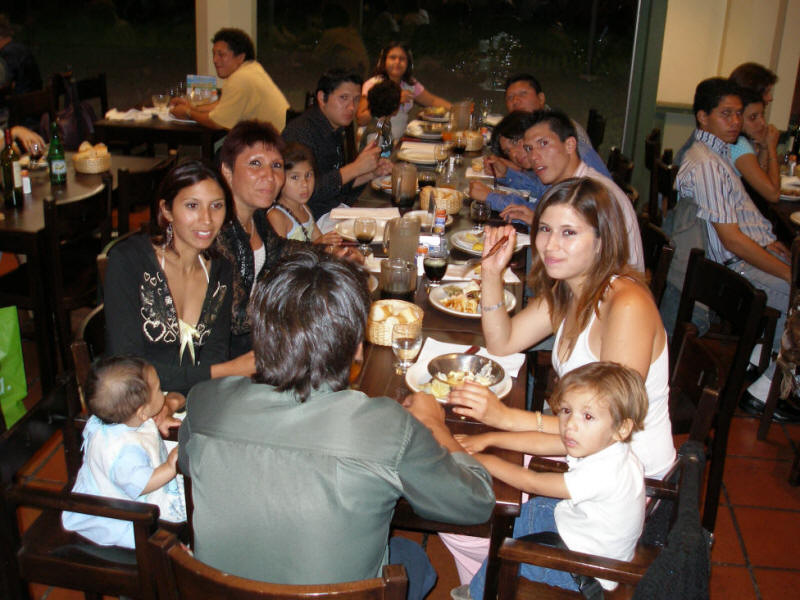 The Fernandez grand kids.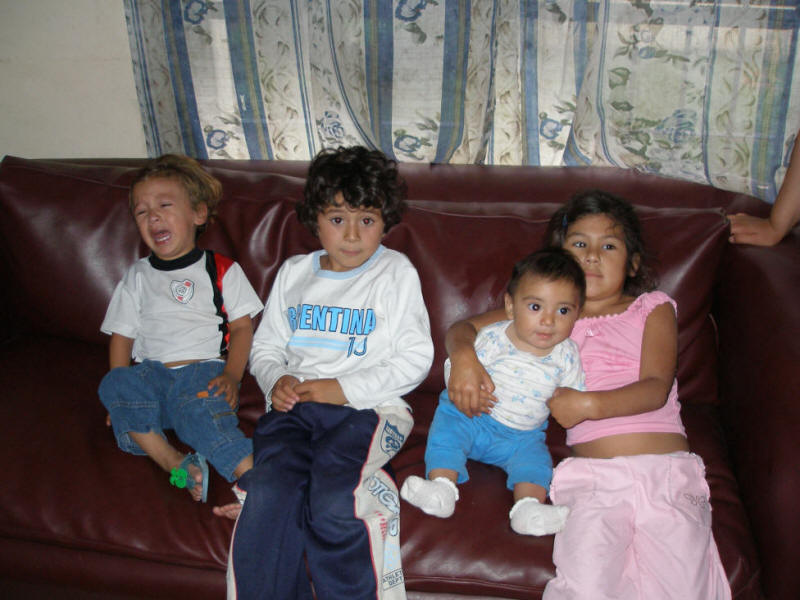 Visiting the Salimbeni home.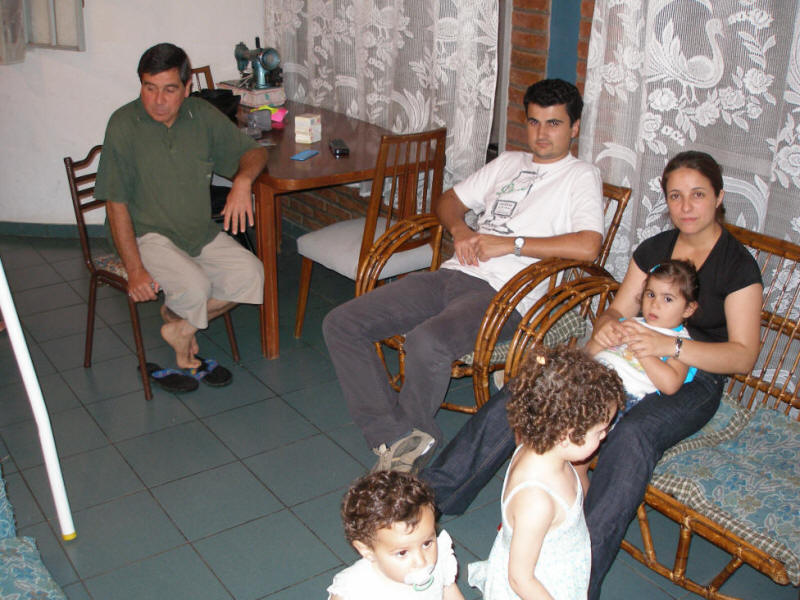 Carlos' Family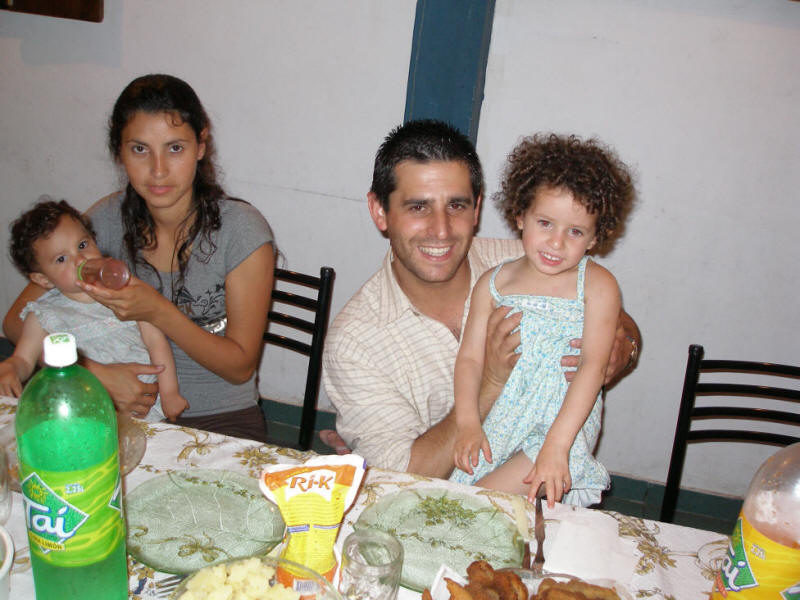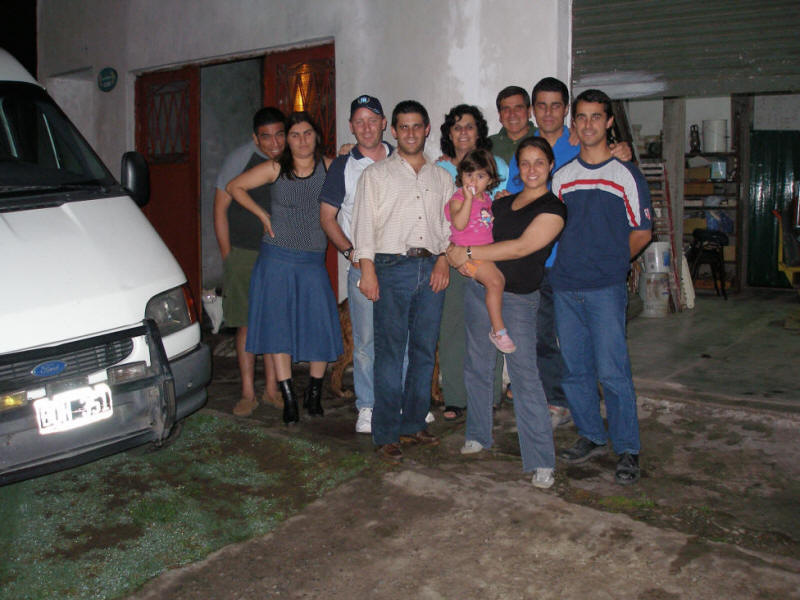 ---
This morning I made a classic U.S. Breakfast. We had French Toast, scrambled eggs and bacon. I had the butcher cut me some thin pork slices which made for some good tasting bacon. I brought some maple syrup extract and made maple syrup. This is considered a "heavy" meal for breakfast, by Argentine standards.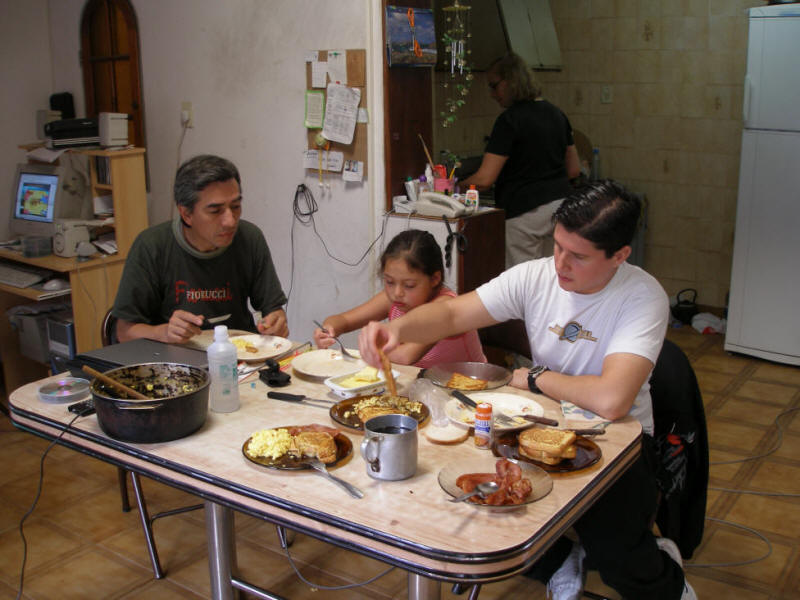 This is how I communicated home every day. It was difficult to be apart for so long.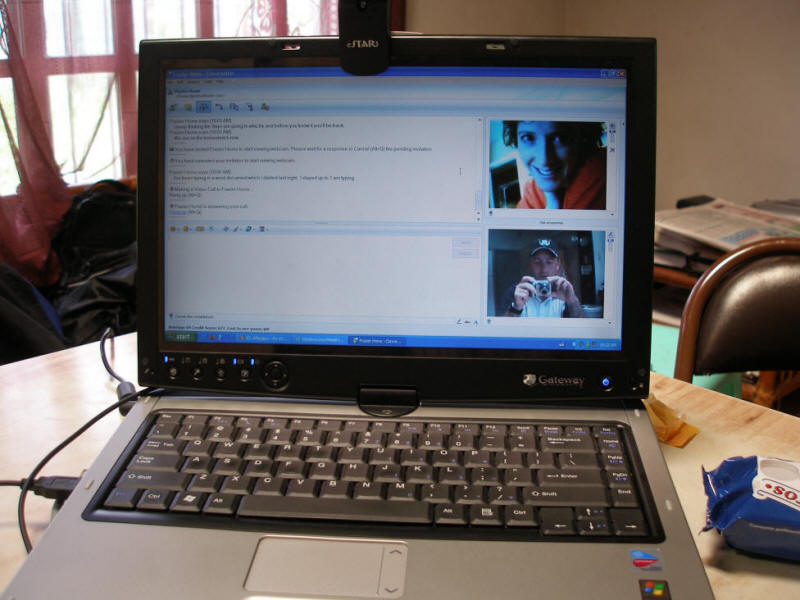 ---
My visit to the Basilica in Lujan.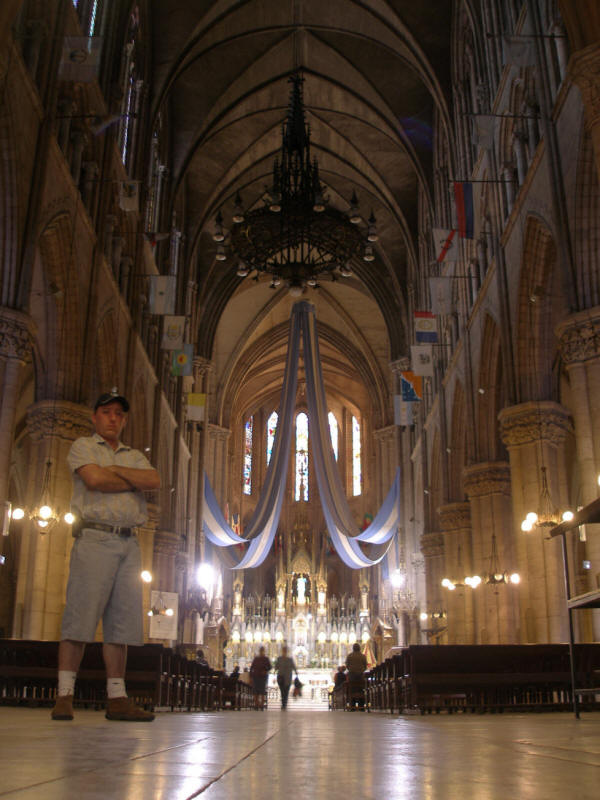 The Lujan Cathedral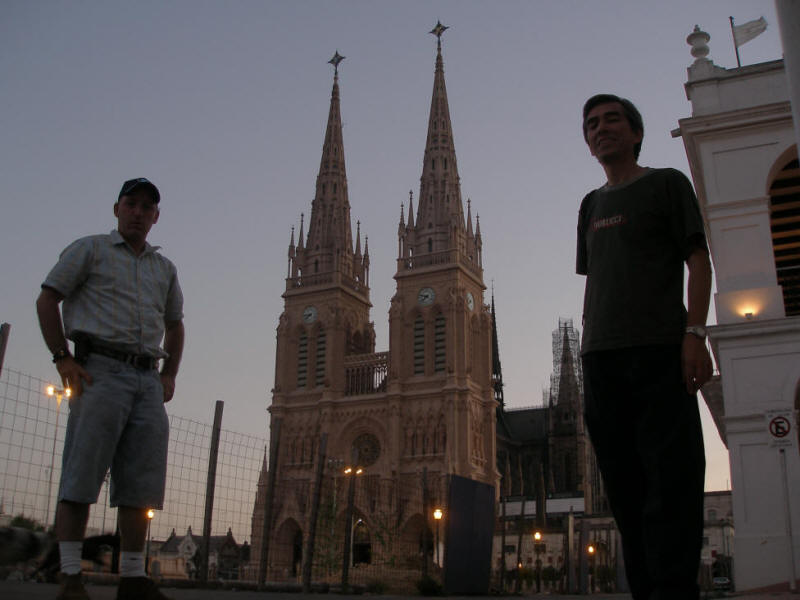 ---
I got invited to an Argentine wedding. This was at the civil registry.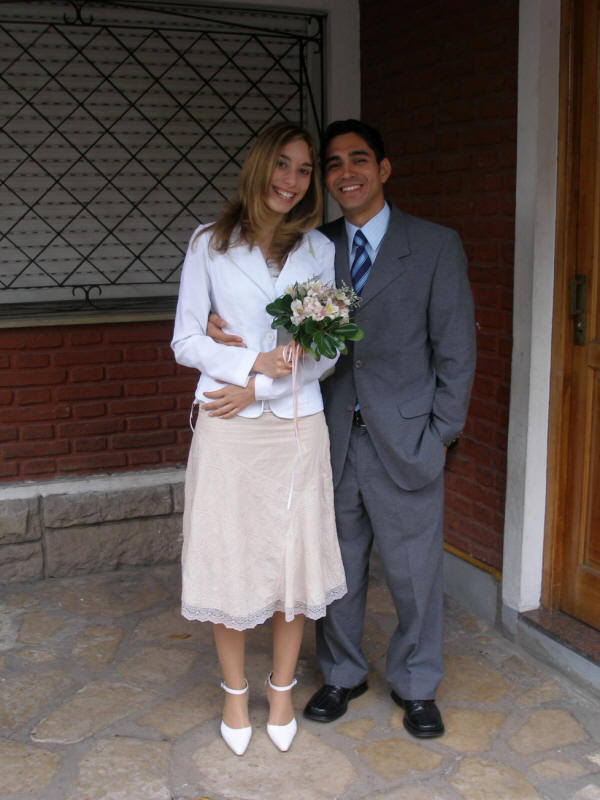 Later that night was the reception.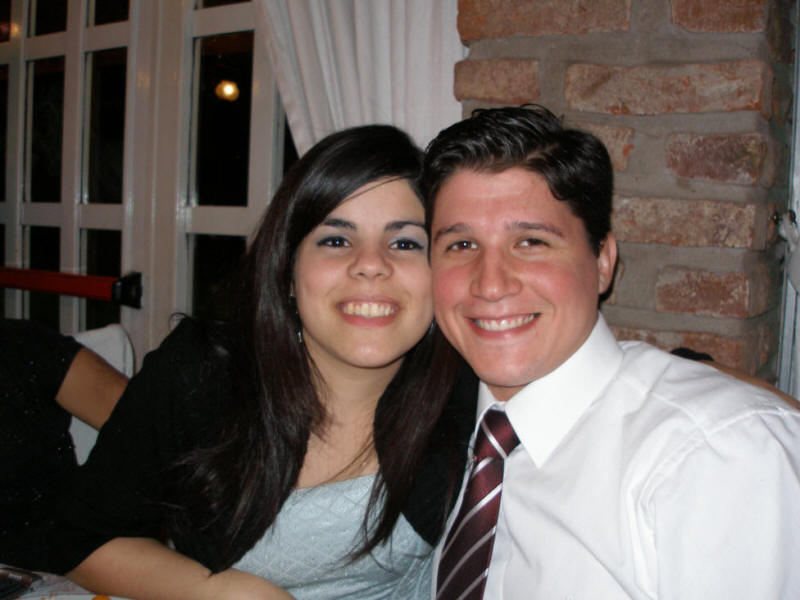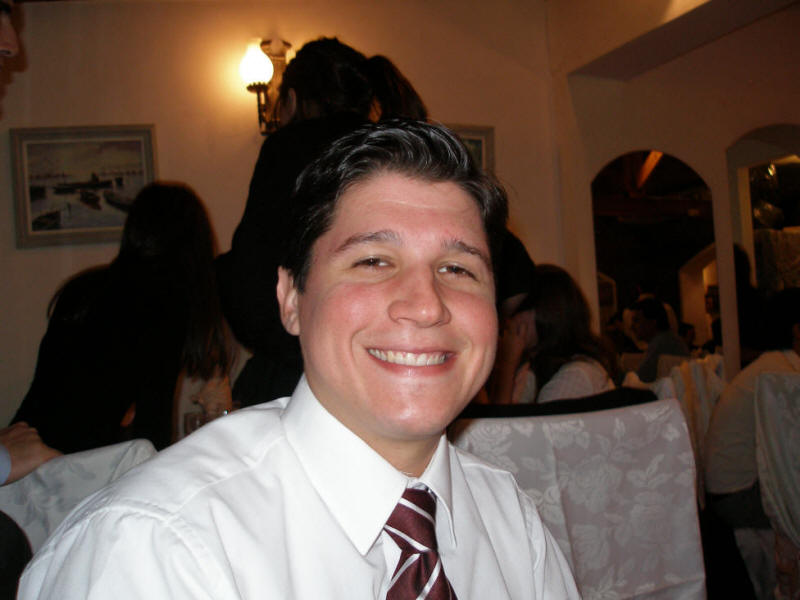 "Say Queso!" (Cheese)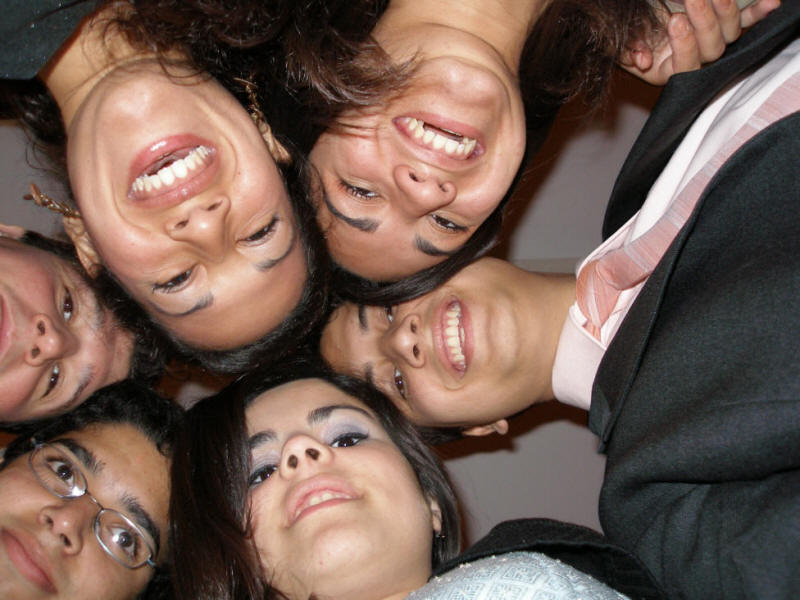 Dancing with the bride.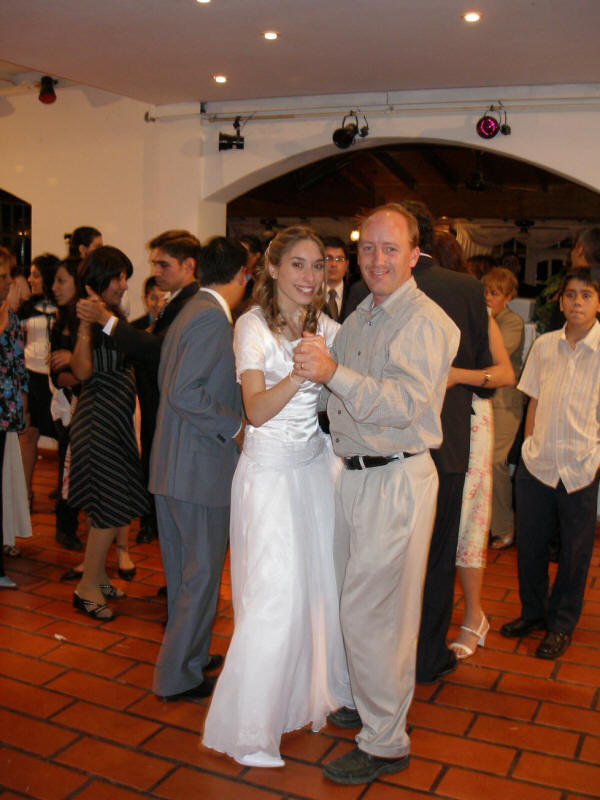 Argentines wedding receptions often go all night, till the next morning. Here I am tearing up the floor.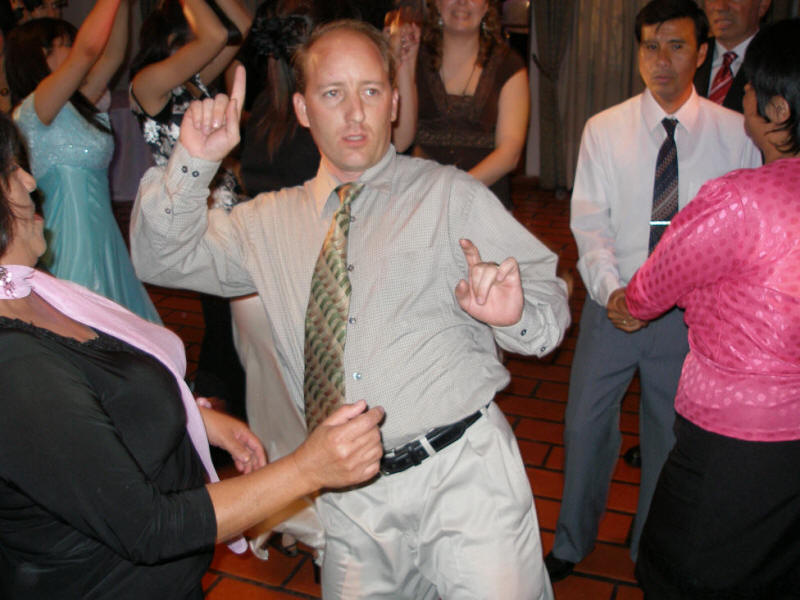 ---
My luggage, plus one cat. Alejandros cat loved my suitcase.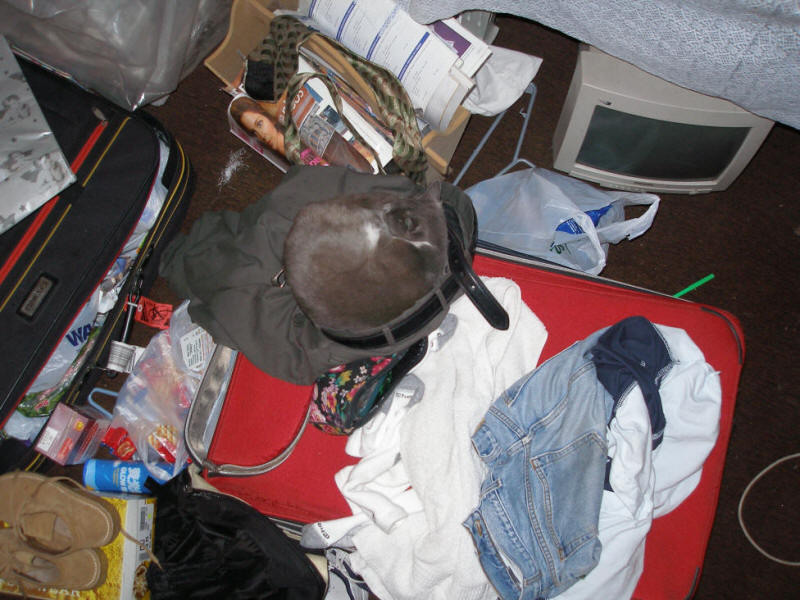 My new buddy Wolfie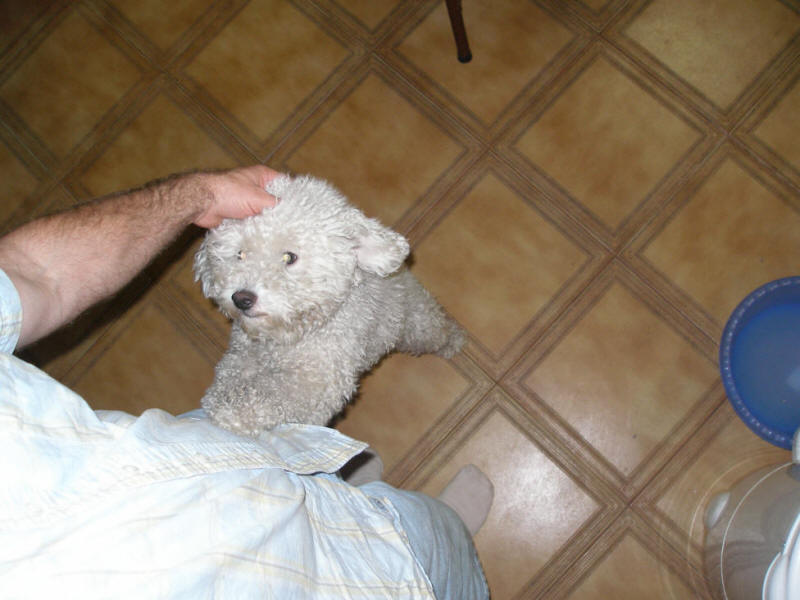 I found a store called the Queseria. There is a funny joke in Spanish about a cheese store. It goes like this: On one corner you have a meat market on the 2nd corner you have a bread store, on the 3rd corner you have a candy store and then on the 4th corner, what would it be? And the answer is "Queseria" Cheese store. The joke doesn't translate to English because, in Spanish, "Cheese Store" is the same pronunciation as the question "what would it be?"
¿Que Seria? = What would it be?
Queseria = Cheese store.
So in the joke it sounds like are asking what is on the 4th corner. They will spend forever guessing all kinds of stores and when they give up you say "Why are you guessing? I already told you it was a Cheese store!" hehehe I love that joke!
The funny thing is that, while there are meat stores, bread stores, candy stores etc... on virtually every corner in Argentina, you never actually find one that is called a Cheese Store, So I had to visit and take a picture of this one.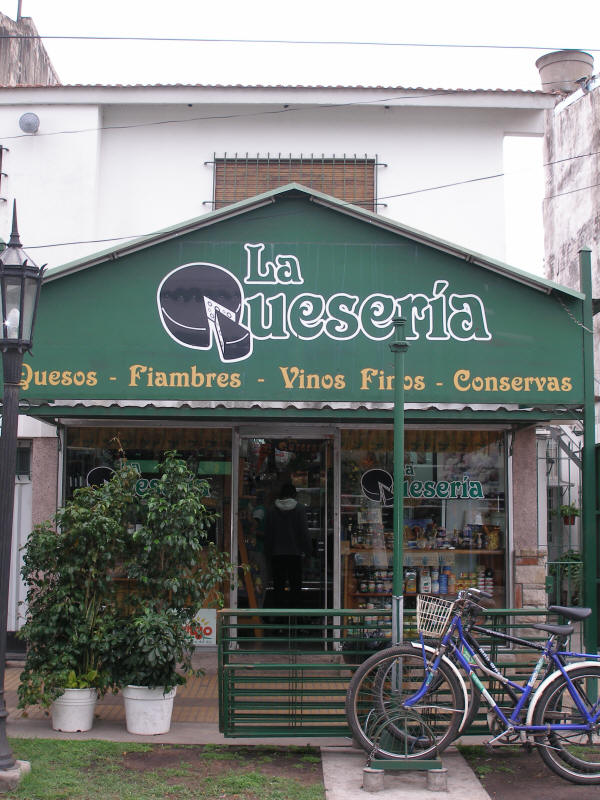 Me with the Cheese store ladies.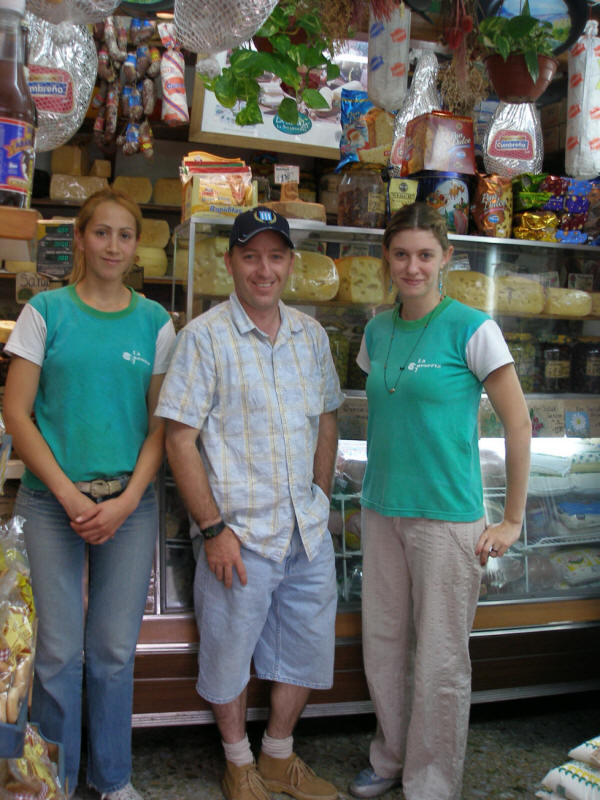 ---
Saying goodbye was really sad, but even my hair was willing to waive goodbye for the camera. Here we are toasting with a non-Alcoholic fruit punch.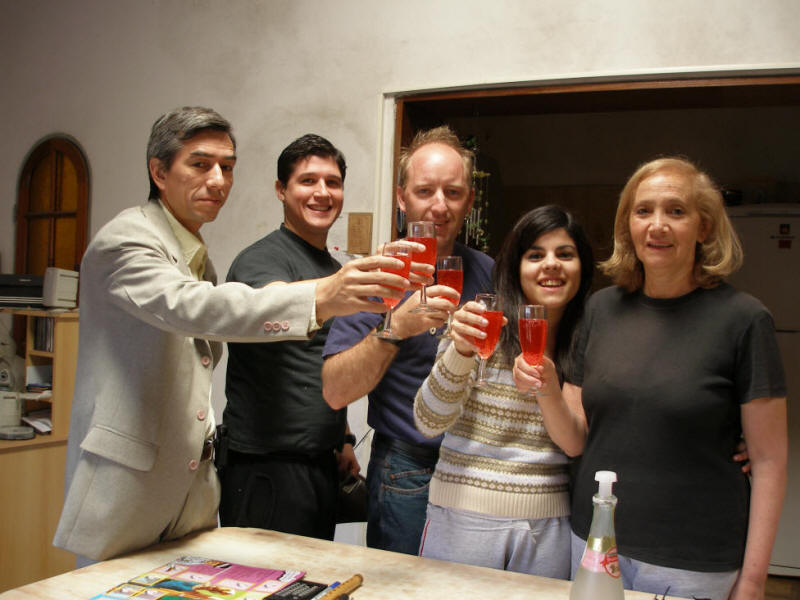 ---
The day before returning home I went to stay with my friend Yevettes family. We watched the movie "Open Season" in 3D.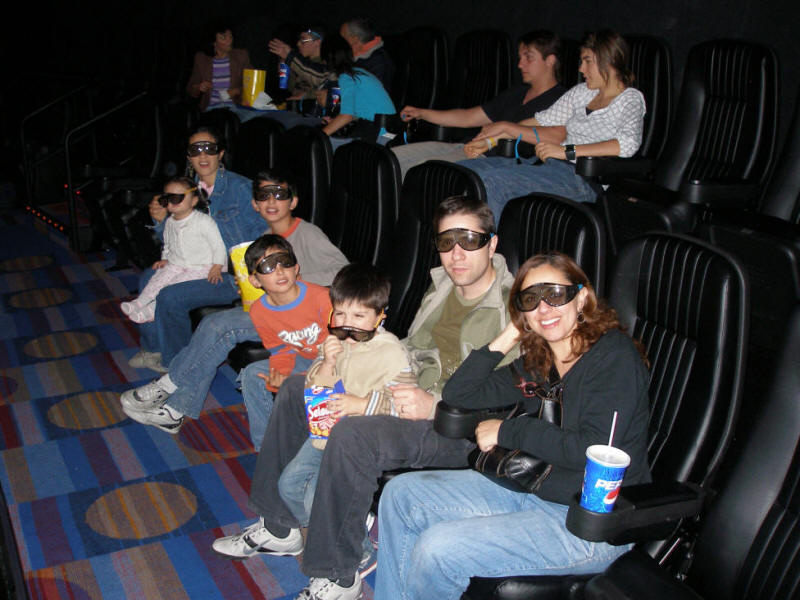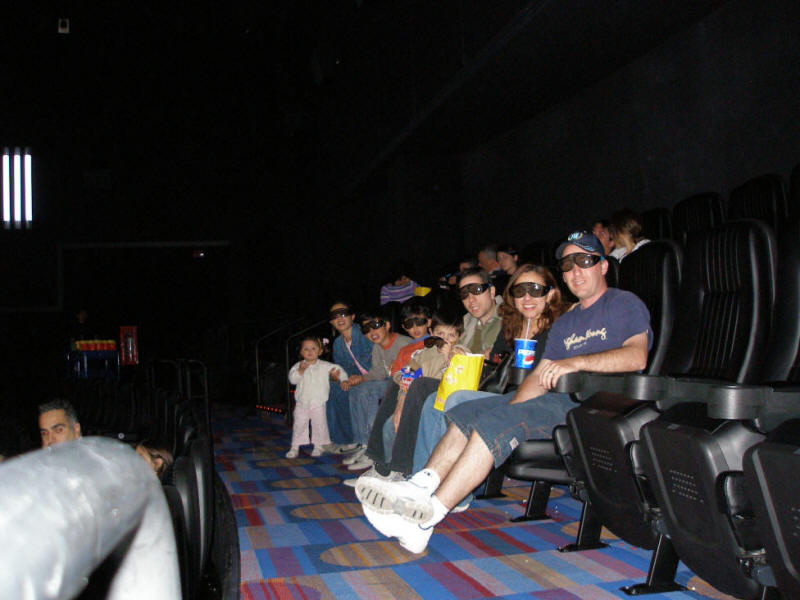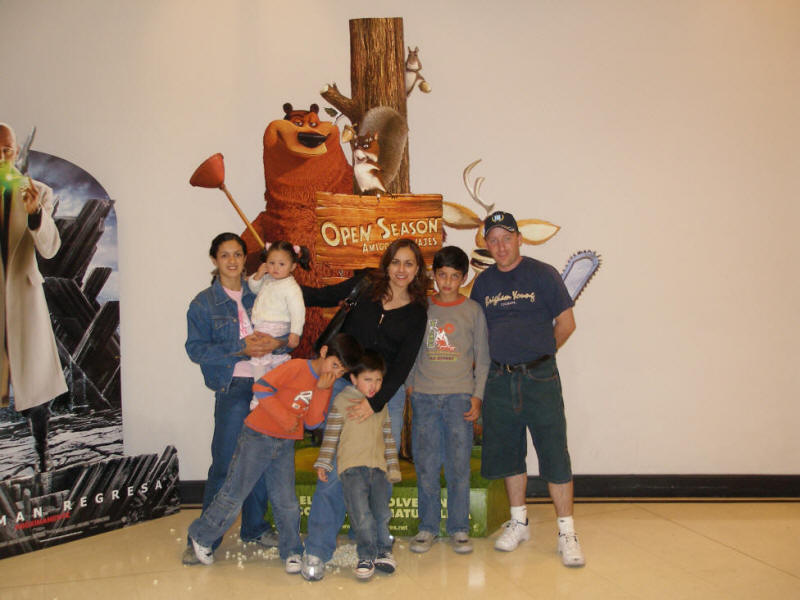 They took me up north to Tigre to a place called Parque de la Costa. We had a nice time visiting a lot of shops. There was this Churro stand that made the best churros filled with dulce de leche (caramel). It was so good I ate 2 bags of churros.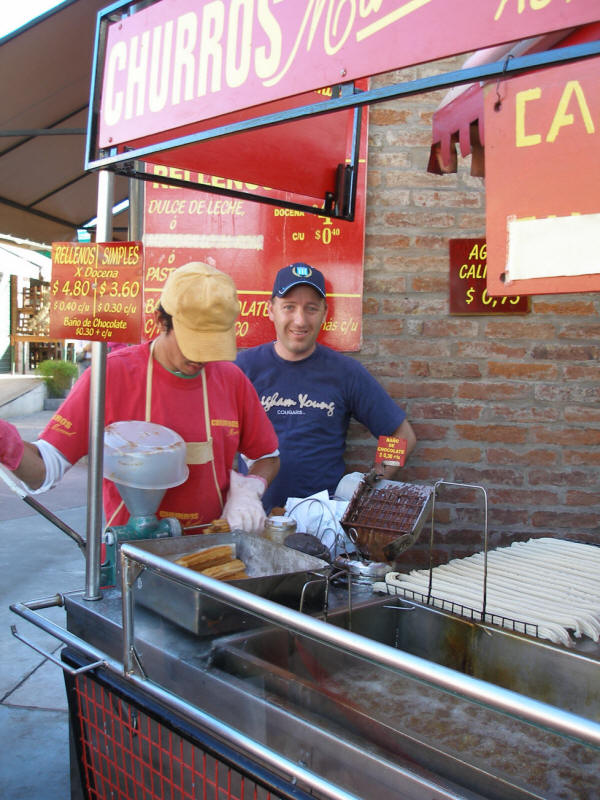 On my last day, before heading to the airport, I was able to visit with Cesar Parodi and his family. He has such cute kids and we had a nice visit.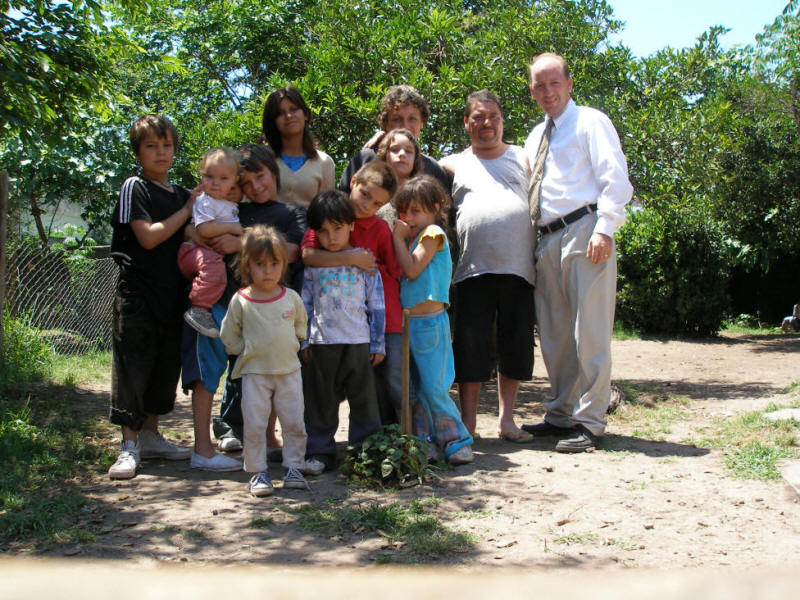 These last 3 weeks have been filled with a lot of hellos and goodbyes. This was the last good bye at the airport in Ezeiza with the Torrez and Olguin family.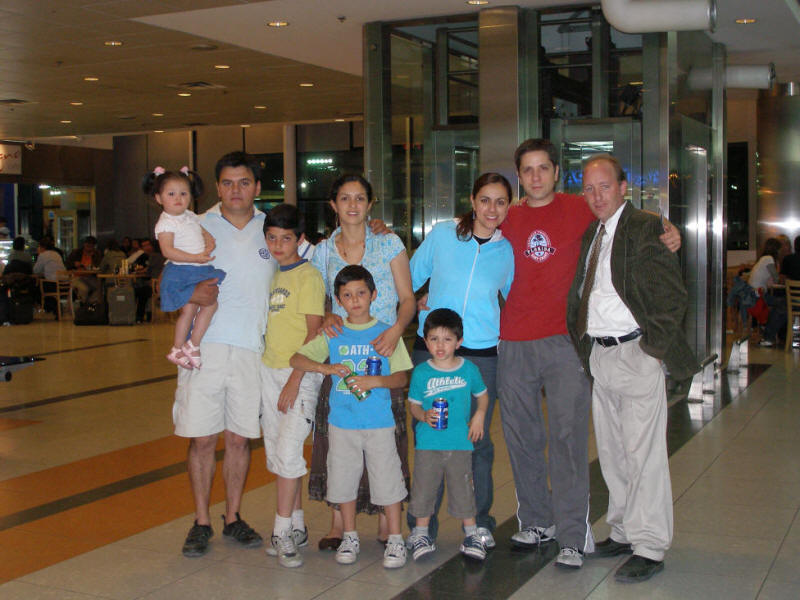 ---
Now I'm back at home. Here is David trying out the big Mate.